Write me something about

20 years in the fanclub ...


Peter Schütz looks back from the anniversary
How now? Has it been twenty years since we founded the club? It is hard to believe, but it is true. Just figure what has happened since then. A new century has begun, indeed, a new millennium. Helmut Kohl was still chancellor in 1991 and he would stay in office until 1998. Now my children are all but grown up, and I find I have been working in my job for 38 years now. But wait, I am supposed to talk about the twenty years in the fanclub from my point of view, and even though the others fondly style me the Mike Rutherford of the editiorial staff, I do remember some things vividly.

In 1991, I was running a successful small enterprise. Others would say I was a dealer in maxi-CDs, for, together with a friend I sold rare maxi-CD. Those were the days when that kind of CD still had creative packaging. Genesis were at it again and released We Can't Dance. Maxi-CDs had sharply risen in interest starting around the time of Invisible Touch, and so there were a number of Genesis fans and club members-to-be among my clientele. As it turned out later, one Helmut Janisch also placed orders with our company, Ding-Dong Records. And it happened as it had to happen. Helmut contacted me because he was unhappy with a magazine ("Der Genesis-Fan") that he wanted to change to fit his ideas. That did not work out and so Helmut had the brilliant idea to do his own thing. For this he contacted the guy who had the great maxi-CDs and therefore must have lots of insider information on Genesis.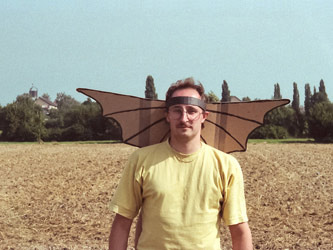 We agreed to meet in Braunschweig, and then he, Helmut, stood in front of my door. It was an incisive experience. To be honest, I had almost shut the door again because outside there was this guy with a huge bushy beard – incredibly. That is how it all started. We have been friends for twenty years now and got the odd bit of club work done. Soon after that Bernd Zindler joined the staff and so we worked happily as a trio until 2002.
In the meantime we published 27 editions of the magazine until the end of 1999. After that we decided to set up an internet website for various reasons. None of us had any realistic idea of how to do that, and we had to get ourselves outside help to get started. Andre Federow became our first webmaster for a short time. Then I learned the ropes of website programming and our first website was launched in March 2000.
Like everything else, the club changed again in 2002. We were in dire need of "new blood" and got Christian Gerhardts to increase the staff. By and by he took over the day-to-day management of the website, of which he has been doing a very successful job to this day.
Twenty years have really passed. What is it that I remember most of all the activities, anecdotes, meetings, concerts, club events and so on? There is so much to mention that I would still be writing for the 30th anniversary of the fanclub in 2021 if only I could remember it all. Here, then, is a selection of memories:

Handing out flyers, or Solving the problem of cleaning up

The obvious way to make people aware of our club was to hand out flyers at the upcoming concerts of the We Can't Dance tour. We printed some 20,000 flyers and handed them out before and after the shows with the help of some club members. It never crossed our minds that we might have needed a license to do that. As it happens, most of the flyers were thrown away again, and most of those were simply dropped in the street.
Later one Guido Karp, a well-known celebrity photographer, who took pictures at the shows and also handed out flyers himself, pointed out the permission problem. He himself had to pay quite a sum of money for the disposal of his flyers. So that was how it was done, but hey, we were new in the business.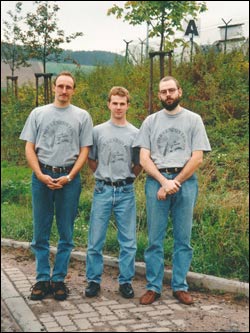 Photo sessions with the it staff, or How best to make a fool of oneself
Every now and and again one of us, mostly Helmut, had the idea to have a photoshooting where we would reenact motives from our 'heroes'. No sooner said than done. Once the whole staff went to the playground to imitate the 3x3 EP cover. Another time a dirt road was used for photos of the VW campaign with Bernd's Polo. How could I ever forget the photos we took at a picnic place off the Autobahn near Hedemünden where we would meet to exchange documents; the place was chosen because it is roughly in the middle between Fulda and Braunschweig.

Interviews with Genesis and others, or Why the funniest ones were with Mike Rutherford
The interviews we did over the years were always a highlight of fanclub work. We have had them all before our microphone (well, almost all) and each time was special: Genesis in the Hotel Adlon in Berlin, with the thickest carpets I have ever seen and tread on. Phil Collins in his dressing room before the show at the Waldbühne Berlin. Ant Phillips at his home. Steve Hackett everywhere – and so many more.
Some of the interviews very particularly memorable. In 1995 I got a call from Helmut who told me that Mike would be at Hamburg airport on February 27, and we could have ten minutes for an interview. So Helmut drove up to Braunschweig to pick me up and we continued to Hamburg. We met Mike, talked for 30 minutes, took some pictures and drove home again, several hundred miles.
The most memorable interview was the one at the Capitol, Hannover, on June 11, 1995. We got an interview with Mike after the show, but there was no room of a decent size. The four of us had to squeeze into a room that was probably only 6x6ft, but had a small table and 3 chairs. For lack of another chair I had to kneel in front of "big Mike". Quite an experience.
The interview we did at the AWD Arena in Hannover on June 23, 2007 still makes me chuckle because for nearly the whole interview Mike would balance a coffee cup on his left knee.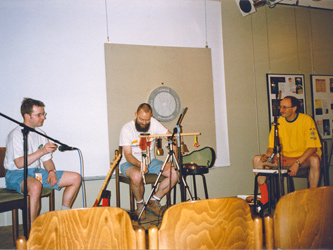 Fanclub days and events, or Why the ewe is so popular
The club days and also the special events have always been indispensable. After three meetings in Aschaffenburg, Braunschweig and Nuremberg we finally found our "living-room" right in the middle of Germany, in Welkers. And so it came to pass that lots of fans would go on a pilgrimage to the Rhön mountains every year. We have had to move to another location only a few times for major events.
One of the events that sticks most in my mind (besides all the other events with their fascinating guests) was the two-day Lamb Event in 2001. Our guests were so excited after a spectacular presentation by Serge Morisette and a terrific exhibition that our exhibition ewe was in danger of being kidnapped. We could save it only by a fair amount of cajoling.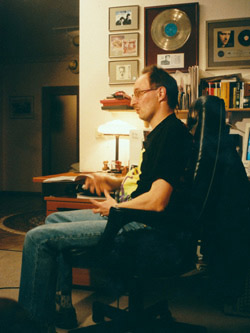 A TV crew at Peter's place, or How to become a TV star
In 1996 rumours about Phil Collins leaving Genesis became reality. One of the two public TV stations wanted to report about that, and after a phone call to Helmut it was decided that the crew would film at my home. So I quickly took the children to bed, and soon after 6pm a TV crew jumped out of their car, set up camp, lamps and camera in my living-room. The interview took about ten minutes and they were gone again. The one-minute report was later broadcast in a programme called Friday Night. That was the first time the fanclub was on TV.

Going to a concert, or Do I always have to take photos?
Since me first Genesis show in 1977 I have seen a whole bunch of concerts from all corners of the Genesis world. In the early days I did not have a decent camera with which I could take concert photos you could use. This changed with my first analogue SLR. On the Selling England tour by The Musical Box in 2002 I was finally able to take some good photos. Unfortunately I found out that that was not quite as simple. I still ended up with few really good photos from a show. Having a digital SLR has improved the situation drastically. I always take a camera to every concert I attend – I cannot help it. If it is permitted I obviously use the SLR, and so I have been able to take much better photos.

Cash, Cash, Cash, or How I got my club nickname Mr. Pebble
When the club started out there was no Ebay for collectors to turn to. Rarities were much harder to come to in those days. So I tried to acquire rare CDs and posters in larger numbers in order to be able to sell them to club members. For a while the club shop flourished. The sale of the Ant Phillips' Tarka CD single was a particularly memorable occasion. The goodies at the it sales booth became another hit. The strongbox was so full at the end of our first club meeting in Aschaffenburg that we had trouble counting it all. Thus it came to pass that many knew me only with dollar signs in my eyes; from that day on Mr. Pebble was my trademark.

All these wonderful memories would not have been possible, though, without the help, the understanding and support of our families, wives and friends. For that, our thanks.

We have kept this club alive for 20 years now. Sometimes it was difficult, but most of the time it was the best hobby in the world.
Now, in 2011, I am going to do a Gabriel. Writing is not really my thing, I am more into tour photography, discographies, tour dates and my vinyl collection. I have been working on the tour database for some two years now, and I am confident that it will appear on our website some day or other. In the meantime we will be planning the next event or something else.

With this in mind I would like to close with the words of Peter Gabriel in his interview with German weekly "Die Zeit" (October 6, 2011): "I can smell the future."