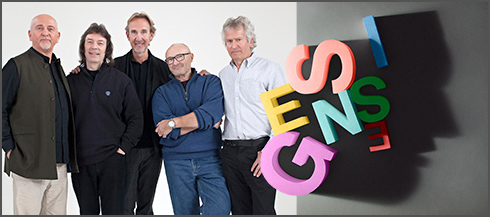 Genesis and "R-Kive": Hot Air or Potential for More?
Comeback? Rip-off? Marketing strategy? Time to take inventory
Genesis 2014. It's the year of "exciting news", of speculation and rumours, of hopes and disillusionment. It's been quiet in the Genesis camp for a while. Now everything is quite turbulent. The fans' reaction to this commotion is more sarcasm than euphoria, however. Genesis 2014: to many a half-baked sign of life and ripping-off the fans. The shitstorm is raging as is rarely seen with a band of this importance. And all this because of a 3CD-set called R-Kive? What actually happened and what can we really expect?
Genesis fans are on edge

The fans of the band seem tense and nervous. The so-called hardcore fans or the loyal fan base are more attached to the music from the 70s and selected tracks from the later years like Home By The Sea or Fading Lights. Since the Super-Audio-CD-Boxsets in 2007 and 2008 and the Live-Boxset and the Movie-Box, fans have been waiting for Genesis to reveal more jewels from their history and to not just resign themselves to their fate. Every sign of life is registered and often inflated so that the community might seem like a startled brood hens whenever there are official announcements – or even just an announcement of an announcement. It is quite clear that a majority of the band and their management either completely missed the internet as an important development or just don't take it seriously enough. But there actually was a time when Phil Collins personally answered questions from fans in his own online-forum. Today there are barely any websites from the band's closer circle that can be taken seriously, even Peter Gabriel's is lousy. Here, it's Steve Hackett with his informative website that leaves almost nothing to be desired. Facebook has also long reached the band and their fans, but the band and their management still don't understand how to really make use of it.
The information policy is an important factor in interacting with the fan base. But there are many activities without any reliable statements available and then there are posts hinting that "very exciting news" will be published that turn out to be nothing exciting at all – at least not for the fans. Nobody is opposed to a new 3CD-set with a presentation of their works but is it really necessary to fool the fan base like that by announcing it as "very exciting"? Surely it would have been easier to say "we are planning a new presentation of our works, this is probably not interesting for hardcore fans, so don't expect something sensational". The actual announcement, however, makes half of the fan community expect something somewhere between a new album, a reunion concert or exciting new archive material. After countless disappointments, the fans meet almost anything about Genesis with sarcasm, pick it to pieces with irony or write angry comments about it. The shitstorm after the R-Kive announcement was accordingly huge.

What is behind the idea to R-Kive?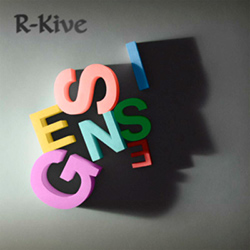 We should all wind down, leave anger and frustration aside for a moment and take an objective look at the situation:
2014 is the year when the great five were on a photo together again; there will be a documentary about the band's history and all five took part in it; there is a new presentation of their works with R-Kive including selected solo tracks for the first time – three from each of them. This new perspective of looking at the total work of art has never been done before with Genesis. This obviously is a marketing strategy to draw attention to the band's - and its members' - whole catalogue again after it had lain idle for years, basically stone-dead.
What could the R-Kive achieve and what could realistically happen afterwards? Genesis could receive more public attention again, it could tap into new groups of listeners, the Genesis family could be communicated more easily – especially in an autumn of music that will also see new albums from old colleagues like Pink Floyd and Queen. It's now up to the band and the management to use these opportunities. If Genesis manages to win the interest of new listeners successfully, more has to follow that brings something new for the fan base also.
One positive result could be new versions of the albums, like the continuation of the Blu-Ray-Audio series that's currently on hold. There have been countless other projects over the last years that didn't receive enough attention or weren't even started in the first place. The discussion about the Board-Tapes-Series was promising but was shelved eventually. Other opportunities with Genesis are outtakes. Or further concert films like the legendary Lyceum-Show in 1980. Other concert films could do with an upgrade to Blu-Ray (i.e. When In Rome). The potential is even greater with Phil Collins. The albums could be re-released with bonus tracks, supposedly there are 5.1 versions as well, concert films like the 1982 Pasadena Show or a show from the Both Sides Tour. This could be especially interesting if Phil really goes on tour again. He hinted at what treasures are still hidden in his archives during his short time of his Going Back Fanclub. The opportunities are similarly numerous with Peter Gabriel: surround versions of his albums, outtakes or a complete archive set. The album Son of Ovo has been finished for years as well. Tony Banks could also release new versions of his albums or actually try starting a new rock project.
And completely new music? This is considerably more probable for the solo careers, of course: Steve Hackett regularly pampers us with fresh material. There could also be something new from Phil Collins, certainly from the Mechanics and Peter Gabriel – in some September. Unfortunately, Tony Banks gave up on producing new rock albums.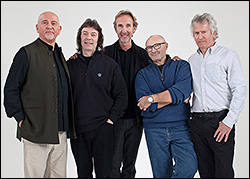 Reunion?
The BBC documentary Together And Apart is also being marketed as "Reunion documentary". Indeed, the members of the original lineup are back together again when it's about aspects of marketing but they are far from touring again or recording a new album. Both of these options also seem very improbable in the trio-setup without Steve Hackett and Peter Gabriel. After all, it would also have been possible to organise a joint concert where everyone plays their own songs with a handful of Genesis songs at the end. This also won't happen. So whenever there is an announcement for "exciting news", don't expect a reunion on the stage and don't expect a new album. Should something like this ever happen, we will certainly be informed via an exciting piece of news. Until then, we can only hope that the band's PR are finally adapted to the realities of the internet era and that the band and their management will finally realise the potential of their fan base and the marketing opportunities that comes with it.
by Christian Gerhardts
English by Robin Morgenstern
This comment refers to this news item. For track listing and general information, please check it.