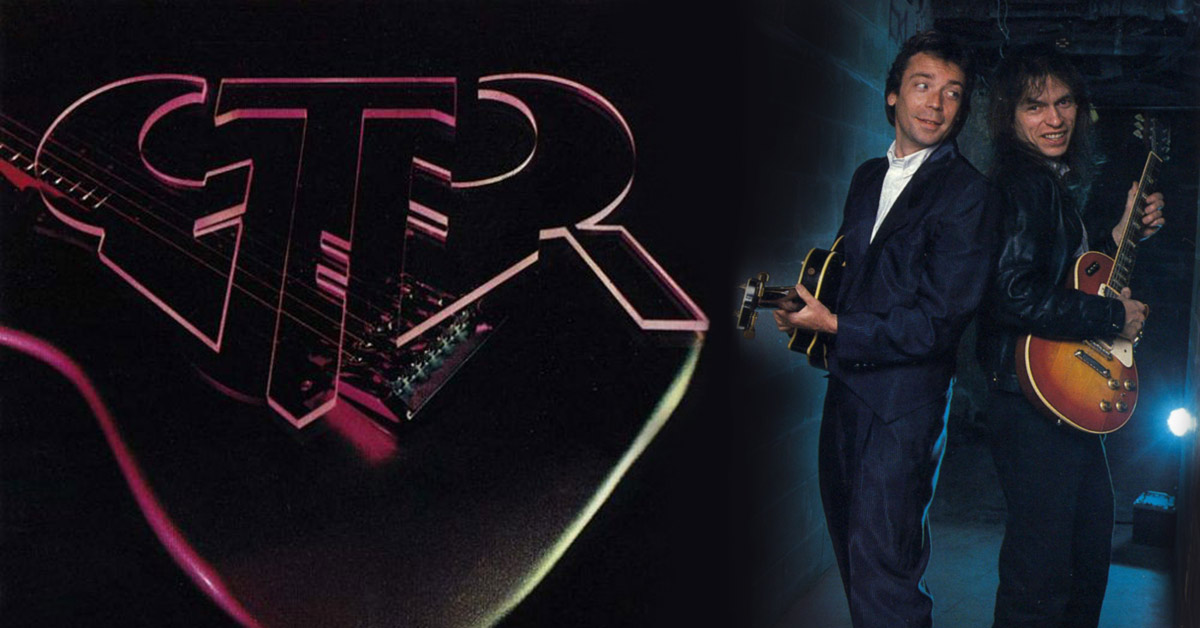 GTR (Hackett / Howe / Spalding / Mover / Bacon)
The only album by Steve Hackett's super group
In the summer of 1986 a secret dream of many progressive rock fans came true when two legends from the 1970s, Steve Hackett (ex-Genesis) and Steve Howe (ex-Yes), formed a "super group".
Disappointment came quickly with the release of their first (and last) album: There were neither new Firth Of Fifth solos nor intricate successors to Siberian Khatru on the album but mainstream rock.
First things first: Steve Hackett had lost his contract with a major label after his 1983 so-so album Highly Strung and released another album right away on small Lamborghini label: Bay Of Kings. This album was dedicated from the beginning to the end to music that was influenced by classical music and played on an acoustic guitar. In 1984 he put out a second record on Lamborghini. Till We Have Faces offered South American rock and met with little success. Hackett found himself in a financial impasse.
Steve Howe, on the other hand, had left Yes when they broke up at the end of 1980. He had enjoyed much success in 1982 and '83 with the first two albums by the Allstar group Asia. But he left the band in 1984 because the sound became too keyboard-heavy for him and he and John Wetton would always argue.
Manager Brian Lane brought the two disoriented guitar heroes together. The goals for GTR were clearly i) success and ii) guitars instead of keyboards.

First of all they needed other musicians: Phil Spalding, who had already played in a whole series of mostly unsuccessful bands and projects, became the outfit's bassist. Immediately before that he had been with Ian Page & Bop and in Toyah's band. The drums were played by Jonathan Mover, who had just finished a brief stint with Marillion. (Interestingly, his successor at Marillion was Ian Mosley who had played in Steve Hackett's band until then). Hackett chose Max Bacon as the singer. They had met shortly before, when Steve had helped Bacon's hard rock band Nightwing in the studio – and they, in turn, covered his song Cell 151. And then, for the keyboards, they hired … nobody! It was supposed to be a guitar album. In the end, the guitareros didn't quite pull it off (or cheated a bit), as Hackett and Howe recorded synthesizers through their guitars.
There are ten tracks on the self-titled album. Each one of the three instrumentalists who joined later was credited exactly once as a (co-)songwriter along with Hackett and Howe. Two songs are solo pieces by Hackett and Howe; one tracks was written by Geoffrey Downes alone. Downes (Asia, ex-Buggles, ex-Yes) was GTR's producer - which is a bit surprising: a keyboarder producing a record without keyboards? He may be the explanation for the massive use of guitar synths.
The music on GTR, as mentioned above, has nothing to do with progressive rock nor even with NeoProg à la Marillion. Instead it's close to what Asia did: Relatively short songs (mostly around the four minute mark), catchy melodies and choruses and a very modern production, which today is probably best described as the typical sound of the 80's. The drums sound sterile, the bass often stays in the background and the guitar synthesizers create all kinds of effects.
The guitars are mixed further into the foreground (as opposed to Asia's output) and both Hackett and Howe show their recognizable technique in riffs and finger pickings, with acoustic guitars and the lap steel guitar (Howe) or the tapping technique (Hackett). They do not play longer solos, though. In fact, there are only a few short solos on this record. They clearly wanted to distance themselves from the music they previously made in their bands. They were going for "complex arena rock", as Steve Howe put it
The lyrics follow the arena rock direction, too. They assemble easily memorable, but rather superficial phrases.

I would like to go into some of the songs in more detail:
The Hunter is the song which neither Hackett nor Howe were involved in writing. You wouldn't realize that at all on the LP/CD. Because this song takes its time and has acoustic guitars, a partly prominent bass and beautiful electric guitars from both protagonists, it is one of the highlights on the album for me. But there is a catch here and everywhere else on the record, and that is Max Bacon's vocals. Those are very much an acquired taste. You can easily hear be comes from a hard rock band, and though he is British his singing has a very American quality to it. His vocals brings GTR closer to melodic rock bands like Ratt, Foreigner or Night Ranger, although the instrumentation is less hard and more differentiated.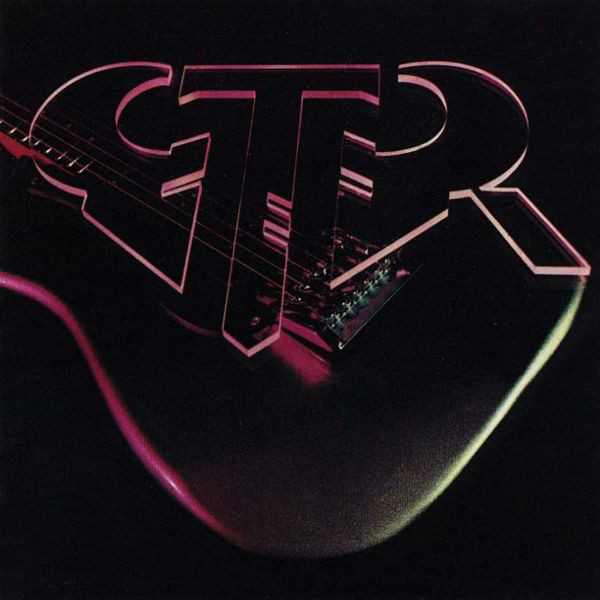 The Hunter went to #85 in the US charts while it did not chart at all in the UK and Germany. Asia re-recorded it with John Payne on vocals and lots of keyboards, and it fits their releases in the 1990's very well (you can find it on the Anthology compilation).
The two solo tracks are also interesting, of course. Except for a humourous pun, Hackett To Bits has nothing to do with Hackett To Pieces from Highly Strung. It is rather a modified version of Please Don't Touch. Somewhat shorter, more modern and slightly edited, this is a typical Hackett song that still works very well in the context of the GTR LP.
The short Sketches In The Sun is also very clearly a Steve Howe composition. It is supposed to be a reworking of the demo High, which was recorded for the Tormato album by Yes, but I can hardly hear that. As it is on the album, Yes would have incorporated this "song" into a more complex piece if they wanted to use in on their album.
When The Heart Rules The Mind was re-released in 2018 by Steve Hackett in a solo version. It's -the- single release from the album, as it went to #14 in the US charts and to #82 in the UK (no chart entry in Germany). The original version has catchy melodies, some great guitar riffs and also a soft, repetitive chorus. It may pass by you unnoticed or it becomes very annoying after listening to it several times. In his own version (not on the GTR CD!), Steve manages to reproduce the guitar sounds (his and Howe's) very well with the help of Steve Rothery (Marillion). Hackett's vocals are more pleasant than those of Bacon (to my ears at least). The background choruses don't sound so schmaltzy anymore in 2018 and the effects/synthesizers are reduced. A successful update that improves on the original. I wonder if there is a real drummer playing on the new version?
The last song I would like to discuss is Imagining, the final piece of the album and also the longest (at six minutes). This is the only song that contains a bit of prog. First we hear a long intro on the acoustic guitar, similar to Hackett's acoustic intros or Howe's short acoustic songs. Then the main part begins, where both guitarists permit themselves to let go. The bass sounds really funky. It is a song where the chorus goes straight into the ear without exaggerating. At the end there's an acoustic outro. Good song!
The 2015 remaster of the album sounds more transparent as the impression of "80's sound" is slightly softened. The bonus material consists of three single and/or remix versions.

In addition to an informative and beautifully presented booklet there is a second CD with 14 songs recorded at a GTR concert on July 19, 1986. The show has already been released several times on the King Biscuit Flower Hour. The sound quality is not quite top, but the concert is worth having nevertheless. Many of the songs (nine out of the ten album tracks were played) sound more organic than on the album. This may also be because Hackett and Howe decided not to use guitar synthesizers and hired Matt Clifford as keyboarder instead.

In the live situation, Imagining is extended like most other songs. The set also includes one solo song by each guitarist (Spectral Mornings and Pennants) and one song each from their respective pasts: I Know What I Like for Hackett and Roundabout for Howe. It is interesting to hear how GTR interprets these songs. Of course, they are not "better" than the originals, and they are, of course, adapted to the sound of the 80's and the GTR concept, so they are no faithful reproductions of the 70s versions. Max Bacons' voice, as said before, takes time to get used to.
The songs just mentioned make up the middle section of the live CD set, which is bracketed by the GTR pieces. One original GTR song is missing though; it was not on the album either: Prizefighters was written for a second GTR album, but Hackett quit before it came to that. The follow-up album was recorded partly without him, but never released. If you are interested in that, you can read up on it at this link.
Steve Hackett published his own version of Prizefighters on Feedback 86. The live version of GTR fits well to the other songs, but the solo version is not really that similar in sound and atmosphere except for the chorus and the lead guitar.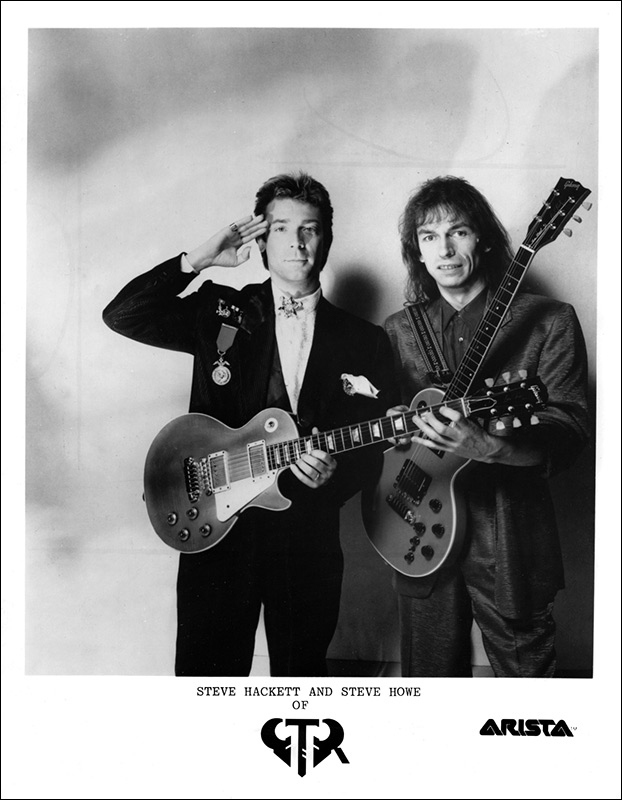 The live CD is a worthwhile extra in this re-release, even though it does not offer a complete GTR show. Internet research reveals that live sets usually included many more solo songs by the two main musicians. This means that either the order of the songs on the live CD is incorrect or it was a special concert for a radio broadcast.

In retrospect, Hackett and Howe only achieved only part of their goals with GTR. The record was a success, reaching #11h in the USA, #41 in the UK and #39 in Germany. Nevertheless, it was not the big source of money for the two Steves, as both the songwriting process and recording had swallowed up a lot of money.
I think that this album, which was released a few weeks before or after Invisible Touch (depending on which source you believe), would have been even more successful and given the band GTR more stamina if the arrangements had been even smoother, the frontman even better dressed and the producer more experienced and with a vision.
But that's a moot point, for, after all, it's a pop rock album with great guitars, in fact a bit like rockier Asia.
For Hackett this was the only foray into commercial pop rock. His next release in 1988, Momentum, offered completely different music. However, it would take the founding of his own label, Camino Records, and the albums released around the turn of the millennium for him to free himself commercially and artistically for the second time after a long dry spell.
Author: Harald Köhncke (May 2019)
English by Martin Klinkhardt

Sources: Booklet of the 2015 Version; The Making Of GTR-Video; Wikipedia; Hackett-Interview with "World Of Genesis"
The
GTR-
Album is available on 2CD (Remastered with bonus tracks) at
amazon-UK
and
CherryRed
and can also be purchased digitally on
iTunes
.
Tracklist of the 2CD from 2015 (Digipak, Esoteric Records)
When The Heart Rules The Mind
The Hunter
You Can Still Get Through
The Hunter
(Special GTR Mix)
When The heart Rules The Mind
(Single Version)
The Hunter
(Single Version)
CD2 (GTR live in L.A. 1986):
I Know What I Like (In Your Wardobe)
When The Heart Rules The Mind