The German Genesis Fanclub it is proud to announce the
ANTHONY PHILLIPS EVENT 2014
latest update: December 22, 2013:
The event was

sold out

within four hours!
UPDATE: Extra date announced for 23rd March, now SOLD OUT!

For almost twenty years we have been trying to entice this founding member of Genesis to Germany as the guest of honour at an it event. Now we have succeeded: Anthony Phillips is coming to Eichenzell-Welkers on March 22 + 23, 2014.
There is not much we need to explain about Anthony. His name ought to be familiar for every Genesis fan. Undoubtedly, his was a crucial role in early Genesis, though he was not in the band for very long. He probably was the one who drove Genesis forwards until unhappy circumstances forced him to leave the band. What followed was a solo career that continues to this day, albeit a bit less successful than the ones his colleagues and successors enjoyed. Much of his work is simply not commercial enough and have been relegated to a niche existence for that reason only. It includes a number of great albums, of timeless records with music from another world or another time. Unfortunately, this music was nothing that would race up the charts back then (and much less today). If you simply count the number of albums released Anthony remains unbeaten in the Genesis camp. The artwork and the album covers have a quality that has rarely been matched, either. All this makes it good sense to dedicate a very special event to this artist.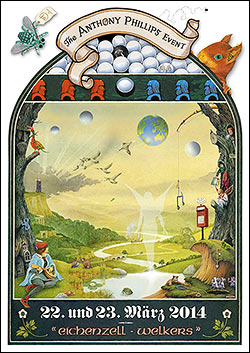 As with every themed event we will be putting together a big exhibition to show everything we and other fans (who we would like to thank most kindly for their loans) have collected by, about and with Anthony Phillips. One section of the exhibition will be dedicated to Peter Cross, the painter who has created Ant's most beautiful album covers (and many other things).

The highlight will, of course, be Anthony Phillips' presence at the event. He is going to field your questions in an on-stage-interview, give autograms and have a good chat.

As you know, Anthony does not play live to audiences (anymore), so there will not be a concert with him. We still want to bring his music live to the stage of the civic centre, though. His music is very demanding, so it will be quite difficult to find musicians who could do a full set of Anthony Phillips music live. With the event scheduled for March, we also realize that the lead time is rather short. We have found two musical member of the fanclub who are going to rehearse a couple of Phillips pieces for the event, but it would be great if other fans would come forward and offer to play an Ant song that day. We therefore ask all you musicians out there: Listen to Ant Phillips' albums and try to find a song to play for all of us in March! Please contact Helmut with your suggestions.
Every guest automatically takes part in a lottery where you can win attractive Genesis-related prizes. We will also run another instalment of "Rudi's Quiz" in which you can test your Genesis knowledge and win special items.
Besides all that there will be enough time to meet up and chat with other fans. You will certainly be able to hear some of Anthony's music in the background. We may even be able to show some video footage, though there is precious little of it. In the course of the next weeks we are going to fine-tune the programme and try to make it great for you – and maybe even slip in a surprise. Ours will actually be the last club convention at the old civic centre in Welkers, as it will go complete reconstruction for at least a year. This will be the end of an era, and how better to celebrate it than with such an illustrious VIP guest as Anthony Phillips…
As usual, simple but delicious food and drinks will be available on site at very moderate prices.


The 22nd March is already sold out. Tickets were on sale on October 10, 2013 from 10am CET, and it was sold out within four hours. There were only 100 tickets available.

UPDATE: We are happy to announce there will be an extra date on 23rd March. Tickets are available at WiV Entertainment at this link.

The Anthony Phillips Event
Bürgerhaus Welkers
Hauseller 8
36124 Eichenzell - Ortsteil Welkers
Deutschland
Saturday, March 22, 2014 sold out
Doors open: 12:00am
Beginning: 1pm
Ends: We will see, probably in the early evening
NEW: Sunday, March 23, 2014 sold out
Doors open: 11:00 am
Beginning: 12.00 am
Ends: We will see, official programs ends in the early evening
Facebook-Event page

No reserved seats. No guaranteed seats. We would like to remind everyone that animals may not be brought into the venue.
This Event can also be found on Facebook.

Links for accomodation