Tony Banks - SIX: Pieces For Orchestra
featuring Charlie Siem, Martin Robertson & Paul Englishby
EIt is a great gift for a musician to find their musical line at just the right point in time.

Tony Banks has received this gift, and released the result on his third album of classical music after The Wicked Lady of 1983 and Seven (2004).


SIX Pieces for Orchestra

Contrary to most albums of classical music each composition has a main instrument that stands out from and also supports the orchestra.
When I first listened to the album it reminded me strongly of the works and melodies of Rodgers and Hammerstein. I have been looking forward to Tony Banks' new classical album. Admittedly, I have revered the complete oeuvre of this (in his opinion) very underrated solo artist since A Curious Feeling in 1979.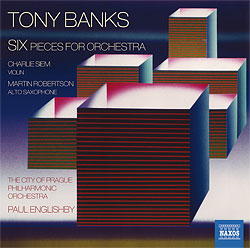 The album consists, as the title suggests, of six pieces that can be listened to individually or as a suite. It was recorded in Prague, which I feel has had a very positive effect on the overall mood on the album (and not only because of the costs).

Paul Englishby (Oscar nominee for the score of An Education) conducts the City Of Prague Philharmonic Orchestra with ease and delight so that one listens raptly to this album and only hopes that nothing is going to interrupt this dream.

The solo musicians convey a wave of feel-good in the performance, particularly Martin Robertson, whose playing is pure joy.

If you are able to drift off into your own dream world when you listen to an album like this I can heartily recommend track 3, Blade. Charlie Siem and his violin create just the most beautiful atmosphere.
Whether you are lying down in the part with your eyes closed or simply relax at home, Blade is really a milestone on the album. SIX is a record for when you are really at ease.

A record to leave the hectic day behind you and just drift away … Thank you for a great album, Tony Banks!

By Peter Maiwald, English by Martin Klinkhardt