Paul Young: Posthumous album "Chronicles" out in March
Musician friends finish some of his unreleased songs
He was frequently confused with another Paul Young. This Paul Young became famous as the singer of Sad Café but particularly so as one of the two singers of Mike + The Mechanics. After the M6 tour with the Mechanics in 1999 he suddenly passed away in 2000. He never released a solo album but had mentioned several times that he was working on one.
Now an album called Chronicles is scheduled to be released later in March. It developed out of some thirty songs that were found recorded in more or less completed form after Paul Young's death. Alistair Gordon and Martin Kronlund produced an album and many musician friends besides the Mechanics Mike Rutherford and Paul Carrack have helped to complete the unfinished songs.

The album contains these songs: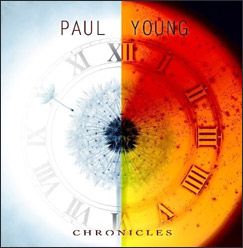 01 House Of Many Nations
02 Your Shoes
03 Grace Of God *
04 Loss Of Innocence
05 Frozen Heart
06 Two Wrongs
07 Water Now The Seed
08 Here Comes The Future
09 Everything
10 One Heart
11 We Did Nothing Wrong
12 I'm In Heaven Again
13 Everyday Hurts (live)
* duet with Paul Carrack

Your Shoes is to be released as a single in the UK. Everyday Hurts is a live version by the Mechanics that will be available only on the original pressing. Chronicles is released on Escape Music, preorder options are currently only available in Germany (see German news) and the USA (amazon).

---
published on 22.01.11 14:48 by
martinus
@
Mike Rutherford
---
Paul Young: Posthumous album "Chronicles" out in March Comments:
Kein Kommentar möglich

If you want to submit a comment, you will have to log in!
---