Steve Hackett: SQUACKETT out on June 01
Collaboration with Chris Squire (Yes) / 3 formats
In recent years Steve Hackett and Chris Squire of Yes have been working on an album project called SQUACKETT. Last year they reported that it was completed. Now the album, called A Life Within A Day, will be released on June 1, 2012 in the UK and elsewhere around that date.
There are nine songs on the album: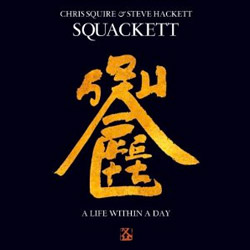 A Life Within a Day
Tall Ships
Divided Self
Aliens
Sea of Smiles
The Summer Backwards
Storm Chaser
Can't Stop the Rain
Perfect Love Song

The album will be released in three different formats:
Standard-CD

Deluxe Edition CD/DVD with a 5.1 mix of the album

Vinyl Gatefold LP

Sea of Smiles will also be released as a 7" single in April
pre-order: only available in selected stores
You can find more information about the project on our SQUACKETT information page. An interview is also underway.
Links

---
published on 05.04.12 17:57 by
martinus
@
Steve Hackett
---
Steve Hackett: SQUACKETT out on June 01 Comments:
Kein Kommentar möglich

If you want to submit a comment, you will have to log in!
---