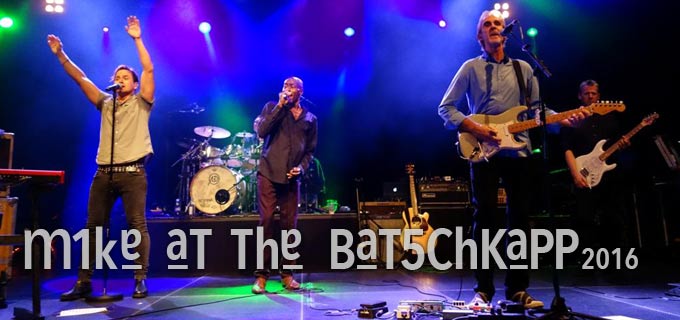 Mike + The Mechanics: Live in Frankfurt 2016
Let Him Fly ... even a longer stretch!
Concert reports can be difficult to write at times. Why? In this case it is the impression that I cannot write anything really new. I have seen some five shows since the 2011 revival of the Mechanics, and the sum of it is: I cannot really spot any differences between the shows, so that a concert report would read very much like a rehash of previous concert reports. This is not a bad thing, mind you, for I can say up front that there is nothing to complain about in a Mechanics show. I also feel that the new front men are a real gain for a band that works very, very well, albeit with changing drummers. After their concert at the (new) Batschkapp in Frankfurt, Germany, on September 21, 2016, it occurs to me to wonder whether the band work too well together? Could it be that the impressive routine those six musicians put on is perhaps not so impressive after all?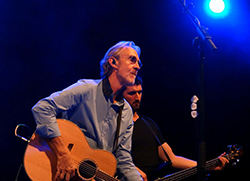 All in good time, though. The Frankfurt Batschkapp has moved and grown. I was surprised to see that the location was quite full, despite ticket prices of 50 EUR. Mike's idea to be present for several years in a row with a "greatest hits" set has obviously turned out a success. Before they played the first Genesis song that night Mike intimated with a wink that some people had no idea that he had played in another band before the Mechanics. I was also pleasantly surprised that the show began at the stated time. This obviously, fits in with the routine thing. The new face behind the drums was Austrian drummer Phillipp "Phil G." Groysboeck from Roachford's solo band. Like Ben Stone before him, he stands in if the Mechanics' main drummer Gary Wallis has a different engagement. The band are in great spirits. So is the audience who manage to keep their hands and arms up for an astonishingly long time if you consider the average age of 55. The show lasted for the usual 95 minutes, and the 14 songs were:

Get Up
Another Cup Of Coffee
A Beggar On A Beach Of Gold
Silent Running
Are You Ready? (new song)
Try To Save Me
Land Of Confusion (Genesis song)
Let Me Fly (new song)
Cuddly Toy (Roachford song)
I Can't Dance (Genesis song)
The Living Years
All I Need Is A Miracle
Over My Shoulder (encore)
Word of Mouth (encore)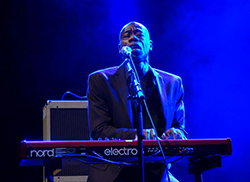 The Mechanics usually play a set of around 15 songs. At least ten out of these 15 have been in every single set list of the last five years. Apart from changes in the order approximately two thirds of the show have not changed since the re-formation of the Mechanics. The other third changes from year to year regardless of what the tour is called. In this experimental third an astonishing 26 songs have fought for a place in the set. Not much variety for fans who attend several concerts and therefore hope for different songs. There is not much to say against those ten staple songs; after all, they include some of the highpoints of a Mechanics show. But everything has been said about them. And Mike has perfected his shows to a degree that precludes glitches. No, stop that! Anthon Drennan played three chord on his guitar when the announcement called for "two times" in the interactive part of Roachford's Cuddly Toy. Result: Smiling outrage with winks from his band mates. There were no other special moments apart from that.
The experimental third consisted of only three songs this night. Two of them have not been published, the third was the newly included cover of Genesis' Land Of Confusion.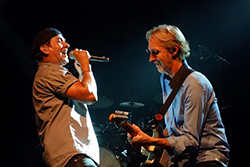 Are You Ready is a brand new song sung by Tim Howar. It is set to appear on the new Mechanics album Let Me Fly (to be released in early 2017). A midtempo rock song with a sing-along chorus and quiet verses complete with typical Rutherford guitar parts. Unfortunately, the song sounds neither special nor particularly interesting, even compared to similar Mechanics songs.
The second new song made its debut to the live set in 2015. It is going to be the title track of the the upcoming album, Let Me Fly. Roachford sings this song somewhere between a soulful ballad and a powerful anthem; a pleasant song that does no harm.
The Genesis song Land Of Confusion has been part of the set for some time now, replacing Turn It On Again. It follows the original version very closely. With the very powerful drums the song sounds closer to the studio version than did Genesis themselves live. Tim Howar is the obvious choice of singer for this song.
This show was a perfect offering for "new customers". For initiates and regular concert-goers like me it had too much routine, it was too static, too generic. The great ease of the front men makes up for this, though. Still, I wonder where this journey is going for Mike and his Mechanics. After five years of touring their hits it might be time to risk something. Do they have to play all the radio hits? Do they have to play them all right away? With seven Mechanics and two solo albums, do they really need Genesis songs in the set? And would extending the show to two hours really be so bad? We all know that Mike likes to play it safe. The 2017 Word Of Mouth tour already promises "all the hits" along "selected Genesis songs". I will take Mike up on the motto of his upcoming album Let Me Fly and say this: I will let him fly wherever he wants to fly … even a greater distance.
by Steffen Gerlach, English by Martin Klinkhardt
photos courtesy of Frank Niederhausen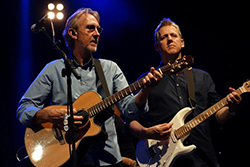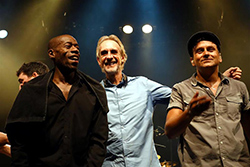 As a bonus here is an overview of all 36 songs the Mechanics have played since their comeback in 2011:
Genesis: Follow You Follow Me (1978), Turn It On Again (1980), Land Of Confusion (1986), Throwing It All Away (1986), I Can't Dance (1991)
Roachford: Cuddly Toy (1988), This Generation (1994), Only To Be With You (1994)
Mike & The Mechanics (1985): Silent Running, All I Need Is A Miracle, Taken In, I Get The Feeling
Living Years (1988): Nobody's Perfect, The Living Years, Nobody Knows, Seeing Is Believing, Don't
Word Of Mouth (1991): Get Up, Word Of Mouth, A Time And Place, The Way You Look At Me, Everybody Get's A Second Chance
Beggar On A Beach Of Gold (1995): A Beggar On A Beach Of Gold, Another Cup Of Coffee, Over My Shoulder
Mike & The Mechanics (M6) (1999): All The Light I Need, Whenever I Stop
Rewired (2004): If I Were You
The Road (2011): Reach Out, Try To Save Me, I Don't Do Love, The Road
New Songs (2014-16): When My Feet Don't Touch The Ground, Let Me Fly, Not Out Of Love, Are You Ready