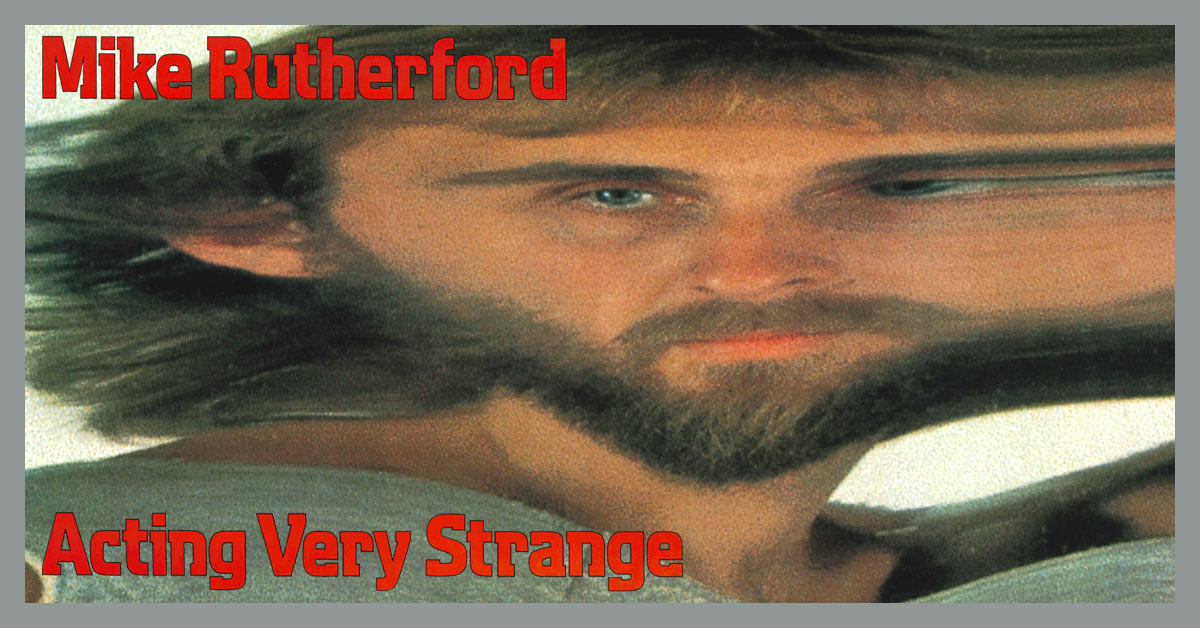 Mike Rutherford – Acting Very Strange
Acting Very Strange appeared on September 7, 1982 [1]. After Smallcreep's Day, this is the second solo album of the Genesis guitar/bass player. Considering that Anthony Phillips' The Geese And The Ghost was planned as a co-solo album, the uninformed listener will find it hard to believe that Mike Rutherford wrote (or co-wrote) all three albums. Acoustic guitars rule on Geese, while the keyboards (albeit a lot of guitar synth) are the strongest instruments on Smallcreep's Day. The direct sound of electric guitars was something Mike only discovered on Acting Very Strange.

In order to place the album better in the general history of (Genesis) music you need to realize that Smallcreep's Day came out in February 1980, Genesis' Duke in March 1980, Face Value in February 1981 and Genesis' Abacab in September 1981. Punk was over, the New Wave was running out, The Police were hip. You can hear that in Mike's album not just because of Stewart Copeland's typical drum sound. If you find it difficult to understand the change of sound in Genesis between Duke and Abacab, Acting Very Strange may help you out.
With a solo album you usually expect the solo artist in question to sing, which was why Mike, too, tried his hand at singing [2]. Noel McCalla sang on Smallcreep's Day, and many listeners probably thought they heard Mike. His own vocals raised Mike's identification with the album. Using Noel McCalla as backing vocalist on Acting Very Strange was a clever move because his voice offered a link between the two albums.
The songs, their authors and runtimes:

Acting Very Strange (Mike Rutherford) 4:58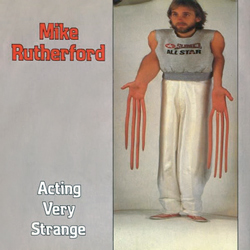 The album begins with the title song and its simple structure: two verses, bridge, chorus 1, chorus 2. Three times over until the finale, which is chorus 1 once and chorus 2 for a minute until the fade-out. The song is up-tempo with a driving bass sound – this could be a Mike + The Mechanics song were it not for the peculiar chorus 1 that consists of sequencer, tom-toms and a jungle choir going "You're acting very strange". It disrupts the flow of the song and makes it less conventional at the same time. Not a smooth song, but it appeals to the masses and it is a good opening song.

A Day To Remember (Mike Rutherford) 4:59

If there is a really strange song on the album it's this one. This sounds more like Genesis (from the Abacab period, that is) than any other song. It begins with a drum machine, synth bass and a guitar synthesizer; it all sounds very electronic. A simple rhythm continues throughout the song, and we find sequencers, synths and guitars dotted all over the song. Though the song is slow and very simple, it seems stressed and nervous because of Mike's voice. Perhaps it would have been better somewhere else on the album.

Maxine (Mike Rutherford, Pete Belotte) 5:24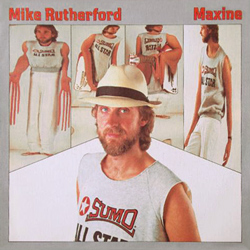 This song is similar to Moonshine from Mike's previous album or Genesis' Squonk, but the raw guitars make Maxine sound rougher, more aggressive than the other songs.

The stress on the 3 reminds me of Dodo, and the bridge that starts at 2:56 shows where the threatening character of Making a Big Mistake comes from. The saxophone plays a very aggressive part, which helps in making the bridge not sound too sweet. Noel McCalla can clearly be heard singing backing vocals. The song fades out slowly.

Halfway There (Mike Rutherford, Florrie Palmer) 4:11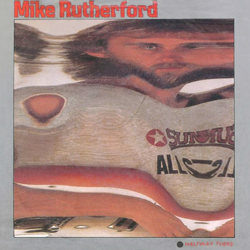 The first seconds play, the hi-hat plays around the beat – and it's not Peter Gabriel's Red Rain. Stewart Copeland's drumming gives the song a Police bias. Just when you think you have understood the rhythm extra beats start confusing you ("Are you running away?"). The chorus is simple and catchy. The second verse has you looking for the beat again. After a violent saxophone solo the chorus is transposed and repeated a few notes higher. The song title worms its way into your memory thanks to the many repetitions of the chorus, but the verse were probably a bit too cumbersome to make this a successful single.

Who's Fooling Who (Mike Rutherford, Florrie Palmer) 4:47

Who's Fooling Who is as close to a rock song as this album gets. When you look at the ostinato bass and the changing chords this could easily be compared to All I Need Is A Miracle, but it sounds much stronger and has more rock than that pop number from the Mechanics' debut. A horn sections accompanies the chords staccato; Mike might have remembered that from Phil's album.

Couldn't Get Arrested (Mike Rutherford, Pete Belotte) 3:50

Drum machine and synth bass start off this rhythmic song – almost a song to dance to. A distorted guitar riff comes in and is continued by the chorus vocals. The drum machine is supplemented by and by with percussion and drum fills. The structure is simple: chorus, verse, chorus, verse. In the last third the chorus is repeated continuously while the backing singers improvise on it. Real drums and real bass would make this a funky sound, but in the 80s it was chic to be synthetic.
I Don't Wanna Know (Mike Rutherford) 4:36
This is not to be confused with Phil Collins's 1985 song. The beginning sounds like The Police again. Muted guitars are supplemented by synth bass and drums. The atmosphere is a bit secretive ("I'm alone") until the chorus comes in and Mike lets us know "I don't think I wanna know.") From 2:29 on the 4/4 beat switches to something like a 3/4 beat for half a minute before it returns to the regular 4/4. The chorus is changed around during the last third ("I don't want to be another fool") and the stresses change.

Hideaway (Mike Rutherford) 5:58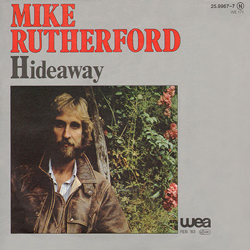 The sentimental ballad is saved for last. Real violins indicated that Mike wanted to makes a different solo album without the synthesized blankets he had on Smallcreep's Day. The violins also accompany the drums when they stress something. Acoustic guitars would have been great on Hideaway, but Mike sticks to the electric guitar consistently. Mike's brittle vocals are best suited for this song. From 4:20 on we hear a simple but tasteful solo on the slide guitar (played by Daryl?) that accompanies the song into the fade-out.
The Singles

Half the album - Halfway There, Maxine, Acting Very Strange and a version of Hideaway that was cut to 4:30 - was released as singles, to no success at all.
The Outtakes

The non-album track Calypso was released as the flipside on the Hideaway single; it has some resemblance with I Don't Wanna Know.
Acting Very Strange and Couldn't Get Arrested [4] were released as 12" versions. They were only cut and stretched, though, without sounding any better or exciting.
Making A Big Mistake appeared on the 1984 soundtrack for Against All Odds. Phil Collins wrote the title song for that, and Peter Gabriel contributed Walk Through The Fire. Making A Big Mistake sounds as if it had been recording during the Acting Very Strange sessions. As far as I know it is the last song Mike wrote on his own; he would prefer collaborations.
The live versions

Halfway There, Maxine and I Don't Wanna Know [4] were all played live on the first Mike + The Mechanics tour in 1985/86 to bolster out the material from the Mechanics debut.
The musicians involved (with some notes):
Mike Rutherford – lead and backing vocals, bass guitar, guitar, keyboards
(Genesis, Mike & The Mechanics)

John Alexander – guitar
(Schulfreund und Genesis-Umfeld)

Daryl Stuermer – guitar
(George Duke, Jean-Luc Ponty, Genesis, Phil Collins, Tony Banks u. a.)

Paul Fishman – keyboards
(Re-Flex)
J. Peter Robinson – keyboards
(Brand X, Phil Collins, Shawn Phillips, David Bowie, Bryan Ferry, Eric Clapton, Filmmusik etc.)

Stewart Copeland – drums
(Police, Klark Kent, Animal Logic, Filmmusik)

Pete Phipps – drums
(Gary Glitter, Eurythmics, XTC, Roger Chapmann, Andy Scott's Sweet u.a.)

Gary Barnacle – saxophone
(Der hat nun wirklich mit der halben Musikerwelt gespielt.)

Luke Tunney – trumpet

Steve Gould – backing vocals

Noel McCalla – backing vocals
(Manfred Mann's Earth Band, Mezzoforte, Solo)

Dale Newman – backing vocals
(Anthony Phillips, Genesis-Roadie, Solo)

Martyn Ford – string arrangements and conductor
(Phil Collins, Kate Bush, Elton John, Bryan Ferry, Japan u. a.)
The album was recorded at The Farm studio. It was produced by Mike Rutherford with the assistance of Nick Launey (Killing Joke, PIL, Kate Bush, Eric Clapton, Midnight Oil, Nick Cave and others).
Cover Artwork

Have you ever been to a hall of mirrors? This is what the album looks like: Mike has been distorted, extremely long or very stocky. This is meant to underline the "strange" element, show Mike and stand out. The idea comes from one "A.R.", probably Mike's wife Angie Rutherford. There are more interesting covers
Our Assessment

Mike himself is not happy with the album. He feels the songs are good but poorly recorded [5]. AllMusic rates it with 2 out of 5 stars, and the Babyblaue Seiten (a German-language website dedicated to music reviews) give it 4 out of 15 possible points.

You could say the sound of the album was too far from the sound of Mike's daytime band for Genesis fans. Perhaps some of the song parts do not work too well in their context to make an impact on the charts. Perhaps this is the strength of the album: It has not been polished too much (like later Mechanics albums) and it permits certain discontinuities).
Mike's voice is the focal point of criticism on this album. It is rough, not very flexible and brittle. Sometimes you can hear how difficult he found some parts. But Tom Waits and Joe Cocker had success despite their similar voices. It is Mike's voice that makes this album so raw and in-your-face. I applaud the courage to use the voice and the vocals like this to make it an album that is different from the Genesis music we used to be used to. The countless repetitions of a chorus at the end of the songs are a bit challenging, though. I like the album, and I'd recommend you start with Halfway There, Maxine and Who's Fooling Who
The consequences
Neither the album nor the singles were successful. For Mike, it was the starting point to think about writing songs for other vocalists and he eventally formed Mike + The Mechanics, where he didn't have to sing and it sounded a lot smoother. The success proves him right.
Author: Peter Musto

Sources

https://en.wikipedia.org/wiki/Acting_Very_Strange
https://www.youtube.com/watch?v=ZupcWUFRmeM
https://mikerutherfordnet.com/2017/01/03/series-collecting-mechanics-part-2-live-recordings/