A second glimpse at old times

Get up Stand Up - Highlights from the Human Rights Concerts 1986-1998 (DVD)

Amnesty International have brought out a DVD with excerpts from four concerts in support of AI, making it known to more people and standing up for the human and political rights of everybody. A comprehensive essay in the DVD booklet explains why musicians support Amnesty in this way as well as how the four concerts from a space of twelve years came about that are represented on this DVD.

We are reviewing the DVD on our website, of course, because Peter Gabriel is on it several times. There are many other memorable performances and moments on it, though. This DVD is a trip into the past, into a time when our musical heroes were in their prime. When making political statements and getting involved with a social cause was seen as a must. When fans supported a cause because their idols supported it – and when many a fashion crime was committed...

Let us look at the four shows and some of their highlights.


A Conspiracy Of Hope (1986)
In the course of the Secret Policemen's Balls people realised that musicians could use their popularity to raise awareness for the goals and ideals of Amnesty. The Conspiracy Of Hope was the first to test this concept in six shows, the last of which took place in the truly gigantic Giants Stadium in New Jersey. It was also broadcast live on TV.
The order of the 13 tracks from this show on the DVD matches the order in which they were performed. You can see how it gets darker and in the way the performers take the stage in ascending order of popularity.
Bob Geldof and Steven Van Zandt (then 'Little Steven') are the first on stage; they play an acoustic Redemption Song. They are followed by some remarkable performances of artists like Joan Armatrading, Ruben Blades, Miles Davis and Lou Reed.

Peter Gabriel is number 7. Gabriel's performance of Shock The Monkey is dynamic; he has a good sports workout, as it were, as he runs across the stage. He is very intense in his desire to really get the song across to the audience, even though – or because – he puts on a serious face. His band consists of David Rhodes and Manu Katché, who will both be playing on his tour to promote the So album, Larry Klein (bass, also on So) and Ian Stanley of Tears For Fears (keyboards). They create a powerful if slightly conventional version of the song. Oh, but Peter Gabriel's fashion statement: Tapered pants and a shirt with shoulder pads!

Another remarkable performance from this concert is U2's (they even have two songs on the DVD). Bono still looks very young and gives an energetic performance that is not yet quite as competent as today. It is also quite amusing to notice the amount of trouble and work he causes for a stage helper with his microphone cable.
The Police do a routine job with their two songs. What makes the gig special is the fact that it would be their last for 21 years. Of course, nobody knew that at the time.




Human Rights Now! (1988)
Only two years later the Human Rights Now! tour began. It took its headliners Youssou N'Dour, Tracy Chapman, Gabriel, Sting and Bruce Springsteen to 20 places half-way around the world. After performances by local musicians and activists the Top Five would each play a set of around 45 minutes. Gabriel and Sting drew from the set of their current solo tours and the respective light shows (Gabriel, for example, brought the light dollies).
It is a bit peculiar that Youssou N'Dour was not included in the DVD. After all, he was a fellow headliner and a well-known world musicians to boot, so he should have been regarded.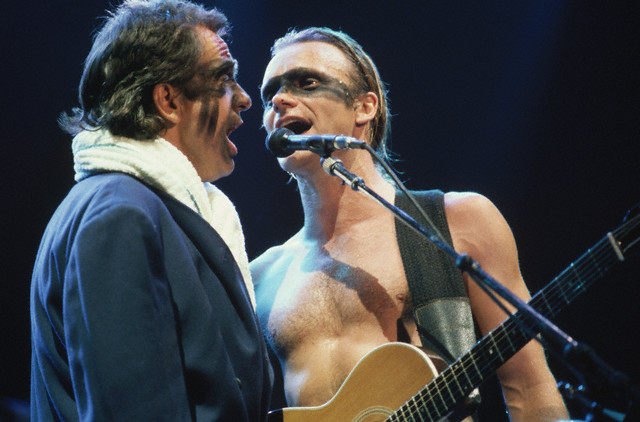 Gabriel's part is represented with Sledgehammer, complete with a brilliant guest performance by Sting's saxophone player Branford Marsalis. It is a strong performance throughout; in the middle they even do a funky dance routine. Peter's hairdo look like crap, though – very close to a mullet...
Peter Gabriel and Sting swapped more musicians beside Marsalis: Daryl Jones of Sting's first solo band plays the bass for Gabriel (but does not play on Sting's current band). Sting, on the other hand, seems to have met David Sancious here, the man who would become his regular keyboarder for the next years.
The Sting song included here is Don't Stand So Close To Me, which means that he is doing Police songs only on this DVD. At this apex of his vanity Sting drops his coat at the appropriately dramatic point and flaunts his (flawless) chest to the female audience.
Bruce Springsteen & The E Street Band are featured with two song, probably because it is their only performance together. Bruce is at the pinnacle of his success as a down-to-earth streetworker, and both songs are done in a fine way.


An Embrace Of Hope (1990)
In order to celebrate the liberation of Chile from the 17 years of Agusto Pinochet's dictatorship a two-day event called Un Abrazo a la Esperanza took place in 1990. This rather unregarded event included performances by both Peter Gabriel and Sting, neither of which made it to this DVD.
The four artists featured from this show are none of the big household names. Inti-Illimani have regional importance in Chile, while Wynton Marsalis' band is big in the jazz scene. The latter play a brilliant number in the good old New Orleans style and get everybody going. The best-known artist from this show would have been Sinéad O'Connor. She moves from elf to punk and back as usual and does a highly emotional version of her biggest hit, Nothing Compares 2 U.


The Struggle Continues (1998)
After an interval in which there were no major concerts to support Amnesty a new musical event took place in Paris at the instigation of Peter Gabriel and others: The Struggle Continues. Unlike the previous events this one was released on video. The other concerts had only been broadcast on TV.
The Conspiracy concert and this gig are the ones that have the most tracks and artists on the DVD. First off it is Bruce Springsteen solo with his guitar, then the band and Tracy Chapman take over with a very sensitive Fast Car.
Peter Gabriel and Youssou N'Dour play an unplugged version, as it were, of Shaking The Tree with N'Dour's band. Though they are struggling through the obviously under-rehearsed song it grows towards the end. Their dance-steps at least are hilarious. Gabriel looks worn, though. He had obviously gained weight and lost hair since the 1988 shows, which gives him a slightly maggoty look. Worst of all, his voice is weak. It is frequently too quiet, breaks off, he cannot hit the high notes. A worrying experience. No wonder that fans would wonder four years later whether he would be up to going on a full-blown Growing Up tour.
The duo Page / Plant bring out the golden age of rock heroes, and Radiohead play two songs with an astonishingly unpretentious precision.
For the finale a little all-stars band consisting of Springsteen, Gabriel, Chapman and N'Dour sings the song that has become Amnesty International's anthem, as it were: Marley/Tosh's Get Up Stand Up. It may not be a performance that will change the world, but they take this suit visibly serious.
Another version of the song can be heard in the final credits; this time Sting sings it, too.


Technical data
The footage is in 4:3 format, luckily, one has to say: The producers refrained from "making the footage more lively", i.e. castrating the video to 16:9. The video quality is decent but not overwhelming – they probably worked from old TV tapes. There do not seems to be any plans to put this release out on Blu-ray. The sound is a solid mix that comes in Dolby Digital Stereo, Dolby Surround 5.1 and DTS.


All in all
This compilation aims at a broad audience. The songs and/or the artists were selected in order to make it interesting for the masses. This may not be just or artistically satisfying at all times, but it does serve the purpose. And it is good that they also included lesser-known acts. It is also fine that this compilation was made at all so that we can wallow in nostalgia. It is for this reason and because it supports Amnesty International that it is worthwhile buying.
by Thomas Schrage, English by Martin Klinkhardt
Note: Apart from the DVD a 2CD set and an MP3 album of the shows have been released with identical content.
From A Conspiracy Of Hope (1986)
01
Bob Geldof & Steven Van Zandt

- Redemption Song
2:00
02
Third World

- Now That We've Found Love
5:08
03
Joan Armatrading

- Love And Affection
4:24
04
Ruben Blades (with Carlos Santana & Fela Kuti)

- Muevete
7:17
05
Miles Davis -

Speak / That's What Happened
8:32
06
Lou Reed -

Walk On The Wild Side
4:21
07
Peter Gabriel

- Shock The Monkey
5:38
08
Bryan Adams

- Run To You
4:06
09
Bryan Adams

- Summer Of '69
4:08
10
U2

- MLK / Pride (In The Name Of Love)
5:26
11
U2

- Sunday Bloody Sunday
4:53
12
The Police

- Message In A Bottle
4:58
13
The Police

- Every Breath You Take
5:01
From Human Rights Now! (1988)
14
Tracy Chapman -

Talkin' 'bout A Revolution
3:13
15
Peter Gabriel -

Sledgehammer
5:05
16
Sting

- Don't Stand So Close To Me
8:10
17
Bruce Springsteen & The E Street Band

- Born In The USA
5:57
18
Bruce Springsteen & The E Street Band

- I'm On Fire
4:11
From An Embrace Of Hope (1990)
19
Inti-Illimani

- Bailando, Bailando
3:14
20
Wynton Marsalis

- Jungle Blues
7:37
21
Jackson Browne

- Lives In The Balance
3:58
22
Sinead O'Connor

- Nothing Compares 2 U
5:21
From The Struggle Continues (1998)
23
Bruce Springsteen

- No Surrender
3:48
24
Tracy Chapman

- Fast Car
5:30
25
Alanis Morissette

- Hand In My Pocket
4:23
26
Peter Gabriel & Youssou N'Dour

- Shaking The Tree
5:48
27
Jimmy Page & Robert Plant

- Rock And Roll
4:26
28
Radiohead -

Karma Police
4:09
29
Radiohead -

Bones
3:18
30
Bruce Springsteen, Peter Gabriel, Tracy Chapman & Youssou N'Dour -

Get Up, Stand Up
3:48