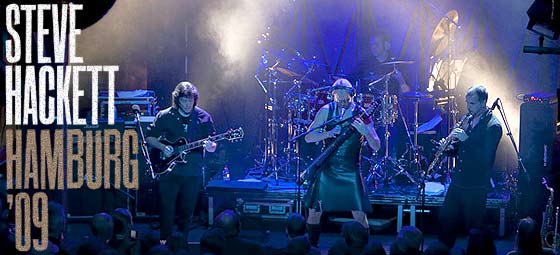 Steve Hackett - Train On The Road - Hamburg 2009
After more than five years Steve Hackett has returned to playing shows with a full band. He also brought his new album Out Of The Tunnel's Mouth and had lots of fun playing the gig.

The band picked one of the best opening songs in their repertoire, Mechanical Bride. The flash effects and the hard sound of this song that was written as a tribute to King Crimson's 21st Century Schizoid Man showed the (hard) rock side of Steve Hackett right away. A great beginning!

It was followed by the opening song from Steve's new album, which was available for sale for the first time that night. Steve was in a talkative mood that night and explained: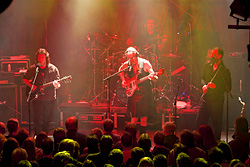 "It does not really feel like a gig tonight. Basically, because you're all friends. But the second reason is that we were in a legal dispute with our record company and the court made a decision in our favour. So, the CD can be bought tonight for the very first time. I think it's always a bit cheesy, if bands announce 'you can buy our CD next Friday', so I'm very proud to say that tonight you can. It feels like dark clouds disappearing, and that's what the next song basically is about: Fire On The Moon."
The song begins with calm, monotonous keyboards before Steve's vocals come in. The special thing about this song is the chorus – it is surprisingly louder than the verses, and the lyrics only go "ooh". Later Steve plays a solo that reminds one of Guitar Noir. Beautiful.

The next song is highly esteemed by the fans. Steve introduces it (like almost all songs) and explains it is about a drug addict Steve was in love with once.

When you mention Every Day you simply have to say a word about Steve's superior solo. It was perfect. Just close your eyes and enjoy. His interpretation was close to the one on the Once Above A Time DVD, which is widely considered a very good one.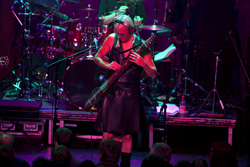 The next two songs are from Steve's new album. Emerald And Ash has great vocals by Steve and begins as a kind of soundscape. It changes completely for the second half, though, to a typical stomping "Hackett rhythm" accompanied by his beloved weird noises. The song ends on an oriental note.

Ghost In The Glass is an instrumental that begins acoustically. Later Steve switches to the electric guitar and solos a bit. The song does, however, not leave a big impression.

Then it was time for a classic. Ace Of Wands, the first song that could be heard from Steve has lost nothing of its magic. The band also enjoyed this song very much, as did the audience. Longing looks and headbangers (yes, that's right) illustrated this.

After Pollution B the band played a song that already brought a big applause from the audience when its first note rang out: The Steppes has always been a kind of secret favourite, but the current version proves it can get even better. Nick Beggs, who had mainly been noted for his Pippi Longstocking costume and his great bass work outdid himself in this song – and not only here. He is a great bass player who is fun to hear and a valuable asset in Steve's live band.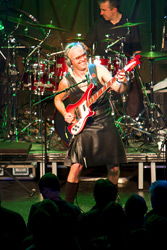 Slogans led back to Steve's edgier side. It was well-received. The growling sample in the middle was another proof that Steve enjoys playing with a huge variety of styles. He does not heed any advice to stick to one style.

Besides Mechanical Bride the band played another song from To Watch The Storms, Serpentine Song. Though unimposing it made a deep impression on the audience – not least because of a great saxophone solo by Townshend, for which he got extra applause. The band's multi-instrumentalist who is essential for almost all songs shows again that he a masterly musician.

Tubehead is a cool, weird song that does not exceed the four-minute mark and provides a contrast for the dreamy Spectral Mornings.

And then there was a big thing: Firth Of Fifth in its entirety! Roger King did a real Tony Banks, and Gary O'Toole did not only drum but also provided the vocals. In the instrumental part before the Solo Steve sat down on the drum platform and took a little break. He took up the rhythmic clapping from the audience and snipped the beat with his fingers before he got up and played one of progressive rock's magic moments. How long has it been since this song could be heard in its full glory?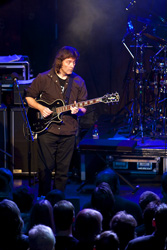 The mood in the well-filled Fabrik reached its peak during Firth Of Fifth. There was probably nobody who did not know the lyrics or did not hum along to the instrumental. A magical atmosphere.

Steve then went on to show his aoustic side. He played a wonderful Walking Away From Rainbows followed by a much acclaimed Horizons.

The next instrumental bit was "only" the introduction to a Genesis song. The introduction to Blood On The Rooftops is one of the reasons fans hold this song in such a high regard. One by one the band join Steve, and O'Toole does another good performance as a singer.

While we are on the topic of Genesis, the next two classics were Fly On A Windshield and the Broadway Melody of 1974, complete with a singing drummer.

Sleepers and Still Waters are two songs from the new album that were played next. Sleepers is three-part song of almost epic dimensions. The band builds a gentle wall of sound padded with melodies in minor. Soon Steve adds soft vocals, but later O'Toole adds hammering drums, while Beggs throws in some pumping bass and the song begins to rock, before the song returns to its beginning and fades away softly.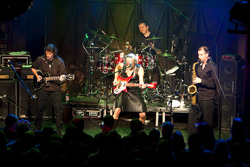 Still Waters does not live up to its name at all. The noise attack pours down on the audience like a waterfall, though the piece quickly develops into a purling stream. Steve mentioned that he would like to play some blues in the introduction to the song, and, if you do not take definitions too seriously, Still Waters can indeed be called a blues. Which means that Steve Hackett has played rock, prog, jazz, metal, blues, classic … no styles left out, sir! He defines his own genre.

"Certainly the last one for tonight. This is our version of a piece called Los Endos." Steve's unique interpretation of the Genesis classic has its own attractions and is on a par with the original, and it ends the regular set.

The likeable band do not leave the enthusiastic audience waiting too long, but play a relaxed Clocks. Gary even gets around to doing a drum solo. At the end of Gary's solo, however, the band move into the closing section of Clocks.

The house lights come on and so does the taped music. This is the end of a concert that had both an outstanding mood and fantastic musicianship, a show I will enjoy to remember.

by Maximilian Reinhardt
translated by Martin Klinkhardt
photos by Peter Schütz