The Musical Box: A Genesis Extravaganza - live 2018/19
An Unprecedented Musical Feast of 1970-1977 Favourites and Rarities


Canadian Genesis-specialists return on stage with a brand new show!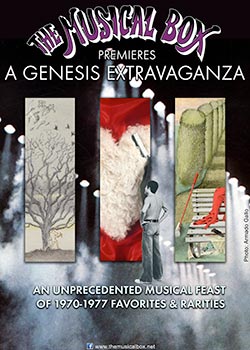 The Musical Box have pleased many Genesis fans with their detailed reproduction of early Genesis shows, selling out venues like the Royal Albert Hall London or the Olympia in Paris. In 2018, the band will return with a brand new show, covering the era from 1970-1977. It's a fictitious set, a kind of what if Genesis toured with songs from that peroid? The Genesis Extravaganza, as they call this show, will not only cover live classics from that period, but also rare stuff and seldomly played songs and tracks. Work has begun on the production for this show and fans can be sure to see a true spectacle. The first shows will happen in fall 2018 and the first gigs have surfaced for Germany in November with tickets being on sale already. Further shows in other countries of Europe will be announced in the due course.
More shows in North America are scheduled for early 2019.

Don't miss this tour and watch this space for updates and additional shows!
Discuss the shows with other fans in our online forum here.

last update: 25th November 2018
confirmed dates:
2018







26/09/18


Oslo

- Sentrum Scene

Norway


27/09/18


Gothenburg

- Stora Teatern

Sweden


02/10/18


Southend

- Cliffs Pavilion

UK


03/10/18


Leicester

- De Montfort Hall

UK


05/10/18


Bastingstoke

- Anvil

UK


06/10/18


Birmingham

- Symphony Hall

UK


07/10/18


Edinburgh

- Usher Hall

UK


08/10/18


Liverpool

- Philharmonic Hall

UK


09/10/18


Manchester

- O2 Apollo

UK


11/10/18


London

- Eventim Apollo

UK


12/10/18


Brighton

- Theatre Royal

UK


13/10/18


Bath

- The Forum

UK


15/10/18


San Sebastian

- Theater Victoria Eugenia

Spain


19/10/18


Lisbon

- Aula Magna

Portugal


20/10/18


Lisbon

- Aula Magna
Portugal


22/10/18


Barcelona

- BARTS
Spain


23/10/18


Barcelona

- BARTS
Spain


28/10/18


Roma

- Parco della Musica

Italy


30/10/18


Firenze

- Verdi
Italy


31/10/18


Milano

- Archimboldi
Italy


01/11/18


Padova

- GEOX
Italy


10/11/18


Essen

- Colosseum
Germany


11/11/18


Essen

- Colosseum
Germany


12/11/18


Zoetermeer

- Stadstheater
Netherlands


15/11/18


Utrecht

- Tivoli
Netherlands


16/11/18


Frankfurt

- Jahrhunderthalle

Germany
17/11/18


Stuttgart

- Liederhalle
Germany
18/11/18


Zürich

- Volkshaus
Switzerland


20/11/18


Saarbrücken

- Congresshalle

Germany


21/11/18


Dresden

- Kulturpalast

Germany


23/11/18


Bremen

- Glocke

Germany
27/11/18


Liège

- Le Forum
Belgium
28/11/18


Lille

- Theatre Sebastopol
France
30/11/18


Annecy

- L'Arcadium

France
01/12/18


Geneve

- Theatre du Leman

Switzerland
02/12/18


Luxembourg

- City Rockhal

Luxembourg
04/12/18


Paris

- Pleyel

France
---
2019







04/01/19


Québec

- Grand Théatre

Canada
05/01/19


Québec

- Grand Théatre
Canada
16/01/19


Gatineau

- Théatre du Casino Lac Leami

Canada
18/01/19


Toronto

- Danforth Music Hall
Canada
19/01/19


Toronto

- Danforth Music Hall

Canada
08/02/19


Sherbrooke

- Théatre Granada

Canada


09/02/19


Montreal

- Salle Wilfrid Pelletier

Canada


06/03/19


Derry

- Tupelo

USA


07/03/19


Boston

- Wilbur Theatre

USA
08/03/19


Montclair

- Wellmont Theatre

USA


09/03/19


Westbury

- Theatre

USA


10/03/19


Tarrytown

- Music Hall

USA
14/03/19


Cleveland

- State Theatre

USA


15/03/19


North Tonawanda

- Riviera

USA


16/03/19


North Tonawanda

- Riviera
USA


19/03/19


Detroit

- The Fillmore

USA
20/03/19


Grand Rapids

- 20 Monroe Live

USA
22/03/19


Glenside

- Keswick Theatre
USA


23/03/19


Glenside

- Keswick Theatre

USA


29/03/19


St-Charles

- Arcada Theatre
USA
30/03/19


St-Charles

- Arcada Theatre

USA
03/04/19


Winnipeg

- Garrik Centre

Canada
04/04/19


Regina

- Casino Show Lounge

Canada
05/04/19


Saskatoon

- Broadway Theatre

Canada
06/04/19


Calgary

- Bella Concert Hall

Canada
09/04/19


Vancouver

- Vogue Theatre

Canada
11/04/19


San Francisco

- Regency Ballroom

USA


12/04/19


Agoura Hills

- Canyon Hills

USA
13/04/19


Pasadena

- The Rose

USA
14/04/19


Phoenix

- Celebrity Theatre

USA


18/04/19


Tuscon

- Fox Theatre

USA


19/04/19


San Juan Capistrano

- Coach House

USA
20/04/19


Beverly Hills

- The Saban

USA
18/05/19


Montreal

- Salle Wilfrid Pelletier

Canada








25/10/19


Leipzig

- Haus Auensee

Germany

26/10/19


Frankfurt

- Jahrhunderthalle

Germany

27/10/19


Munich

- Philharmonie im Gasteig

Germany

31/10/19


Karlsruhe

- Konzerthaus

Germany

01/11/19


Essen

- Colosseum

Germany

02/11/19


Utrecht

- Tivoli

Netherlands

03/11/19


Hamburg

- Barclaycard Arena

Germany









---