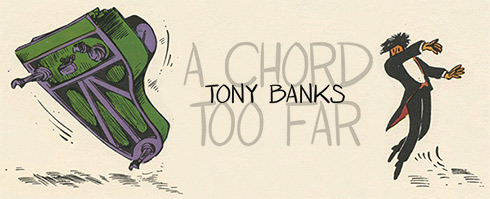 Tony Banks - A Chord Too Far (4CD-Set)
Extensive career spanning collection of the Genesis-founder

A lot has been written about Tony Banks' solo career, especially about the lack of success on the commercial level. Tony has somehow always been in the shadow of his bandmates, not only the two frontmen Phil Collins and Peter Gabriel, but also Mike Rutherford (+ The Mechanics) and Steve Hackett have enjoyed a greater success on their own. All of them, including Tony, have released stunning debut albums, but Tony did not manage to build a successful solo career after that. Tony has tried a lot of concepts for his solo work. On his second album, The Fugitive, Tony sang all the songs himself but for Soundtracks, he asked Toyah, Jim Diamond and Fish to take the lead vocal part. The Wicked Lady was a pure soundtrack work and with Bankstatement he tried a similar concept that Mike did with the Mechanics. Bankstatement was a pure pop album with some great pop songs sung by Alistair Gordon und Jayney Klimek (with the exception of Big Man, which Tony sung). Pino Palladino played bass on this record.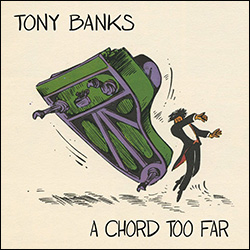 Then again, Still had the makings of a hit record and was recorded with the help of singers such as Nik Kershaw, Jayney Klimek, Andy Taylor and Fish. There are also some other great musicians on this record: Daryl Stuermer on guitar, Vinnie Colaiuta and Graham Broad on drums, Luis Jardim did percussions, Martin Robinson saxophone and Pino Palladino once again played bass. Nevertheless, he did not have a bigger success with that record, although the first single I Wanna Change The Score enjoyed some airplay in Europe, especially in Germany. His last rock/pop-project was Strictly Inc, a project he realised with singer Jack Hues in 1995. The guest musician list on this record was not as big as on Still, but Nathan East played some bass for Tony. From today's perspective, the sound of Strictly Inc is a bit out of fashion, but there are some very intersting songs on that album, especially the 17-minute-track An Island In The Darkness.

Tony decided not to record any pop/rock stuff after that and started to write and record classical music. The albums SEVEN and SIX were released before and after the last Genesis world tour. Not much was heared from Tony after SIX and fans are still waiting for another rock album. But now, Tony has announced the release of a 4CD retrospective, called A Chord Too Far. The following tracks are on A Chord Too Far:
CD 1
Rebirth (Soundtracks)
At The Edge Of Night (The Fugitive)
Walls Of Sound (Strictly Inc.)
Lion Of Symmetry (Soundtracks)
The More I Hide It (Bankstatement)
Shortcut To Somewhere (Soundtracks)
The Waters Of Lethe (A Curious Feeling)
I Wanna Change The Score (Still)
Water Out Of Wine (Still)
Something To Live For (Strictly Inc.)
By You (The Fugitive)
Never Let Me Know (Strictly Inc.)
Thirty Three's (The Fugitive)

CD 2
Charity Balls (Strictly Inc.)
An Island In The Darkness (Strictly Inc.)
The Border (Bankstatement)
Lucky Me (A Curious Feeling)
Another Murder Of A Day (Still)
Moving Under (The Fugitive)
Still It Takes Me By Surprise (Still)
Red Day On Blue Street (Still)
After The Lie (A Curious Feeling)
Redwing (Soundtracks)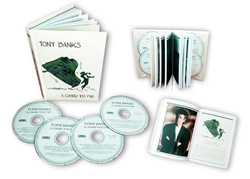 CD 3
Queen Of Darkness
(Bankstatement)
A Piece Of You (Strictly Inc.)
Big Man (Bankstatement)
Angel Face (Still)
This Is Love (The Fugitive)
I'll Be Waiting (Bankstatement)
Back To Back (Still)
For A While (A Curious Feeling)
Throwback (Bankstatement)
You Call This Victory (Soundtracks)
And The Wheels Keep Turning (The Fugitive)
You (A Curious Feeling)
The Final Curtain (Still)

CD 4
Blade (Six)
Black Down (Seven)
Siren (Six)
Earthlight (Seven)
From The Undertow (A Curious Feeling)
Spring Tide**
Neap Tide**
City Of Gold**
The Chase (The Wicked Lady)
Kit (The Wicked Lady)
Poppet
The Wicked Lady (The Wicked Lady)

** Demo

Besides the demos, there is a previously unreleased track on this set, called Poppet.

A Chord Too Far is available for preorder at amazon-uk and Cherry Red.
More information about the artwork, an evaluation about the chosen tracks and an analysis of the remixed tracks will follow when availabe.