With their latest work Seven Chambers, Unitopia have reached new creative, emotional and intellectual heights. The album consists of seven tracks and lasts just over eighty minutes.

The current members of Unitopia have taken different paths, some of whom have struggled with severe heart disease, tumors, metabolic disorders, joint disease and mental disorders. Seven Chambers is a concept album based on the band's experiences with illness, a dark subject perhaps, but the simple fact that all four are still here making music is a testament to a good outcome and a cause for optimism and hope.
Based in Australia since their beginnings in 1996, founders Mark Trueack (vocals) and Sean Timms (keyboards) have recently expanded the lineup to include UK-bo guitarist/vocalist John Greenwood and US-based multi-instrumentalist Steve Unruh. Joining the band for the first time are drummer Chester Thompson and bassist Alphonso Johnson, and they have contributed their legendary talents as the new powerhouse rhythm section on Seven Chambers.
The references of the two read like a Who's Who of the music industry: Chester has worked with Frank Zappa, Weather Report, Steve Hackett and for over thirty years with Genesis and Phil Collins as their touring drummer, while Alphonso has also worked with Weather Report as well as Santana, George Duke, Phil Collins, Steve Hackett and countless others as both a studio and touring musician.
"Chester and Alphonso have played the music that has formed the backdrop of my entire life. It's a privilege to work with them and incredibly gratifying that they appreciate the music of Unitopia and are keen to contribute their amazing talents." (John Greenwood)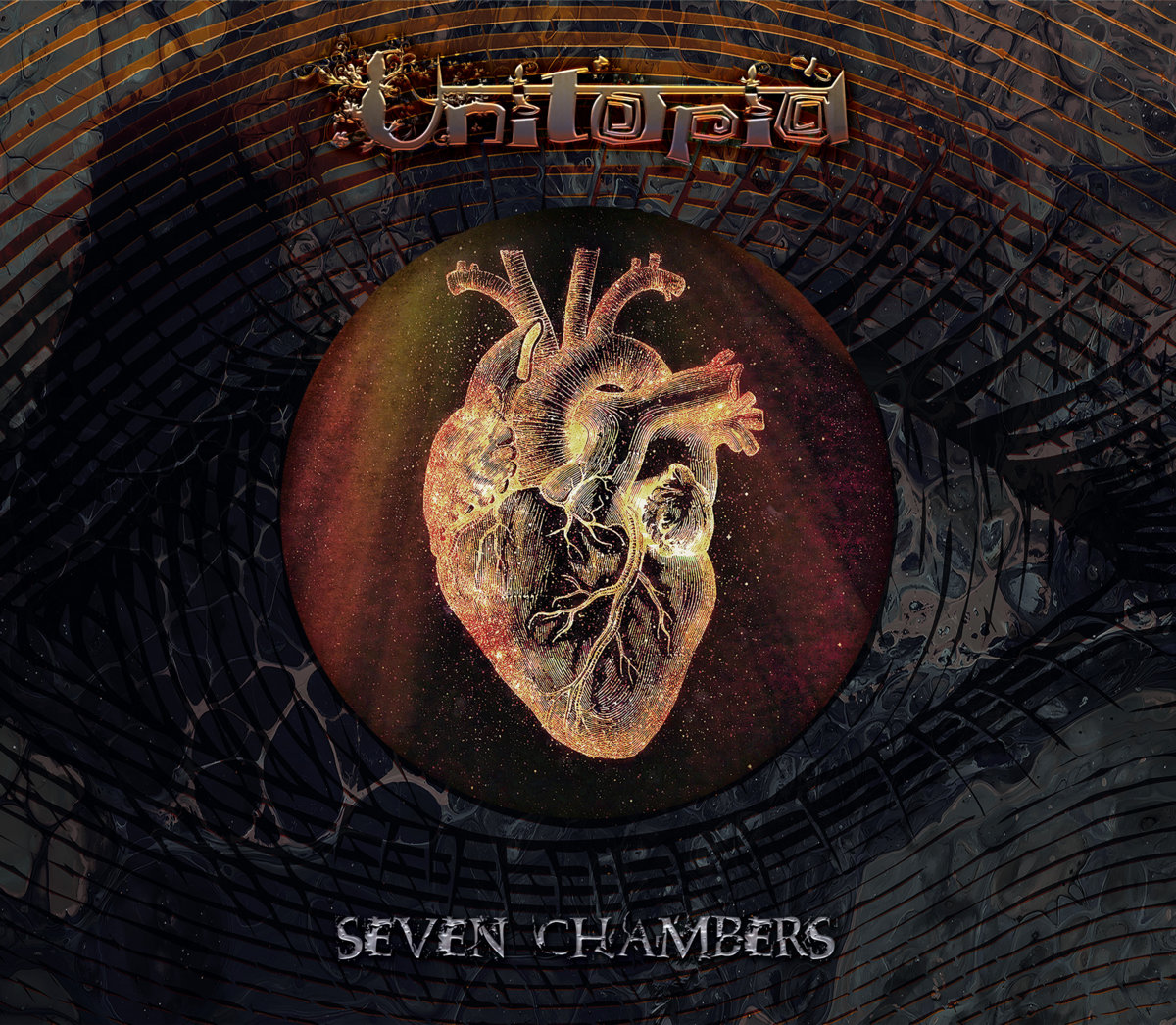 Seven Chambers contans these tracks:

Broken Heart (8:30)
Something Invisible (6:39)
Bittersweet (7:20)
Mania (12:29)
The Stroke of Midnight (9:38)
Helen (19:14)
The Uncertain (18:33)

Unitopia Line-Up:

Mark "Truey" Trueack: Vocals
Sean Timms: Keyboards, backing vocals, various stringed instruments
Steve Unruh: Backing vocals, violin, flute, rhythm guitars, mandolin
John Greenwood: Backing vocals, lead electric guitar, nylon-strung guitar, 6 and 12-string acoustic guitars, mandolin, programmed orchestration
Chester Thompson: drums
Alphonso Johnson: bass
Seven Chambers has been released on 2LP, 2CD and in different digital versions and is available via Bandcamp, Burningshed or JustForKicks.