One Left Standing

Looking at the various line-ups that made up Genesis one will soon notice that there are only two musicians who were in the original formation of 1967 and still belong to, indeed, are the core to the band. One is Tony Banks, the man at the keyboards. The other one is a tall man who plays the guitar and the bass guitar. Let's turn our attention to this man, to Mike Rutherford.

Michael John Cleote Crawford Rutherford was born the son of Annette and Crawford Rutherford on October 02, 1950 at 7.30p.m. in Surrey, in the south of England. He has a sister four years his elder, Nicolette. His youth was influenced by the navy since his father was Captain at the Navy Gunnery School in Portsmouth. When Mike was six, his father retired. The family moved to Cheshire and Crawford found a job in industrial management. At the age of seven, Mike was sent to a boarding school. He attended The Leas in Hoylake near Liverpool. At that time he first came into contact with music and found that he wanted to learn how to play the guitar. His parents bought him his first instrument, a 6-string nylon guitar. His sister influenced his musical taste because she would listen to Elvis and The Everly Brothers at that time. Mike experienced his first concert with his parents. They took him to see Cliff Richard and The Shadows at the Palace in Manchester. These early musical impressions led to Mike buying his first electric guitar – to the 'delight' of this father who from that time on had to deal with the neighbours complaining about the 'noise' coming out of the house. With his school buddy Dimitri Griliopoulos and another friend he formed his first band, The Chesters. They would rehearse songs like Sweet For My Sweet for a school concert.
In September 1964 Mike entered Charterhouse School. His first year there was "terrifying". He had to find his feet in this very strict world. Luckily, he soon met Anthony Phillips, another Charterhouse pupil, with whom he got along very well. Mike was influenced by The Beatles, The Small Faces, The Kinks and The Rolling Stones in these years. In early 1967 two Charterhouse bands, Anon (founded by Mike Rutherford and Anthony Phillips) and The Garden Wall, joined forces and became Genesis. Mike became the bass player in the new band. His strength, however, lay in playing the 12-string guitar, an instrument he grew to know and love. Over the years he would develop "an original and wonderful 12-string sound" (Tony Banks) with Anthony Phillips.
Luck and fate would have it that Genesis got a record contract thanks to a couple of well-made demo tapes and the nose of producer Jonathan King. In March 1969, they released their first album, From Genesis To Revelation. History took its course. October 1970 saw the release of Trespass. Some time before, in July or August 1970, Anthony Phillips had decided to leave Genesis. This must have been a hard blow for Mike. Both musicians had become close friends. The fact that Anthony's successor-to-be Steve Hackett had to audition before Mike, who at that time was ill and had to stay in bed, before he was accepted showed how important working with Anthony had been for Mike and how determined he was to keep up and develop the special guitar sound he and Phillips had found.
During the next years there was a long string of fantastic Genesis records. Mike grew ever more competent at playing both the guitar and the bass guitar both on the records and countless live shows. The double-neck guitar became a long-time trademark of Mike Rutherford. He would use it up until the Mama tour of 1984. It was made up of a twelve-string part (upper neck) and a four-string part (lower neck). At first he used a Rickenbacker double-neck, but later he switched to a Shergold product. Supper's Ready was the reason Mike began to use a double-neck guitar. This opus (released in 1972 on the Foxtrot album) has many fast changes, and he just could not work with two instruments. That was why he chose "this big heavy object hanging round my neck", as Mike put it.

Another anecdote about guitars. Let's hear Mike himself: "I used to play the original 'stick' Steinberger which looked quite ridiculous because I am so tall… I asked Steinberger whether they could change the design for me. They said no, as a small company they could not afford custom jobs. So one night I laid my guitar on a big sheet of cardboard and drew up the shape of the instrument that I wanted. Roger Griffin then built it for me. Later the Steinberger people saw my guitar and asked whether they could take a closer look at it. In the end they used my Steinberger as the model and prototype for their GM series."

Throughout the years one thing has become clear: Mike is a songwriter rather than an instrumentalist. He simply is not a guitar virtuoso, and he is open about it in interviews. On the other hand, he has written songs like Your Own Special Way, Say It's Alright Joe, Man Of Our Times and Like It Or Not. He also penned the words for Follow You Follow Me, It's Gonna Get Better, Land Of Confusion and Dreaming While You Sleep, to name but a few. This is precisely why one should not underestimate what he achieved after the recording of Seconds Out in 1977. After Steve Hackett had left, Mike not only had to do bass guitar duty, he also had to show how good he was on the electric guitar.

Mike is not a star in the limelight of the media. There is no chitchat about him, much less a scandal of any description. Mr Rutherford lives on a wonderful estate near Horsham in West Sussex, south of London. Mike married his wife Angie on November 13, 1976. They have three children named Kate (her godfather is Anthony Phillips), Tom and Harry. Mike's big hobby is playing polo, a sport to which he owes a broken nose and a dislocated jawbone. Such minor mishaps cannot deter him from enthusiatically playing this sport, though. But he also enjoys skiing or a tennis match. Mike certainly relies on the support of his family – it is an important thing when you have spent many years "on the road". He apparently always got this support and leads a happy life. The gazillion pounds of royalties from record sales don't do any damage there, either. But he can also look back at a stunning solo career.

It already began in the late 70's. He and Tony Banks wrote the score for the movie The Shout (1978). In January 1980 his first solo album Smallcreep's Day came into the stores. The album borrowed from the typical Genesis style of those years. There is also an unmistakable influence by Anthony Phillips who played keyboards on Smallcreep's Day. The first single, Working In Line, is quite remarkable. It is backed with Compression, an instrumental that features elements that Genesis recorded as an improvisation in the early 70's and that were never used on any Genesis album.

In 1982 Mike entered a whole new area when he released his second solo album Acting Very Strange. The special thing is – Mike sings all the songs himself. The record did not become a milestone of rock history though there is some fine material on it. It is an open secret that Mike would imbibe lots of whisky during the recordings to give his voice "that special sound" for the vocal sessions.

With the experience of Acting Very Strange under his belt, the way of his solo career became clear: Find good vocalists and get them to sing for you! So he founded Mike + The Mechanics which triggered an exemplary history of success. Says Mike: "I am more into working with people with diverse personalities rather than the firm patterns of behaviour that solidified in Genesis because we have been working together for a decade."

The Mechanics' debut album came out in 1985, and it was simply titled Mike + The Mechanics. The core band consisted of Paul Carrack (vocals), Paul Young (vocals), Adrian Lee (keyboards), Peter van Hooke (drums) and, of course, Mike Rutherford (guitar and bass). It takes more than a bunch of good musicians to have a good album, though, and that's why Mike teamed up with messieurs B.A.Robertson and Christopher Neil to pull the strings. Mr Robertson worked closely with Mike – he would write the songs. Chris Neil also wrote songs with the other two, but he more often produced the tracks. On this job he was frequently joined by the boss himself. Between 1985 and 1999 the Mechanics released five studio albums and a "Greatest Hits" compilation. Even their debut album featured two big hits, Silent Running and All I Need Is A Miracle. These songs did particularly well in the United States where they were even nominated for a Grammy.

Mike Rutherford gave one of his rare guest appearances on Sad Café's 1985 record Politics Of Existing. He shared the lead guitar with Nico Ramsden. Paul Young can also be heard on that long-player. Another guest performance is even more surprising: he played a brief bit on the keyboards for a release of a hard rock band called Verity.

The second Mechanics album came out in 1988. Both the album Living Years and the single of the same title made it to position two in the British charts. The Living Years in particular has a special meaning for Mike. His father passed on while Mike was touring the United States on the Invisible Touch tour with Genesis. The Living Years is his way of expressing his feelings about his dad: It is important to let those dear to you know that you love them. One should not hesitate, because some time it will be too late. The song triggered a huge wave of letters in which people reported that the song "woke them up" and that they did precisely what Mike wanted to say with the song. The album was supported by a tour which brought the Mechanics to Germany for the first time.

After the huge success of 1988 and 1989 the Mechanics may have wanted too much for their third release. Word Of Mouth became a pop album that somehow lacked the feeling of the first albums. A number of singles were released, but the big success did not appear. It is interesting to note that guitarist Tim Renwick plays on the record. He is not only known to Pink Floyd fans from their concerts, but he also was a supporting member of the band on the Living Years tour. Six years after that, he was to be in the band again.

"Less is more" could be the motto for what may be the best Mechanics album. Beggar On A Beach Of Gold is a fine mixture of radio hits, rock numbers, great quiet songs and a couple of cover songs. With the album, the public appearance of the band changed. Since 1995 the Mechanics give the impression of a trio consisting of messieurs Rutherford, Carrack and Young. Keyboard man Adrian Lee played only a minor role on Beggar On A Beach Of Gold because Paul Carrack slowly took over his job. Peter van Hooke remained in the line-up, but was pushed out of his drumming job by Gary Wallis (also known from Pink Floyd shows). The result could be seen live. It was a fine tour that also brought the guys to Germany.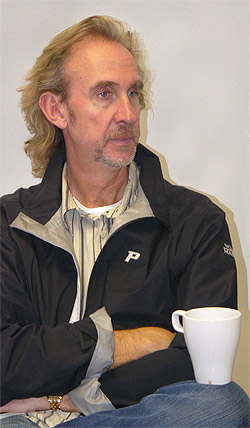 The next thing was obvious. In 1996 they released (probably after some nagging by the record company) Hits. Guess what was on this album. Yep – hits. 13 successful single releases including the 1996 re-recording of All I Need Is A Miracle. 13 must have been a lucky number for the guys because the album sold exceptionally well, particularly in Germany.

Three years later the groups released their most recent, fifth studio album. Though it is untitled, fans soon dubbed it M6 because of the album cover. Mike and his "dream team" once more showed their talent for chart material. Now That You've Gone was a big hit produced by Brian Rawling. All in all the album lacks that "something". Would it have shown if B.A.Robertson had provided some ideas for songs? Has Mike simply grown tired and content with past success? M6 lacks the magic. Its quality is inferior to the band's previous releases. Perhaps they asked too big as a trio. From May to July 1999, Mike + The Mechanics toured extensively in England, throwing in a couple of shows on the continent and one in Ireland.

The fate of Mike + The Mechanics seemed sealed when Paul Young unexpectedly passed on in 2000. Indeed, Paul Carrack and Mike Rutherford shelved the project for the time being (except for the tribute concert to Paul Young). Mike told us in an 'it' interview in 2004 that he began to work with and for other musicians at that time. He also took the time to promote re-releases and DVDs from the Genesis back catalogue. After some years of uncertainty Mike and Paul Carrack decided to carry on with the Mechanics. The result turned out to be their most daring and experimental album – Rewired. A brief promotion tour (mainly as a support act for Phil Collins) followed. In September the band even recorded a show in London's Shepherds Bush Empire to release it on a DVD called Live At Shepherds Bush London.
After that, Mike laid the Mechanics to rest an between 2006 and 2009, the focus was on many Genesis activities anyway. He eventually even called it a day for the Mechanics (see our Genesis interview here) and also Paul Carrack said he would not be there for another album.

So it was a big suprise when information was spread that Andrew Roachford would join the Mechanics for a new album. In 2009, Mike confirmed the plans and in early 2011, The Road was released, featuring Andrew Roachford, Arno Carstens and Tim Howar on vocals. The album featured many well-known musicians and also Mike's son Harry. The band also went on tour with familiar faces Gary Wallis on drums and Genesis live-guitarist Anthony Drennan. Luke Joby was on keayboards, Arno Carstens was not part of the live band. The band toured Europe in 2011 and 2012 (read our reviews here) and will continue to tour in 2013 in celebration of the 25th anniversary of Living Years, as Mike has revealed in an interview with GNC in July 2012.

Where will Mike Rutherford lead his Mechanics? Has he still got surprises for us? It seems that Mike was destined to go this way. It was meant to be like this. Said Mike's father in a late 70's interview with Armando Gallo: "One of my forefathers was Shelley, the poet, and one of my wife's forefathers was the composer Lord Berners. So it has always been there. My dad always was good with words, and my wife's father was a musician and he wrote poems, so I guess it came naturally." We have nothing to add.

by Bernd Zindler (2000)
updated by Christian Gerhardts (July 2005, 2012)
translated by Martin Klinkhardt