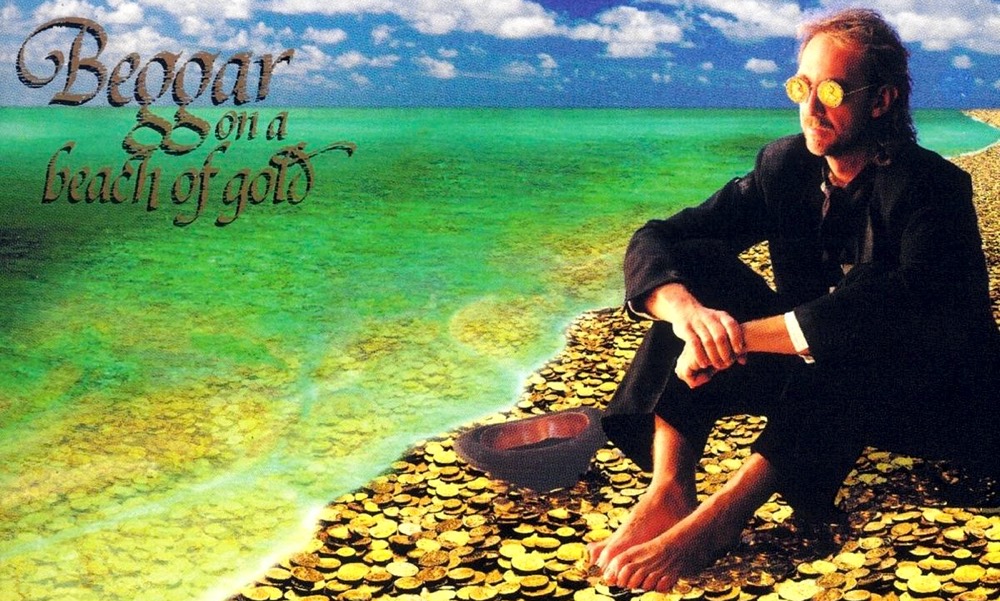 Mike + The Mechanics

Beggar On A Beach Of Gold (1995)
It seems that the remaining members of Genesis have taken to release their solo albums in very regular intervals. After Phil released his Both Sides in late '93 Mike Rutherford and his Mechanics follow 15 months later. Beggar On A Beach Of Gold is the fourth album by Mike & The Mechanics in the ten years after their debut. With such a string of albums one cannot really call it a solo project anymore; Mike is a member of two bands, as it were, Genesis and the Mechanics.

While Genesis very carefully try to make each album as different from the preceding record as possible, the Mechanics' songs have a huge musical recognition value comparable in Genesis, perhaps, only to Phil's striking voice. Mike & The Mechanics are known for creating smooth and radio-compatible music without overly complex structures such as long solos or changes in keys and time signatures. The commercial success of this concept soon showed. Their debut album brought two Top Ten hits (Silent Runnings and All I Need Is A Miracle) for the Mechanics. The title song of their 1998 album Living Years was equally successful. Their latest record Word Of Mouth also sold remarkably well, though it has frequently been claimed that the album had been recorded rather listlessly and only because there was a lot of pressure to release something. Too many songs on that album sounded as if they had been copied from previous albums. New ideas were sparse to the point of non-existence.

Beggar On A Beach Of Gold fortunately leaves a different impression. When you listen to it for the first time it feels as if the garage of the Mechanics has been carefully aired. The first notable change is the use of the acoustic guitar, which is a good move. The Mechanics have overused the range of synthetic sounds from drum computers and sequencers to guitar synthesizers to a degree that it threatened to become boring. These devices are still in use on the new CD, but they have been put into some proportion. The clear and catchy structure of the songs also remains. Beggar On A Beach Of Gold as a whole is far more dynamic and varied than all previous Mechanics releases. Paul Carrack's and Paul Young's vocals are really great, particularly as they do not simply sing over a couple of riffs they had come up in the jam-session. One of the absolute high points is Over My Shoulder, a song that sounds very natural and represents the fresh wind in the Mechanics' music. This song will rise high in the charts. Similar in structure and instrumentation is Another Cup Of Coffee. In recent months there has been a move "back to nature" in rock and pop music. Acoustic guitars, Hammond organ, warm bass sounds and polyphony have become acceptable again, perhaps as a kind of allergic reaction to the ever expanding techno wave. The Mechanics seem to be going this way, too, either consciously or unconsciously. Plain & Simple is another example for this. It is an unusually hard song that would be a credit to bands like Deep Purple if it did not sound remarkably like a Mechanics song. The song will probably be a big live hammer.
The title song is one of the typical Mechanics songs that has potential to become a Top Ten hit – not because it were blatantly commercial but simply because it is a good rock song. Someone Always Hates Someone is another song that stands out. Text and melody are kept very simple. Considering the message it is trying to convey it is a good stylistic device because the song destroys illusions. There will always be someone who hates someone else; it is a very simple fact of life. The Ghost Of Sex And You benefits from the fact that lyrics and tune go very well with each other. The song is about a relationship that occurred many years ago in Mike's life.

Mea Culpa, Web Of Lies, Something To Believe In, A House Of Many Rooms and Going, Going… Home are songs that can be found on all albums by musicians of this stature. They sound good and are produced and performed well. No more and no less. But this is not the end of Beggar On A Beach Of Gold. Two cover versions made their way onto the Mechanics album. Tony Smith originally suggested that the Mechanics record cover songs, and the band proceeded to record a version of Stevie Wonder's I Believe (a song also covered by George Michael) and You've Really Got A Hold On Me by Smokey Robinson. The fact that these songs were included in the album shows that the band really wanted to have them. Whether the fans will like it remains to be seen, since cover versions are usually compared mercilessly with the original. You've Really Got A Hold On Me sounds absolutely American and has great double vocals. It would have been better still if the synthetic strings had been left off the final mix. I Believe could be a bit more lively, but benefits incredibly from the big vocal part. The album has been recorded with a lot of love, some new ideas, and the band obviously enjoyed playing the music. The Mechanics have not given up the style that has now become their trademark.

It was very advantageous for the album that the release date has been pushed back several times. The slight change and addition in the drum and keyboard department worked out well, too. Whatever the reason, Beggar On A Beach Of Gold is worth getting. Not only for fans of Mike & The Mechanics who will buy the CD anyway. This is an album for everybody who enjoys simple but good rock music. Tony Banks once said about Mike Rutherford: "He can give you a real good feeling with three simple chords." Quod erat demonstrandum: Beggar On A Beach Of Gold.

by Andreas Vollherbst
translated by Martin Klinkhardt
first published in German in it magazine #14 (March 1995)