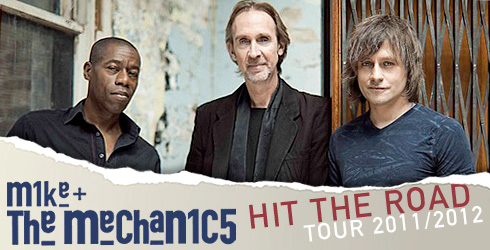 Mike + The Mechanics - live in concert 2011/12
Hit The Road Tour 2011 and 2012

In 2011, Mike + The Mechanics returned with a brand new album, The Road, and a European tour. The album The Road features two news singers - Andrew Roachford, who is well knows for his own career and Tim Howar, a Canadian singer and actor, who also has his own band called van Tramp. The 2011 tour was a success - read also our review here. The new line-up will also go on the road in 2012.
The tour has started in Kiel, Germany (June 24) with a surprising setlist (see news item here).The band will continue to tour in the UK and mainly Germany.Performances include both, festival and solo shows.More dates have been added for the summer.

Find all updates here.

Band line-up
Mike Rutherford (guitars, bass)
Tim Howar (vocals)
Andrew Roachford (keyboards, vocals)
Gary Wallis (drums)
Anthony Drennan (Guitars, Bass)
Luke Juby (Keyboards)

latest update: 16/07/2012
2012

City / Venue

Country

Tickets

24/06/12

Kiel - Kieler Woche /Ostseekanal

Germany

Setlist
26/06/12

Newcastle - Academy

UK



27/06/12

Glasgow - Academy

UK

Setlist

29/06/12

Holmfirth - Picturedrome

UK

30/06/12

Birmingham - Academy

UK

02/07/12

Bournemouth - Academy

UK



03/07/12

Falmouth - Princes Pavilion

UK

04/07/12

Cardiff - St Davids Hall

UK



06/07/12

Luxemburg - Den Atelier

Luxemburg


07/07/12

Honberg (Tuttlingen) - Festival in der Ruine

Germany


08/07/12

Dortmund -

Signal Iduna Park

Westfalenhalle 3A
Germany


10/07/12

Berlin - Tempodrom
Germany


12/07/12

Dresden -

Alter Schlachthof

Germany


13/07/12

Schopfheim - Marktplatz
Germany


14/07/12

Offenbach - Capitol
Germany


16/07/12

Isle Of Man - Villa Marina

NEW



UK

18/07/12

London - Shepherds Bush Empire

UK

19/07/12

Bath - The Form

UK

20/07/12

Silverstone - Classic

UK

21/07/12

Hurtwood Park - Polo Rocks

NEW

UK

canc.

03/08/12

Bad Krozingen - Open Air Im Park

Germany


10/08/12

Skanderborg - Smukfest

Denmark
11/08/12

Osnabrück - NDR2 Festival
Germany

free

17/08/12

Linz - Krone-Fest

NEW

Austria

free

18/08/12

Ludwigshafen - Center

NEW

Germany

free

24/08/12

Arbon - Summerdays Festival

Switzerland

older dates
| | | | |
| --- | --- | --- | --- |
| 17/11/10 | London - Royal Albert Hall (Prince's Trust) | UK | |
| 25/11/10 | Manchester - Band On The Wall (Smooth Radio) | UK | |
| --- | --- | --- | --- |
| 27/04/11 | Hull - City Hall | UK | cancelled |
| 28/04/11 | Doncaster - Dome | UK | cancelled |
| 30/04/11 | Bradford - St. George's Hall | UK | cancelled |
| 01/05/11 | York - Grand Opera House | UK | |
| 03/05/11 | Oxford - New Theatre | UK | |
| 05/05/11 | Nottingham - Royal Concert Hall | UK | |
| 06/05/11 | Leicester - De Mortfort Hall | UK | cancelled |
| 08/05/11 | Bournemouth - BIC | UK | |
| 09/05/11 | London - Royal Albert Hall | UK | |
| 11/05/11 | Portsmouth - Guildhall | UK | |
| 12/05/11 | Brighton - Centre | UK | |
| 13/05/11 | Bristol - Colston Hall | UK | |
| 15/05/11 | Plymouth - Pavillion | UK | |
| 17/05/11 | Cardiff - CIA | UK | |
| 18/05/11 | Ipswich - Regent Theatre | UK | |
| 20/05/11 | Manchester - O2 Apollo | UK | |
| 21/05/11 | Blackpool - Opera House | UK | |
| 22/05/11 | Liverpool - Empire | UK | |
| 24/05/11 | Edinburgh - Playhouse | UK | |
| 25/05/11 | Glasgow - Clyde Auditorium | UK | |
| 26/05/11 | Gateshead - The Sage | UK | |
| 28/05/11 | Sheffield - City Hall | UK | |
| 29/05/11 | Birmingham - Symphony Hall | UK | |
| 30/05/11 | Birmingham - Symphony Hall | moved to | 29/05 |
| 31/05/11 | Zürich - Volkshaus | Switzerland | |
| 01/06/11 | Duisburg - Theater am Marientor | Germany | |
| 02/06/11 | Karlsruhe - Stadthalle | Germany | |
| 04/06/11 | Leipzig - Parkbühne Clara-Zetkin-Park | Germany | |
| 05/06/11 | Berlin - Admiralspalast | Germany | |
| 06/06/11 | Hamburg - Laeiszhalle | Germany | |
| 08/06/11 | Niedernhausen - Rhein-Main-Theater | Germany | |
| 09/06/11 | Munich - Tonhalle | Germany | |
| 11/06/11 | Isle of Wight - Festival | UK | |
| 26/06/11 | London - Hyde Park: Hard Rock Calling | UK | |
| 02/07/11 | Bucharest - ? | Romania | |
| 08/07/11 | Sofia - ? | Bulgaria | |
| 16/07/11 | Warburg - WDR2 Open Air | Germany | |
| | | | |