A big showcase – Plays Live
First release June 09, 1983
Peter Gabriel made people wait four albums before he put out his first live album. When it came out in 1983 he extended the principle by which he named his studio albums to label it Peter Gabriel – Plays Live. It showcases the first leg of the tour in support of his fourth album and was recorded over four nights at concerts in the U.S. in the fall of 1982.

The band you hear has frequently been called the true and original Gabriel live band. It was the only tour they played in this line-up. Tony Levin (bass) has been working with Gabriel since he began his solo career. His clever bass lines create an artful and strong foundation. David Rhodes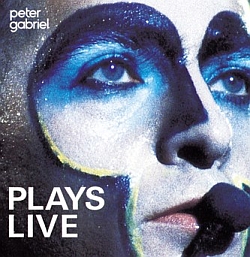 joined the band for the first time. Though he already worked on Peter Gabriel III (Melt), it was John Ellis who played the guitar on the Melt tour. Now Rhodes is on stage with Gabriel, and you notice his playful (if still a bit rough) sound. He usually assumes the role of regular rock guitarist (Not One Of Us, I Go Swimming). Larry Fast is touring with Gabriel for the third time. He taught Gabriel a thing or two about keyboards and sampling. Much of the gentle sound that was so typical for Gabriel in the 1980s came from his influence, and he certainly shaped the sound of the music on this recording as well. It's also Jerry Marotta's third tour with Gabriel. His strong drumming (particularly on the tom-toms) drives the songs forward while still offering a well-rounded sound. All of them together formed a complete, well-ordered band. It is probably this live album that triggered the myth of the "one and only true Gabriel band".

The album unites highlights from Gabriel's first four solo albums, with a certain stress on III and IV. The arrangements are all somewhat straighter than on the original versions, though they are quite on a par with them. This is very likely also due to Gabriel's approach of "improving" the songs in the studio, a method he openly admits to in the booklet. When asked in an interview what was changed, David Rhodes answered "almost everything". Whether that was the truth or a joke is anyone's guess. Gabriel and his co-producer Peter Walsh have created a strong, very lively live sound for the album.
There is a certain immediacy because this music is mostly handmade. Larry Fast does play sampled sounds and patterns from his synthesizers but there are no complete background loops. Some of the keyboard sounds may seem a bit one-dimensional today (particularly for Peter who always assembles a thousand layers), but they were state of the art then. Mr Fast, it should be noted, has been one of the pioneers of sampling. The music in general shows lots of dynamism and a lot of freedom.

Much of the music sounds like rock music (Family Snapshot), but there is also space for Gabriel's soundscapes. The Family And The Fishing Net retains its intensity and seems to work in the live environment. No Self Control is the song that has undergone the biggest change. Gone are the nervous instrumental layers and the crackling drums, in come gloomy synthesizer sounds on an edgy rhythm loop. A beseeching men's choir sings towards the climax, but they sound wistful rather than hysterical. An interesting change.
Gabriel has always had at least one track in his live sets that does not come from the released albums. On this tour it's I Go Swimming. A rock number with sad lyrics performed energetically. Pity that this song has never come out as a studio version.

One of the golden oldies on the album is Solsbury Hill, a straight if static version. Shock The Monkey retains its irritating, pulsing, aggressive structure despite slightly simpler sound thunders. Good to see Humdrum made the cut. It is a brief but fine song with melancholy lyrics. At the end it's the enormously anthemic Biko that does not have the open finale but still a great effect.
It all seems like a retrospective of Peter Gabriel's work in the early 80s. The next album would add a new aspect, elegance, to aggression, madness and melancholy. This is why Peter Gabriel Plays Live is absolutely right at this point of Gabriel's discography.

We ought to mention that there are two versions of this album on CD. The first version was a single CD version calls Plays Live – Highlights (with four songs cut); a 2CD set with all tracks from the LP was also released. Unfortunately, remastered version of the 2CD was limited to some countries only - unteil 2021, when the 2CD version was rereleased, using the 2002 remaster.

All in all

A fine live album with some nostalgia. Still a good point to start discovering Peter Gabriel.
by Thomas Schrage, English by Martin Klinkhardt

Tracks
1. The Rhythm of the Heat 6:26 *
2. I Have the Touch 5:18
3. Not One of Us 5:29 *
4. Family Snapshot 4:44
5. D.I.Y. 4:20
6. The Family and the Fishing Net 7:22
7. Intruder 5:03 *
8. I Go Swimming 4:44
9. San Jacinto 8:28
10. Solsbury Hill 4:40
11. No Self Control 5:02
12. I Don' t Remember 4:20
13. Shock the Monkey 7:40
14. Humdrum 4:03
15. On the Air 5:20 *
16. Biko 6:50
* not included in "Plays live – Highlights"