Peter Gabriel - So25: What's going on in 2012 and beyond?

An overview about release formats and further activities related to So25

It was already in early 2011 that Peter Gabriel announced some special activities to celebrate the 25th anniversary of his groundbreaking album So from 1986. At this time, Peter was talking about a special edition of the album, some rumours claimed that unreleased material will be included, and further information included the possibility of a POV rerelease also. In the end, it took far more time than expected, so it now is more a 26th anniversary.This fall, we can finally celebrate the So anniversary, some surprises and disappointents included.
We have compiled the important information about So and So25 here:

So - the album from 1986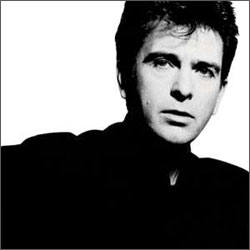 Let us first remind ourselves what we are talking about. So is not just one of many records, it is one of the most important albums anyone in and outside Genesis has ever done. it belongs to the same category such as the big classics like Selling England By The Pound, Voyage Of The Acolyte or Face Value. For Peter Gabriel, it was also the commercial breakthrough, although he has already been quite successful with most of his first 4 studio albums. But with So, Gabriel became one of the worldwide superstars, he even outranked his Ex-band, when Sledgehammer became #1 in the USA, just one week after Invisible Touch. We take a closer look - find our review here.

So25 - formats of the 2012 releases

When you take a closer look at what has been rumoured throughout the past 12 month, one can get irritated quite easily. With this article, we have compiled the basic information about what will be released during this fall. During the summer, more and more information leaked so this article is especially one thing: Work in progress ... (find the article here)


Classic Albums: So - The Definitive Authorized Story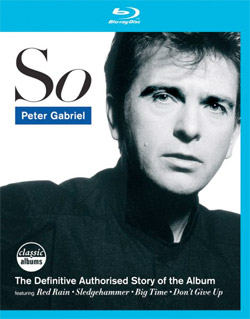 The Classic Albums-series already contains a superb documentary about Phil Collins' Face Value (our DVD review can be found here). In spring 2012, BBC broadcasted a new documentary about So and it will also be released on DVD and Blu-ray this fall as part of the anniversary celebration. The new version will also be 30 minuted longer compared to the BBC broadcast!. The documentary features many interviews with friends and musicians who have been involved and offers a deep insight into the making of this album. We will publish an article here soon, that wil contain links for preordering and also a full review, once we have seen the documentary.

Back To Front: So Live 2012/2013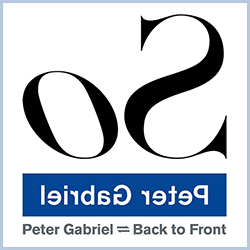 And this was also a surprise: Peter Gabriel will be on tour again witha full band 2012! He will perfom the entire So-album. In addition, Peter has announced to perform completely new songs also. As if that wasn't enough, Peter has managed to bring back his old band from 1986/87, so we will see Manu Katche and David Sancious again. At this points, only dates in North America have been announced and further shows in Europe are not likely. All dates and further information can be found on our tour dates page here.

From our archives: This Way Up - So live 1986/87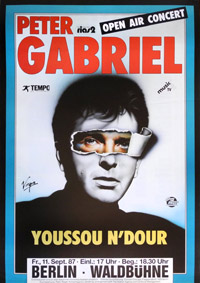 Some of you may remember the original 1986/87 show, but some may not - because you missed it, were too young or not even born. We have browsed our archives and found an article about the original show during the This Way Up Tour. This article was originally published in the old it-magazine #23 in the late nineties.

The article is about a normal show of this tour plus some festival activities, especially the Amnesty International tour. Find the full article at this link.