Peter Gabriel - i/o live in Bergen
A German fan on tour: travel- and concert report

Summer 2007: I'm a young student with little money and hardly any concert experience. Genesis are touring Germany, so I bought myself to a ticket. But also Peter Gabriel was on tour. And what a setlist! On the day of the Hamburg concert, I sit in my student apartment and make up my mind: I'm going there now! When I arrive at the Stadtpark, the first song is already playing. But I'm lucky: there's actually one last desperate person selling a ticket. I strike and run - first into a security guy. What follows is one of the greatest concerts of my life (you can read a report here).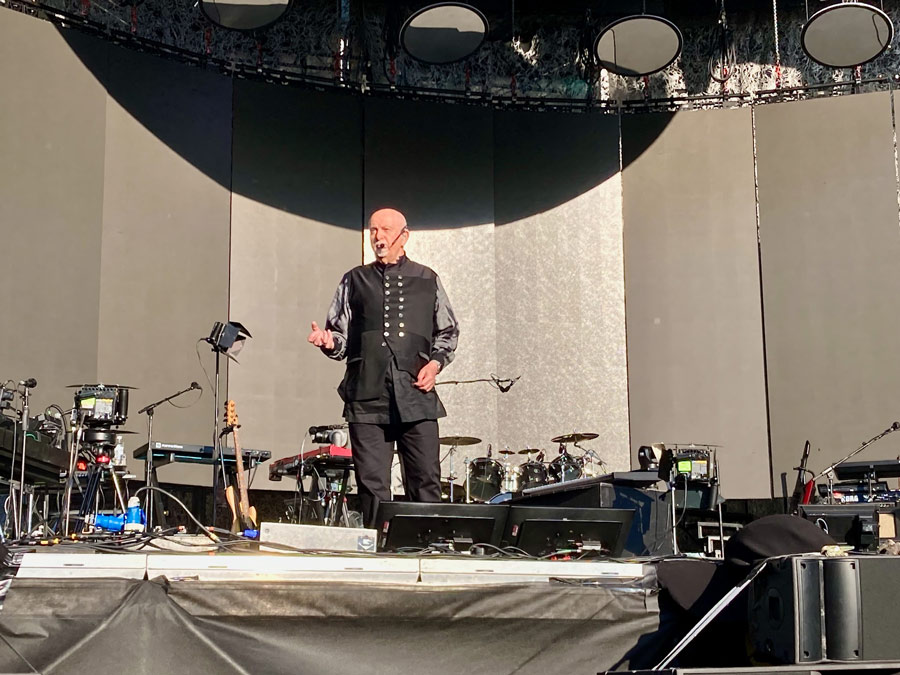 Summer 2023. After moving abroad and the recent pandemic, concerts have practically disappeared from my life. I let Genesis go with a heavy heart (I even had tickets but sold them again; in retrospect I don't regret it). But then there's Peter Gabriel touring again. In the late autumn of his career, he wants to do it again and goes on tour with new material. The feedback on the first concerts is promising, on YouTube videos I see a Peter Gabriel in top shape. It works in me. At the beginning of the week before the concert in Bergen, the decision is made: I'm going there now!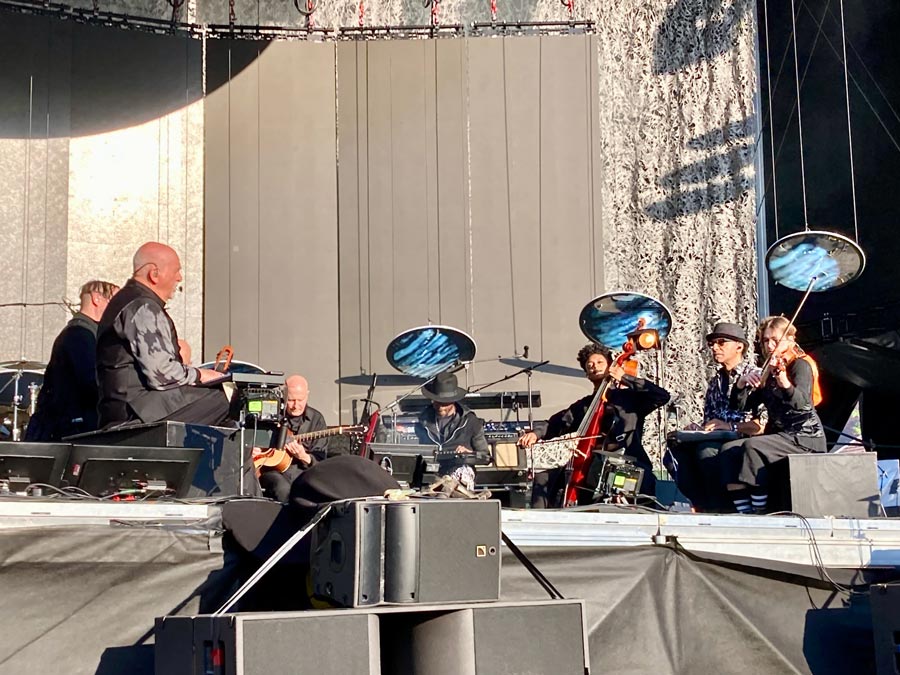 In the meantime, I am at home in Turku, Finland. The easiest thing would have been to take the ferry to Stockholm and see the concert in the Avicii Arena there. But the name alone turns me off. I'm much more in the mood for an outdoor concert. Besides, another passion of mine is train travel, and the spectacular train route to Bergen has been on my list for a long time.
I still have an Interrail ticket from a previous trip with two unused travel days. So I quickly made myself a little mini-round trip plan from Finland via Sweden to Norway. In the end, it all works out - and with only a few days' notice. Before I leave, I buy a ticket for the front floor from the Ticketmaster Norway resale on Tuesday evening for the equivalent of 80 euros.
Apparently there were big problems in Bergen, as in some other places, to sell out the concert. I feel sorry for those who paid the sometimes horrendous prices in advance. On the other hand, it only serves them right that the concert organisers were left with some tickets.
From Turku, my meandering route takes me via Vaasa, Umeå, Gothenburg and Oslo to Bergen. The journey via the Bergen Railway is indeed a dream. It goes once over the Fjell, the highest point is reached at 1222 metres above sea level in Finse. On 1 June there is still snow here, far above the tree line. Anyone with a heart for trains and spectacular nature should warmly recommend this route!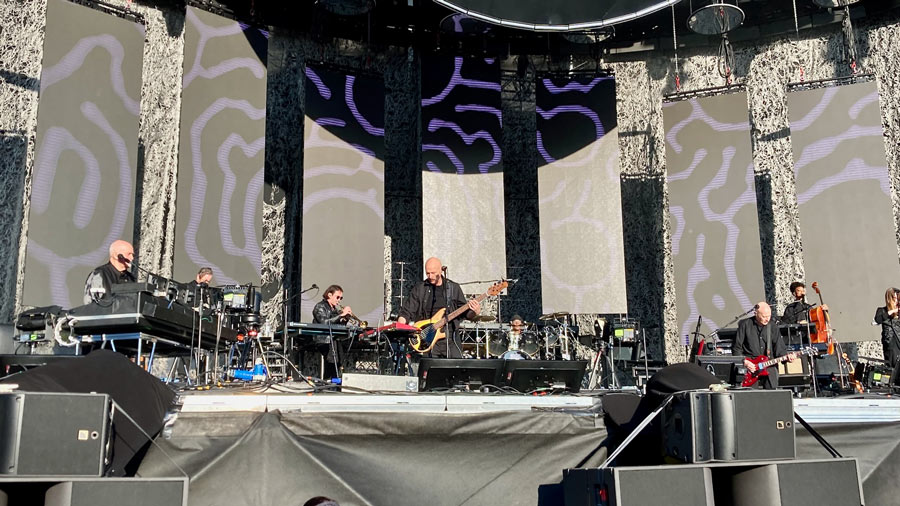 But back to Peter Gabriel. After spending a night in Voss, one and a half hours outside Bergen, I arrive at the centrally located Koengen concert site at 6:30 pm. The entrance is very relaxed. It is pleasantly warm on this Friday evening and the sun is shining. Which is quite unusual for Bergen, where it's actually always raining.
At this time, I can still walk into the second row without any problems. There is standing room only at this concert anyway. I choose a seat a little to the left of the centre of the stage, where I expect to see my bass idol Tony Levin on the little red synthesiser. Oh yes, and Peter Gabriel will of course have his main spot here, at his keyboards.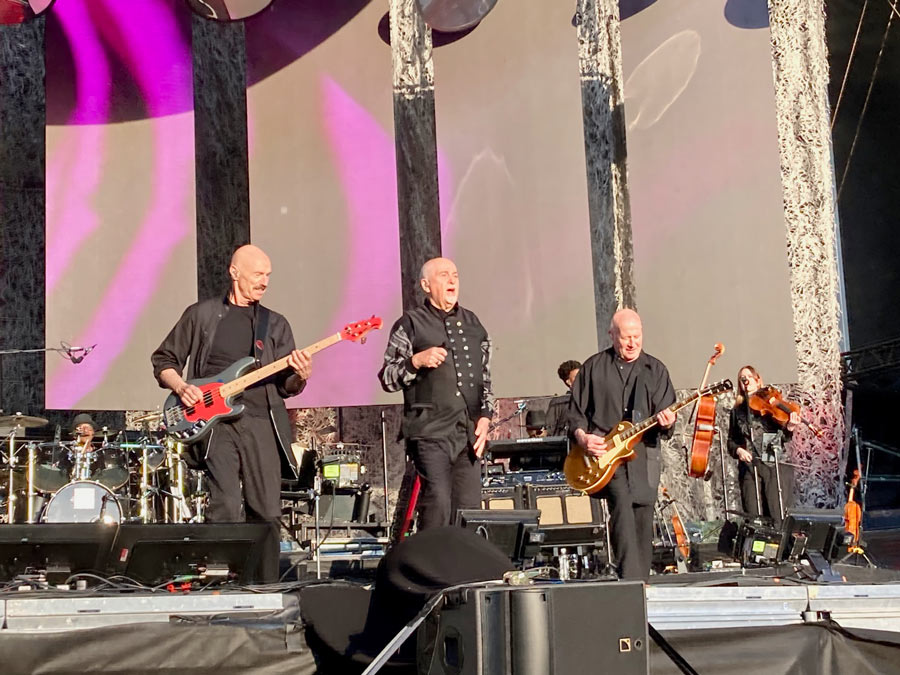 The final preparations are underway on stage, a funny video loop on the circular screen announces the current time. Then the small bonfire is lit on stage and it starts punctually at 8 pm. First Peter comes on stage, then Tony, and they start a reduced version of Washing Of The Water. Later the whole band joins them and a great semi-acoustic Growing Up follows.
Wow, this Peter Gabriel I'm looking at right now is in very good shape. His outer appearance as well as vocally. I would say that at none of my Peter Gabriel concerts (besides 2007, I attended the Back To Front Tour in 2013) have I experienced the master in such good voice. The not inconsiderable strain of planning and travelling (note to self: I'm not 20 anymore) falls away from me, I'm just happy.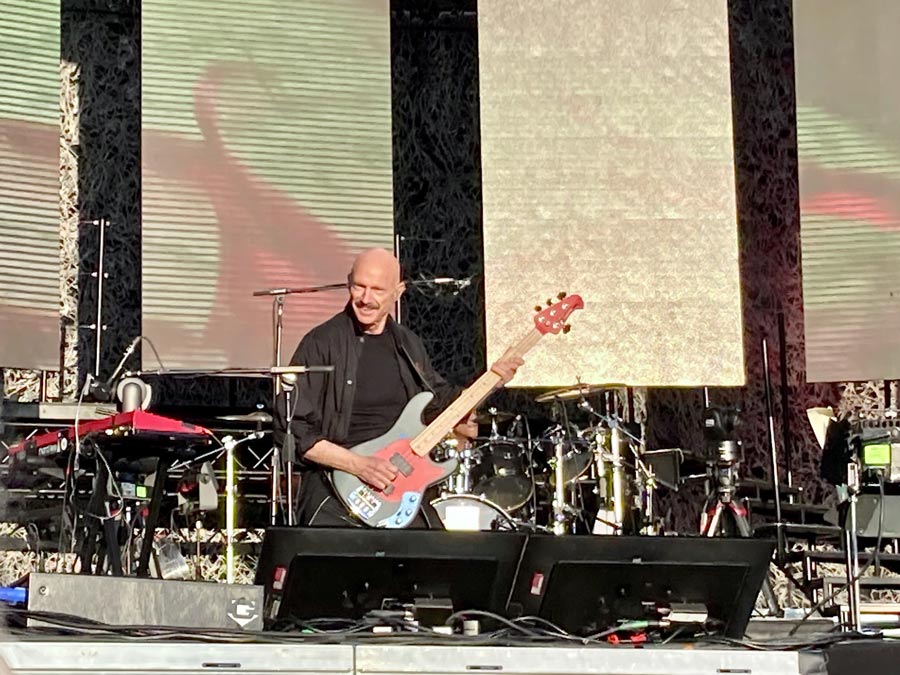 I won't go into every single track, but I can say that I really like the i/o songs, which I have hardly dealt with before. They work wonderfully live and also went down well with the rest of the audience. And yet, of course, it's the classics that cause the greatest emotions, also for me. Digging In The Dirt is performed in a somewhat brute version, Sledgehammer is really fun and with Don't Give Up the cellist and background singer Ayanna Witter-Johnson gets to show all her skills. Great! The only thing I didn't need was Big Time. Instead, I would have been happy about On The Air, for example, as a man next to us loudly demands - which Peter acknowledges with a "well, the next song is younger, but only a little bit" (followed by another great Red Rain).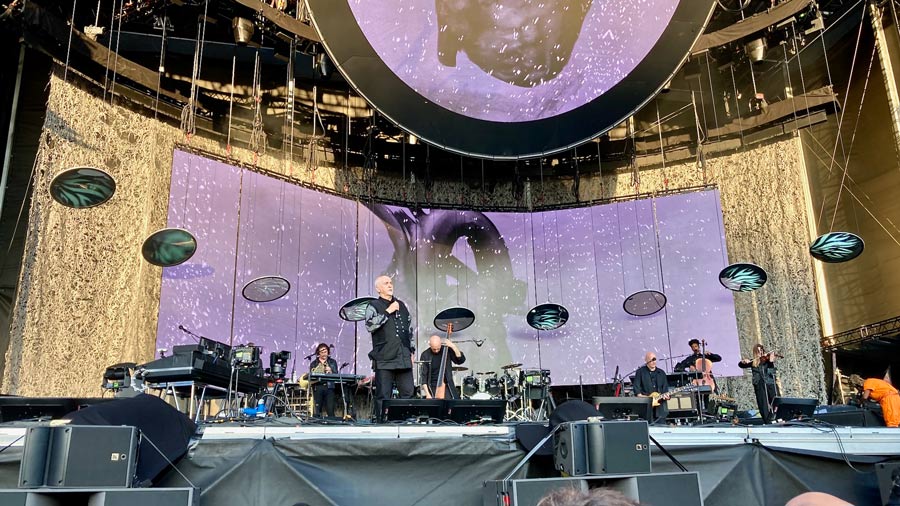 Speaking of traveling - the only problem with this whole undertaking: As I have to go straight from the concert to the night train (departure: 11pm), the evening is over for me after Solsbury Hill and thus before the encores. It's a pity, In Your Eyes and Biko are songs I like a lot and would have liked to see. But sometimes you have to make compromises. In any case, an overnight stay in Bergen was completely out of the question, given the local price level.
After a short but pleasant night in the sleeping car, I am now on the train to Stockholm, from where the ferry will take me back to Turku in the evening.

What a journey, what a concert! I have the deepest respect for Peter Gabriel. To do a tour like that again at his age and to throw so many new songs at the audience - some not even released yet - is really strong and brave. I can think of only a few artists who still do that. And the band also inspired me with their joy of playing. I have to single out Tony Levin in particular. The way he rocks the stage at the age of 77 is simply unbelievable. Please, dear God, let me be even remotely cool at that age!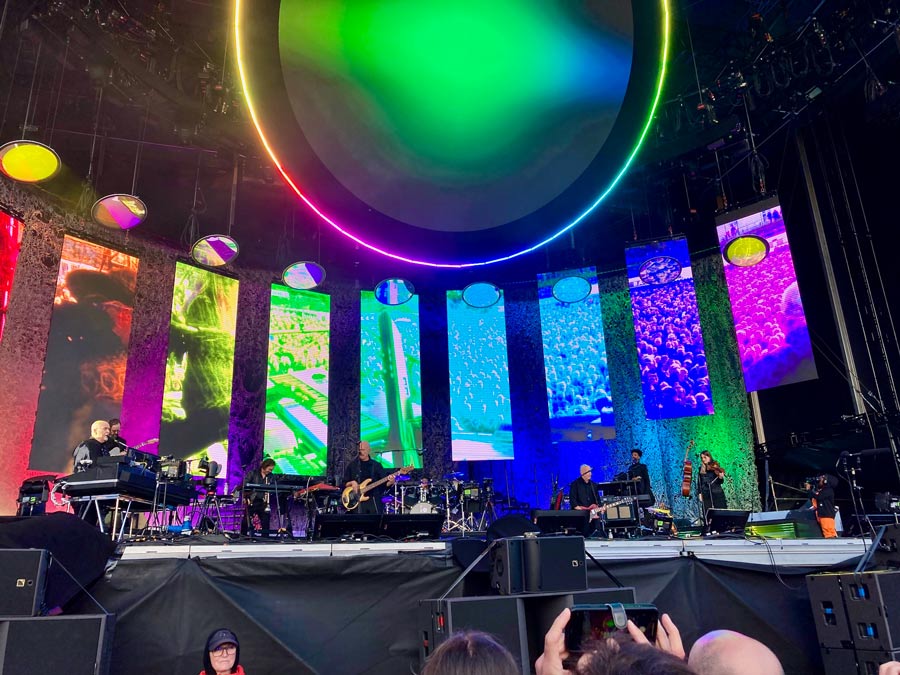 Except for the missed encores, it was a successful concert all around and I am grateful and happy to have seen Peter once again. However, with the joy and energy I experienced on stage, I'm not sure that it was really my last Peter Gabriel concert.
Author & Photos: Sebastian Wilken
Sebastian has his own website
zugpost.org
where he writes about special journeys and travel options with trains. It's in German but these days translation is easy. You can also find him on Twitter
here
.
Die folgenden Fotos sind Bilder der Reise von Sebastian: