Ray Wilson: Birthday Shows in Poznan 2018

Two shows to celebrate his 50th birthday - and a backstage party

How does a full-blooded musician celebrate his 50th birthday? Wild parties in exotic locations? In an out-of-the-way pub with a handful of his best friends? Those who know Ray Wilson a bit better were not surprised that he celebrated his 50th birthday on stage, as it were..
The event was announced quite some time before. Ads were placed on the internet. The buses in Ray's home place of Poznán, Poland, also had large-scale photos advertising the event, for it was at Zamek cultural centre in Poznán where both shows would take place, one on the day before his birthday, the second on the actual date of September 8.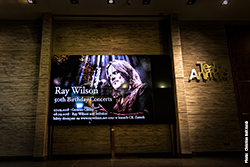 Zamek cultural centre is a former imperial castle (in fact, zamek is Polish for "castle") that was built in the early 20th century (by orders of Kaiser Wilhelm II, hence "imperial"), badly damaged in WWII and partially rebuilt. Today it hosts up to 700 cultural events a year – a good location for a 50th birthday.
In the late afternoon of September 7 Ray leisurely strolled up the steps to the castle, soon followed by his band. Once you are past the doors there is the coolness of a large foyer. You walk past the box office towards a big screen that advertises upcoming events. To the left and the right massive stone staircases take you to the upper floor and the entrances to the hall proper. The venue seats up to 700 people, and both shows were sold out.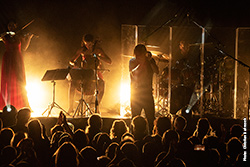 The first show consisted of Genesis songs only (tickets for this went faster than for the other show). There was an immediate connection between the band and the audience, and the crowd really participated. You could have the impression that people knew each other, and in fact I saw many people I know at least from sight. Ray later thanked his fans from all over Europe coming especially for him to this show.
The band had a little surprise on store. During the climax of In The Air Tonight the band put on cardboard masks of Phil Collins. Ray did not notice at first and sang on. It was only when Ali and Steve approached him towards the very end of the song that Ray realized something was on, for the audience were laughing noticeably. He looked to his right into Phil's face, then to the left into Phil's face and broke into loud laughter himself.
Setlist 7th September (Genesis Classic Night):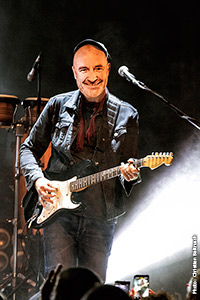 Calling All Stations
That's All
Land Of Confusion
Another Cup Of Coffee
Another Day In Paradise
In Your Eyes
Entangled
Ripples
Home By The Sea
Carpet Crawlers
No Son Of Mine
Not About Us
Follow You Follow Me
Solsbury Hill
In The Air Tonight
There Must Be Some Other Way
Jesus He Knows Me
Congo
Encores:
The Dividing Line
Mama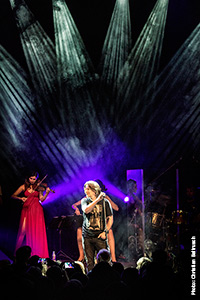 The concert lasted some two and a half hours (no interval). After that Ray came into the foyer for autograms, photos and, of course, congratulations for Ray. Some guests left a bit earlier. Ray had arranged an after-show party for a comparatively small number of guests at the jazz club Blue Note which was just around the corner. It was, in fact, in the same building but had a separate entrance. Armed with their VIP tickets the guests arrived before birthday boy. A set of stairs took you into a dimly lit basement. Someone played the piano on a stage; there was a large bar to the right. Sushi was being prepared on the upper level. Chairs and tables were arranged for everybody.
Everybody was relaxed and at ease. Ray arrived around 11:30. Shaking hands, he slowly made his way to the stage. Amidst strong applause he took the microphone and thanked everybody for coming. He spoke about his decision to move to Poland ten years ago and how he missed the occasionally biting Scottish humour. He felt grateful that people in Poland helped him build his career and even bringing his face on buses all over Poland. This, he suspected with a wry grin, probably made him the best-hated man in Poland. He added that he was happy not to have to sing on this stage (though he did sing later) and could leave the musical accompaniment to others (Martin and Ali were happy to).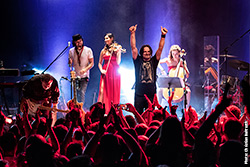 At midnight everybody sang Happy Birthday, and Ray cut the birthday cake. The mood was very relaxed and very wet. Ray and his girlfriend Gosia went around and spoke and laughed with everybody. It was like a big family reunion; in fact, I have heard that his parents were there, too. The party was still going strong when I left for my hotel at 2 a.m., and I saw the odd posting being put online hours later ...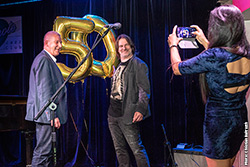 The second show was scheduled for the following day, Ray's birthday, and it would have almost only Ray's own music. Was it a birthday present for himself? The fans were really looking forward to this show. After all, he has not played a full Stiltskins concert since SHE came out (or I am not aware of it).
A couple of fans "ambushed" Rays on his way into the venue with a bouquet of flowers. There was time for a photo before he had to go on.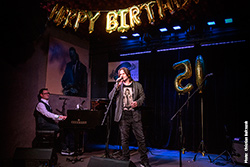 The venue filled soon. The show began with a slight delay again, and the audience demanded the beginning by clapping rhythmically. Ray kicked off the evening without further ado with Ought To Be Resting. Many well-known songs were played, and it was good (at least I think so) to see that not one single Genesis song was played. The audience honoured this with cheers and applause. The set list may have raised some eyebrows. When you hear "Stiltskin" you expect the hard rock you know from SHE. But songs like Fly High, Wake Up Your Mind and SHE were not played. Instead, they performed Constantly Reminded (in a Polish version), Show Me The Way and Lemon Yellow Sun. A selection of quieter songs was played in the middle of the set with songs suchs as Song For A Friend, The Actor, Romeo And Juliet by Dire Straits and David Bowie's Heroes. Ray introduced Romeo And Juliet with the story of his first girlfriend who had left him for another, more successful man. As she was in the audience he dedicated the song to her.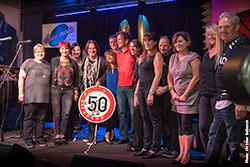 The show was interrupted a few times by fans singing Happy Birthday, throwing flowers and a giant party popper that launched confetti at the stage. The encores consisted of three big crowd favourites, Sunshine And Butterflies, Footsteps, and (of course!) Inside...
Setlist 8th September (Ray Wilson & Stiltskin Night)
Ought To be Resting
Wait For Better Days
Lemon Yellow Sun
Another Day
Goodbye Baby Blue
Change
Along The Way
Easier That Way
Show Me The Way
Take It Slow
The Actor
Bless Me
Song For A Friend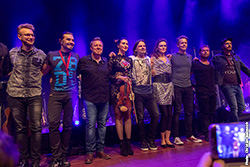 Romeo & Juliet
Heroes
Speak Softly Love
Wish You Were Here
One
Alone
Makes Me Think Of Home
Propaganda Man / More Propaganda
American Beauty
Constantly Reminded
Encores:
Sunshine & Butterflies
Footsteps
Inside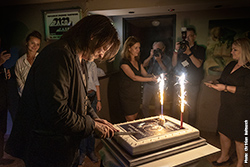 At the end of the show Ray was given a big birthday cake on stage. This time he took more time for his fans after the show – after all, there was no after-show party. He did not tire of signing his name, having his photo taken with fans, and neither did his fans.
Those were two great days. Ray was in a great mood and obviously enjoyed friends, fans and relatives from all over the world coming to his new home, though I suspect he may also be a bit happy that it is all over now…
Author / Photos: Christian Baltrusch
English by Martin Klinkhardt