The Lamb Lay Down In Welkers (It Was Real!)
Club Event 2012, March 11
Eichenzell-Welkers. A rather unprepossessing place name began to develop quite an attraction for me in the period leading up to the Lamb Lies Down On Broadway Event 2012. For one thing, it would be the first time I went to such a club meeting, though I had heard people enthuse about previous conventions and describe the memories still so lasting and vivid ("Do you remember when Steve Hackett...?" - "Unforgettable!").
For another thing, this promised to become another unique, unrepeatable event. It was to celebrate (belatedly) the 20th anniversary of the fanclub. But the thing that electrified me most was that one Serge Morissette would be there and that there would be an exclusive screening of the concert film for the Lamb Lies Down On Broadway tour 1974/5 Serge had gone to extreme lengths to assemble from authentic material.
My thoughts went back to the 1980s. As a teenager I was emotionally addicted to The Lamb, as many fans would lovingly abbreviate the title of the last Gabriel-era Genesis album. If someone had told me then that I would have the opportunity to see a film from the tour I would have sold him my grandmother. No need to speculate on my family relationships – I simply could not imagine something like that happening. What Genesis did during their first years was something I had no idea about unless it had been released officially. I seem to remember only a video tape on which I could sort recognize, or rather only guess Peter Gabriel with a flower head. That video only confirmed my feeling that I had been born too late, and that a supreme era of the band's history had been lost forever.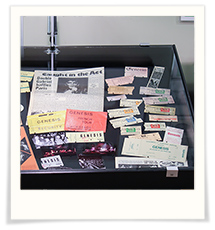 Time, I must admit, mitigated this feeling: Genesis themselves dug up, re-worked extensively and then released an almost complete recording of their 1975 Lamb show at the Shrine Auditorium, Los Angeles in 1998 – an exciting document. Apart from that, a remarkable number of Lamb show recordings are available for those interested, so that a Lamb show is nothing special in itself. What is more, the avid fan can enjoy such a show live and in full colour these days, courtesy of the Genesis coverband The Musical Box and their astonishingly precise and most professional reconstruction of the Lamb show.
Be all that as it may, when it was revealed that we would get to see the aforementioned film and through it, in a unique way, my favourite band playing the full album including major parts of the legendary stage show (and also hear it in a carefully dubbed version) it meant nothing less then the fulfilment of a childhood dream.
Off to Eichenzell-Welkers then, this year's centre of the Genesis universe!
On Sunday, the second day of the event, my travel companion and I arrived at the community centre in Welkers just when the doors opened. And it took hardly a minute until we made contact with other fans who revealed themselves to be "notorious" users of the club forum: Chinwildchicken was still waiting for his ticket to arrive, Soenner asked about my license plate and explained he was from a little further up north. The fact that we had travelled for four hours to get here was obviously not going to impress many people. In fact, I soon realized that conversations at the event would have to be conducted mainly in English – no doubt about it, the Lamb is of transnational importance.
Inside the venue my unschooled eye first spotted all those things that excite collectors. I took an unknowing look at diverse vinyl products, browsed through a magazine article about Peter Gabriel's departure in 1975 and admired unknown photos in a coffee-book table about Genesis. This would be a day to get one's priorities straight. Taking a close and careful look at everything in the exhibition and at all the things that were for sale could easily have taken most of the event time.
I was particularly keen to get to speak with people. This proved no problem at all. It seems that one purpose of such a convention is to give all those nerds a place where they can feel at home, far from the other people in their lives whose understanding and indulgence may be somewhat limited. Here in Welkers it does not matter who you are, what you do, how you live. What counts is that you share the same quirk. And sharing that obsession is an easy means to get into conversation.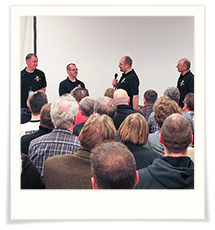 The it team made a lasting impression. So these are the guys who set up the event and have been working so hard to make the fanclub last so long. The uniting element in this madness, as it were. There were four of them: Helmut Janisch with the microphone in his hand, welcoming everybody in a guarded, almost self-conscious way. Next to him co-founders Peter Schütz and Bernd Zindler with friendly smiled. All of them obviously not men of many words and grand gestures, but equally obviously men who planned the event most carefully. Helmut Janisch seemed quite glad when he could hand over the microphone to Christian Gerhardts, the "new boy" on the team, who took over and made an eloquent and witty emcee.
Yes, the programme: It began with a documentary about The Lamb Lies Down On Broadway by Genesis. Excellent. I wished I had paid more attention in English classes. And I wished for some open windows. After the long car ride this was a time to slacken.
Then there was a one-hour break with much-needed coffee plus yummy cake in the lounge room next door, all at reasonable prices and well-prepared. More very pleasant conversations with (amongst others) TM, who was responsible for the audio track of the Lamb film.
The main feature of the day, the Lamb film with a delightful introduction by the thoroughly likeable Serge Morissette, even exceed my expectations. The montage was not only a highly professional piece of work, with excellent time and a good eye for unobtrusive but effective technical effects, it also revealed clear sense for the core of the project. The various sources (and their very diverse qualities) were combined in such a clever way one really had the illusion of an organic performance: Genesis were really there on stage, The Lamb lay down on Broadway and I joined Rael on his (and also on my) inner journey. The bad air in the venue did not change anything about that. I was pleased that the rest of the audience shared my intense emotions, because the applause for what we had seen and heard was frenetic.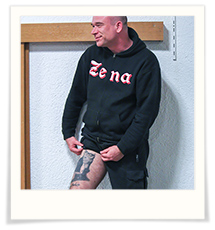 The day ended with more smalltalk (always too short) and a final raffle. When news reached us that the mayor of Cascais, Portugal, had been prompted by the Musical Box show in his town to reenact the post-revolutionary events that surrounded the Genesis show in the same venue on Marc 06, 1975 complete with tanks and a minor melee it did not even feel like a coincidence on a day on which The Lamb Lies Down On Broadway was so omnipresent.
It feels hard to believe that such an impressive concert film is to disappear again forever in a Morissette safe. That would be a huge disappointment for all Lamb fans who could not be there to see the presentation. And it would not live up to all the effort that has been put into the film.
The exclusivity of such a presentation may make those who were there appreciate it even more. This appreciation extends beyond the film, though, towards all those who undertook long and very long journeys to live out their common obsession together in Welkers.
by Christoph Laakmann
English by Martin Klinkhardt