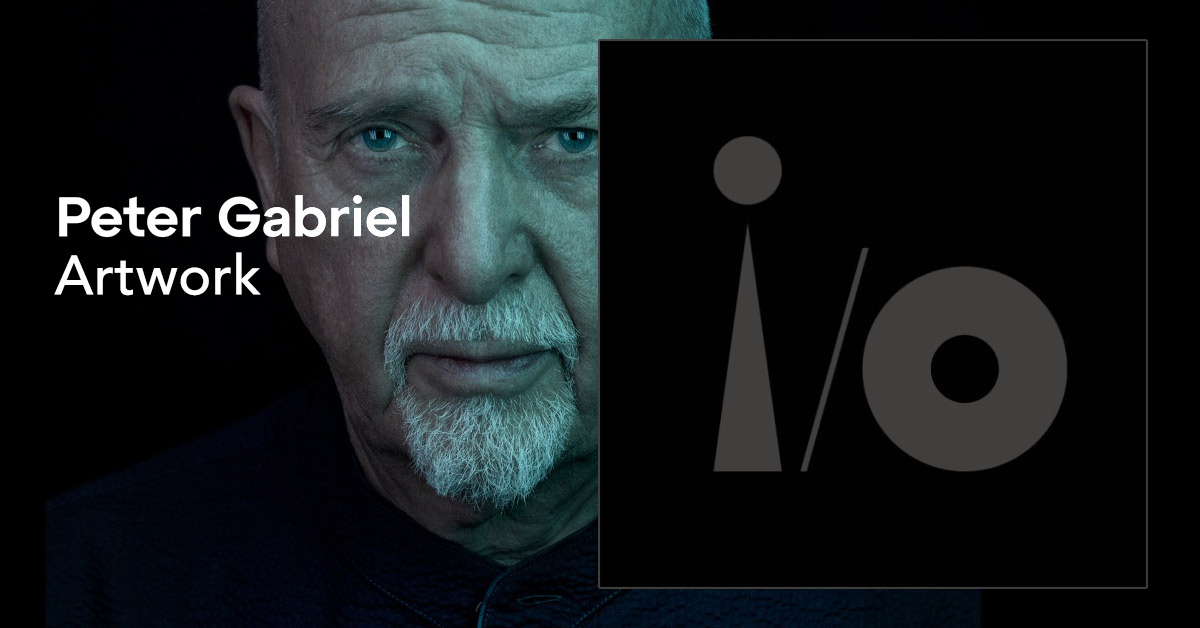 i/o - The Artwork

For the release of i/o, Peter Gabriel again has each track accompanied by a piece of art. He had already done something similar with US and with black and white photo works with Up. In the case of US, the artists were given a demo tape of the song and the artwork was then created explicitly for this track.
For i/o, the artwork was gathered from around the world. "We've been looking at the work of many hundreds of artists", Gabriel says about this.
Visual art - paintings, sculptures (or even photographs) - seem to be important to him. He has long been interested in the interdisciplinary, and in the case of artwork, he has recently been using material from the field of science (think of the microscopic images of blood cells for the Scratch My Back project).
---
Release #1 on 6. January 2023:

Panopticom
The Track
The first release from i/o is Panopticom in the "Bright Side Mix". It is about the possibility of making the information on all kinds of topics available in the world (some of which is not visible) accessible for everyone. Gabriel envisions a globe into which one can zoom in to retrieve data - the Panopticom. The freedom of information achieved in this way then stands in opposition to the control and denial of information.
The Artist

The accompanying artwork was created by David Spriggs. Born in Manchester in 1978, he moved to Canada when he was 14 and graduated in painting and sculpture from the Emily Carr Institute of Art & Design, Vancouver in 2000. He spent parts of his studies at the Bauhaus in Weimar and in Berlin. He has exhibited internationally and received awards. David Spriggs describes his work as a hybrid of painting, object and installation, in which individual sheets of Plexiglas are individually airbrushed and then layered one behind the other. The results can sometimes be as large as an entire room and have a three-dimensional effect.
This is not only about illusion, but also about raising the question of how we assemble the apparent forms in our minds. Spriggs virtually undermines the illusion by allowing the viewer to look sideways at the objects and also see the layers individually.
Gabriel also says, "Part of what he does is imagine what art might look like a few years in the future and then try and create accordingly." Spriggs adds, "I think the future of sculpture will have a strong relation to the immaterial and to transparency and so many of my works are about this." Often they have a futuristic, otherworldly appearance. Yet, as Gabriel says, they also seem to be influenced by nature. "But," says Spriggs, "really it is about deeper philosophy and contemporary issues."
Many of his worthwhile works can be found on his website: www.davidspriggs.art
The Artwork

Panopticom is accompanied by the work Red from Spriggs' series Gravity from 2019 - acrylic on layered Plexiglas in an LED-lit Plexiglas showcase (84 x 61 x 20 cm).
As is actually always the case with him, the figure created through the layers is abstract rather than representational. In the case of Red, a left-turning swirl in red circling around an open "storm eye". This circling around a centre already appeared in Gabriel's explanation of the song: In the complete opposite of his "Panopticom", namely the concept for a prison that is built in a circle and thus a single guard can supervise many cells. Gabriel wants to achieve the reversal of this.
The Connection

Gabriel himself explains: "It was the theme of surveillance that connected me with the work of David Spriggs because he'd done a piece relating to that." About the Gravity series, one can say that there is a force that revolves around an interior and forms a kind of vortex within it. This certainly relates to the intention of Gabriel's song.
Other works by Spriggs are aptly titled Axis of Power, Contact, Data, Hierarchy, Idiologies or Vision. The challenge for the viewer is to reconcile these titles with what is to be seen, which is never at first sight figuratively narrative.
Finally

For us, a few questions remained unanswered - but David Spriggs was kind enough to answer them for the Genesis Fan Club:
How did the contact with Peter Gabriel and his team go?
- Peter reached out to me as he really liked my work. After two long conversations over the phone about both my work and his, I thought that my work Red Gravity would be most conceptually perfect for the song Panopticom and proposed it to him. He loved this artwork and went with it for the song. Red Gravity will be now become part of Peter's art collection.
How long ago was the first contact?
- It was not long time ago.

Have you heard the song beforehand?
- Yes, I heard Panopticom many times before suggesting my artwork Red Gravity. I fortunately learnt all about the song from discussions with Peter. It's complex and intelligent. I'm really pleased to have my work used for it as it's a great song.
How important is it to you to trigger political and social reflection with your works?
- I want people to think of larger things. Artworks that are just about itself are 'Art for arts sake'. It is so much more interesting for an artwork to inspire and make us think beyond the materials it is created with.
---
- will be extended with new releases -

Author: Thomas Schrage