Cornelia Parker was born in Cheshire in 1956, studied at Gloucestershire College of Art and Design (1974/75) and Wolverhampton Polytechnic (1975/78). She lives and works in London. In addition to major exhibitions in Boston, Turin, Stuttgart, Birmingham or Lima, some of her works can be found in the MOMA (New York), the Tate Gallery or the M. H. de Young Memorial Museum (San Francisco).
Parker employs numerous methods, such as exploding, squeezing, stretching, in order to wring new associations out of materials that are laden with subjective-personal sensations.
Her best-known work is certainly Cold Dark Matter: An Exploded View (1991). For this work, Parker had a garden house and its furnishings blown up, hung the remaining fragments from the ceiling and dramatically illuminated them from the inside with a single light. This created bizarre shadows on the walls. On the background, she said, "The history of sculpture has always been about violence, whether it's hitting stone with a hammer and chisel or forging metal." And, "Living in London in the eighties and nineties meant living with the constant threat of IRA bombs."
For a very different work, Thirty Pieces of Silver (1988-89), she had silver tea sets, plates and cutlery flattened by a steamroller and then hung them up too. "I've always been drawn to damaged, imperfect things. They convey a sense of drama and anxiety."
Basically, Parker also works a lot with the themes of light and cast shadows.
She was originally considered (as was Tim Shaw) for the art project for the US album. But it didn't work out for her either.
There was a whole exhibition of prints of this kind by Cornelia Parker in 2020. The photographic technique behind them is inspired by the work of the pioneers of 19th century photography, namely William Fox Talbot.
Parker places objects on a chemically coated plate and shines ultraviolet light on and through the objects at oblique angles. On the copper or steel plate, this leaves changes on the light-sensitive polymer layer, which can be treated to create a deep relief similar to an etching. From this, in turn, impressions can be made on paper - the so-called photogravure process or polymer gravure etching. Our image for Four Kinds Of Horses is the print from such a plate.
So to put it more clearly: in the case of Snap, the sharply visible fragments of the wine glass lay directly on the exposure plate, while the parts rising further above it only produced a blurred image. So basically, the shadow cast by the objects can be seen on the print.
With Parker's work revolving around destruction, recasting, light and shadow, it is not surprising to come up with an associative connection from the song.

Quite simply, Gabriel also says: Is "is the image that I fell in love with" and the "stuff around the broken glass seemed to fit with the song".
After all, the image shows destruction in a seemingly quite harmless, insignificant way - but nevertheless there is brutality in it.
As the May video for Four Kinds Of Horses suggests, by the way: Gabriel seems to be playing with the effect of light and shadow casting in the upcoming show as well.
Release #4 on 6. April 2023:

i/o
The Track
i/o is a song about interconnectedness. That everything is connected. We are made of atoms and biochemistry. In order for us to grow, material is put into us - and also comes out again. And when we eventually pass away, the atoms remain and become something else. There is a kind of life force that never leaves the universe. Gabriel finds that this insight can give understanding - for life itself, nature and fellow human beings.
The Artist

Olafur Eliasson, born in Copenhagen in 1967, is a Dane of Icelandic origin. In his youth he was a professional break dancer before he began to study art. He moved to Berlin in the 90s and founded the Studio Olafur Eliasson, which today carries out projects spanning several disciplines, not only in the visual arts but also in architecture, film, programming and even cooking.
Eliasson uses technical equipment and natural elements such as light or water to create sculptures and large-scale installations. His main themes include human perception and our relationship to the environment. For The Weather Project (2003), he installed a huge "artificial sun" in the Tate Modern. For Ice Watch (2014), he melted large blocks of glacial ice in London, Paris and Copenhagen. Both projects aimed to raise awareness of climate change.
He himself says: "My work reflects on 'how' and 'why' we see things rather than 'what' we see." He often straddles the line between art and science.
Works by him stand or have stood in Munich, Frankfurt, Vienna, New York or Reykjavík. In 2003, he represented Denmark at the Venice Biennale.
From 2009 to 2014, he was a professor at the Berlin University of the Arts.
His project Little Sun achieved great fame. Small yellow lamps made of recyclable plastic with rechargeable batteries powered by photovoltaics are intended to give people an artificial source of light in regions where there is still no electricity. Or a clean source of light to other people. What sounds like a simple concept has more background than it seems at first.
The Artwork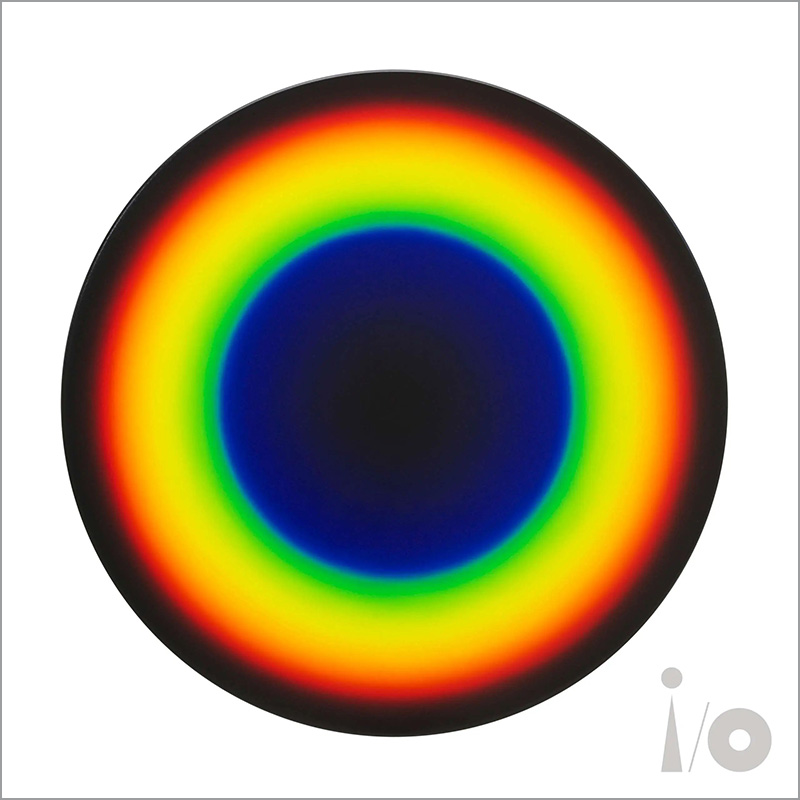 ...is called Colour Experiment No. 114, is from the year 2022, a round painting, oil on canvas, diameter 80 cm. It shows a dark circle in which a wide ring stands, reproducing the rainbow colours from the inside to the outside - whereby the violet, which is on the very inside, is barely discernible and the yellow area has the greatest width.

As the title suggests, Olafur Eliasson has created a whole series of works of this kind. They are very different in appearance, do not all show a rainbow scale, but encompass the most diverse colour schemes. However, they are all united by the circle as a form.

In 2009, Olafur Eliasson began these paintings, which are partly inspired by the idea of mixing and applying an exact shade of colour for each nanometre of the visible light spectrum, whose frequency ranges from about 390 to 700 nanometres. Eliasson has created quite a few of these paintings, varying greatly in size and expression. The colour palette of some other pieces of the series is taken from certain sources, for example historical paintings by J.M.W. Turner or Caspar David Friedrich or photographs by Eliasson.

When asked about this, he says: "Geometrically speaking, a rainbow is actually a circle that only appears to be an arch because of the horizon line. If the earth did not block our view of the rainbow, it would appear as a full ring – much like the subject of these paintings. Each of the canvases features a circular band of colours that progresses from red through orange and yellow to green, blue, and indigo – the tones that make up the prismatic spectrum. In contrast to the black background that dominates the majority of the circular canvases, the circular rainbows, like the ephemeral phenomenon that inspired them, seem almost to be made of light."
The Connection

...is not as obvious this time as it has been with the artworks so far.
Gabriel finds Eliasson to be "a mixture of artist, scientist and... magician", whose works encourage us to think about how we interact with our surroundings. This might also and especially refer to his preoccupation with the splitting of light. Eliasson's art, Gabriel says, in many ways represents what the song is about: That there is a force that never leaves the universe. It is always there, but it transforms.
Eliasson goes on to explain: "Both my work and the track are abstractions of ideas and feelings, and they represent a place in which one can look for things that are in the process of being articulated… Over the last two years, I have become increasingly interested in sound. [...] I've, of course, always known and respected Peter for his commitment to sound and a non-commercial approach to creating music. For a musical layman like myself, this strikes me as a preciously rare trait in today's audible landscape, and so it's something I would gladly be a part of."

Finally
Apart from his art contribution to the album, it is also planned for the i/o tour (status: beginning of April 2023) that Eliasson will contribute a light object for the stage show. The planned element, which is still being experimented with, is - according to Gabriel - simple but beautiful. It will again split white light into the colours of the rainbow - but this time not through a prism, but through a "long strip of mirror in an elliptical dish". What that will be exactly, whether it will actually be used on the tour, remains to be seen.
---
Release #3 on 7. March 2023: Playing For Time

The Track
Playing For Time is about living, dying and the memories you collect along the way. That only memories make us who we are. That what you love is inside you. And it's also about the fact that this collecting is quite tedious. That we are all somehow "playing for time".

The Artist

Annette Messager is a painter, photographer, installation artist and was born in France in 1943. Someone older than Gabriel for a change. He has known Messager's work for "40 or 50 years" and almost had her on the art project for the US album back then.
Messager is best known for her installations, which often incorporate photographs, prints and drawings, as well as methods traditionally associated with female handicrafts. Knitting, for example, then becomes an artistic form. At the same time, her works have an enormous range and do not immediately suggest that they come from the same artist. She herself says in general: "My works are based on materials that are familiar to everyone. The fact that strange things are conjured from them creates an uneasiness."
And indeed, early on, she caused disturbance among the public, even rejection, for example with photographs of injuries from plastic surgery, embroidered misogynistic proverbs and tattered stuffed animals, remodelled into cute monsters.
It was not until late that she achieved worldwide recognition, meanwhile exhibiting at Documenta in Kassel or the Biennale in Venice, for example, and receiving numerous prizes. Today she is the grande dame of the French scene and is regarded as a pioneer of female art - with a lot of humour and feminine composure.
What is interesting for today is that she apparently does not have her own homepage. As a substitute, the website Archives of Women Artists is linked here with some impressions of her work.
The Artwork

Playing For Time is accompanied by Messager's work entitled Mes voeux (avec nos cheveux) [English: My wishes (with our hair)]. Black and white photographs hanging from the wall on strings show parts of human bodies: hands, eyes, ears, pubic areas of women and men. In the middle, four pictures in beige-brown tones with less concrete motifs. The whole thing seems like a collage, like fragments of something bigger that never becomes visible. Perhaps they are votive offerings - symbolic sacrifices to a higher idea.
There are several versions of the work (one hangs in the Centre Pompidou), but the individual images and the arrangements are always different.
The Connection

Gabriel sees many of Messager's works as being characterised by the assembling of memories and pictures. Mes voeux (avec nos cheveux) perhaps shows longings, in any case gathers facets from which something whole can emerge, perhaps it remains a search for it.
Playing For Time is also about facets, memories that are sought throughout a lifetime. They represent what makes us tick - even if that is not always immediately recognisable. Perhaps never to be understood. But whether or not - in the end, time wears the crown.
---


Release #2 on 5. February 2023: The Court

The Track
The second i/o track is called The Court and deals with justice and legal systems, how much they are exposed to error and abuse and yet remain necessary for a civilised society. Order and chaos are told in quite open associations, without anything like a closed story in it. Confusion is described in confusing images.
The Artist

Tim Shaw was born in Belfast in 1964 and studied art at Manchester Polytechnic and Falmouth School of Art. After working briefly as a restorer of buildings and works of art, he began to devote himself entirely to sculpture.
He creates sculptures with a figurative-naturalistic approach, which is then continued in an alienated way. Most of them are human-like figures in bizarre, partly over-realistic staging. Some of his sculptures are quite small and fit several on a tabletop, but often they are enormous. Some have mechanical mobility up to a fully executed animatronic (The Birth Of Breakdown Clown).
The themes he addresses are political, accusatory, put fingers in wounds, deal with terrorism or the war in Iraq. The installation Casting A Dark Democracy from 2007, which took up a famous photograph of a prisoner at Abu Ghraib, was praised.
Tim Shaw is quite renowned in Great Britain and has also received public commissions (for art in inner-city squares, for example).
The extensive website of Tim Shaw: www.timshawsculptor.com

The Artwork

For the cover image of The Court, a work was chosen (actually: a photograph of it) that has a history that at first glance might seem a bit wacky.
It is a direct response to the artist duo Gilbert and George, who learned of plans not to exhibit their work in early 2021 and became incensed: "We herewith return our medals and certificates… We curse the Royal Academy and all its members."
Tim Shaw found, "Whether these are flippant words or targeted toxic energy, it's a serious business to curse someone. As one of the cursed, I feel an obligation to address this act with a robust response."
His art object for this was, first of all, a human-like figure about three metres tall, made of a metal frame with branches tied to it, fabric and a belly full of charcoal. At the end of the Royal Academy Summer Exhibition in January 2022, a ritual ceremony took place in which the sculpture was set on fire in a field and the remains were then scattered along the river to air, water and earth to transform the negative forces into positive ones.
The story with the curse and the shamanic ritual may sound crazy, but Tim Shaw's work is more clearly rooted in the real world than this background might at first make you think. Gabriel says Shaw's work is about the brutality we do to each other. And he finds rituals fascinating because they tell us a lot about ourselves.
Here some more images of the sculpture
And of the burning ritual


The Connection
At first, Gabriel only knew the photograph and then later learned about the story behind it. He was fascinated by the image of this strange figure that was burning - perhaps it had been condemned.
Together with the background narrative, however, the artwork makes sense for The Court. Both are about injustice, atonement and compensation. But you can feel the connection to the track more than think it - the song-lyrics work in a very similar way.
Tim Shaw comments: "I don't know why that particular image was chosen for this track, but thinking about it, it could be that when you look at the figure perhaps it stands there to be accused, judged and in this case it's burnt as a punishment process that takes place."
Once again a short video documentary on Tim Shaw was published (on 3 March).
---
Release #1 on 6. January 2023: Panopticom

The Track
The first release from i/o is Panopticom in the "Bright Side Mix". It is about the possibility of making the information on all kinds of topics available in the world (some of which is not visible) accessible for everyone. Gabriel envisions a globe into which one can zoom in to retrieve data - the Panopticom. The freedom of information achieved in this way then stands in opposition to the control and denial of information.
The Artist

The accompanying artwork was created by David Spriggs. Born in Manchester in 1978, he moved to Canada when he was 14 and graduated in painting and sculpture from the Emily Carr Institute of Art & Design, Vancouver in 2000. He spent parts of his studies at the Bauhaus in Weimar and in Berlin. He has exhibited internationally and received awards. David Spriggs describes his work as a hybrid of painting, object and installation, in which individual sheets of Plexiglas are individually airbrushed and then layered one behind the other. The results can sometimes be as large as an entire room and have a three-dimensional effect.
This is not only about illusion, but also about raising the question of how we assemble the apparent forms in our minds, such as the three-dimensional effect of planar picture planes. Spriggs virtually undermines the illusion by allowing the viewer to look sideways at the objects and also see the layers individually.
Gabriel also says, "Part of what he does is imagine what art might look like a few years in the future and then try and create accordingly." Spriggs adds, "I think the future of sculpture will have a strong relation to the immaterial and to transparency and so many of my works are about this." Often they have a futuristic, otherworldly appearance. Yet, as Gabriel says, they also seem to be influenced by nature. "But," says Spriggs, "really it is about deeper philosophy and contemporary issues."
And he finds that his art, which is, after all, motionless, "still", is a good counter-statement to all the movement in the fast, multimedia world.
Many of his worthwhile works can be found on his website: www.davidspriggs.art
The Artwork

Panopticom is accompanied by the work Red from Spriggs' series Gravity from 2019 - acrylic on layered Plexiglas in an LED-lit Plexiglas showcase (84 x 61 x 20 cm).
As is actually always the case with him, the figure created through the layers is abstract rather than representational. In the case of Red, a left-turning swirl in red circling around an open "storm eye". This circling around a centre already appeared in Gabriel's explanation of the song: In the complete opposite of his "Panopticom", namely the concept for a prison that is built in a circle and thus a single guard can supervise many cells. Gabriel wants to achieve the reversal of this.
The Connection

Gabriel himself explains: "It was the theme of surveillance that connected me with the work of David Spriggs because he'd done a piece relating to that." About the Gravity series, one can say that there is a force that revolves around an interior and forms a kind of vortex within it. This certainly relates to the intention of Gabriel's song.
But the association "eye" also fits: The all-observing as the form of power. Spriggs chose red because it often signals "warning" in perception.
Other works by Spriggs are aptly titled Axis of Power, Contact, Data, Hierarchy, Idiologies or Vision. The challenge for the viewer is to reconcile these titles with what is to be seen, which is never at first sight figuratively narrative.
Finally

For us, a few questions remained unanswered - but David Spriggs was kind enough to answer them for the Genesis Fan Club:
How did the contact with Peter Gabriel and his team go?
- Peter reached out to me as he really liked my work. After two long conversations over the phone about both my work and his, I thought that my work Red Gravity would be most conceptually perfect for the song Panopticom and proposed it to him. He loved this artwork and went with it for the song. Red Gravity will be now become part of Peter's art collection.
How long ago was the first contact?
- It was not long time ago.

Have you heard the song beforehand?
- Yes, I heard Panopticom many times before suggesting my artwork Red Gravity. I fortunately learnt all about the song from discussions with Peter. It's complex and intelligent. I'm really pleased to have my work used for it as it's a great song.
How important is it to you to trigger political and social reflection with your works?
- I want people to think of larger things. Artworks that are just about itself are 'Art for arts sake'. It is so much more interesting for an artwork to inspire and make us think beyond the materials it is created with.
Peter Gabriel also published a video in which a little more is said about the background and David Spriggs himself has his say:
---
- will be extended with new releases -

Author: Thomas Schrage