Mike Rutherford: Mechanics plans for 2013
Living Years Remaster, B-Sides Album, new songs?
Mike Rutherford is currently touring Europe with the Mechanics. The tour is simply called HITS this time and brings the Mechanics back to the UK and Germany among a few other shows (see tour dates here). The Mechanics present a new setlist with the same band which toured last year. You can find details about some of the shows (i.e. setlists) in our forum in this thread.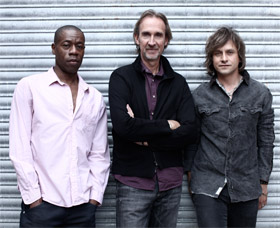 A few days ago, Mike Rutherford was interviewd during the BBC Kent program Rogers Day. Rutherford talked about the early Mechanics days, Paul Young's death, the recent album and tour and plans for 2013. He mentioned plans to release a remastered version of Living Years, possibly with bonus tracks. Living Years will have its 25th anniversary next year! Also, Mike is thinking about new songs with Andrew Roachford and Tim Howar as well as a "B-Sides Album", as he calls it. All in all very interesting stuff.You can listen to the interview at this link (starting at 0'39).

We will have more information on that soon.
Details about the current tour can be found on our tour dates page here.
A review about the recent album The Road is also available here.
---
published on 02.07.12 21:07 by
Christian
@
Mike Rutherford
---
Mike Rutherford: Mechanics plans for 2013 Comments:
Kein Kommentar möglich

If you want to submit a comment, you will have to log in!
---