A new solo album by Chester Thompson should be reason enough to recall what an impressive career the now 74-year-old drummer has had, who slipped into the role of Phil Collins' drummer back-up from 1977 to 1992 and from 1999 to 2010, thus decisively shaping many live recordings by both Genesis and Collins solo. And his skills were equally appreciated in the studio by Steve Hackett and Tony Banks. But outside the Genesis camp he was also in great demand as a live and studio drummer and can be heard on productions by the likes of Ben E. King, Jack McDuff, Alphonso Johnson, Santana (whose keyboardist is also named Chester Thompson), Peter Cetera, Bee Gees, George Duke, Donna Summer, Steve Winwood, Neil Diamond, John Fogerty, Frank Black, Taj Mahal and Keb' Mo', to name just the most famous. The most important stations, however, were his time as drummer for Frank Zappa and his "Mothers" (1973 - 1975) and with Weather Report (1975/76), which made him famous worldwide and finally led to his job with Genesis.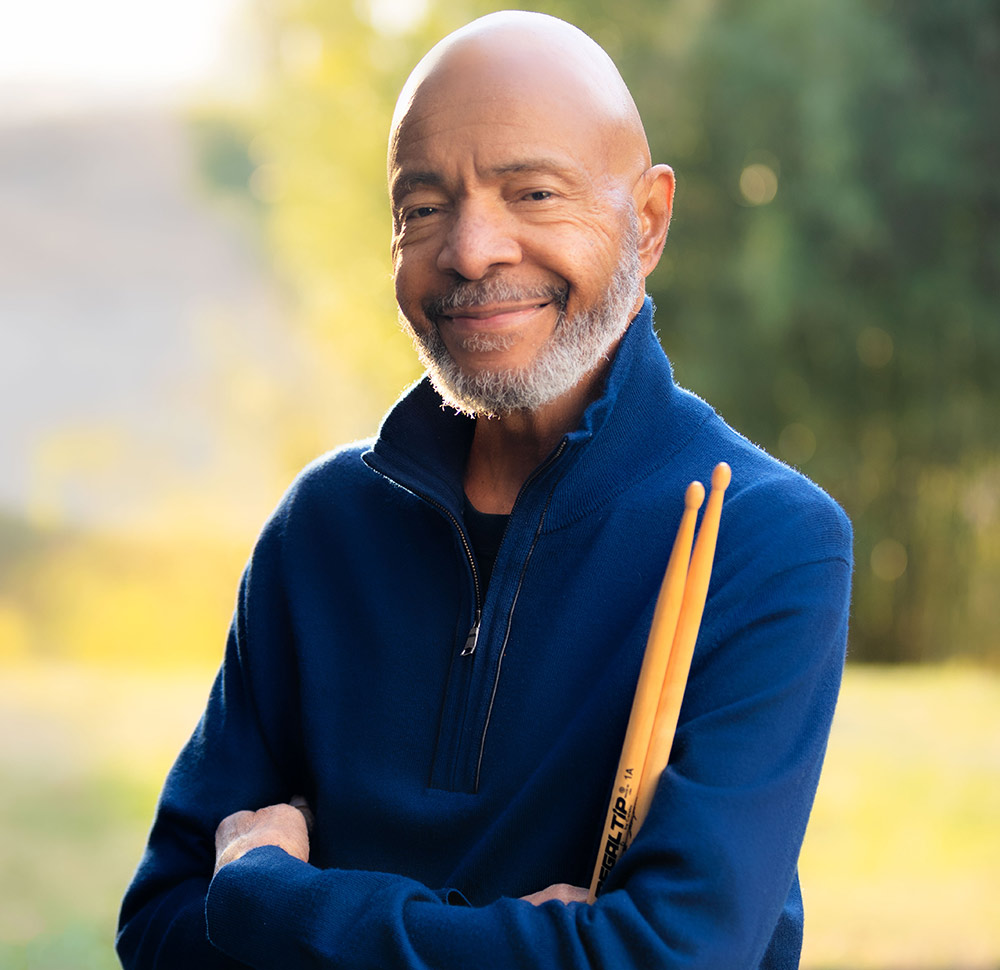 That a drummer of his calibre declares the Genesis song Throwing It All Away his favourite song of the band may surprise some, but makes it clear that he sees himself more as a musician than a drummer. So it's not surprising that there are no real "drummer's records" to be found among his solo works. On the 1991 debut A Joyful Noise, the music moves between 80s funk, fusion jazz and pop, incidentally with a brass section featuring Harry Kim, Gerald Albright and the Fowler Brothers. After the two DVDs On The Fly: Live At Drums'n'Percussion Paderborn 2003 and together with Luis Conte Drum Talk - El Tambor Habla (Live At Drums'n' Percussion Paderborn 2005) initiated by Uli Frost, it took a few more years until 2013, when the album Approved (Youtube) by the Chester Thompson Trio, founded in 2011, which with pianist Joe Davidian and bassist Michael Rinne interpreted mainly classics of jazz history and Chester's past in classic jazz style, including a version of Follow You, Follow Me in 7/8(!) time! With Live At Drums'n'Percussion Paderborn, a (now no longer available) live album by the trio was subsequently released before the second studio album in 2015, Simpler Times (Youtube) was released, which is musically in the same vein as the trio's debut. With an expanded line-up (including trumpet player, percussionist and his former Weather Report colleague and friend Alphonso Johnson on bass), Chester's solo album Steppin' (Youtube) was recorded, which will be released in 2019 and allows for more funk and Latin influences through lush arrangements, whereby Chester has also composed several pieces with keyboard man Joe Davidian in addition to group compositions.
Let's move on to the current album Wake-Up Call, which was written in Lockdown times. Frustrated by the quasi-imposed "work ban" of many musicians, Chester's music friends Michiko (keyboards) and PeeWee Hill (bass), with whom he had been jamming since the early 80s and who were also heavily involved on A Joyful Noise, were condemned to work only with programmed drums at home. Chester takes this as an opportunity to record unaccompanied drum tracks for the two of them at home and leave the files with them for further use. Inspired by Chester's drums, the naked files gradually grow into pieces. For the three of them, 30 years after A Joyful Noise, it suddenly feels like a "reunion", and they continue to polish the tracks and add guest contributions (including Chester's son Akil) until they have a complete album with 41 minutes of playing time. Even though the album is released by Chester Thompson, the tracks are all group compositions by Chester, Michiko and PeeWee.

01 Wake Up Call (3:59)
The snappy opener and title track starts with a lot of steam. Brass breaks, funk guitar and lead motif on detuned analogue synth set the tone here. As a bonus, there are crisp guitar and bass solos.

02 Sunrise (4:46)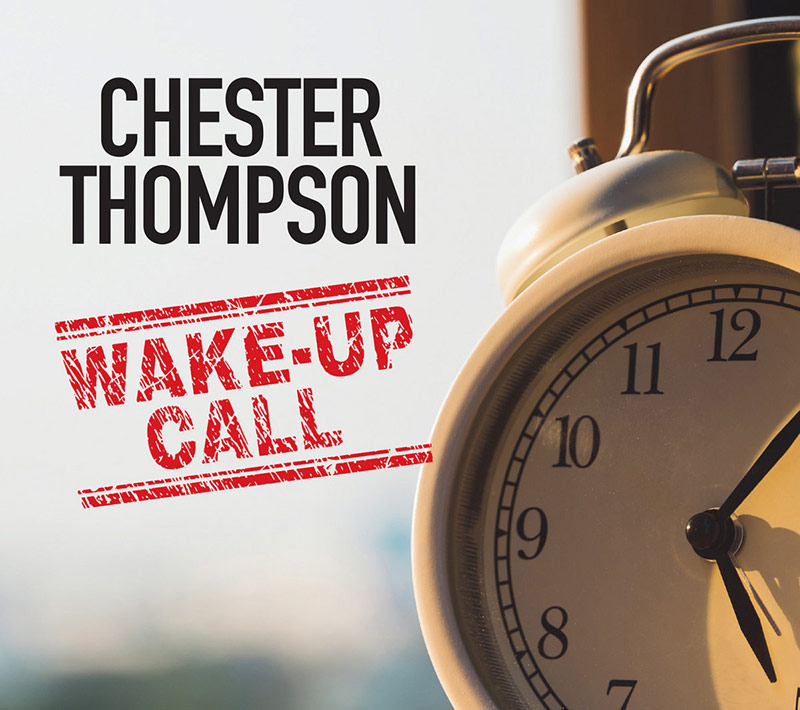 Chester's relaxed 6/8 groove forms the basis for piano arpeggios and fretless bass, with the piece building up almost anthem-like in the chorus. Keyboard strings and Moog melody arches are not to be missed.

03 Hide And Seek (4:14)
The track that, according to Chester, started it all! A groovy number between fusion jazz and funk with partly mysteriously weird chord progressions in the atmospheric parts and more hustle and slap bass in the remaining parts. Here we hear Chester's son Akil on guitar.

04 Feel It (4:59)
It continues to groove in the rather sustained shuffle feel in 7/4 time with Rhodes piano and a neat percussion addition, funky clavinet and sprawling solos on Moog, piano and guitar.
05 Smack 'Em (4:14)
This driven piece between fusion jazz and funk alternates between dark and bright parts and includes key and bass solos as well as solo spots by Chester on the drums.

06 Sometime Soon (4:38)
The relaxed Sometime Soon captivates with rather classical chord progressions with letmotifs on piano and synth and is underpinned by a groovy sound carpet of interesting drum and percussion rhythms.

07 Attitute (4:23)
Chester's straight but triplet beat forms the basis for various saxophone motifs - and solo by Sheila Gonzalez, which does the album good as an expanding sound colour.
08 Joy! Joy! Joy! (4:11)
This brisk up-tempo number has a kind of reggae feel without being reggae. Here, Chester's son Akil can be heard on the guitar again. Melody arcs are often played here by different instruments in several or one voice. The title fits!

09 Reflection (5:40)
The longest track at the end comes along in a rather bluesy-slow 6/8 groove, without really being blues. The longing string chord sequences nevertheless offer a lot of space for melancholic guitars and piano excursions. And the build-up towards the end of the track forms a fitting conclusion to the album.
All in all

It's nice to hear Chester on drums again. And you can also hear that the album was not a planned one: all involved seem to have approached the matter in a relaxed way, as the approach with Chester's initial drum tracks is very unusual. The nine instrumental tracks offer enough variety between funk, fusion and pop to avoid boredom. However, one should have no aversion to improvised solo parts by the various participants, because there are plenty of them. For some, the record might be a bit too keyboard-heavy, but the sounds are all tastefully chosen. In any case, the album is musically at least a worthy successor to Chester's debut album, if not the better of the two.
Line-Up

Chester Thompson: Drums
Michiko Hill: Piano & Keyboards
Robert "Peewee" Hill: Bass
additional musicians:

Akil Thompson: Guitar (3, 5, 8)
Caleb Quay: Guitar (7, 9)
Ronnie Vann: Guitar (4)
Brendan Harkin: Guitar (1); Mixing Engineer
Jeff Coffin: Saxophones (5)
Scheila Gonzalez: Saxophones (7)
Walter Rodriguez: Percussion
Gary Hedden: Mastering

Wake-Up Call is available on CD, Vinyl-LP (also signed) and either 16bit or 24bit Download via Chester's Bandcamp-site. Also, check out Chester's official website.

Author: Steffen Gerlach