Unitopia on tour in Europe for the first time with Chester Thompson
To promote their new album Seven Chambers, Unitopia played seven concerts in Italy, Switzerland, Germany, the Netherlands and France in September 2023, of which I attended the first, in Revislate/Veruno (Italy), and the third, in Reichenbach im Vogtland, Germany.
The band Unitopia has been around since 1996, formed by two Australians Mark "Truey" Trueack (singer and songwriter, also with United Progressive Fraternity (UPF)) and multi-instrumentalist Sean Timms (Southern Empire, Damanek, UPF), who mainly plays keyboards live. By 2012, they had released several albums, including most recently Covered Mirror, which also features a 10-minute Genesis medley (with selections from The Silent Sun, Lover's Leap, Moonlit Knight, and the complete Carpet Crawlers). Since then, Mark and Sean haven't done anything together for a long time, but in 2021 they got back together and began a new album project that resulted in the recently released album Seven Chambers this year. They were joined by John Greenwood on guitar, Steve Unruh on electric violin, flute and percussion, as well as Alphonso Johnson on bass and Chester Thompson on drums. In the last 2 years or so that the album has been recorded, several members of the band have had serious health problems, including Chester, who last had an operation in the summer of 2023, which unfortunately shows; he is visibly slimmer and makes a thoroughly frail impression overall, but when he is settled behind his drum kit it still sounds very neat, even if he certainly doesn't have as much power as he used to.
Alphonso Johnson unfortunately could not come on this tour; Don Schiff stepped in for him (Details).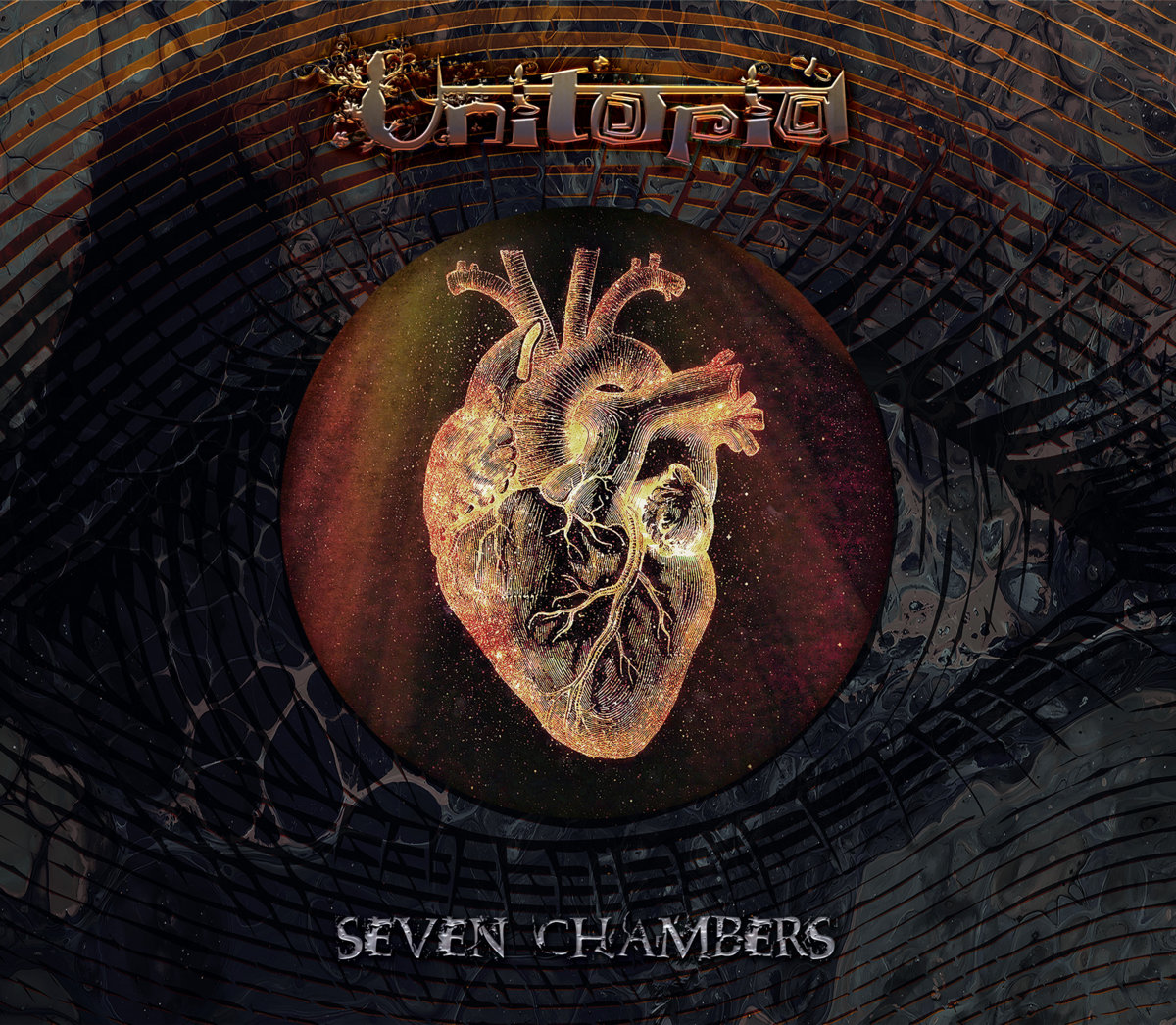 The whole Seven Chambers album deals in several songs very directly with various serious diseases, which Mark Trueack also makes clear in his announcements at the concerts; moreover, John Greenwood is also a doctor himself and refers in his announcement for Stroke of Midnight to an experience from his work in a hospital. Stroke here actually has the double meaning of stroke (of the clock) and stroke (brain).
Broken Heart also has a double meaning: from the title you think it's another love song, but it's about a heart attack that one of the band members has experienced. By the way, at the beginning of the song you can hear the characteristic Roland drum machine sound in the background, which we know from Duchess, for example. (more details).

For Tesla (from the 2010 album Artificial) there is the inevitable "audience participation time" (although it is not called that), where Mark asks the audience to sing along with the refrain "We are, we are, all parts of the whole, all parts of the whole" as loudly as possible, in order to have it ready at the right place in the song itself, which works well every time. Unitopia as a band has always emphasized the themes of spirituality, universalism and environmental awareness, and the All Parts of the Whole somehow reminds me of "I'm just a part of everything" by a certain Mr. Gabriel from his song i/o.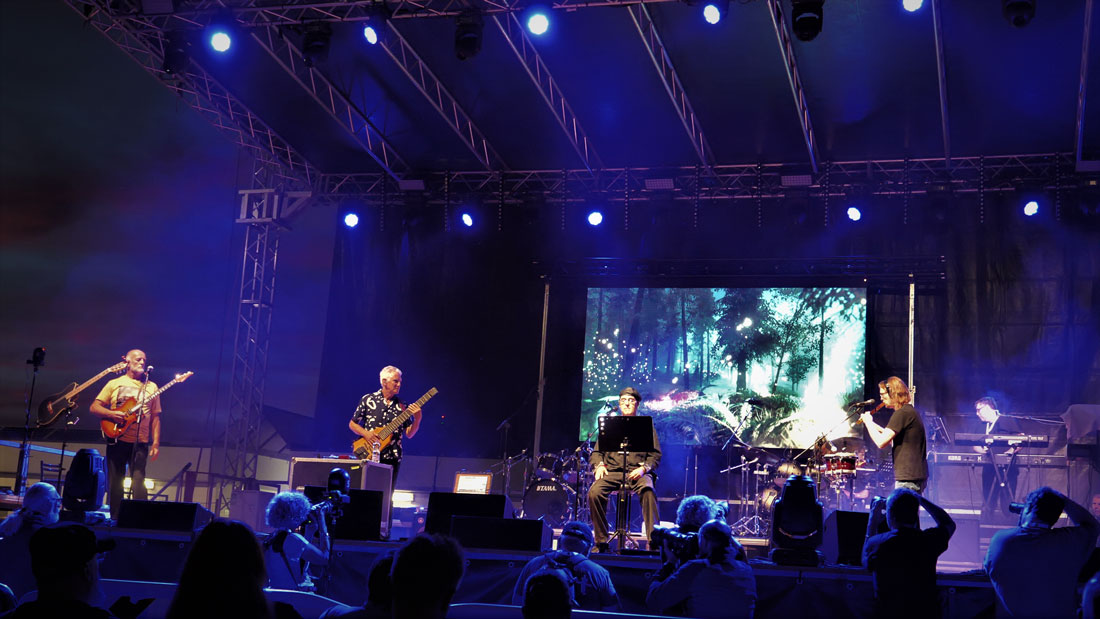 The Garden (from the 2008 album of the same name and introduced by a kind of jungle flute that animal lovers may know from the TV show "Elephant, Tiger & Co."...[German TV show]) especially brings up the spiritual environmental theme. This is definitely well suited as the beginning of the show to introduce the audience to the right "spirit". This is also helped by the background projections throughout, which were especially effective at the festival in Italy with the large and very bright LED wall. Towards the end, the track is already very reminiscent of the last minutes of Supper's Ready, so about from "Can't you feel our souls ignite"; there almost the complete melody line is the same and the guitar parts then also fit very well.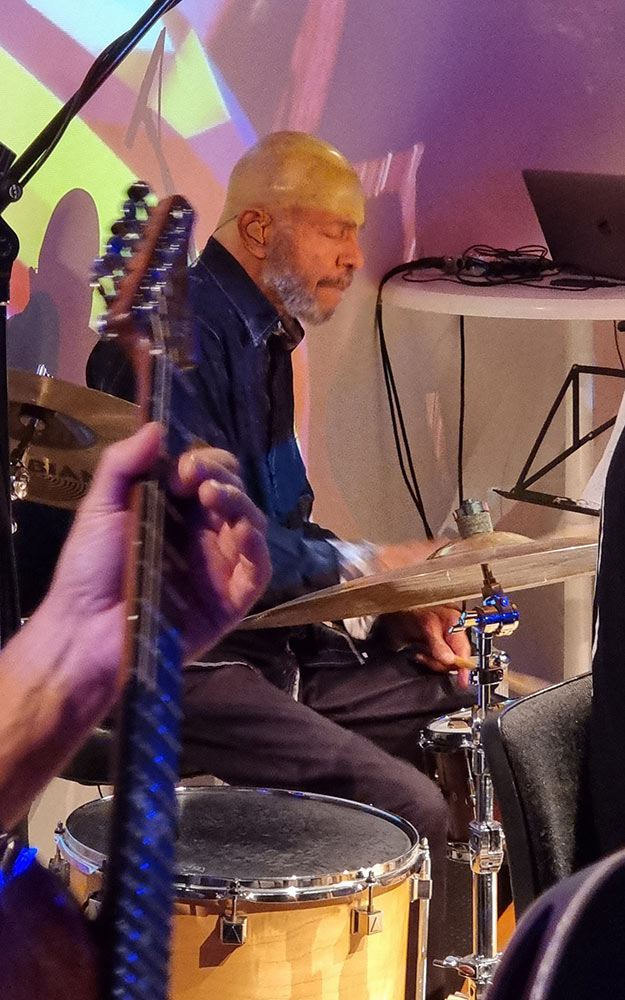 As an encore, The Great Reward (also from the 2010 album Artificial) works just as well; one could say it really doesn't get more proggish than this, with the vocals and melody that could practically come straight from Neal Morse, and the instrumental closing section including an electric violin solo that varies these melodies accordingly.
Except for the first and the last two songs at the two shows I saw, all songs are from the current album. At some of the other shows they also played Bittersweet and Something Invisible, but the two shows in Revislate and Reichenbach had the same setlist. So thus here we have the Seven Chambers block in the set, introduced by Mark with reference to all sorts of illnesses of some of their members - mentioning rather dismissively the saying "What doesn't kill me makes me stronger", re-phrasing it as "What doesn't kill us makes us louder!"
Most of the locations on this tour are definitely the well known "prog temples", like in Reichenbach, Aschaffenburg, Zoetermeer, Pratteln and of course the festival in Italy with "prog" in the name. And yet there were big differences between the concerts in terms of external conditions. The biggest and also the most impressive for the band was logically the first show, in Revislate, a large open air stage with a good 1200 spectators, who responded very gratefully to the performance. The way the artists are treated backstage there is also consistently praised. Also with the technology there were apparently no too big problems, although such a thing is rather difficult on a festival with hardly half an hour between two acts according to experience. In Reichenbach it was all a bit different. The Neuberinhaus there is a small theater with a balcony, the classic city theater of a small town, I would say. The ticket says "free choice of seats". When I got there, however, I found out that the concert would not take place in the main hall, but had been moved at short notice to a small side hall on the second floor. There was no seating there, except for a few chairs directly against the walls, and the stage is of course much smaller and only about 30 cm high, so that during the concert one could hardly see anything of the musicians on stage at normal body height. The local organizer, Uwe Treitinger, known as the boss of the Bergkeller in Reichenbach ("The Living Room of Prog"), gave a short speech at the beginning to explain this. It is, once again, due to money - the rent for the large hall is several thousand euros higher than the rent for the small hall, and due to the advance sales, he would otherwise have had to add massively to it. I always find it hard to estimate audience sizes, but I would say there were no more than 150 - 250 people in the audience. Uwe also mentioned that Big Big Train had only had 80 visitors a few days earlier in Pratteln [which actually is incorrect, they had more than 250 people in the audience], while Unitopia had had significantly more visitors there, also only a few days earlier. However, Big Big Train had also played at Neuberinhaus shortly before, in the large hall, although it must be said that they would not have had room on the stage in the small hall anyway. How many visitors they had there, I don't know, though.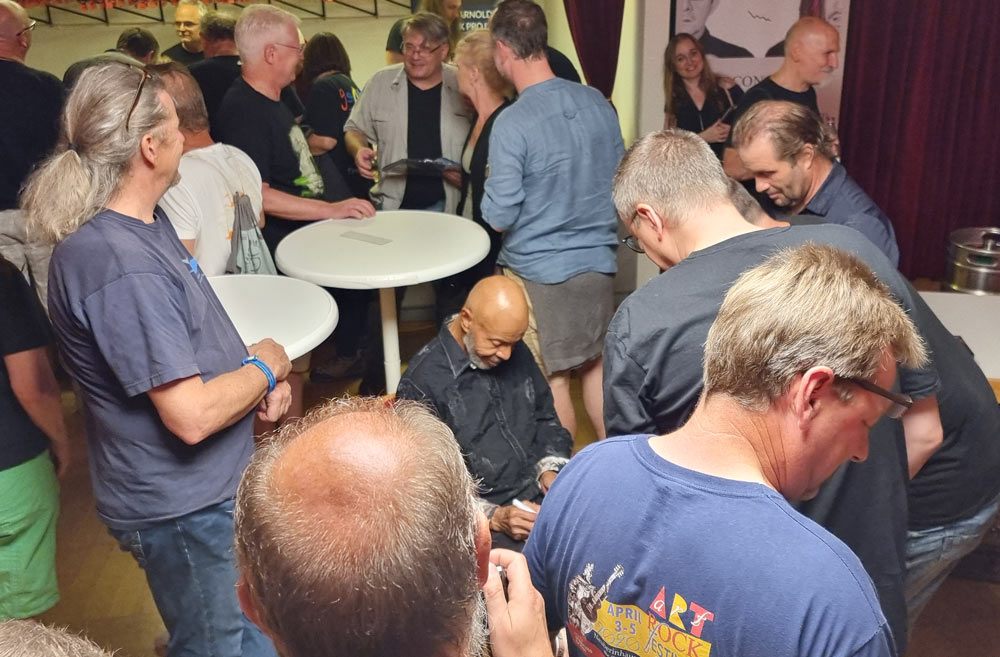 The Unitopia concert even lasted a bit longer than planned, but this was due to technical problems with the musicians' monitor in-ear sound, which could only be solved gradually during the first piece. That's why they interrupted The Garden twice and did a complete monitor sound check until it worked again to some extent. Mark asked the audience several times for understanding for the delay and nobody had a problem with it.
Such a short tour of musicians from different countries, including the USA, Great Britain and Australia, can understandably probably rather not be called a money printing machine - I don't know whether it also brought them something financially, but artistically it was in any case extremely valuable for us. Fans of 70s Genesis can't really find this music bad at all!
Although Chester Thompson himself is just releasing a new album, there was nothing to hear on this tour. I'm sure no one in the audience would have minded, but in terms of style, of course, it's more along the lines of jazz rock. Here is a recent interview with Chester.
I don't want to forget the opening band of Unitopia in Reichenbach, Marek Arnold and Manuel Schmid. They are both from the area and were only at this Unitopia concert. Marek has also played with UPF and his new album Artrock Project features Steve Unruh as a guest. They played some of their own songs as well as classics by e.g. City, with Marek on keyboards and clarinet and Manuel on keyboards and vocals. They are very busy in the German prog scene and if you don't know them yet, you can check them out here.

It must be said, they had as big applause as "local greats" as Unitopia itself!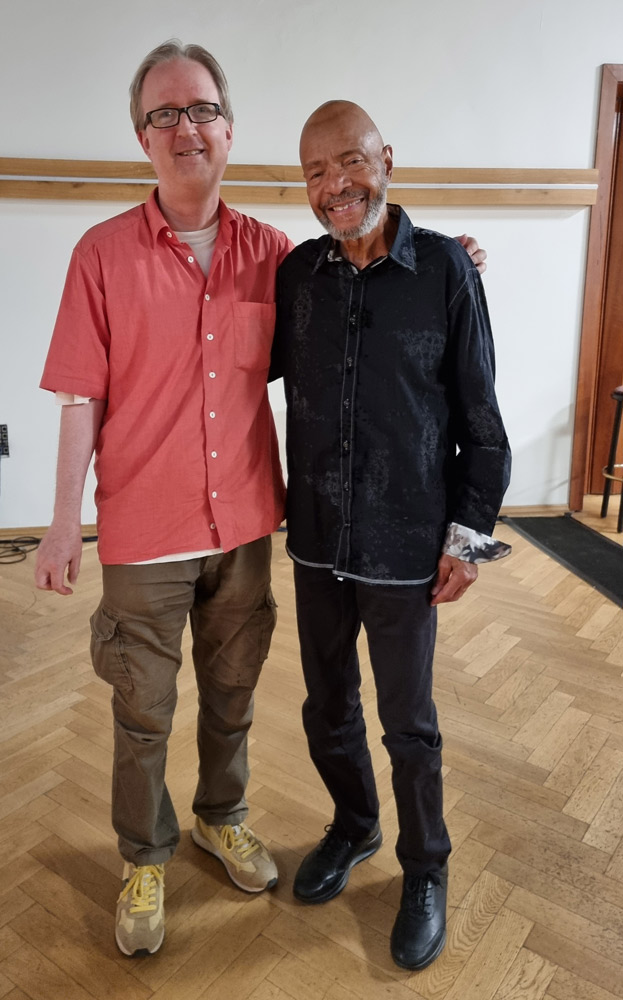 Afterwards all musicians were available for autographs and conversations for a while, also Chester, who sometimes sitting, sometimes standing, patiently fulfilled all autograph and photo requests.

Setlist:
Revislate, 2 Days of Prog + 1, 3. September, 2023
Reichenbach, Neuberinhaus, 9. September, 2023

The Garden
Broken Heart
The Stroke of Midnight
Mania
The Uncertain
Tesla
The Great Reward
Further Links:
Unitopia Website
Unitopia bei Bandcamp

More info about their new studio album Seven Chambers is available in our news section here.

Author and Photos: Volker Warncke

Translation by Christian Gerhardts with some help from Deepl