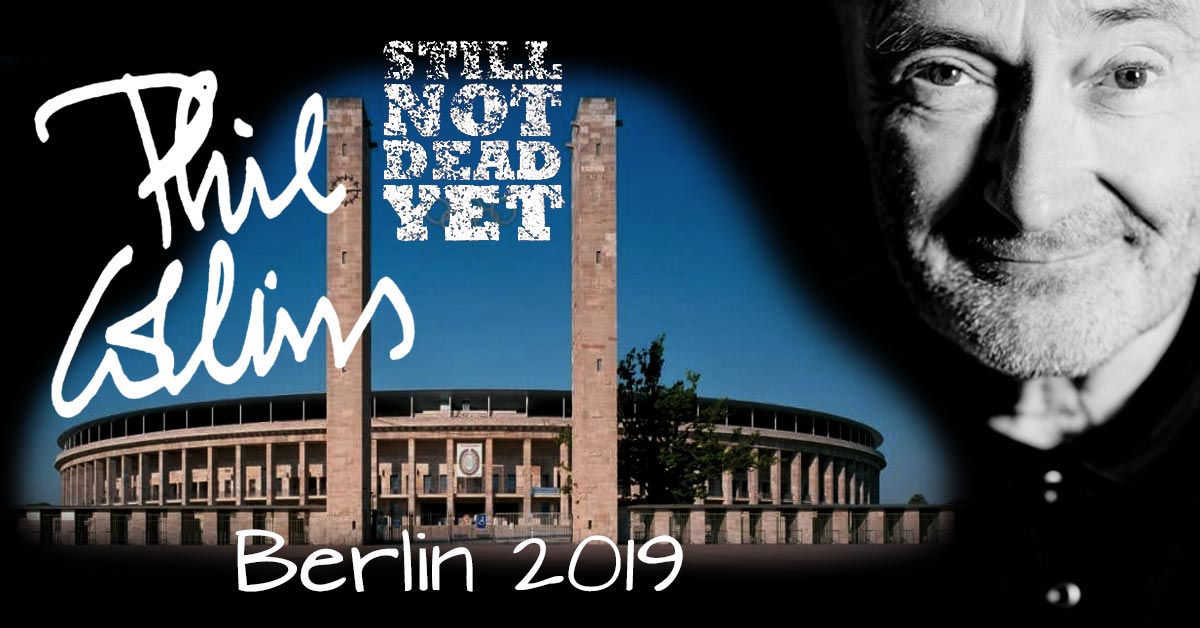 Phil Collins, Still Not Dead Yet live in Berlin
Special moments at the Olympiastadion, June 7, 2019
Who would have thought that I would ever around to seeing Phil Collins live! I ought to say at this point that I have never seen Phil Collins play live before. His solo career does not interest me too much, and then I have never had the opportunity. However, when a Berlin date was announced for his Still Not Dead tour I could not resist anymore and bought some tickets. I decided to buy first row tickets, as an early Christmas gift, as it were. When I'm going to see Phil Collins, I want the best seats available (though I do not want to appear arrogant when I say that). Who knows whether Phil will ever tour again or whether that putative tour might take him to Europe? He is, after all, 68 years old, and his health issues have been publicized at large. We went to the show with these facts in mind, but also with much reverence, respect and excitation. I have really looked forward to the concert. Mike + The Mechanics opening for him was the cherry on the cake. Two members of Genesis in one night – incredible! There was, of course, the secret hope that Mike Rutherford might join Phil for one of the Genesis songs he has in his set. Yes, I am a huge Genesis fan. The Mechanics had opened for Phil several times before, and this had never happened, so it was, of course, only wishful thinking. Let's return to the Berlin show, though.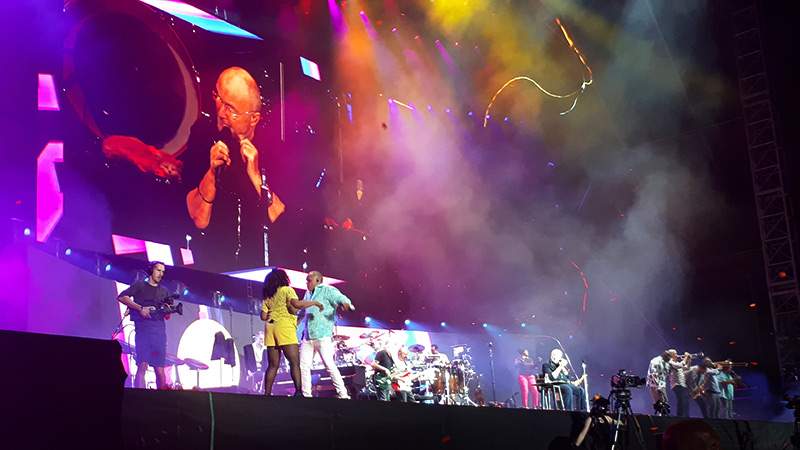 We arrived at the Olympiastadion on the (Friday) night of the show at around 6.30pm. The weather was wonderful, by the way – almost too hot for a stadium show. Mike + The Mechanics began to play at 6.45. I was excited, for I had never seen the Mechanics live, and I did not know their songs beyond the four or five that get played on the radio. They got the vibes going as they played more recent songs like Out Of The Blue and Let Me Fly as well as classics like Silent Running and The Living Years. The audience gave the new songs a so-so reception but celebrated the classics. The Mechanics' set ended after an hour. They were a great opening band, I enjoyed their music, and they put everybody in a good mood while the stadium was filling up. Thanks for that!
The main act began at 8.15. The stadium was full (I'd estimate some 60,000 people). Everybody was having a great, relaxed time. It felt incredible to see Phil Collins with his band live! Though they played only classics and hits I did not mind at all. I did not know the set list, and I studiously avoided all spoilers. For an average Collins fans like me the set list was fine. Only Throwing It All Away annoyed me (I can't stand that Genesis song) but I understand why it was performed. The audience enjoyed it and I found myself singing along, too.
Phil then announced that he would do something he had not done before. I pricked up my ears as Phil explained that Mike would join him on stage. So they WILL do it! Wow! Phil and Mike embraced and proceeded to play Follow You Follow Me together. My Genesis fan heart was beating fast. Amazing! That was my first highlight from the concert. The next highlight was In The Air Tonight, which was announced simply through the famous drum computer sounds. The excitement rose and the whole stadium seemed under a spell. It was fantastic, even though Phil did not drum along anymore. He did a great job, and his voice was in good shape. I did not notice any drops in quality during the show. Of course, many things may have been masked and glossed over, but I did not notice that at the time. He did his job well, and gave his best, and that's absolutely okay.
A word about his band: They were fantastic. Old hands like Daryl Stuermer, Leland Sklar and Brad Cole were on the stage, brilliant musicians who really enjoyed themselves. It was shocking to see how old they all have become! But that did not really take away anything from the fun. Musically, they were on top of their game. The sound was really good at our seat, and we enjoyed the show!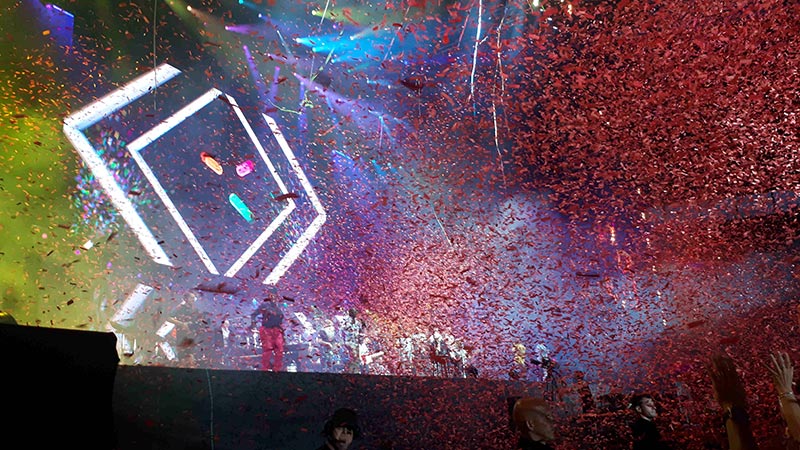 Towards the end of the show security removed the barrier tape in front of the stage, which gave us the opportunity to move right up to the stage. The audience really went crazy for Sussudio. Folks, that was one big, fantastic, musical party! The audience were revelling in the event, and I enjoyed every second of it.
Never would I have thought that I would one day stand only 30ft away from Phil Collins. The last song, or the encore, was, of course, Take Me Home, and the whole stadium turned into a sea of lights. It was a beautiful ending to an excellent concert. I am very grateful that I got to see that. I do not regret buying those shockingly expensive tickets (you got to indulge sometimes – thanks, dad!) – I would do it again. Phil Collins was great that night. This concert will always remain one of my personal highlights. I am now very happy.

By Tommy Ender, English by Martin Klinkhardt
Photos: Tommy Ender