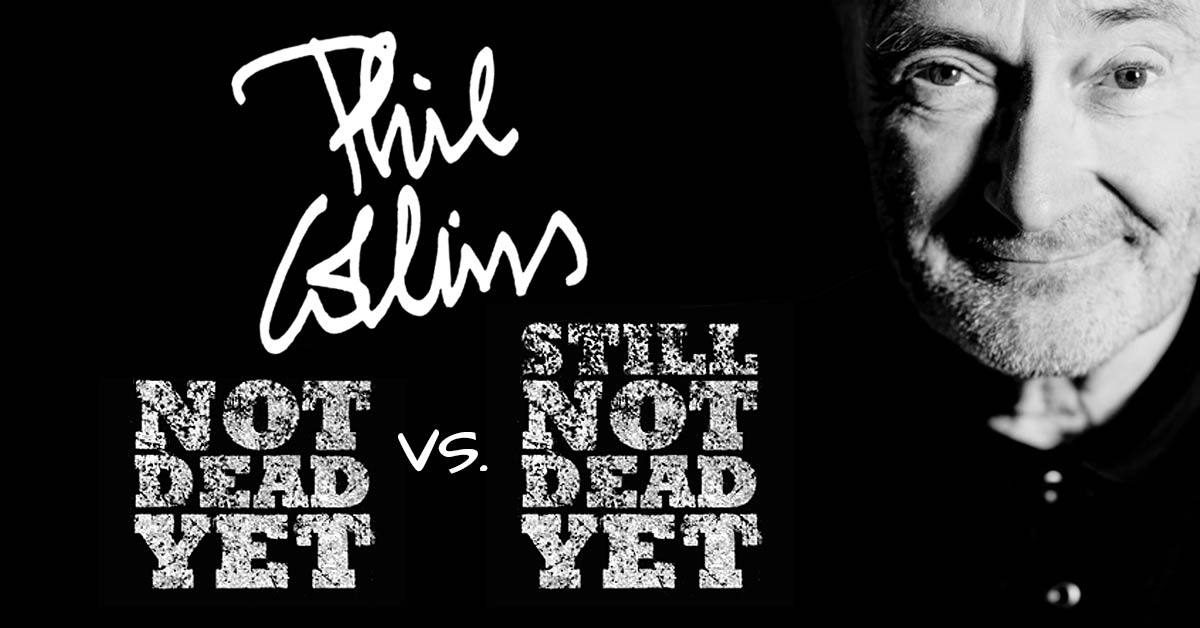 Phil Collins: (Still) Not Dead Yet Live 2017 - 2019
Cologne 2017 vs Nijmegen 2019
Earlier this year Christian Gerhardts compared the 2017 Sheffield show with the Prague show in 2019. In this essay I endeavour to contrast the Nijmegen show 2019 with one of the Cologne concerts from 2017.

Prologue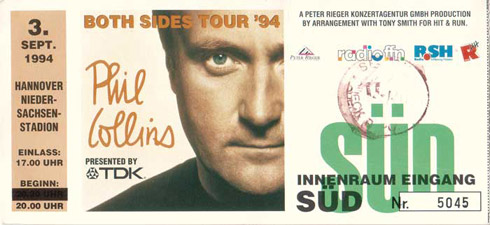 My personal history of Phil Collins and Genesis concerts is a quarter of a century long. On September 3, 1994, I saw Phil Collins live for the first time. From the second row at the sold-out Niedersachsenstadion in Hannover, Germany. This was before I ever saw Genesis live. It was an unforgettable experience despite or because of the pouring rain in the second half of the concert. I had caught the Phil Collins bug. Badly. Not even an involuntary night in my car after the big band show in Montreux in 1996 (I'd missed the last cable car that could have brought me uphill to the Valais place where I spent my holidays) could stop me from attending each tour. When Phil Collins embarked on his (not quite) Farewell tour in 2004 I used my personal freedom to travel to the concerts: Milan, Vienna, London, Nîmes, Milwaukee, and Chicago were places where I saw Phil Collins play. In 2005 I had the enormous luck to be allowed to attend the dress rehearsal. Later that year I travelled from Helsinki to Budapest to Dubai. After the two concerts in Glasgow I was almost certain I would not see Phil Collins live anytime soon again. When Genesis went on their kind of farewell tour I topped even that: I attended about half the shows from Helsinki to Hollywood. And that was that then. Or was it?
It wasn't. I sadly could not attend the Motown shows in 2010. Last chance to see missed… Yeah, right! Phil Collins is "not dead yet". When he announced he would prove that fact with a very short tour that came to only three cities my opportunity to bid him farewell had come. Big joy. And big disappointment. I have always been a fan of shows where the fans can stand, and I always tried to get as close to the stage as possible. And now it said the shows were seated only. What was even worse were the ticket prices. Hardly anything under a hundred Euros. If you wanted to have decent seats or in the arena prices went up again. Absolutely insane. I have a family now and a trip to see a concert is difficult – almost impossible at these prices! I made the best of it and decided to see the first and the last show in Cologne (you can read up on my report from the first Cologne show here). I had no idea there would be a follow-up.

Nijmegen it is
Eighteen months later, in late 2018, it was announced that the tour, now dubbed the "Still Not Dead Yet Live" tour would return to Europe. Unlike in 2017 I consciously decided against Cologne. A seated stadium concert was not attractive to me and standing behind the centre line even less so. A look at the ticket prices confirmed my decision. The concert in Nijmegen in the province of Gelderland in the east Netherlands seemed much more interesting: It was closer even then Cologne (with less risk of traffic jams on the way) and was scheduled for a date that was a public holiday in Germany but not in the Netherlands. With sinking likelihoods to see Phil Collins live again I bought an Early Entry ticket for the Golden Circle – the best category offered for Nijmegen. Preferred entry and right in front of the stage. I have seen most shows of Phil Collins and Genesis from the first row, so I was looking forward to having that experience again.
Growing excitement
Part and parcel of the premium ticket is a service where you get an e-mail with useful information about a week before the show and another a few days before the show. It revealed that all holders of Early Entry tickets had to register at a VIP stand at 1:30 on the day of the show. Doors would officially open at 4pm, while Early Entry was fifteen minutes before that.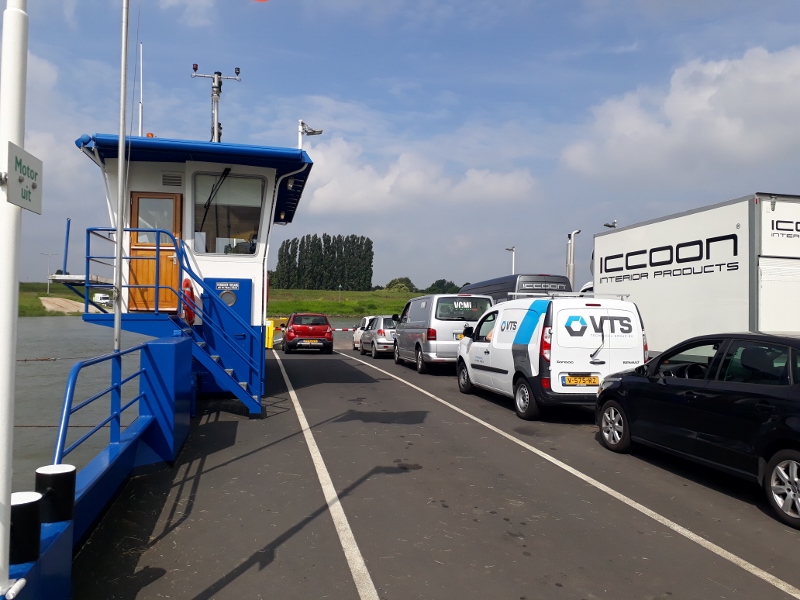 Thursday, June 20, 2019. Nijmegen is a bit more than an hour's drive. I start in time to arrive at 11am. No problems until I get to the Dutch borders. Suddenly a traffic jam. It is the start of a long weekend. After a couple of miles of exceedingly slow progress I decide to drive off the motorway and use smaller roads. As it turns out, this is a good decision. The traffic jam was more than 10km long. My trip takes me through the lovely region where the river Rhine splits into the rivers Waal and Nederrijn. I also have to take a ferry, a first for my trips to concerts. I still have much time left when I cross the Waalbrug bridge into Nijmegen. Sightseeing must wait, though. I can do that any other time. I head for the Goffertpark area instead. It is a big park in the south of Nijmegen, and also the location of NEC Nijmegen's Goffert stadium. The concert takes place on the Goffertweide, though, an area about the size of four football fields that is used for festivals and concerts in the summer. Bon Jovi played here the week before, and Muse will be playing here a week hence. They go for the big names here. If they can handle bands of that size and popularity they ought to be able to handle a Phil Collins concert as well. Spoiler alert: They can.
The weather was mostly dry, with agreeable temperatures, though it gets a bit chilly later in the evening. Just before the doors open a rain shower comes down, but you did not even need a coat for it.
The official parking lots are quite far away and you have to take a shuttle bus to Goffertpark, so I decide to park my car in a nearby residential area, which is no problem. Some 20 or 30 people wait at the entry as I arrive later that morning. It is all very relaxed. After all, it is a normal work day in the Netherlands. I even run into someone I know from the days of the official Phil Collins forum; he, too, has an early entry ticket.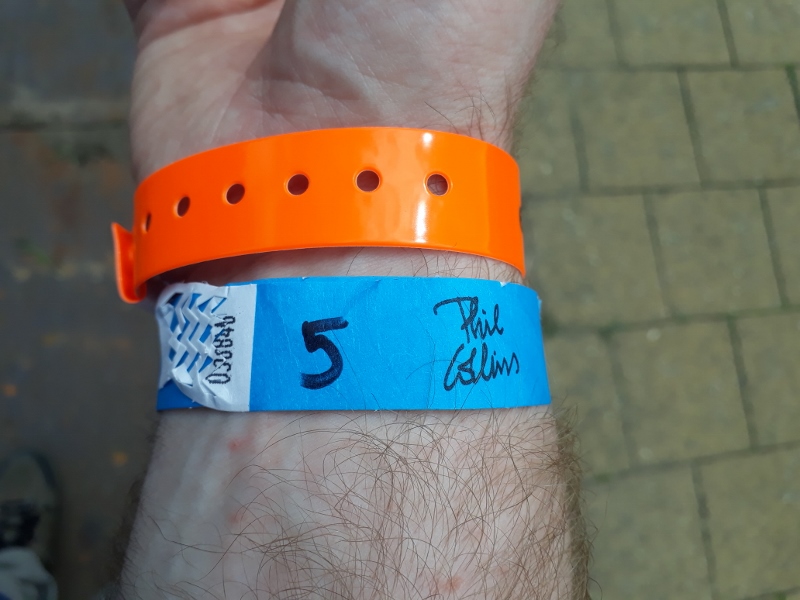 We wait at the narrow special entrance that is located near the wide entrance proper. From there, we will have to cross the whole lawn area to the Golden Circle in front of the stage. When registration time approaches we go to the VIP stand right opposite the entrance. A couple more people sit there; they also wait for the registration. At 1:30 a lady arrives in a golf cart. She is the official attendant for the VIP ticket holders and belongs to the tour crew. She explains the procedure and stresses that the entry shall take place in a fair an orderly fashion. As we line up for the registration she announces that we will be given wristbands with numbers in the order of our registration. Once we have those we are free to do as we like until the doors open for us. Before we may enter the area (and we are urged to be in time), all two or three hundred of us will be sorted and lined up by wristband number. After that we will be led into the area in a decent manner.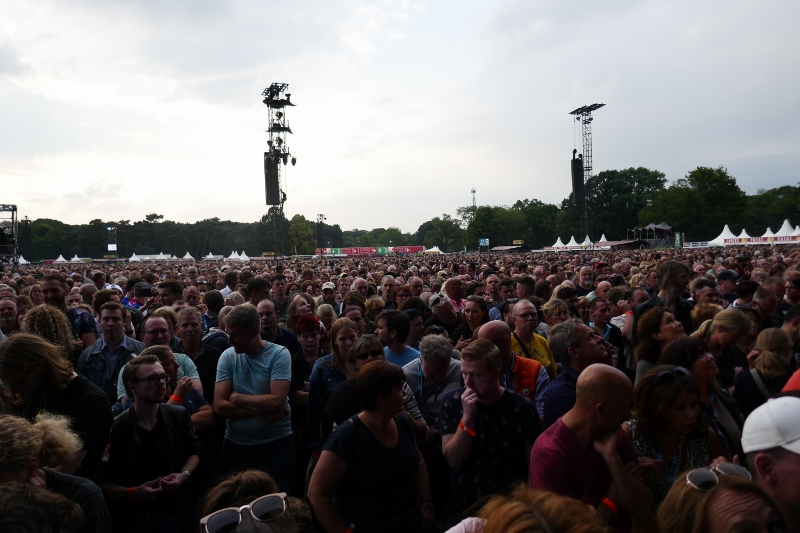 I have the luck to get wristband no.5. Unless something goes wrong I will be right in front. We all are given our presents: a transparent tote bag with an exclusive tour book, Promark Phil Collins drumsticks, a picnic blanket with the tour logo, a lanyard with a VIP sign and a key fob. The tour book has an introduction by and an extensive interview with Phil Collins. It is not the tourbook that is sold at the official merchandising stands. I use my free time to bring the loot to my car and return in good time. Lining up works smoothly. The attendant repeats the rules: She will walk in front with a security guy. We are to walk, not run. Anybody who overtakes her or overtakes anybody else in the line will be sent back to the very end of the queue. A twelve-year-old girl and her father have wristbands 1 and 2. As we enter the attendant takes the girl's hand and promises her the best place right in the middle in front of the stage. It will be the girl's first Phil Collins concert – actually, her first concert ever. Entrance works well. Everybody obeys the rules and I get to stand right at the front and slightly to the left.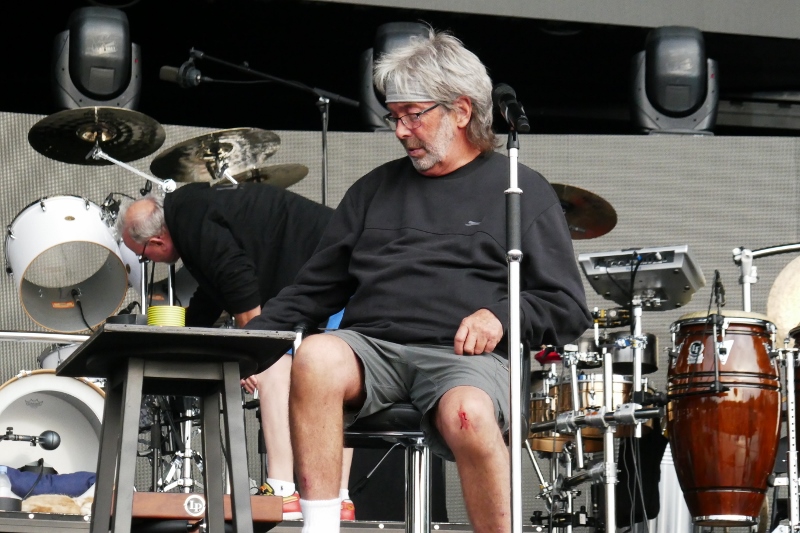 This is the first big moment for me – before the show has even begun. Concert goers have very different ideas about where they want to sit or stand. Some like to stand in front of the mixing desk because the sound seems best there, others prefer to be close to the beer stands, the snack stands or the loos. I love to be right in the front. I feel like I am experiencing the concert with the band. Right at the front you are not only watching it, you become part of the show in a way. I have always enjoyed that feeling and done my best to end up in the front row. I have very probably spent a couple of weeks in total waiting in front of arenas and stadiums over the years. But every minute was worth it. The Cologne show in 2017 was completely different in that respect. I found the ticket prices for the front rows grotesquely overpriced. I was there at the show, yes, but not really immersed in it. The Nijmegen tickets were also extremely expensive, no doubt about that. I was prepared to pay the price to enjoy the "front row feeling" once more for what may well have been the very last time. Spoiler alert, again: I have had no second thoughts about that.
The support acts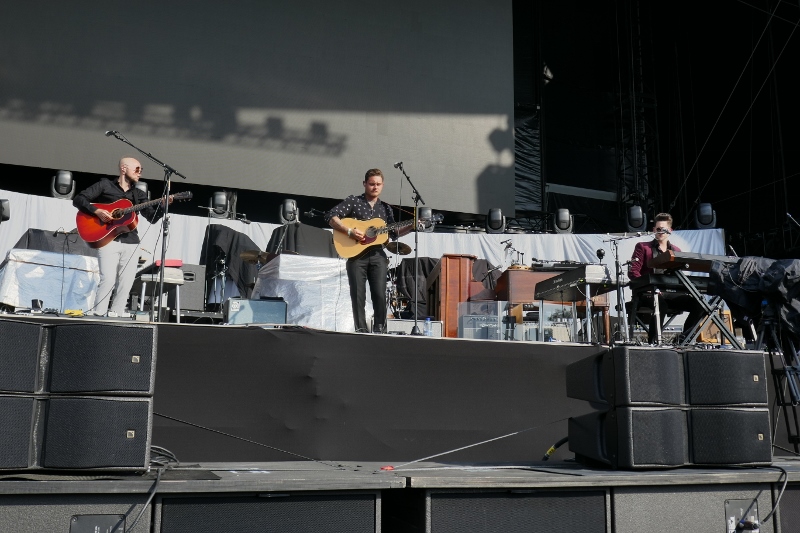 The show in Nijmegen will be shorter than the 2017 show in Cologne. The set has been cut from 22 to 18 songs, and there will be no interval either. I did not mind having one, but I did not need it either. Whether the support acts were to make up for the shorter Collins set or whether Collins's set was cut to make time for the support acts is anyone's guess. And it's a moot point. The 2019 tour shows that the indoor concerts were all approximately equally long, with or without support acts.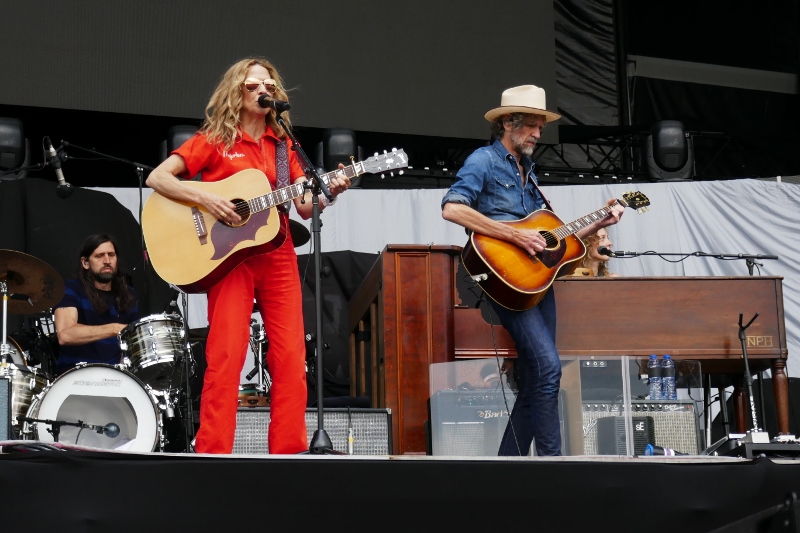 Mike + The Mechanics do not support Phil anymore on this part of his European Still Not Dead Yet Live tour. That's a pity because that special highlight at Follow You Follow Me won't happen again. But then Sheryl Crow is a high quality support act. First on stage is Douwe Bob, though. Douwe who? Douwe Bob is a 27-year-old Dutch singer/songwriter. He started his career as the winner of a Dutch casting show in 2012. He was the Dutch entry for the Eurovision Song Contest 2016 in Stockholm. His song Slow Down came 11th. Long before he enters the stage the Dutch fans around me make all sorts of jokes about Douwe Bob. Nobody takes him seriously. I am curious as to what he will be like. He appears with two other musicians and sings everything in English. His announcements, though, are made in Dutch. He plays the guitar, has many tattoos and bedroom eyes. During the songs (that of course includes his Eurovision song) he sips from a bottle of Corona. The songs are okay, but utterly unmemorable. They lack that certain something. Each song sounds like the other. After half an hour he leaves the stage, and I suspect many people in the audience did not even notice his performance.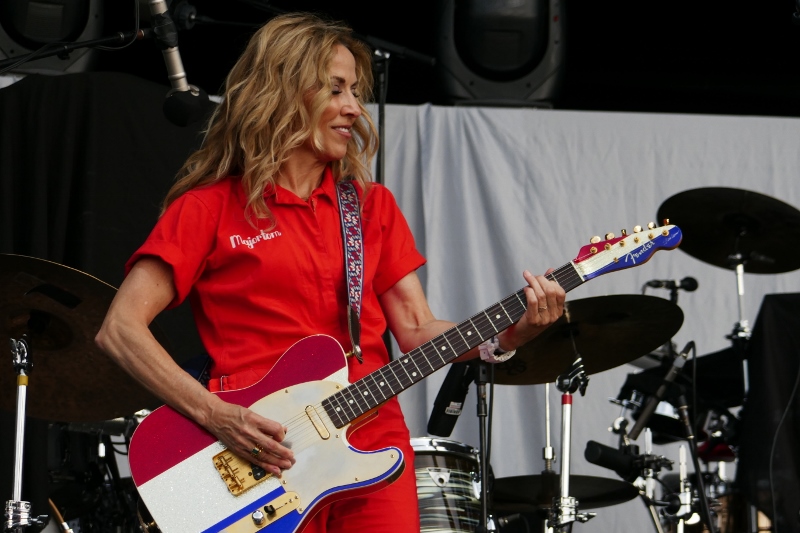 Sheryl Crow is a different calibre. I am not really into her kind of music, but that is, of course, a matter of personal taste. She is accompanied by a great band – you see that they have had many years of stage experience. She is full of energy and definitely in great shape! Her performance is watched by Tony Smith and some members of Phil's band, e.g. Daryl Stuermer, Leland Sklar, Arnold McCuller and Nic Collins. I know only some of the songs she plays. If It Makes You Happy, All I Wanna Do. The hits. The rest is a mix from country to rock'n'roll, perfectly performed. She really gets the audience going – quite unlike Douwe Bob who was 30 years younger and sort of only happened to be there. Considering that Sheryl Crow is only some ten years younger than Phil Collins the difference between their states of health is quite shocking.
Finally, Phil Collins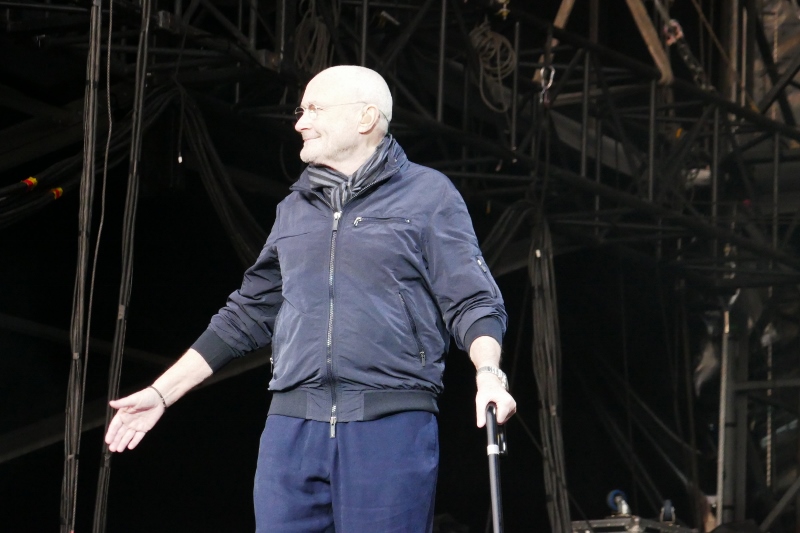 Some 65,000 people are in the Goffertpark at 8:58pm when the well-known Souareba can be heard in the sunset. This audience makes Nijmegen the largest, or at least one of the largest show on the European tour. As in Cologne two years before Phil Collins walks onstage with the help of a walking stick. The stage has not been changed since then, only the curtain that used to hang before the band during the opening song is gone. His band arrives at the same time. My impression is that Phil Collins is in much better shape than at the Cologne shows two years before; apart from, obviously, his mobility issues. He finds it hard to walk, yes, but he does not appear to be as invalid as then. He cannot sing as well as in the 1990s anymore; that happens with age, but he sings better and stronger for most of the show than in 2017. His spirit is as high as at any show since 2000, and I think I can judge that for I have seen him play solo and with Genesis more than 40 times since then. He talks a lot, sometimes also in Dutch (e.g. "mijn voet is naar de klote", which is a florid expression for "my foot is shot") and a lot in English.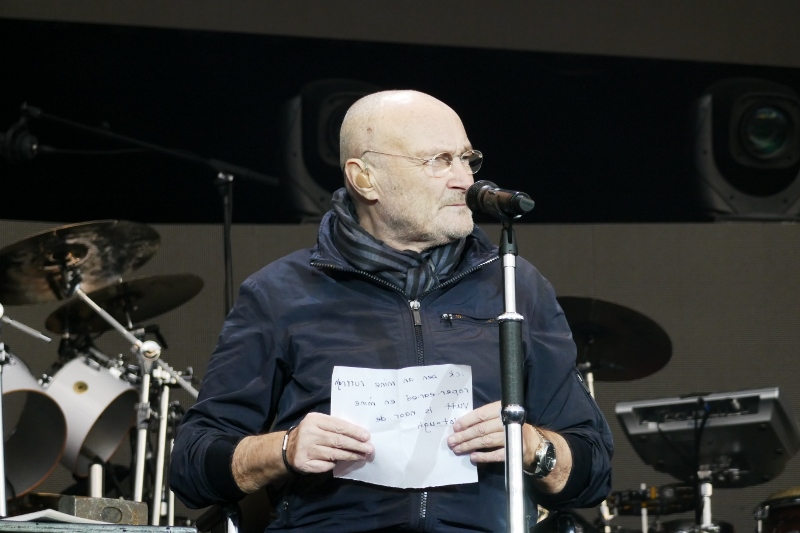 He has not lost hissense of humour, as is evident in this little anecdote: When Sussudio reaches the point where Phil used to come to the audience and let them sing along, I wave to him as if to suggest he should come down. He notices, shrugs apologetically and smiles as if to say: I would if I could. I enjoyed this overall expression, and it leaves me optimistic for the future, whatever it may bring.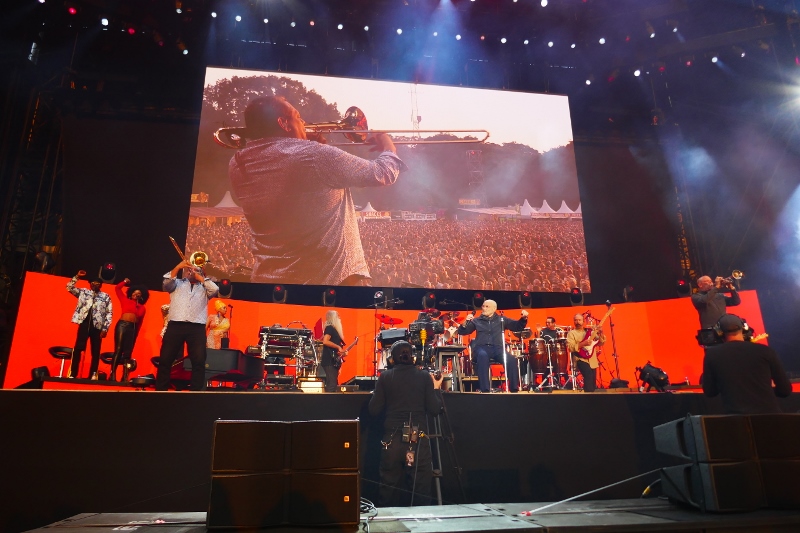 If you take Phil's previous tours as a standard, the set structure has changed massively since Cologne 2017. Simple leaving out the interval has had a deep impact on the overall shape of the show. Never before has Phil Collins changed the basic structure of a show during the tour as much as here. As far as the songs are concerned, there are clear parallels as well as big changes. The opening songs (Against All Odds followed by Another Day In Paradise) have remained. One More Night has been dropped for Hang In Long Enough, which has been moved far forward to warm up the audience faster. The first downer is the dropping of Wake Up Call, though it makes sense with the stadium show. The all-time favourite Don't Lose My Number makes its first appearance on the tour in 2019. It is followed by the first of three Genesis songs, Throwing It All Away. This new entry is combined into a Genesis double feature with Follow You Follow Me.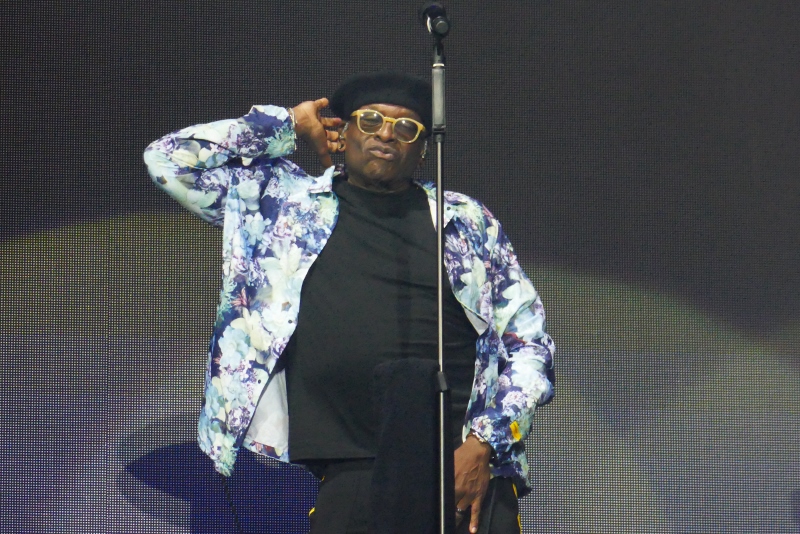 I could have done without Genesis songs at a Phil Collins concert, but if you have to have them they ought to be Behind The Lines or perhaps something that is sort of a Collins solo song already, like Please Don't Ask. Phil Collins's urge to cater for what he perceives to be his audience's expectations is not new and has always been a recurrent theme in his solo career. As a consequence he has frequently missed the opportunity to play solo songs he himself likes and wants to play without bothering about how many people go to the loos or get themselves a beer when he plays them. It is a missed opportunity, but it has been ongoing and does not come as a surprise in 2019. People do not really chance after a certain age. Luckily, his son Nic draws his dad's attention to songs that have been played rarely or haven't been played for a long time – luckily, again, his efforts are successful sometimes.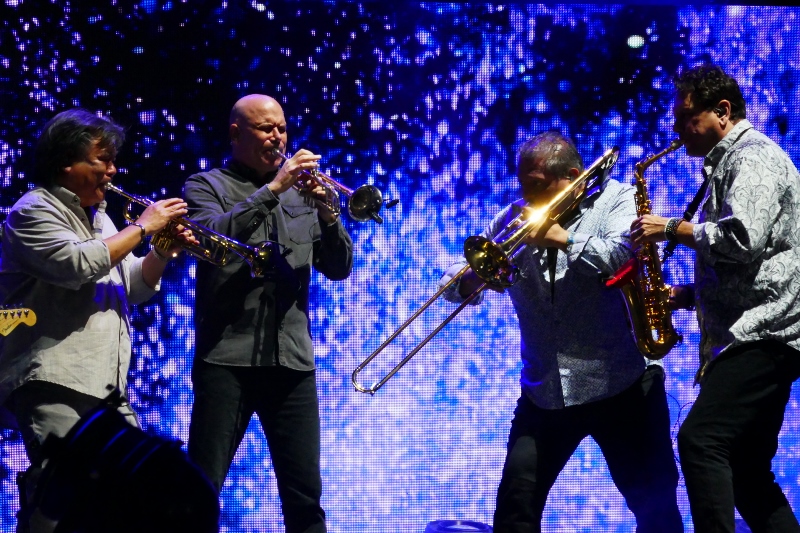 The next song that has sadly been dropped is Can't Turn Back The Years. One of Phil's favourites, it fell victim of the stadium atmosphere. I Missed Again has remained at almost the same spot in the set, or rather, it would have because it is dropped in Nijmegen. The band have come over from Cologne by bus and have to go back right after the show. This tight schedule and perhaps some slight delays in the support acts caused this Face Value track to be left out. It's a pity, but I have to admit that I realized only later in the show that it had been dropped. It did not affect the set or the atmosphere. I may have taken this deletion so easily because the next song was one of those I was looking forward to most: Who Said I Would. One of my highlights at the Serious tour 1990 (which I did not go to at my then tender age of fourteen). After that the song dropped from view. Unlike in 2017, Only You Know And I Know was dropped; I had much longed for this song in Cologne.
Phil introduces his band before they go on with Separate Lives. The introductions are as funny and tongue-in-cheek as ever.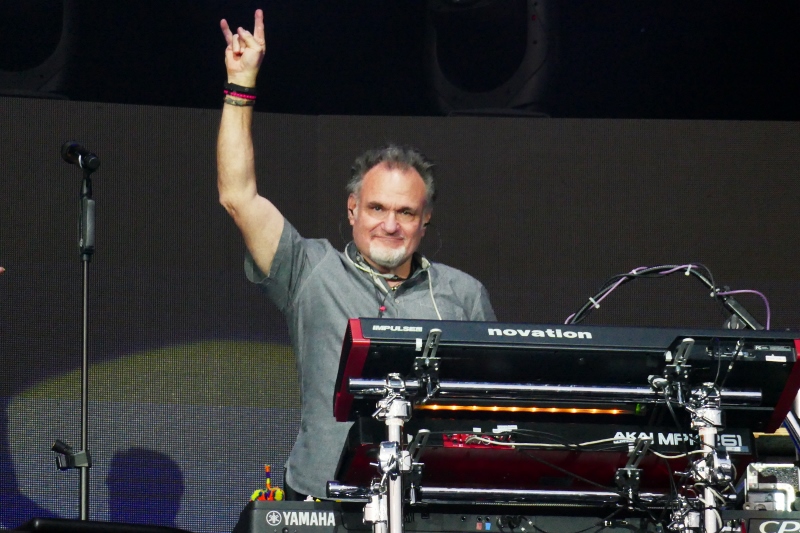 The Vine Street Horns and Harry Kim get a special applause that is topped by the cheers for Leland Sklar, whose social media activities have made him something like the secret star in the band. His unparalleled careers deserves this honest applause. The biggest applause goes to the drummer, Nicholas Collins, who has come of age a couple of weeks before As much as some people may miss Chester Thompson, he is no issue with the 65,000 audience.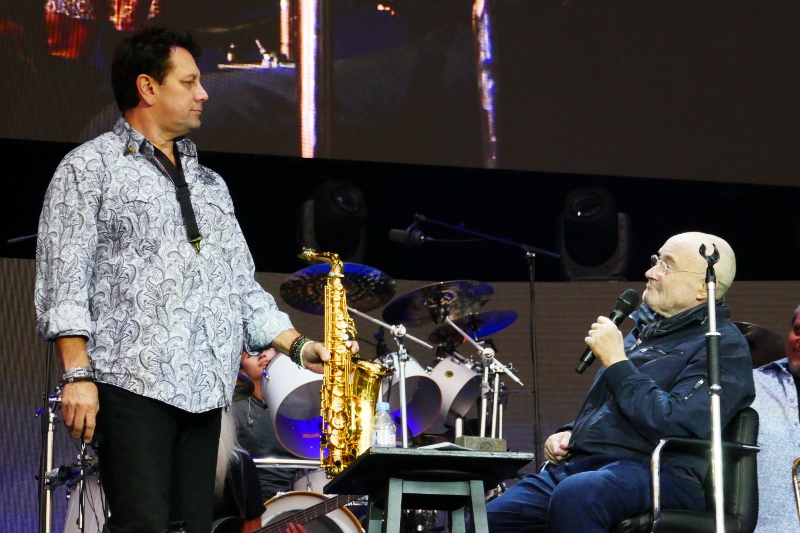 In 2017 he was a sixteen-year-old lad who stepped into his father's and Chester Thompson's gigantic shoes and won the hearts of audiences in a storm with his work and friendly way. By 2019 he has matured into a grown-up charismatic man who has stayed firmly on the ground. Nic appears to be as down-to-earth, reserved, but also as talented and impish as his father. When the band have been introduced Bridgette Bryant comes forward to Phil. Separate Lives is sung very well. I for one miss the interaction between the vocalists. There is nothing except for a couple of looks. So you never needed major acting skills to do this song, but I missed how posture and body language underline the lyrics. Doing that has, of course, become more difficult for Phil sitting in his chair. Bridgette Bryant is – regardless of the Amy Keys's talents – the better choice for a duet partner.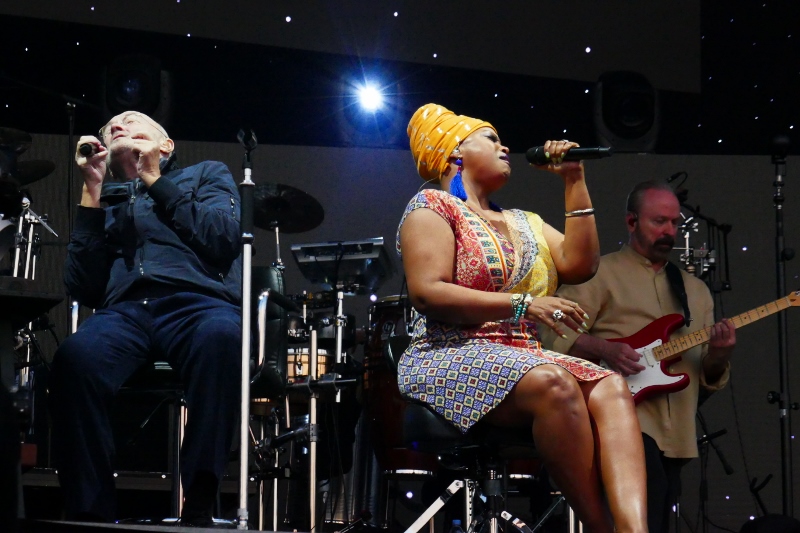 I am relieved to see that this song is not performed as a trio as it was on the First Final Farewell tour … that did not work out at all.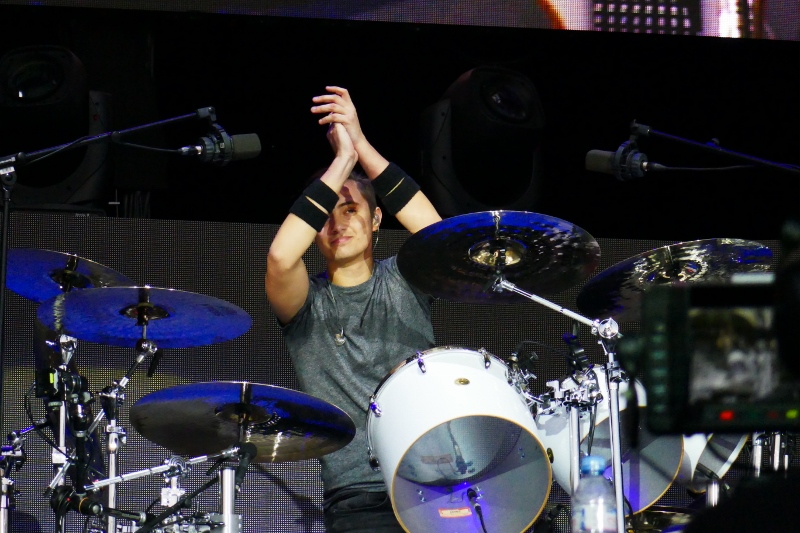 The Cologne Drum Duet has undergone various changes. Of course, Nic Collins does not play with Luis Conte anymore but with Ritchie Garcia. It is a great moment in the show when Phil plays along and all three play the cajónes. In the end the trio was about ten minutes long. The average concert goer might not see anything remarkable in that, but those who followed Phil's career know that his heart must have bled when he had to watch the drum duet in 2017 without being able to participate. The use of the cajónes has another, almost historical dimension: Playing them Phil returns to his beginnings, as he would frequently play percussion in this very early career - remember his (unused) work for George Harrison's All Things Must Pass. Plus, Nic Collins is an outstanding drummer. He's got the drummer gene. And he keeps getting better. We ought to look out for what we are going to hear from this young man in the future!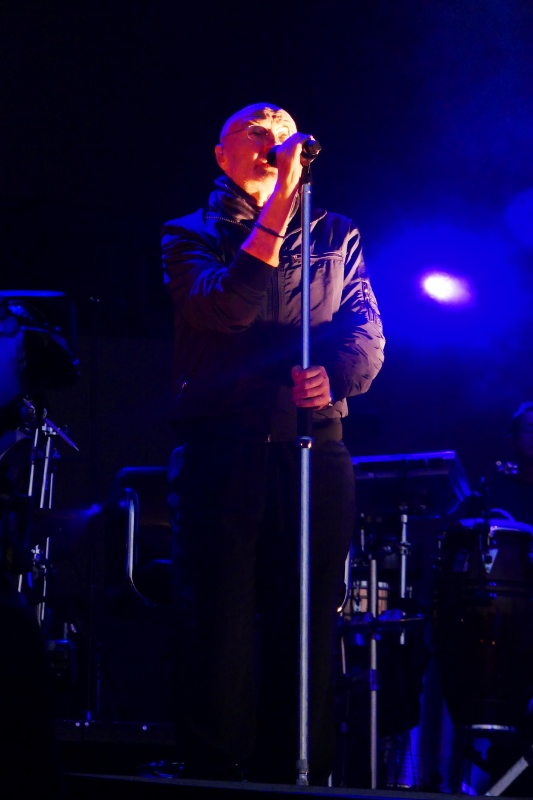 The drum trio segues into Something Happened On The Way To Heaven (as in the 2004/2005 First Final Farewell tour). And then there is the next disappointment that cannot be brushed away with the discussion stopper "it's a stadium show": I Don't Care Anymore, one of the highlights of the 2017 shows, is missing. Doh! But another highlight is still there: You Know What I Mean. Only Phil and Nic participate in this song. 65,000 people in the Goffertpark stand spellbound and listen. A terrific, intimate moment. Remembering it sends shivers down my spine, far stronger than the song after that, In The Air Tonight. The introduction has been changed again, and it is a solid performance. But it is no longer the highlight of the show for me. But Phil stands. It is the only song he stands for.
From Something Happened On The Way To Heaven onwards the rest, i.e. almost half, of the show, has not changed since 2017. The band call this part the homestretch. The uptempo songs still have breaks between each other (unlike the continuous versions of previous tours), which means that brilliant transitions like the one from Invisible Touch to Easy Lover in 2004/5 are a thing of the past. The latter song still seems a bit weird with Arnold McCuller and Amy Keys dancing wildly and suggestively around sitting Phil (who seems a bit like a sugar daddy). Sussudio, which in Cologne was miles away from any of his usual standards and quite a disappointment, has improved a lot. It still seems weird to see Phil sit for it, and I'd like to remind you of what I said earlier: He'd love to, if only he could.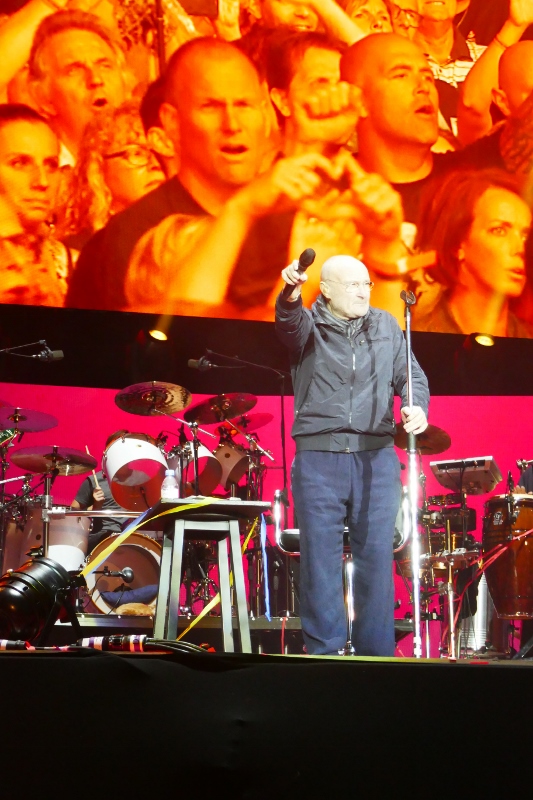 The encore of If You Love Me (Really Love Me) was cut from the setlist even during the Cologne concerts in 2017. I regret that because a breather would have been nice after the uptempo part with Easy Love, Sussudio and the like and the traditional Take Me Home. The Edith Piaf cover provided a wonderful variety on Always. Of course, Phil would have had enough great solo material of his own for an encore; It's Not Too Late, for example, was a great choice in 2004/5. Father To Son, All Of My Life or Long Long Way To Go would have been equally suitable.
When Nic Collins tosses a drumstick into the audience at the end of the show it only flies up to the first row. I try to catch it, but it falls down on the other side of the fence, right before my feet. We call for the nearest security person and ask him to give it to the girl I mentioned before. She is completely bowled over. A great finale to a perfect evening. It is almost 11pm when Phil leaves the stage after two hours of all-out show. I am equally thankful and wistful at that moment.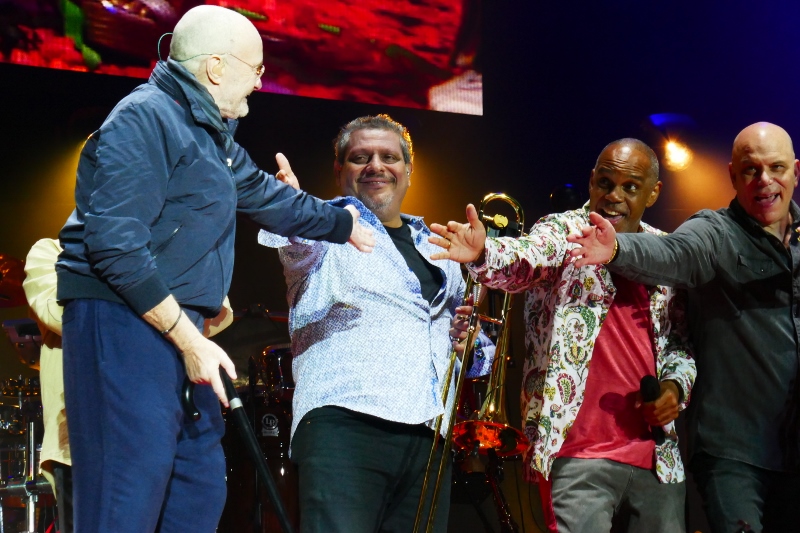 M
y two cents
Reducing the set list to "stadium capability" works very well. When you experience the show you do not even notice that it has fever songs and has become shorter. Mike + The Mechanics have been playing a 100 minute set full of hits, and nobody ever complains after their shows that they had been too short. The same is true for Phil Collins in 2019, even though he used to play for at least 150 minutes on a regular basis. He and his excellent band give it all and play the hits on a supreme level.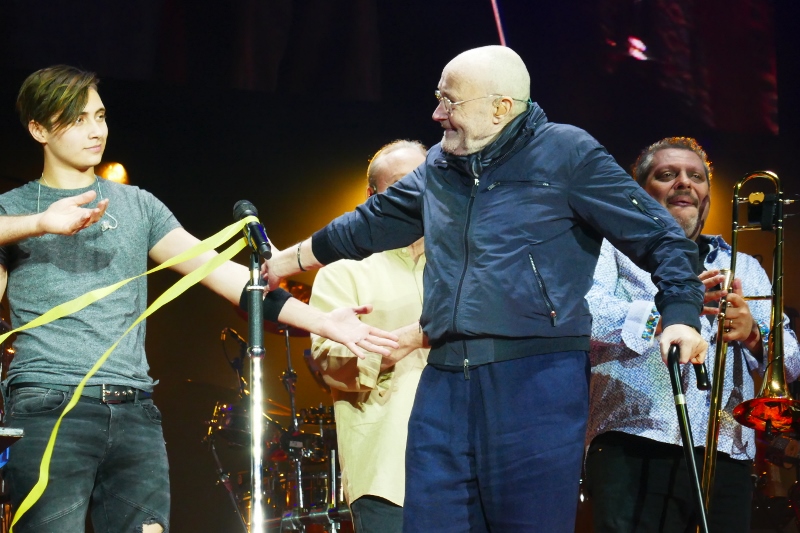 It may well be Phil's real farewell tour, though it does not have that name. Many fans find their wishes fulfilled on this tour. I know people who gave Phil Collins shows a wide berth and now have gone to their first Phil Collins concert – 40 years after the start of his solo career. These are the fans the set list caters for, not the dyed-in-the-wool fans who hoped for a couple of exotic songs in the set. Getting home was a bit tricky with the concert traffic and construction work on the roads. But so what? I am glad I chose a concert where I did not have to sit – and did not go to the shows at the RheinEnergie stadium shows in Cologne. I feel I have got the most for my money – which does not make the ticket prices any more acceptable.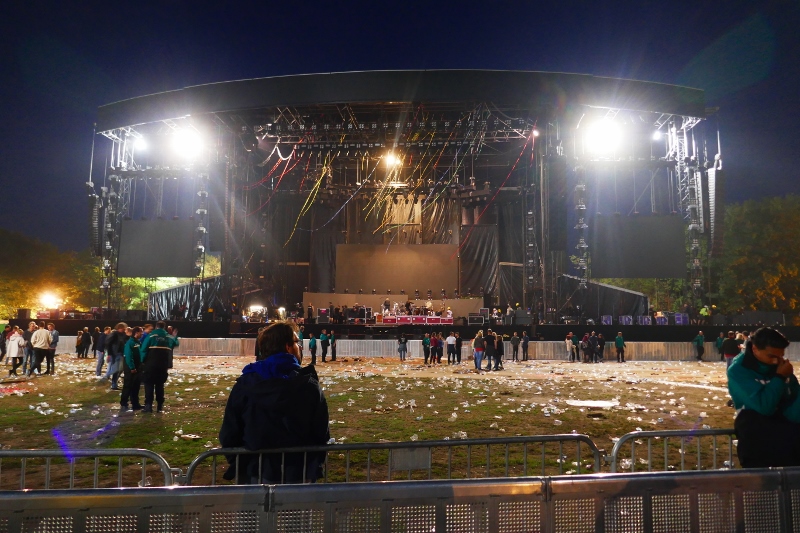 All through the show I have had the feeling in the back of my head that this might be my last Phil Collins concert. That did not make the concert particularly emotional for me. No lump in my throat this time, unlike Glasgow 2005, Hollywood 2007 (with Genesis) and perhaps Cologne 2017. If you think about the farewell frequently enough you sort of get used to it.

Time will tell if this really was my last Phil Collins concert. If it was, it could not have been much better.
by Ulrich Klemt, English by Martin Klinkhardt
Photos and Videos by Ulrich Klemt