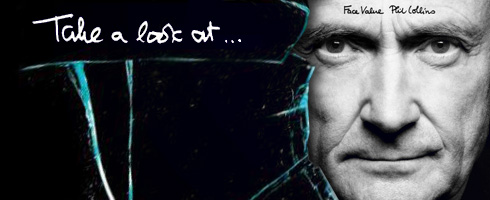 Phil Collins - Face Value (2CD Deluxe Edition)
Re-issue: debut album remastered with bonus tracks

Please note that, in this review, we only focus on the merits of the reissue and its format and content. Find a detailed review about the album Face Value itself here.
Artwork
Like all studio albums, Face Value also is treated to brand new artwork, i.e. all cover and backcover motives were reshot using the original style, but show current photos of Phil. That might not be favorable for everybody, but it's one hell of an idea. This also means that the old cover and backcover artwork have gone. It's not part of the package anymore. Nevertheless, it's a brave and in the end a fantastic idea. When you turn the digipak around, you do not see the hair of 29-year-old Phil, but the stubbles of a man in his mid-sixties.

The 2CD comes in a digipak, holding two trays and an extra side with space for the booklet. But then again, the booklet is not really a booklet, it's a two-sided sheet folded several times. It contains the original artwork from the inlays / booklet of the original album (but not the original cover / backcover motives) and also introductory liner notes by Phil about his intention to do the new versions and some information about the extra tracks. More on that later.

The Remaster
A big question was: Is it possible to improve the fantastic sound of the original release - as even the CD release sounds marvellous? Collins states in his liner notes that technology has moved on since the last remasters, but that seems strange, since there hasn't been a remaster of this album yet (the album was once issued as a high fidelity gold CD, remastered by Steven Hoffman, but this release was not approved by Phil and the original tapes were not used, based on what we know). Nevertheless, the result we now have should please most fans. To try and improve on this album may be a brave thing to do, but Nick Davis and his team have done a great job. Technically, the album is now "louder", but without any of the excessive compression you might expect here. The dynamics remain nearly unchanged. The album has a 4,5dB louder average level, but there are some differences when you compare original and remastered versions of the individual tracks.

We have selected two tracks to illustrate this.
In The Air Tonight

average level (dbFS): -20,66 (new), -24,17 (old)
The frequency response shows an increase of the bass levels at around 130 Hz and below with a maximum of ca. 2.3 dB (at 60 Hz). Also, the upper mids and treble levels have increased at 1 Khz and higher, approx. by 3 dB at 10 kHz. Deep bass below than 25 KhZ has decreased. These moderate changes can be identified easily, even if you compare the tracks at the same volume. The treble in particulary, which has become quite powerful now, leads to a gain in "freshness" and "transparence".

The Roof Is Leaking
average level (dBFS): -21,67 (new), -26,93 (old)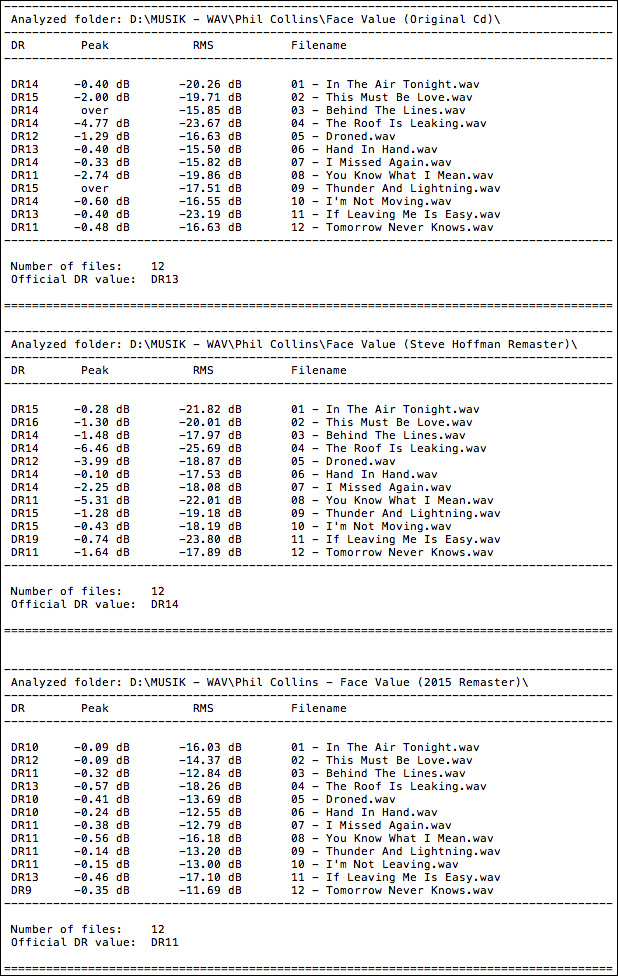 The tolerance of the frequency is only 1 dB at its maximum, which is hardly audible. Even when you adjust the volume and compare the tracks back to back you will hear only minor differences.

All in all the new version seems to be fresher and in part also differentiated. The great sound has been improved and cuts the cackle even a bit more. Some tracks, like Droned and Hand In Hand, need to be listened to loudly. You Know What I Mean or If Leaving Me Is Easy sound better, too. The bit from Somewhere Over The Rainbow at the end of Tomorrow Never Knows can now be heard much better. Nothing has been changed for the worse here.

For friends of data and technical aspects, we have measured all three versions of this album (original CD, Hoffman remaster for 24 karat gold CD; 2016 remaster). Just click on the image to see the results.

Bonus tracks
There has been much discussion about the bonus content, even before the album was announced and released. The final choice is pretty stubborn and one can say that falls far below its potential. We are miles away from having a complete collection of outtakes, B-sides and live recordings. Also, a much requested 5.1 surround version of the album was not considered. Instead of this, we get a bonus CD with tracks chosen by Phil Collins himself. The added value from the perspective of fans is just so-so, as is the audio quality of some tracks. Also, no info is provided where and when the extra live tracks were recorded. Nevertheless, we think we now know where they are from:

Misunderstanding (live)
At first, it may seem a bit odd to find a Genesis number in the bonus content of a Collins album. But Misunderstanding was one of the tracks Phil wrote for Face Value, before he played it to Tony and Mike and they decided to use it for Duke. It took Phil until 2004 to include this track in his solo tour set. This version was recorded in Los Angeles on August 31, 2004, during the First Final Farewell Tour. The recording sounds good.

If Leaving Me Is Easy (live)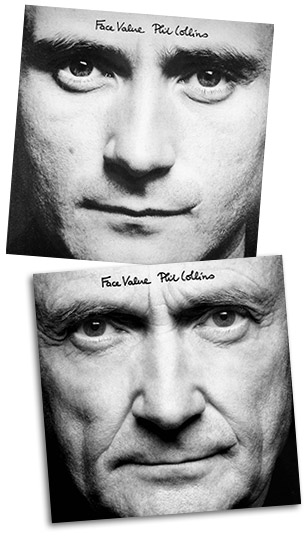 It was a bit more difficult to determine the recording date and location here, since Phil said in an interview it was recorded during his first solo tour. We think it is from the No Jacket Required tour, recorded in Melbourne, Australia, on 13th August 1985. It was recorded in San Francisco, 16th December 1982, at Berkeley Community Theatre*. This live version is very intense and moving, a quite raw, unadulterated live recording. Quite possibly, they could have improved the sound on this one but have not. Although the version we have here sounds okay, one gets the impression that not enough care has been taken to look for the best possible version to be included.

In The Air Tonight (live)

Hand In Hand (live)

Both tracks were recorded in Paris in 1997 - on 8th December, on the same day the live video / DVD Live And Loose In Paris was recorded. Probably, better versions could have been chosen of both tracks, even from other tours, but there's not much to complain here. Both tracks were highlights of the 1997 set and the performance is superb.

Behind The Lines (live)
This pretty strange sounding version of this track was recorded on 29th May 1985 in Dallas. The concert film of the 1985 was recorded in Dallas as well so it's quite hard to understand why this version has such a lousy quality. There are bootlegs of this show that offer a better sound. Not only is it simply a bad recording, it's also in mono! For Behind The Lines, a version taken from a Both Sides tour show (or rehearsal) would have been far more interesting. What a pity!
Roof Is Leaking (demo)
Collins warns the listener, that the quality may not be very good since it was taken from a cassette. This is an early version rather than a demo. The feeling of the track is quite a bit different, since Eric Clapton plays guitar on this one. Of course the sound quality is not superior, but this version is a true jewel on this collection!
I Missed Again (live)
This is a pretty "clean" live version of the second Face Value single release. It was recorded in Paris on 16th June 2004 and therefore not a real surprise - the live DVD Finally ... The First Farewell Tour was recorded there as well. Nevertheless, one can raise the question why they did not look for a live or rehearsal version from the Both Sides Tour which would probably have been more interesting.

And So To F (live)
This instrumental (we consider Phils "singing" on this one as an instrument as well) was originally released on the Brand X album Product and was played during Phil's first solo tour (which took place after the second album!) and recorded on 19th December 1982 in Pasadena (Perkin's Palace), which is the same show where Phil's first ever recording for a concert video release took place. The track has been on many bootlegs in the past and also was the b-side of Don't Let Him Steal Your Heart Away (12" vinyl version). This track is top notch and a real treat and it's great to have it here on CD - it shows Phil on the height of his drumming skills. It just does not have much to do with Face Value and probably should have been included on the extra disc of Hello, I Must Be Going. But anyway, this is great stuff!

This Must be Love (demo)
The "divorce album" Face Value also contains a positive song. During the recording process, Phil was already happy with Jill and This Must Be Love reflects that. The demo does not contain the legendary bass loop by Alphonso Johnson, but it has nearly finished lyrics. A really nice contemporary document!

Please Don't Ask (demo)
Misunderstanding (demo)
Against All Odds (demo)
All three tracks play important parts in Phil's career. Both, Misunderstanding and Please Don't Ask were recorded for Face Value, but eventually used for Genesis' Duke album. In the documentary Classic Albums: Face Value, Phil plays a piano version of Please Don't Ask and is close to tears. It's easy to tell how important this song is for Phil. This demo recording is the expected raw version with the expected rather low sound quality, but this is, after all, a demo recording and a great example of how he would work at the time. Against All Odds was called How Can You Sit There when Phil first recorded it and it had no lyrics at all. Later, Collins finished the track, when he was asked to contribute a song for the film Against All Odds (interestingly, this film also featured new material by Peter Gabriel and Mike Rutherford). Against All Odds became a worldwide hit single - something you would not have expected after you've heard this demo recording.

Evaluation of the bonus tracks

'Selected by Phil Collins himself' - that was the general concept of the bonus CDs. First, we could raise the question why they have did not decide to release the album in more formats - since we all know that Phil's archive must be huge. A double-CD with just a basic bonus track content is fine, but why not produce an additional boxset, with 5.1 surround sound versions, more demos, alternate versions and possibly TV appearances, more live stuff and music videos? That would have pleased both the serious fans and general music fans. Such a concept has been successful in the past with other artists who do not even have a huge fanbase like Phil Collins's. There are no live versions of This Must Be Love, The Roof Is Leaking (the 1990 version is quite interesting), You Know What I Mean (was played in 1997 but never really heard in proper sound quality). These recordings are very probably out there. What is really a shame is that a song like Behind The Lines (live) has such a lousy sound quality. It remains a mystery why most releases from the Genesis camp in general have such a low standards and therefore such poor quality.
Instead of the live tracks we mentioned as missing, there are some intersting demo recordings. But looking at the live tracks Phil has chosen for this release, some things remain unclear: Misunderstanding and And So To F do not at all fit in Phil's concept to show how the album tracks have developed on stage over the years. Both tracks simply were not part of Face Value (although the consideration of And So To F marks a highlight on the CD).

The live tracks Misunderstanding, I Missed Again and If Leaving Me Is Easy are fine and great to have - those tracks have not been available on CD before. But there would have been far better versions of Behind The Lines.

Furthermore, there are a couple of outtakes, which should have been on this release:
Don't Break My Heart is a very early version which contains parts of I'm Not Moving, but also parts of the Genesis song Me And Virgil - this is just one example.
There are also plenty of versions around of In The Air Tonight. A 12" version, a single remix '88 and so on. In the end only 60 minutes were used for bonus tracks - and 80 would have been available. A shame.

In a nutshell

An excellent remaster was done for Face Value. The original CD was already great, but Nick Davis managed to treat the record carefully and to reveal its potential. Just check out stuff like Droned - and turn up the volume for it! There is much light and much shadow in the bonus material - there is not enough of it, what there is of it is a strange selection as to which songs and versions were chosen, and while the sound quality is fine for the demo tracks it is simpley lousy for the live tracks.
For the "normal" listener or fan this version might be a voyage of discovery, for the fans it is more a feeling they missed the perfect chance for a perfect release. In any case this re-issue was long overdue and the artwork is simply great. The remaster is marvellous and most of the bonus tracks interesting. Nevertheless, they should have taken this further. It's not unusual to have extensive boxsets for such releases.

by Christian Gerhardts
with technical support by Tom Morgenstern and Ivo Lange
* After additional research, we are now certain that the live version of
If Leaving Me Is Easy
is actually from 1982.
order Face Value:
Face Value
LP:
amazon.com
|
amazon-uk
|
amazon-fr
Face Value
2CD:
amazon.com
|
amazon-uk
|
amazon-fr
Take A Look At Me Now
Vinyl-Boxset:
amazon.com
|
amazon-uk
|
amazon-fr
Take A Look At Me Now
CD-Boxset:
amazon.com
|
amazon-uk
|
amazon-fr
Links:
Take A Look At Me Now
-
The Campaign
(overview)