Phil Collins - Hello, I Must Be Going!

The Blue Side
Face Value had been released only a year ago when Phil Collins released his second solo album in 1982. The experience of separation and divorce that had left its mark on the debut album seemed overcome by now. Collins borrowed the album title Hello, I Must Be Going! from the vaudeville star Groucho Marx, and it seemed to indicate a determined change of direction.

As far as instruments and arrangements are concerned there was a lot of change. Collins brought in more guitars and banished the drum computer from the album. Later he would admit in interviews that he did that so that people would find it harder to compare both albums. The number of musicians involved shrunk, though. On Hello..., Phil is accompanied only by Daryl Stuermer on guitar, John Giblin and Mo Foster on bass, Peter Robinson on the keyboards, the Phenix Horns and a string ensemble arranged by Martyn Ford. They all (Mo Foster excepted) had also played on Face Value.

One instrument moves very much to the front in the arrangements. Is it because it illustrates the violent desire to hit and break things so well? Or did Phil Collins want to show that though he was usually seen as the frontman and singer in Genesis he was first and foremost a drummer? Whatever the reason, drums and percussion play such a central role that Hello, I Must Be Going can truly be called a drummer's album.

In the film Animal Crackers Groucho Marx plays an explorer who, when he arrives for his welcome-back party he would rather leave, sings Hello, I Must Be Going. He is in a situation between arrival and farewell, between the beginning and the end, which is very much what the songs on Collins' second album are about. They are impressions of relationships between getting to know someone and splitting up – or rather between splitting up and getting to know someone? We do not want to overuse to adage that in every farewell there is the magic of a new beginning, but it is true that hardly ever does something old end without something new beginning. The songs on Hello, I Must Be Going move between promises of caresses (Like China) and the anger of separation (I Don't Care Anymore), between isolation (Thru These Walls) and loss of communication (Why Can't It Wait Til Morning). Even more than Face Value, Hello, I Must Be Going is a separation album.

The album begins with the dry drum rhythms of I Don't Care Anymore; soon sustained keyboard chords and some guitar notes by Daryl drop in. Someone is telling his ex-partner that her slanders do not matter anymore because even her friends are not buying it anymore. He just wants her to leave him alone – or does he? The arrangements grow richer and the speaker increasingly loses his temper. The language becomes more affective ("you listen? I don't care no more"), the tone more aggressive. The sober mix of it all only stresses how incredibly angry the speaker is. Who would believe that he really does not care anymore? His anger rises until words fail him, until all that is left is "no more", two words than merge into the rhythm.

Brass sounds, merry percussion jingles and a happy groove indicate a major change of moods. Only the lyrics will not fit to the happy atmosphere of I Cannot Believe It's True. This song points at the changes in Mr Collins' life. In an interview he said that I Cannot Believe It's True was originally about the feeling he had with his new partner: I cannot believe it's really you. A series of "unpleasant" letters from his ex-wife's lawyers changed the meaning of the chorus: "I cannot believe it is you who is doing this to me." This is someone's affidavit of means: You have it all, I have nothing left. The Phenix Horns put their instruments down for this song and sang backing vocals as the Phenix Choir. This cannot mend the rift between the lyrics and the music, which makes I Cannot Believe It's True one of the weaker songs on the album.

A gripping guitar riff takes us into the third song. Like China begins as the song of a young man overwhelmed by his first love. After some hesitation he begins to court her with all sorts of compliments. Yet he stays his distance – it seems she does not feel the same for him. He promises to be as careful with her as if she was made of porcelain, not to hurt her. Her feelings? No way, he has got a goal: "I know it's your first time." He is aware that her family disapproves of him, but he is not discouraged by that. It does not look like he will be successful – after all the closest contact he had with her was holding hands... The arrangement picks up where the first song left off, but the melody sounds stronger, more lively and varied.

Short, quiet guitar notes and other sounds announce the arrival of a giant wave of sounds that breaks into a strong rhythm of drums and bass pedal that thunders through the whole song. The rage of I Don't Care Anymore is back, mixing with the pain of someone who has just been dumped. Even the title quotes the other song: Do You Know Do You Care is not an answer but an accusing wail. This is the very big arrangement: Big, rolling chords – hard to believe that it is only Daryl and Phil on this song. It is the last time the rage burns up on Hello, I Must Be Going.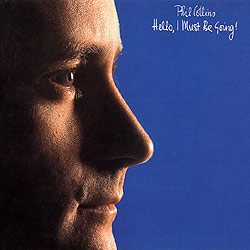 If you have grown accustomed to angry arrangements and lyrics about the downsides of relationships you are in for a surprise for the next song, the last on side one. A lively drumbeat tumbles out of the speakers and Phil remembers what his mom told him about falling in love: You can't force it, You Can't Hurry Love. Hardly worth a news flash, as The Supremes had already announced it in 1965. The song introduces the central theme of the second album side, the phase between two (or at least before the next) relationships.

Funky brass sounds announce that this time, unlike on I Don't Care Anymore, it is for real: The end of the relationship has been coped with, the slanders do not hurt anymore. It Don't Matter To Me seems so much more relaxed than the cramped-up first song (and those who still learn English please note that it the correct form is "It Doesn't Matter To Me").

Then there is a quiet number. Thru These Walls is about someone who hides in their own flat and participates in life only through partitions: Walls - through which he hears his neighbours make love, windows – from which he watches the rest of the world living together. Is this a song about an acoustic peeping-tom? Or a mourning sound of a lonely person who, despite his desperate longing to make contact feels that no-one wants anything to do with them: "Am I really asking a lot just to reach out and touch somebody?" A bit of both, perhaps, just like the way sparse musical passages and faster bits mix with each other – and Collins rumbles across the drumkit just like on In The Air Tonight.

Don't Let Him Steal Your Heart Away begins like a typical piano ballad and develops into a full band number, the band consisting of Phil, Daryl, John Giblin on bass and a string ensemble. Halting honky-tonk piano melodies accompany someone who has neglected his partner to not be fooled by her new partner. The pretense of caring about her turns out selfishness: Don't kick me out because he will dump you anyway. The string arrangements turn this into a classic Collins ballad.

The penultimate song on Hello, I Must Be Going turns out to be the grooviest number of the album. The West Side is hot jazz. Catching alto saxophone tunes by Don Myrick and hot fanfares by the Phenix Horns illustrate a hot night in the West Side. Collins plays drums to his heart's content and occasionally even sings excitedly over Daryl's guitars – and how could he not with such a groove!

A classic piano ballad ends the album. Or is it a lullaby? Let us talk about it tomorrow, but now let us sleep (with each other?). The end of the album does not sound like someone has got a better grip on their relationships that at the beginning. But the atmosphere and the music have developed from the cold, sober style of the first piece to warm, cozy melodies like Why Can't It Wait Til Morning?

Hello, I Must Be Going was, according to online encyclopedias, "Phil Collins' commercially least successful album in the 80s." It has still gone triple-platinum in the US and stayed in the UK album charts for more than a year (best position: #2). It is certainly the least accessible album Collins recorded in the 80s, and perhaps that is because it was hard to label. The "break-up record" tag had already been used for Face Value. So what is Hello, I Must Be Going? It may have been a cathartic album for Collins, a device to cope with his troubled relationships. For the fans it is a drummer's album, a record that expresses rage and desperation as well as loneliness and longing. Not an album for every day, but one that really speaks to you when you need it. It may not seem overwhelming between Face Value and No Jacket Required, but it is an excellent album.

by Martin Klinkhardt
Hello, I Must Be Going! was reissued in 2016 with additional content, more info is available here.