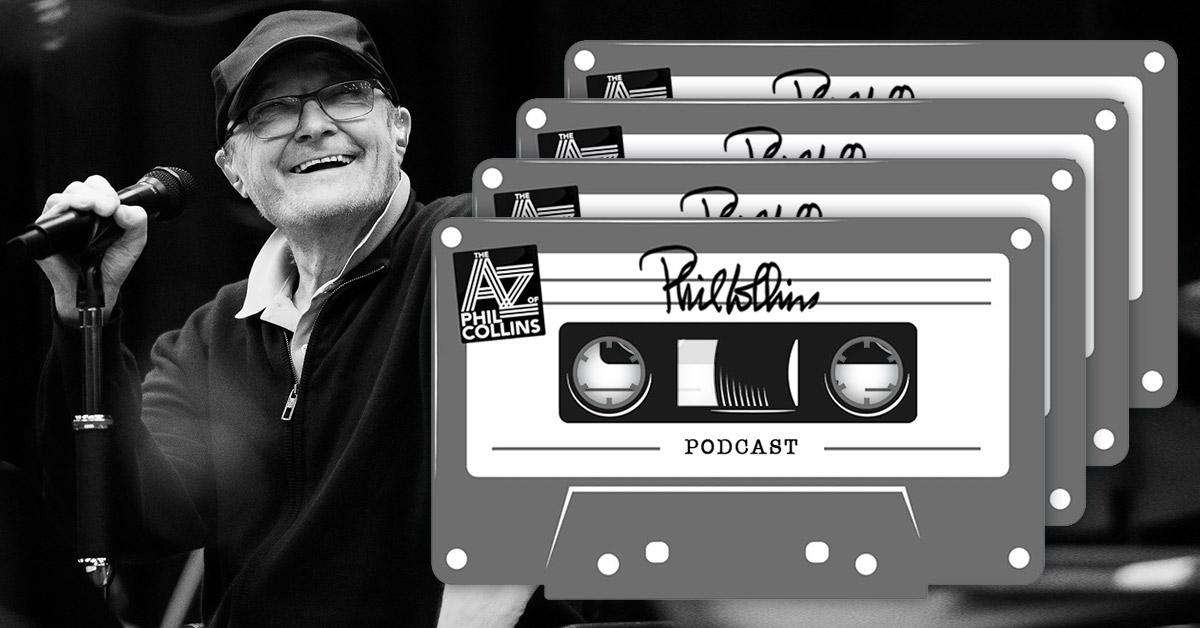 The A to Z of Phil Collins (Podcast)
There are many podcasts about Genesis or Phil Collins - but this six-part series, which started on 12 February 2021, attracted more interest because Phil Collins actively participated in it. In this article, we summarise the individual episodes for you. You can find an overview of the various providers of the podcast at this link.
Episode 1: A - D

Phil discovered this band at the Marquee Club. To this day, he is friends with their drummer Roger Powell. The band was also part of the Motown scene and that had a lasting influence on Phil. He was also involved in their reunion.

B - Band Aid
Phil says he actually recorded the track in a single attempt. He offered to play a second take, but Bob Geldof and Midge Ure saw no reason for it, as the first was already perfect. In fact, building the set took longer than the recording itself. Phil also met Sting there. He also calls the project an "ego-free day".
C - Collard & Collard Piano
It was the piano on which Collins learned to play the piano. Phil still has it, but it is currently in storage. It was for some time because such an antique instrument is not suitable when there are children in the house ...
D - Disney / Don't Lose My Number

The Oscar ... for Phil it is one of the greatest and most emotional moments of his career. He received the Oscar for You'll Be In My Heart. And calls it a "happy ending", although he felt a little sorry for Randy Newman, who had already been nominated 13 times. And Phil tells us that he recorded the song in different languages. He recorded it in one week, had to correct it a little bit afterwards, especially the French version. Later, he even recorded a Japanese version for Brother Bear, which was a bit more elaborate.
Phil then talks about the video shoot for Don't Lose My Number, which basically consisted of eight different videos. It came about because Phil himself didn't know what the song meant. And he makes it clear that Pierce Brosnan is NOT in the video.
Listen to the first part of the podcast here:
---
Episode 2: E - H

E - Eric Clapton / Easy Lover

Phil and Eric Clapton have been friends for a long time, originally also because they lived not far from each other. In the podcast, Phil tells us that one of the last times he met Eric Clapton was at his concert in London's Hyde Park (30/06/2017). Clapton presented him with the Nordoff Robbins Icon Award at the time. This is the UK's largest independent music therapy foundation. (In fact, the presentation took place the day after said concert).
Eric Clapton also visited Phil in hospital and asked if he wanted to go into rehab.
Phil doesn't actually get to Easy Lover until the next letter, when it's about drum fills. He tells us that they recorded the song very raw. When they came into the studio the next day for more recording, they finally decided to leave it as it was.
F - "Flats in Dagenham" / Fills

This is about nicknames for drum fills. Another example is "Mick Jagger, Mick Jagger, Kate Bush". Of course, this is not about flats in a London district, nor is it about Mick Jagger and Kate Bush. These "codes" are phonetic descriptions for drum fills.
In this context, Phil talks about his collaboration with Tears For Fears and the band's request to him to create a drumfill for Woman In Chains like the unique one from In The Air Tonight.
G - General Antonio López de Santa Ana / Gorilla / Going Back

What this man has to do with Phil Collins? He led the Mexican Army in the Battle of the Alamo. This should also make it clear that this is actually about Phil's great hobby and his passion for collecting relics from this battle. In this context, Phil clears up the prejudice that he had visited a fortune teller.
Phil is asked about the Cadbury's advert with the gorilla. Those who don't know what is meant can watch the clip here: LINK.
H - Hanworth Road / Hounslow / Hang In Long Enough

Of course, these two places are equally synonymous with Phil's birthplace. He grew up on Hanworth Road in Hounslow. Phil recounts occasions when he revisited or drove past his home in later years. Apparently, when Phil moved out of his parents' house, he even left his drum kit in the attic there.

The second part of his podcast can be heard here:
---
Episode 3: I - L

I - I Wish It Would Rain Down / Image / In The Air Tonight

No, this letter is not about the Phil Collins song at all, but about Phil's reputation as Mr. Nice Guy. The whole thing is the fault of his mother, who confirmed to journalists that he doesn't have a bad side.
But of course a certain song with "I" is inevitable.
J - John Bonham / Jail Time

Led Zeppelin and Phil Collins have a long history. This is specifically about Phil's fascination with John Bonham as a drummer.
Phil is asked if he has ever been in prison. Does Phil answer in the affirmative? Listen for yourself.
K - Knebworth
Phil has played there both solo and with Genesis. It's a special venue for him, but it brings with it the problem that there aren't necessarily real fans there, but rather people who go to see all the superstars/bands.

L - Lamb Lies Down On Broadway

It's been more than thirty years since Phil listened to the album in its entirety. He also talks about recording at Headley Grange and the challenge of playing the whole album live before it was even released.
Listen to the third part o the podcast here:

---
Episode 4: M - O

M - Model railway

Phil, interestingly, is one of a number of world stars whose rather unappreciated passion is model railways. Phil says it's more about the scenery than the railway itself.
N - Not Dead Yet / Nicknames

His autobiography is, of course, a central theme of the last few years. Phil announced it again and again years before. Will the book also provide material for a film? Phil doesn't think so, unlike the life story of Elton John or Freddie Mercury.
Phil actually can't remember whether he really had nicknames. He only remembers that he was once called Pip and that Tony Stratton-Smith always called him Peelip.
O - One More Night / (Against All) Odds

If Phil could choose one night of his life to relive, he would choose any (concert) night with Eric Clapton. He had incredible fun playing with Eric, Nathan East and Greg Phillinganes.
Listen to the fourth part here:
---
Episode 5: P - S

P - Percy aka Robert Plant / Pockets

Phil tells in broad strokes how his collaboration with Robert Plant came about, up to a small anecdote from modern times about little messages that the two leave for each other.
Phil also gives an insight into what he has in his pockets at the time of the interview.
Q - The Queen

It's about The Queen, of course - not the band of the same name. Phil tells of his meetings with the Queen and honours he has received. And Phil confesses to a breach of etiquette he once committed in front of the Queen. However, this does not include the fact that he once saw the Queen and Prince Philip dancing to Rock Around The Clock...

R - Reunions

Here the podcast deals with the dangers and imponderables of reunions. Of course it's about Genesis. But only extremely briefly. More than 2-3 sentences without much substance are not lost.

S - Sussudio / Swearing / Session Player / Separate Lives

A song with 24 million clicks on YouTube. Need we say more? Phil has said everything there is to say about Sussudio from his point of view.
Regarding swearing, Phil is asked what his favourite curse is. This much (and probably already too much) can be revealed: it starts with F...
If one musician is the prototype of the session player, it is probably Phil Collins. Joe Zawinul of Weather Report is one of the few musicians he would have liked to work with, but never did. There was contact and meetings. There was also a plan to do something together. But in the end Phil wasn't brave enough - but that was also with a wink.
To the sounds of Separate Lives, the next and last episode of the podcast is announced.
Listen to part five here:
---
Episode 6: T - Z

Phil has once again dared to do something that we no longer dared to hope for: a tour. Phil gives short impressions of the tour start of the Not Dead Yet Tour.

U - Urban Renewal

Phil tells us how this R'n'B/hip hop cover compilation came about and how he first heard the end result.

V - Vertebra

Phil's health was also and especially caused by his problems with the vertebrae. These led to the fact that he can no longer play the drums these days and only sits at concerts. Since nobody complains about it, it seems to be ok from his point of view.

W - Wealth / Wear My Hat

For one of the world's wealthiest musicians, wealth didn't just fall from the sky. Phil talks about his first earnings from making music professionally. His talk flows seamlessly into the song Wear My Hat.
X - X-Ray
Due to his health condition, Phil has X-ray examinations quite regularly.

Y - Youssou N'Dour / You Can't Hurry Love

Phil talks about the influence of this African musician on his album Dance Into The Light.
One of Phil Collins' biggest hits, even if not penned by him, is unquestionably You Can't Hurry Love.
Z - Zawinul/Lava

Of course, this is about the sessions around 1975 with Brian Eno, from which this piece, which appeared on the album Another Green World, emerged.
Finally, Phil thanks the audience for the surprising and varied questions... and for not being asked how he got the job in Genesis or what the title Sussudio means.
Listen to part 6 of the podcast series here:
---
compiled by Christian Gerhardts and Ulrich Klemt