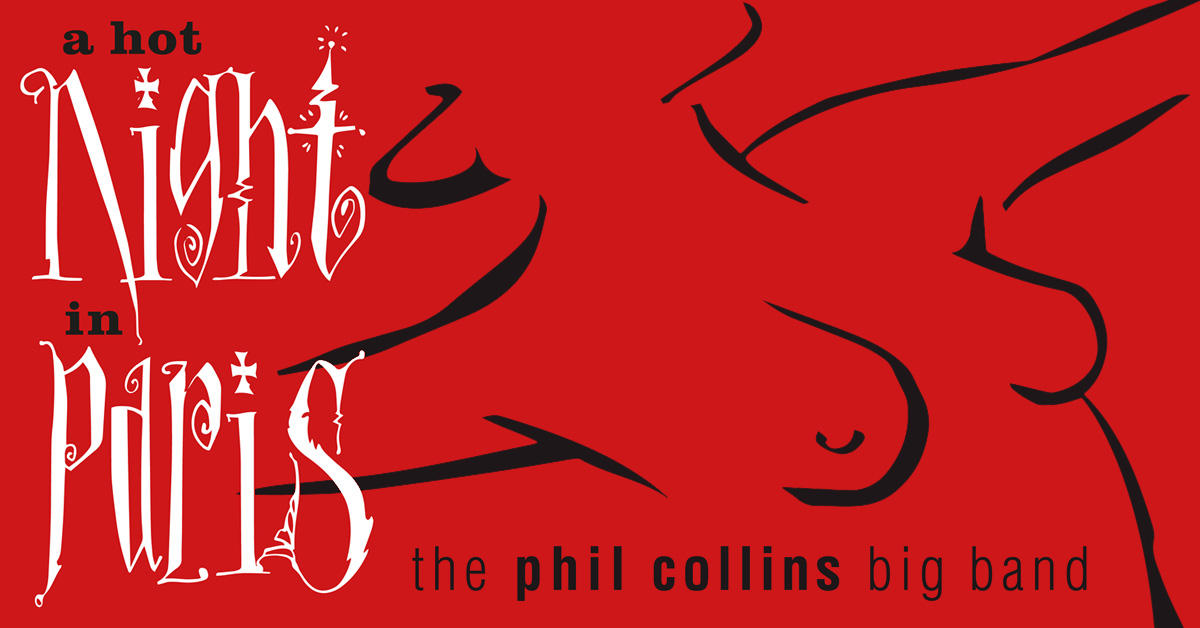 The Phil Collins Big Band
A Hot Night In Paris
The Project

The first half of the 1990's was a period of fundamental changes for Phil Collins, in his private life as well as in his musical career.
His leaving Genesis was a huge musical cut, the decline of his commercial (and, some say, artistic) success as a solo artist from Both Sides onwards was another. Phil struck new paths: he moved to Switzerland, into a new relationship and into new musical projects.
The attempt to record an album based on musical sketches as a band did not really work out, so Dance Into The Light was produced in the traditional way. He moved into a new world when he agreed to write music for a film with a gigantic (advertising) budget (though he had some experience from 1988's Buster). His Tarzan soundtrack was a successful cooperation with Mark Mancina, and it opened up a new field of activities; Phil has stated that Disney are interested in working with him again.
Fans of Phil and fans of jazz were surprised, though, when Phil realized an old dream of his. He revealed that he had been a huge fan of big band music since his youth. Big bands developed in the U.S. in the 1930s from smaller jazz bands. They usually have four trumpeters who switch to flugelhorn if necessary (because it has a softer, fuller sound), four trombonists (one whom plays the bass trombone), four to five sax players (tenor, alto, baritone, and occasionally soprano saxophones, depending on the requirements) alongside a rhythm group with drums, percussion, double bass or bass guitar and keyboard instruments, primarily piano. An orchestra of this size cannot improvise freely, their music is written down by experienced arrangers. The arrangements are based on riffs whose artistic, often very complex compositions draw on the variation of these motives, breathtaking harmonies, contrasting articulation and great dynamic range. It also provides space for free improvisations and solos by individual musicians.
The time in which big band swing enjoyed peak popularity among big band leaders such as Duke Ellington, Benny Goodman, Count Basie or Glenn Miller has long since given way to other trends, but their music has not lost any of its quality or fascination.
There are two big band drummers that impressed Phil in particular: Buddy Rich, whose Swinging New Big Band Phil first heard in 1966 and to whom he paid tribute at a concert in autumn 1998 (recorded on the DVD A Salute To Buddy Rich), and Sonny Payne, who made a name for himself as the drummer of Count Basie & His Orchestra. Other influences include Phil Harold Jones, Jo Jones - both worked with Basie - and Elvin Jones, who played in John Coltrane's band and later with Ellington, among others. These gentlemen left a lasting impression on Phil's style of drumming, which contained many jazz elements as can be heard up to the early 1980s in Phil's output in Brand X, his solo oeuvre and even some Genesis works as well as in numerous projects in which he participated as a studio musician. Other important figures in the history of jazz and big band drumming are undoubtedly Gene Krupa and Mel Lewis.
Released from his Genesis fetters, Phil went back to his roots and invested a lot of money and effort in a big band project with which he toured with in 1996 and 1998 and recorded the live album A Hot Night In Paris in 1999. Phil often described the project as a dream he had cherished for many years; but, he added, he lacked the maturity as a musician and a person to do that ten years before. Though he repeatedly stated that he wanted to keep the big band project going until he finished his career as a musicians we probably should not take it at face value.
The Big-Band
The Big Band consists of some members of Phil's trusty band and a number of professional brass players. The band line-ups differed between 1996 and 1998.
The Vine Street Horns formed part of the brass section, though their sax player Andrew Woolfolk was present only in 1996. In 1996, the number was filled up by members of the WDR big band from Cologne, Germany, while in 1998 they were graduates of Northern Illinois University (NIU) (including Teofilo "Tito" Carrillo and Alan Hood). Phil was enthusiastic about their (NIU) jazz ensemble when he first heard them at the Montreux Jazz Festival in 1996, when they were directed by trumpeter / flugel horn player Prof. Ron Modell, who also put the outfit together). Together with woodwind player Matthew James, professor at the Ohio University School Of Music, the ensemble guaranteed a professional standard. The popular saxophonist Gerald Albright completed the ensemble. He played the solos in many pieces. During the 1998 shows also got a few minutes to play his own compositions with the big band and to live out his musical talents with a touch of humour.
Brad Cole played the keyboard instruments. He also conducted in 1998 whenever it was necessary. A piece he arranged combined Afterglow and Wot Gorilla?, but it was hardly ever played (one of the exceptions was Antibes - a bootleg tape of the show exists, but unfortunately we don't have it). Daryl Stuermer, who can also look back on a jazzy past with, amongst others, the violinist Jean-Luc Ponty, played the guitars, of course. He also co-produced this live album.
The bass was played by Nathan East in 1996, while Doug Richeson, Tony Bennett's bass player, replaced him in 1998.
Bennett was the vocal guest star on the first tour on which he sang some standards. This part was taken over two years later by the enchanting Oleta Adams, who had already sung with Phil in the Tears For Fears song Woman In Chains.
Luis Conté was hired as the percussionist. He also worked with Phil on the Trip Into The Light tour and at the Tarzan concerts.
Phil himself played the drums, of course. That wasn't easy for him, for it meant a huge change in drumming style at a time when he had already been neglecting his drumming for a number of years. Moreover, he had never learned to read the sheet music of the arrangements – which is something he still regrets very much. So, like Buddy Rich used to do it, Phil, too, had another drummer play on the demo recordings of the arrangements, then learned the complicated drum parts by ear and committed them to his phenomenal memory. He also wrote memory aids in a special notation he apparently would not let anyone see. The listener must judge how much of his drumming is based on the arrangement, how much is based on the "ghost drummer" and how much is due to Phil's own creativity.
On the 1996 tour, the band was conductor by none other than Quincy Jones. Phil had had the honour of working on his album Q's Jook Joint. The second big band tour had no conductor.
The position of musical director of the big band was filled by Phil's long-time companion Harry Kim. It was he who found the right arranger for each song.
The Tour
After a brief tour of performances at various European jazz festivals that included a show at the Royal Albert Hall with Nelson Mandela and Queen Elizabeth II in attendance as well as a gig at the Montreux Jazz Festival, the re-configured big band embarked on a tour of Europe and North America with a new set in June and July 1998. They played 13 gigs on each continent and an additional Live By Request show in New York City. The show in Paris, France, took place on July 21, 1998.
The Album
A Hot Night In Paris is not the first official CD release by The Phil Collins Big Band. Private Issue, a credit card company, sponsored the U.S. leg of the tour (Phil had drawn a beach idyll for their credit card). Concert goers who got a Private Issue card were given a CD with five tracks. One of those was Rad Dudeski, which is not on this album. There was, unfortunately, no similar offer in Europe, and it is extremely difficult to get hold of a Private Issue CD.
It is therefore only a small consolation that A Hot Night In Paris was released in Europe earlier than in America. Whether all of the material is from that gig in Paris or includes material from other shows is something we cannot say for sure. It is likely that the recordings all date from 1998: Hold On My Heart, Chips & Salsa, I Don't Care Anymore and Pick Up The Pieces were not played in 1996 anyway, and Andrew Woolfolk was the soloist in Against All Odds in 1996. The order of the tracks does not correspond to the chronological order of the pieces in concert. In fact, only a small selection of the concert repertoire was pressed onto the CD
The album does not include any songs with vocals, neither with Phil nor with Oleta. We also miss some brilliant performances of pieces that had been dropped from the set for 1998: The West Side, for example, with its strong solo part and a very dominant role for the drums in general (though Phil expressed dissatisfaction about his performance on the 1996 tour), or Hand In Hand with a perfect big band sound and trumpet solos by Harry Kim.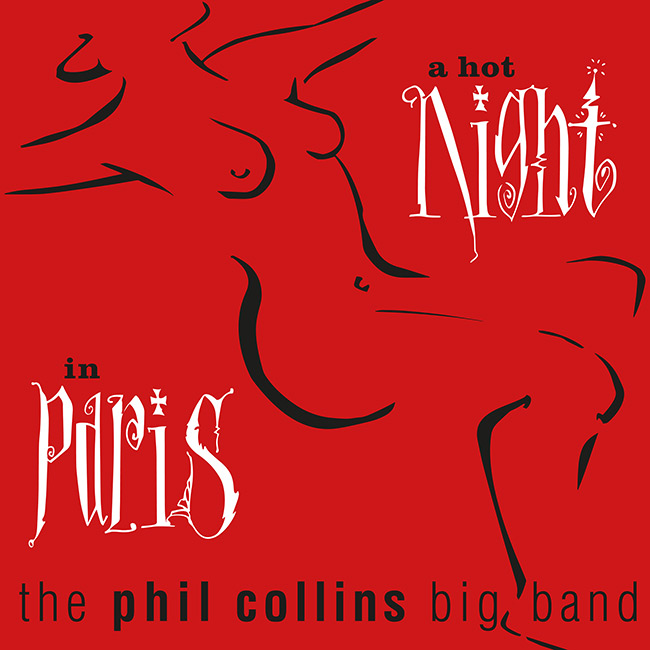 Even though it hasn't turned out to be a double CD, you will still enjoy ten rather challenging songs with a playing time of at least five and a half minutes each. I recommend to get a tape from the radio broadcast of their 1996 concert in Montreux and some bootleg tapes from both tours in addition.

The opener on the CD is Sussudio in a very varied arrangement by Mike Barone. Barone is a composer, arranger, trombonist and teacher, and the immensely long list of his references reads like a Who's Who of big band jazz. The different elements that make up Phil's song are imaginatively varied, with the arrangement showing a clear structure. In particular, the horn theme once played by Phenix Horns and the distinctive keyboard riff are made the most of, and various highlights are cleverly implemented. Gerald Albright plays the mandatory solo on the alto saxophone. In 1996, Sussudio was played as the last piece before the encore, and it moved to become the final piece of the encore in 1998.
If the Sussudio arrangement is too intellectual for you, you get a really powerful track in That's All. The brass group play the main theme at a very fast tempo with a very jazzy articulation. Doug Richeson plays the "truth is I love you…" segment on bass. Breathtaking fortepiano crescendi, wild shakes and clever dynamics in the horn section, the apparent competition of alternating and overlapping instrumental parts make up the strengths of the arrangement. Phil's fills deserve special attention, as does the crazy tenor sax solo of his namesake Chris Collins. And any ordinary trombone player will destroy his instrument on the spot when they hear the terrific feats Vine Street musician Arturo Velasco does with his trombone.
That's All is one of four arrangements by John Clayton Jr on this CD. He became known for his work with Quincy Jones amongst others. He also arranged Do Nothin' Till You Hear From Me on Q's Jook Joint, which Phil would usually sing at the big band gigs before Sussudio.
The Genesis ballad Hold On My Heart, once voted "Background Music of the Year", required a completely different arrangement. There is almost nothing left of what made this song so strong, i.e. the instrumental work by Tony, Mike and Phil. The only thing that remains is the nice melody. Harry Kim presents it artistically on the flugelhorn with all kinds of virtuoso ornaments and tricks of phrasing and articulation. Clayton plays around with the orchestral parts just as fine. The whole thing is very calm, quiet and follows a simple slow rhythm on top of which we hear lots of modulations. The song only begins to grow in the "I will be there ..." parts. Hold On My Heart has become a completely new piece this way. Unlike most of the other songs, this one should not be listened to while driving. It is recommended to connoisseurs and concentrated listeners.
I Don't Care Anymore is quite catchy. You could even dance to it, though you would not recognize it during the first minute. The drums do not dominate it anymore, and it offers varied entertainment with precise trumpet interjections and some greasy piano interludes. Clayton's ternary swing interpretation verses ("Well you can tell ev'ryone ..."), intentional dissonances and fluttering tongue sounds, what was once so angry has won a decidedly humorous touch 16 years later. Arturo Velasco's trombone work on I Don't Care Anymore is terrific.
The fourth arrangement of Jones' companion is a standard: Milestones by the legendary trumpeter Miles Davis, whose work was groundbreaking for the jazz of the second half of this century. The theme that has been used on various TV shows is very short and very simple. It is all the more challenging for the arranger to make something interesting out of it. At a very fast tempo that put high demands on the bass player, this theme and its variations and changing instrumentation builds the framework for extended instrumental solos: Al Hood (NIU graduate in 1992) improvises on the trumpet, while Larry Panella and Chris Collins on the tenor saxophones attempt to outdo each other in tempo, ornamentation, height and volume.
Sammy Nestico was Count Basie's arranger. He is a living legend and he has created a whole new guise for Invisible Touch, turning it into a piece that floats gently down the river. As with Hold On My Heart, the only thing left is the melody. Invisible Touch is one of the few arrangements that gives Brad Cole an opportunity to shine. Most viewer could not see Brad play the grand piano. Accompanied by the rhythm section, he improvised a prelude. Just when the audience were lulled in by the self-sufficient piano playing, the bass player played a certain motice as a signal for the brass section – and they then startled most of the audience with a loud "Daaahhh...!!!". The band then proceeded to improvise on different parts of the melody in an entertaining way. Brad and Larry Panella added various solos to this. This piece was probably really recorded in France because Brad paraphrases the French national anthem, the Marseillaise, in his piano intro.

During his solo spot at every concert, Gerald Albright performed his piece Chips & Salsa. It has been released one of his solo CDs, and it was arranged for big band by by himself and Harry Kim. As the name suggests, it is a very pleasing, loose, easy-to-dance-to piece in Latin American style. Some jazz buffs report that it reminded them of the music of the fusion group Spyro Gyra. Albright, Luis Conté and Brad Cole play solos.

Against All Odds is one track that should have been left off the album. Beautiful as the original may be, arranger David Stout could not make anything from it. Albright's alto sax plays the melody, the orchestra accompanies it, and not much happens. It's not the original song anymore, but nothing really new either. It probably fulfils the alibi function of the obligatory ballad on a Collins album.
The album saves the best for last, though. Pick Up The Pieces by the Average White Band is known at least to German viewers as the title tune for a TV programme. It was only rarely played during the tour. Fans in Cologne, Germany, could hear it if they had in time to hear the soundcheck. The performance of this track would have been the special thing in Paris, because it features two musicians who have made a name for themselves beyond the jazz aficionados: young James Carter with his tenor saxophone and George Duke on piano. Pick Up The Pieces was arranged by Arif Mardin, who also conducted it that evening. He has worked a lot with the Bee Gees. He also wrote and conducted string arrangements for Phil in the first half of the 1980s and produced Phil's songs Against All Odds and Separate Lives. The alto saxophone is played by Gerald Albright once more.
For those who enjoy this kind of music, Pick Up The Pieces with its ingenious motives in a 12-minute version is a great pleasure indeed.
Los Endos, is almost as long. It has been arranged perfectly by Harry Kim. At big band concerts, Los Endos was always preceded by a long drum & percussion duet played by Phil and Luis Conté. The version on this CD is extremely short, though. Have they edited this track? Were they simply too tired that night? We can't tell. Still, Los Endos once again proves to be a work of particular originality when it is performed with such virtuosity. Kim's arrangement doesn't deviate too much from the original – except for a very successful new Salsa middle section that does justice to the mock-Spanish title. Besides Harry Kim on trumpet and Gerald Albright on alto saxophone we also hear Daryl Stuermer solo on guitar.
Except for one weak track the choice of tracks has been good; the CD is worth buying for the last two tracks alone. Considering that they had so many more tracks, and some of those in superior quality, the decision not to release a double CD is incomprehensible.

Phil's orchestra is certainly not the best big band in the world. They know that, too, and while they had originally planned to play big band standards only, they changed plans and had top arrangers arrange Phil's solo and Genesis songs in order to create something exclusive. As an amateur listener you are probably not going to complain about the way the big band plays. The cool, sometimes aggressive sound of the music is certainly a matter of taste, but it should please Collins fans better than greasy saxophone vibratos in Glenn Miller's performance of Moonlight Serenade...
Phil is doing very well, almost at ease in his new role. However, he doesn't show much initiative yet. Instead he adds every accent and every drum-fill correctly, showing an astonishingly good understanding of the arrangements. Even Phil will have to learn the ropes of this métier better before we can expect more originality from him in this area of music. One thing he did learn for these shows was how to play with a drum brush. Phil had never used them before – which did not stop the authors of a German music encyclopedia, the Sachlexikon Rockmusik, from citing his work in the Genesis song Living Forever as a fine example of brush drumming (Genesis actually used samples at the time).
The visual appearance of the CD sleeve designed by Wherefore Art? is Spartan, red with black and white accents, probably to draw more attention to the music. On the front of the very moderately informative inlay there is – a sketch of a female nude, as people might fantasize about finding at the Moulin Rouge or elsewhere during a "hot night in Paris"….
Whether Phil has ever been at the Moulin Rouge or not does not matter at all. But anyone who has followed Philip Charles David Collins on all his musical paths should not hesitate now to enter the world of big band jazz with him.
Author: Andreas Lauer (1999)
English by Martin Klinkhardt

---
A Hot Night In Paris was re-released at the beginning of 2019 on CD in Digipak and as 2LP. The album has been remastered but does not contain any bonus tracks.