Ray Wilson live: Genesis Classic + Stiltskin vs Dresden
For more than ten years Ray has been working as a solo artist, and most of that time as an independent artist. He has never been able to discard his Genesis past and Stiltskin, with who he enjoyed much success, are also part of his works. But where in his career is Ray Wilson at the end of this year 2011? In the last months he has been in Dresden some five times, so it is a good opportunity for an appraisal.
Dresden is counted among the most beautiful cities in Germany. It was never a Genesis stronghold, though. The Musical Box played here once, there was the memorable concert Peter Gabriel played at Junge Garde in 2007. Next year Mike + The Mechanics will play the Alte Schlachthof. Ray Wilson has frequently played in the area, mainly in Pirna and occasionally also in Dresden itself. These were mainly free shows like the one he played in front of the Frauenkirche for the city festival 2005, badly attented gigs in clubs that had peculiar titles like Titty Twister or Bärenzwinger (bear-pit) or remarkable guest performance with the local football club. Despite the funny names of the venues Ray did get his act together in Dresden. What had happened?
2010 was indeed memorable in this respect. Ray Wilson had been touring his Genesis Classic programme with the Berlin Symphony Ensemble. He gave us a long interview on August 11, 2010 and went on to play to several thousand people on a stage that had been set up in front of the impressive Theaterplatz for the city festival.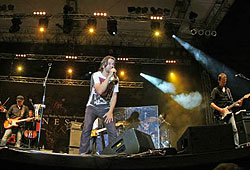 August 21 was a warm summer day. Ray is relaxed as we sit down in the Mercure hotel for the interview and he talks about his projects. He seems quite at peace with himself, though half the world alleges that he would not want to do Genesis Classic at all unless he was forced to. But Wilson stresses that the band has reached the level he always wanted it to have and that these Genesis Classic shows are the best he has ever done. At the same time he is proud of what is to come: A new Stiltskin album is coming along and Ray is content with the way things are. The full interview can be found here.

Later that day, around sun-down, Ray, his band and the Berlin Symphony Ensemble take the big stage on Theaterplatz with a powerful Turn It On Again. Ray was visibly pleased with the sight - "what a view, what a place" - and some 10,000 people listened as Ray and his musicians played a slightly abbreviated set. That's All started the party in the audience. It being a free show the crowd obviously did not consist only of fans of Genesis or Ray Wilson, but the appreciative cheer that went through the audience when Ray announced Carpet Crawlers was quite remarkable. And then it was back: Congo. He would never play it, Ray once said, and added he hated the song. Now he does play it, in an almost cocky version. Wilson stands whistling at the conga and the band even plays the full intro to the song. The crowd goes berserk and Wilson is happy to play to a bigger audience again.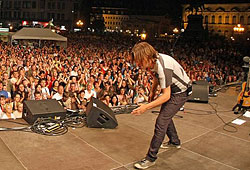 That night he played:
Turn It On Again
That's All
Carpet Crawlers
Congo
Another Day in Paradise
Constantly Reminded
Another Cup of Coffee
Jesus He Knows Me
Calling All Stations
Ripples
No Son of Mine
Follow You, Follow Me
Land of Confusion
I Can't Dance
Solsbury Hill

Remarkable were the powerful version of Calling All Stations along with Ripples. The latter song had a wonderful instrumental section where both the string group and lead guitarist Ali Ferguson could play to their heart's content. The finale of the show was a real gas because the songs were so well-known. The string ensemble consisted of eight people, twice as many as on usual Genesis Classic shows. Then there were Steve Wilson (guitar), Ali Ferguson (guitar), Filip Walcerz (keyboards), Lawrie MacMillan (bass) and Ashley MacMillan (drums). During the show Ray announced his next gig in Dresden: They would bring the full Genesis Classic set to the venerable Kulturpalast Dresden on April 5, 2011.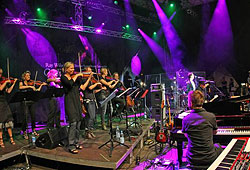 Many people have mixed emotions about Genesis Classic. It has the aura of a cover band thing though Ray also interprets his own songs. Fans of his music frequently express the wish that he would focus more on his solo albums and Stiltskin. Ray, however, has made peace with his Genesis past at one point, whereas it was a kind of burden to him a times. This kind of show is also a good opportunity to continue the development of his band. And so he plays Genesis Classic shows because he enjoys them, because they challenge the band and because they are successful. Sometimes it is as simple as that.

Another memorable event followed in December, although it sticks in the memory for another reason. Ray's management invited the local press to an event press conference at the Dresden Hilton in order to promote his show at the Kulturpalast. All the journalists had to cook with Ray Wilson and the chef de cuisine at the Hilton hotel, and of course they could ask all the questions then. It seems like a peculiar joke that the dish they prepared was venison ("Reh" in German, pronounced similarly to a certain name). We released a news item about the "Reh Wilson" press event in Dresden.
Ray used January and February of 2011 to record his new Stiltskin album, and shortly before Christmas a Genesis Classic show in Poznan was recorded for a possible DVD. Spring 2011 saw Ray touring Germany with his Genesis Classic programme again, and the audience in the Kulturpalast Dresden witnessed a premiere. He embedded a reduced format into the Genesis Classic show, the Genesis classic quartet. And audience of over 1,000 saw a first-rate show and a band that had improved yet again. The stage was much larger than for comparable Wilson shows. The sound was excellent and it was palpable that Ray has reached or at least come very close to the level of musicality that he always demanded from his band, but most of all from himself. Despite, or rather because of that he maintains the restlessness that keeps him going and makes him continue to develop himself. That obviously does not happen without mistakes or consequences. His Genesis Classic shows became perfect, but they also became too perfect. He has been playing at set like that for too long, and this displeased the hard core of fans who go to many shows. At the Kulturpalast he played: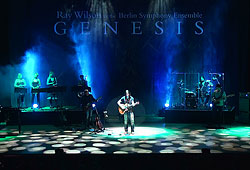 Turn it on again
That's all
Carpet Crawlers
Congo
Another day in paradise
Constantly reminded
Another cup of coffee
Jesus he knows me
Calling all Stations
In The Air Tonight (Ray solo)

Invisible Touch (Genesis Quartett, Ray, Filip, Alicia & Basia)
Mama (Genesis Quartett, Ray, Filip, Alicia & Basia)
Ripples
No Son Of Mine
The Lamb Lies Down On Broadway
Follow You Follow Me
Change
Not About Us
Land Of Confusion
I Can't Dance
Solsbury Hill (Band + Alicia & Basia)
Inside (Band + Alicia & Basia)
It may sound peculiar but the songs that made the deepest impression were Change and especially Constantly Reminded. And Carpet Crawlers, for it is an excellent version. And obviously the double-pack of Congo and a strong Calling All Stations. There was frequent applause in between, particularly after the splendid solo Ali Ferguson played in Ripples. The show made clear that Ray cannot get much better with this show. He needs to vary things, try out something new, take risks. Have a flexible setlist as in his early days and do the unexpected. For despite all the musical progress it cannot be denied that this setlist is playing it safe. He kept mentioning The Dividing Line, Domino, even One Man's Fool – but the setlist did not change. The Genesis Classic Quartet is only an afterthought, more or less just a variety of the big Genesis Classic show to save costs and space. This much safety and risk-lessness does not fit the Ray Wilson who did a Stiltskin tour in 2006 and did not play any Genesis at all...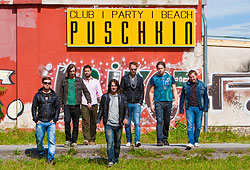 Stiltskin – yes, there was something. Ray stated very early on that his 2011 album would be a Stiltskin record, but work on it ended only in August 2011. Ray called Peter Hoff and Uwe Metzler into his team. Then there was his band, without Nir Z. The album had hardly finished mixing when the band hit Dresden again, this time to rehearse for the upcoming Stiltskin tour. It was about time, for Ray had played rather few Stiltskin gigs before that. Rehearsals took place at a local dancing school; later they moved to Pushkin Club right next to Alter Schlachthof in the part of town called Pieschen. The club was certainly appropriate for the rehearsals. Without a big lightshow the band worked hard on fine-tuning the new songs. You could hear it even from the outside that the live presentation had become much stronger. Accidents Will Happen, More Than Just A Memory and particularly Guns Of God and American Beauty were intensively rehearsed, and Ray rarely used the microphone. The right guitar a bit louder, less echo, make the sound dubs better audible – they worked hard on everything. Later Ray would explain that this was important, that it had to sound good.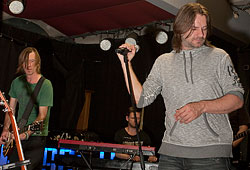 Before, Ray just went on stage and started playing, but today he rehearses every note until it sounds good. You could write a whole report of its own on how meticulously Ali and Uwe's guitars were fine-tuned for American Beauty. And now, Ray says, the only Genesis songs that may be in the set list would come from Calling All Stations – but there will be some eight new songs from Unfulfillment.
In the GNC interview at Pushkin Club on August 11, Ray talks about the marketing campaign for his new album. Not First Day Of Change but the far more radio-friendly American Beauty became the first single off the album and it did get a lot of airplay. And then Ray says something we have not heard from him in a long time: "Yes, I want to be in the charts."
A boxset is put together that offers unique value for money to achieve that goal. He calls the set Genesis vs. Stiltskin (and so provides the idea for this essay). It is a kind of clash of the artistic directions. Those who want to buy the new Stiltskin album, "have to" buy the Genesis Classic digipak (2CD/DVD), too, and vice versa. Ray forces the fans, as it were, to get into both projects. These tactics did not raise any outcry of protest, for the set was available for less then 20€. Incidentally, Genesis vs. Stiltkin reached #21 in the German album charts, which is the highest place so far for the solo artist Ray Wilson.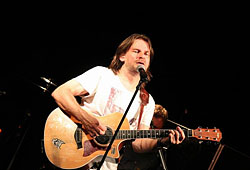 The struggle of the Dresden showfight between Genesis Classic and Stiltskin peaked in October at the Tante Ju club where Ray played a Stiltskin show. If you compare the numbers in the audience the show could obviously not contend with Genesis Classic at the Kulturpalast or on Theaterplatz. Some 300 people attended this show, but unlike Genesis Classic this was pure Ray Wilson, without a fixed concept or necessities, just a whole set of Wilson songs only. The band played these songs at Tante Ju:

Bless Me
Another Day
Propaganda Man
Goodbye Baby Blue
First Day Of Change
Lemon Yellow Sun
Congo
Calling All Stations
More Than Just A Memory
Shipwrecked
Razorlite
Fly High
Accidents Will Happen
Voice Of Disbelief
Change
Sarah
Tale From A Small Town
Not About Us
Airport Song
Constantly Reminded
Guns Of God
Footsteps
Inside
American Beauty
The 7th Day
Some of these songs, like Sarah or Razorlite, have been played to death at Wilson solo shows, while Goodbye Baby Blue that has been played at least as often, sounded remarkably fresh. Still, one could have wished for a riskier set. A couple more Stiltskin songs (say, Rest in Peace, Scared Of A Ghost, Wake Up Your Mind, Taking Time, Show Me The Way) would have been good, and it is a bit mysterious why Ought To Be Resting was not played. The show was a good one, though, full of power and also thoughtful at times. Ray's voice was in peak condition and the band perfectly attuned to each other. Uwe Metzler was more than an addition, he distinguishes the band from the Genesis Classic style.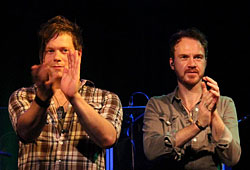 Dresden found Ray quite difficult, but that changed after his memorable performance at the city festival in 2010. Something similar may be true in other places. The winner of the duel between Genesis Classic and Stiltskin is Ray himself. Never before has he been this good on stage and in the studio, and yet he always discovers potential for improvement. What the fans wish for are more spontaneity and changing set lists. At the musical level Ray has reached he ought to find enough security to try out the surprising and or the unexpected. It will be exciting to see which way he will take, whether he does something completely new – as long as he sticks to his motto of "stay inspired and always unfulfilled" his inner restlessness will urge him on – and the fans will always find enough reasons to criticise him. This way nobody will be saturated – which is what Ray fears: To be absolutely contented because he has reached it all and does not need any new ideas. This danger is not imminent. His projects are getting better, but there is still room for improvement. In Genesis Classic we hope for new songs and a collaboration with Steve Hackett. In Stiltskin we hope for more changes in the choice of songs. How about No Place For A Loser?
by Christian Gerhardts, English by Martin Klinkhardt
photos by Andreas Weihs, Petra Buttmann, Christian Gerhardts