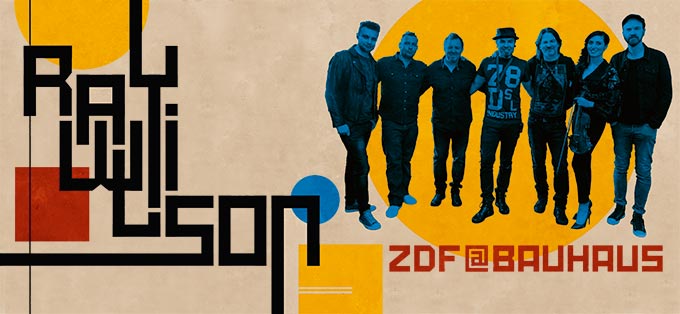 Ray Wilson live - ZDF@Bauhaus
New CD/DVD and Blu-ray showing his May performance

On 20th May 2018, Ray Wilson performed on the "Bauhausbühne", which is a special venue in Dessau, best know for UNESCO world heritage "Bauhaus" architecture. The show was aired on German television as part of the ZDF@Bauhaus programme. 14 tracks of this show will be released on Blu-ray and CD/DVD on 5th October called Ray Wilson ZDF@Bauhaus. It will also be the first ever Ray Wilson Blu-ray release.
In the promotion material that accompanies the release Ray Wilson describes the location as a place with an "unplugged flair".

At face value this DVD, or Blu-ray, bring us a shortened version of a concert – fourteen tracks only while Ray rarely plays for less than two hours. This is, however, part of the concept of the ZDF Bauhaus series. There is, in fact, only one other track that was played that night, which is Carpet Crawlers, so we do have an almost complete show here after all. Why Carpet Crawlers of all songs was not included is anyone's guess.

Our review is based on the Blu-ray release. The images are great, and there's some excellent camera work, too. The director had a sense of creativity; they were not afraid to work with blurs or having the heads of the audience in the picture. Everything together creates a lively atmosphere. You feel as if you were there at any time, the more so since the audience are close to the stage in this intimate environment. The sound is pristine and a good mix.

The songs are pretty much the same mixture as at a typical Ray Wilson show. There are songs from the Genesis fold, and perhaps songs like That's All or Solsbury Hill are dispensable. Follow You Follow Me really comes alive in Wilson's show and pleases the audience. No Son Of Mine and Mama are somewhere in between. Many people want to hear those songs, but playing Shipwrecked or Not About Us would have been nicer – those are, after all, songs that directly link Ray and Genesis. The set contains a number of lovely songs: the much-maligned Sarah from the criminally underrated Cut album Millionairhead. Chasing Rainbows has provided two songs for the set, Take It Slow and Wait For Better Days. We could not help but notice that there is no song from either of his recent albums, neither from Song For A Friend (the title song would have fit well) nor from Makes Me Think Of Home. Surprisingly, Ray brought back a Steve Wilson track he has not played for a long time, Along The Way.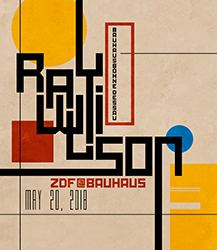 The concert begins with acoustic instruments; during the course of the show more and more electric elements are added. The mixture of an organic sound and heavier electric elements works fantastically well!

The stage setup is interesting, too. There is neither a wall nor a curtain behind the band but a large hall – the band are apparently playing into the backstage area. An interesting quirk.

Bonus material:
The bonus material is "just" a long interview Jo Schück (of the ZDF) conducted with Ray. Ray tells some inside stories and reveals that he had invited all fans who have travelled to Poznan especially to see his birthday shows to the after show party as a thank-you for the efforts and the support. Most of the informative interview revolves around the way Ray has shaped his career and, of course, around his time in Genesis and Stiltskin. This makes the interview interesting for newcomers and seasoned fans alike.

All in all
This live film comes in a Blu-ray (with a booklet) and a Digibook CD/DVD set; both are packaged and designed with care. Designer Thomas Ewerhard has obviously used the Bauhaus ideas as an inspiration; there is none of the typical Ray Wilson design here. Sound and images are excellent, the selection of songs is alright, too. All in all, this is a "special" release that should appeal to seasoned fans as well as people who are just discovering him. If you do not know all that much from and about Ray Wilson, this is a good point to start.

By Christian Gerhardts, English by Martin Klinkhardt

Both formats can be preordered on Ray Wilson's website.
Additional order options in Germany:
CD/DVD:
amazon
|
JPC
Blu-ray:
amazon
|
JPC
Line-Up of his Band:

Ray Wilson: Guitar/Vocals
Steve Wilson: Guitar/Vocals
Ali Ferguson: Lead Guitar/Vocals
Marcin Kajper: Bass Guitar/Saxophone/Flute
Kool Lyczek: Piano/Keyboards/Keyboard/Bass
Mario Koszel: Drums/Percussion
Alicja Chrzaszcz: Violin

Tracklist (identical on CD, DVD and Blu-ray)

Change
Sarah
Follow You Follow Me
Lemon Yellow Sun
That's All
Take It Slow
Alone
Solsbury Hill
Along The Way
No Son Of Mine
Wait For Better Days
Another Day
Inside
Mama
Artwork by Thomas Ewerhard