Phil Collins: Summer tour kicks off in Liverpool
Additional show at Echo Arena on 2nd June 2017
It comes as a bit of a surprise, that Phil Collins has added another date to his summer tour schedule. He and his band (see out recent report) are to play the Echo Arena in Liverpool on Friday, 2nd June 2017.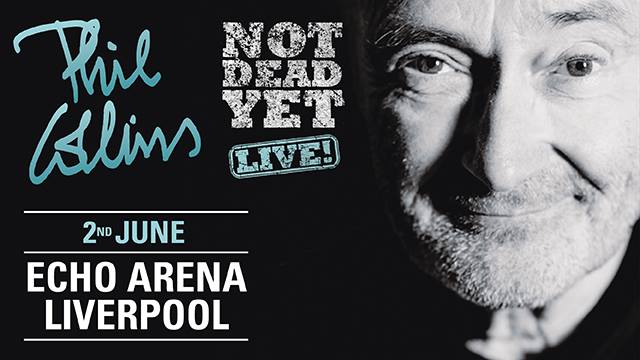 The additional concerts in Dublin and Hyde Park, London which expanded the initial 15-date tour calendar by two had already not been expected. If any, a further show would have been more likely on one of the days off between those open-air concerts. The fact, that the "Not Dead Yet - Live" tour premiere has now been brought forward by two days and been moved to Liverpool, might evoke mixed reactions. Fans holding tickets for the first show at Royal Albert Hall could be disappointed to finally not end up seeing what will be the first Phil Collins solo concert in almost twelve years (not counting the motown shows). On the other hand, Merseyside residents will be very glad to finally see Phil Collins play his first ever (!) solo gig in the hometown of The Beatles.

Ticket presale:

O2 presale: starting Wednesday, 1st March 2017, 9.00 am (GMT)
Live Nation presale: starting Thursday, 2nd March 2017, 9.00 am (GMT)
public presale: starting Friday, 3rd March 2017, 9.00 am (GMT)
Hopefully this time the "normal" fans have a more realistic chance to actually get a ticket. When the five Royal Albert Hall shows were sold out on Ticketmaster within minutes, many were annoyed that large numbers of those tickets appeared on the Ticketmaster owned resale website GETMEIN! in no time at horrendous prices.
We have currently no information whether there might be further additional concerts or if the tour schedule is now finally complete.

Further information
Not Dead Yet Live - tour dates

      	
            	
                  	
                        	
                              	
                                    	
                                    	

      	
            	
                  	
                        	
                              	
                                    	
                                    	
---
published on 27.02.17 13:17 by
UK76
@
Phil Collins
---
Phil Collins: Summer tour kicks off in Liverpool Comments:
Kein Kommentar möglich

If you want to submit a comment, you will have to log in!
---