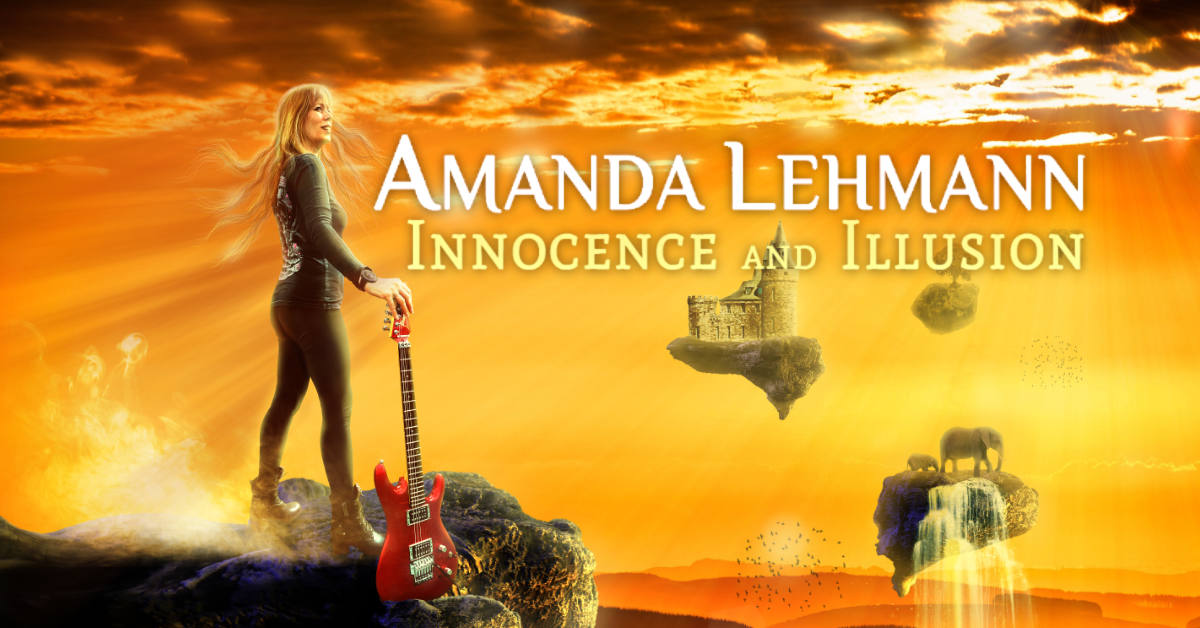 Amanda Lehmann - Innocence and Illusion
Background
Who knows Amanda Lehmann? Well, the attentive Genesis fan will have noticed her as a temporary member of the Steve Hackett Live Band. She toured with him between 2009 and 2013, after which she made numerous guest appearances. She played rhythm guitar and did some of the vocals (*1). She also makes guest appearances on Steve's latest albums. (*2)
Before that, in the 80s and 90s she toured in the UK with her own band, released an album in 1994 as a duo with Eddy Deegan, Wazzoon and in 2010 a solo EP, Shadow. (*3)
She began singing as a child and became a member of a choir. She was trained on the piano and then taught herself to play the guitar. A red guitar was to become her trademark.
After touring with the Steve Hackett Band, Amanda began composing new songs and working on older pieces. She took her time to let her songs mature, finally immortalizing them on an album in the last year and a half. As a first result, the song Memory Lane was released as a video in September 2020. (*4)
Amanda took advantage of her acquaintance with the musicians around Steve Hackett, so that they and the master himself have guest appearances on the album. With one exception Amanda is responsible for the composition. The production she took over with the help of Nick Magnus and for two tracks with Roger King.

Musicians
Amanda Lehmann: Vocals, Guitars, Keys
Nick Magnus: Keys, Piano
Roger King: Keys
Steve Hackett: Guitars, harmonica
Rob Townsend: Alt-Sax
Paul Johnson: Backing Vocals

Artwork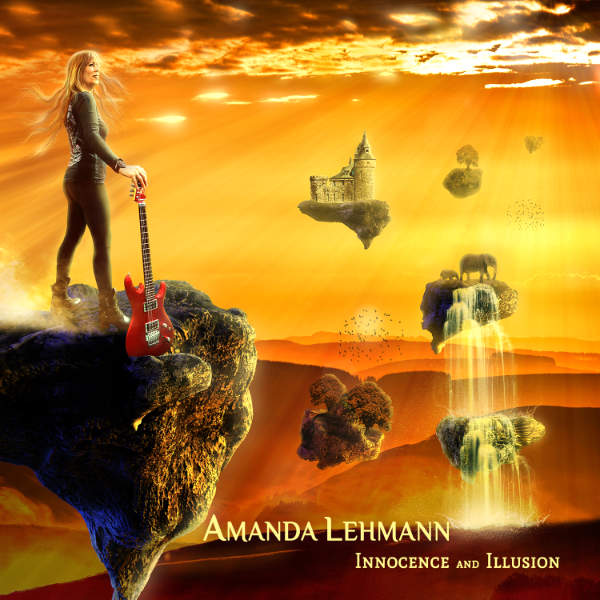 The cover artwork was created by Des Walsh Illustrations (*5). A landscape bathed in golden sunrise/sunset colors is interspersed with boulders floating in the air. Amanda stands on the foreground rock, leaning on her red guitar, looking into the distance. Fantasy artwork in the style of Roger Dean. The subject matter reminds the reviewer of the Mirror Traveler saga by Christelle Dabos (*6) and especially the artwork of the Yes albums Fragile and Close to the Edge.

The back cover features a forest landscape in the dark blue light of a full moon night, interspersed with fairy glittering stars. The sleevenotes and a photo of Amanda, sitting on stage, complete the design. Unfortunately, the reviewer had the album only in digital form. Thus, no exact statements about the cover's design are possible. Unfortunately the songlyrics are not available at the time of reviweing either.
Does the listener now expect a musical journey to fantasy landscapes like Middle Earth, or to Celtic Britain?

Songs
01 Who Are The Heroes? (6:58)
Somberly brooding keyboards open the journey, an acoustic guitar kicks in, choral vocals and finally Amanda's voice intone. The track picks up speed, a gorgeous lead guitar reminiscent of Marillion, or the late Strawbs intones, to be redeemed and finally accompanied by a keyboard solo a la Mark Kelly, played by Nick Magnus. A subtle piano and chorus end an attention-grabbing prog piece. Amanda's vocals resemble Sally Oldfield, with a slight Kate Bush touch, or even Tracy Hitchings

02 Tinkerbell (5:59)
It jingles and rings, xylophone-like cacophonies resound, arpeggios of an acoustic guitar take over, an electric guitar follows. The ride becomes more and more colorful, the guitar howls, the keyboards remind of a carousel. A waltz beat resounds. But how wonderfully Amanda sings here! From soprano to alto, very variable, her voice ranges. The listener is transported to a children's room at night, where little Tinkerbell jumps out of the Disney book, makes all kinds of mischief and takes us into the world of Peter Pan. A magic that we could only see in our childhood ... or beyond?
03 Only Happy When It Rains (3:47)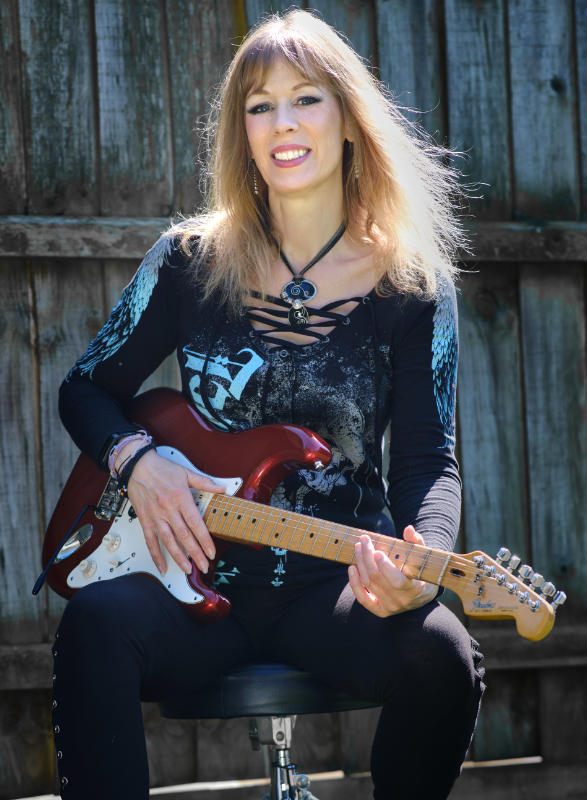 What a startling break! If the reviewer had expected a prog album, now this: An almost bluesy number, opened by Steve Hackett's harmonica, takes us back to the twenties, brings up memories of the times of swing, of smoky clubs. Amanda's smoky, erotic timbre adds to it. Rob Townsend enhances the song with a beautiful alto sax solo. Roger King contributes synthesized strings and brass and co-produced. Let's swing! (*7)
04 The Watcher (7:20)
Somber keyboards fill the room, xylophone-like sounds break through them, finally an audible bass. Before Peter Gabriel can be thought of, it starts to rock with a blues chord. Hey, is Amanda a Deep Purple fan? A guitar solo makes you think of Marillion's Brave or Clutching At Straws. You expect to hear Fish, but it's Amanda who puts the stamp on this track, lying between prog, metal and West Coast, with her variable vocals. Vocally she is accompanied rather unobtrusively by Paul Johnson. Next to Tinkerbell this is, for the reviewer, the highlight of the album.
05 Memory Lane (4:52)
Amanda dedicates the piece, which was already released as a video last year, to her mother, who suffers from dementia. Longing vocals, acoustic guitar and synthetic strings, as well as a soulful sax solo characterize the worn folk pop piece. The late Clannad, or Enya send their regards. Roger King contributed the keyboards and the co-production.
06 Forever Days (5:25)
A guitar solo rocks, accompanied by an organ, only to have the tempo become more carrying. An up-and-down of moods fills the prog-pop-metal number. The piece seems to evoke carefree youthful days filled with motorcycle rides, dancing and laughter. Steve Hackett lets out a crashing, metal guitar solo before things get quieter, more melancholy. Amanda's vocals swing from light to dark. Where have the days gone that feel eternal and everlasting?
07 We Are One (4:56)
A beautiful ballad somewhat reminiscent of Pink Floyd's High Hopes. It tells with heartbreaking vocals, accompanied by gentle piano chords, about the cycle of life, youth and old age, the connection of all being. In the piece lies the intention of the album: the representation of the journey of life of us humans, the twists and turns, the hopes and dreams, in short: our experiences between innocence and illusions. An earlier version is available on the Harmony For Elephants album. (*8)
08 Childhood Illusions (4:50)
My goodness, once again the time machine takes us to the Golden Twenties: bluesy, swing-heavy, sentimentally merging into a Slowfox, Amanda sings in the style of the divas of that time. A congenial alto sax solo by Rob Townsend ennobles this gem. The chorus takes up the title of the album:

Innocence and Illusion

Childhood delusions
The man in the moon still follows me home

09 Where The Small Things Go (1:43)

In a kind of reprise, Amanda and Steve Hackett, who co-composed the piece, perform with vocals and acoustic guitar. Delightful, Amanda's vocals duet with Steve's nylon. The beautiful lullaby closes softly purring an exciting journey into the turmoil of life.
All in all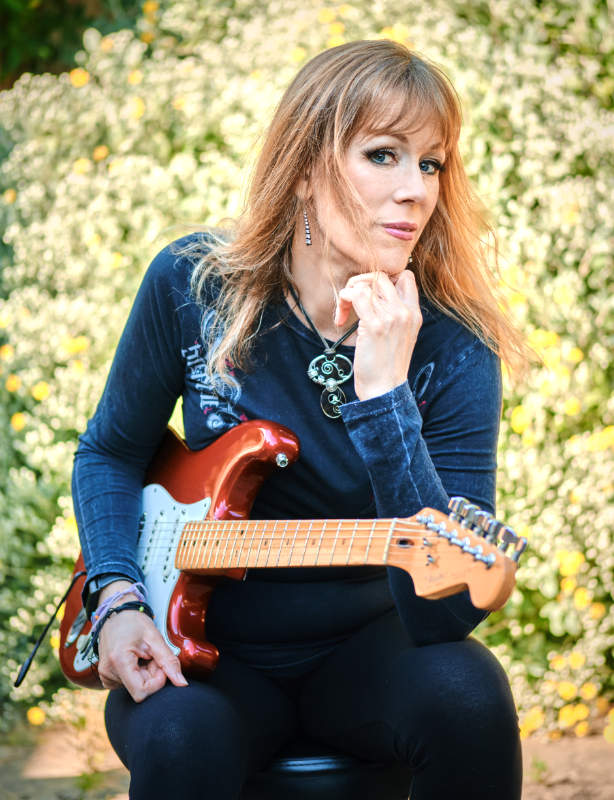 Innocence and Illusion is an impressive collection of musical gems that lie somewhere between prog, blues, jazz, metal, folk, swing and pop. Like little Tinkerbell, Amanda Lehmann pulls songs out of her hat that captivate the listener. The songs describe experiences that we humans make in life. They span the time from childhood to old age. Amanda slips with her varied singing playfully into every role. She impresses with her voice reminiscent of Sally Oldfield, Joni Mitchell, Kate Bush, Tracy Hitchings, Moya Brennan and Maggie Reilly (to name a few). Her solid guitar playing is primarily influenced by Steve Hackett and Steve Rothery. Their compositions don't recreate the music, but they add a feminine touch to the styles they cite, win them a new way of playing and are fun to listen to with an incredible joy of playing. Only the lack of a "real" rhythm section is a little unfortunate. It could have provided even more pressure.
The reviewer would like to see a tour to bring the songs to the world with live dynamics. They deserve many listeners and listeners. Yes, Amanda Lehmann can, as she says herself, be proud of her album.

There's an actor's approach to character exploration from child to woman and back again, where Amanda is the ringmaster of her own fantasies with much to say about the human condition, adding a hint of chanson to the power of rock and a touch of magic realism. We're discovering a true musical chameleon. (*9)

To these words of Steve Hackett I would like to add one more: Dear music fans, go on a journey of discovery into the world of the musical chameleon! You will be enchanted on the way.
Innocence And Illusion is available on Amanda's website here. Amanda is also on Facebook, check out her page here.

Anmerkungen:
1. Vor allem bei
Shadow of the Hierophant
, z. B.
hier
2.
Out of the Tunnels Mouth
2009,
Beyond the Shrouded Horizon
2011,
Genesis Revisited II
2012,
Wolflight
2015,
The Night Siren
2017,
At the Edge of Light
2019,
Surrender of Silence
2021 (reviews
here
)
3.
Shadow
4.
Memory Lane
5. Look
here
6. A recommended Fantasy saga. Look
here
7. Chdck out a live version
here
8. Look
here
9. From the promkotional text.
Author: Thomas Jesse
Trabslation: Christian Gerhardts