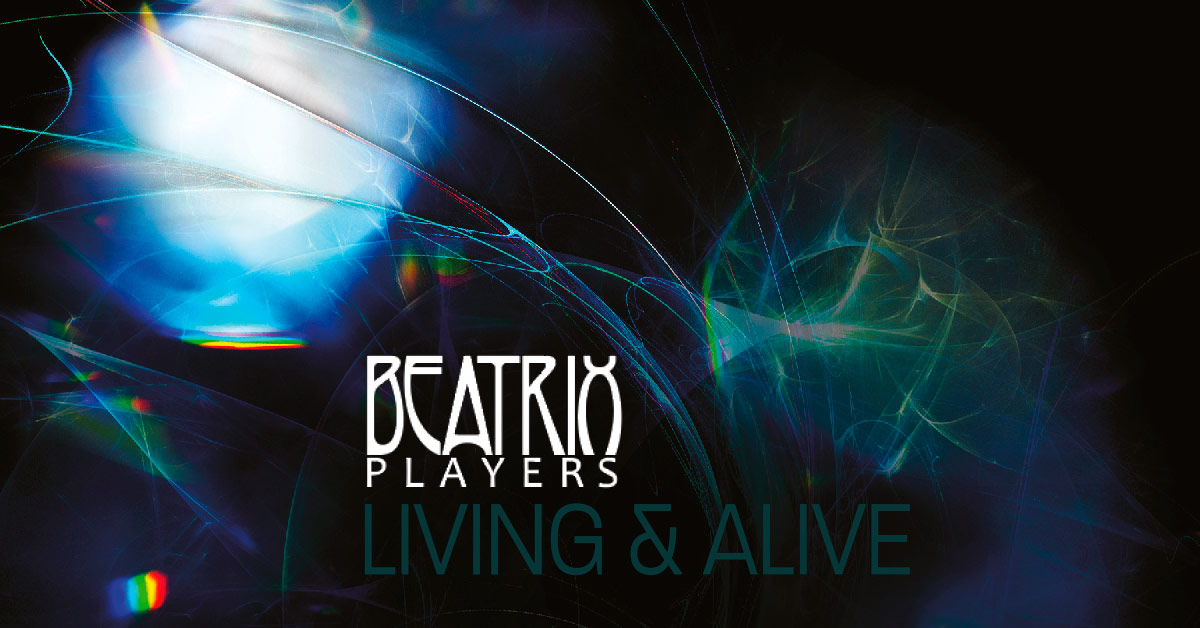 Beatrix Players: "Living & Alive" (2023)

Amy Birks, John Hackett and others appear on the new album

Preface:
When the reviewer was commissioned (how could you resist when two fan club bosses ask you to?) to write a few lines about Beatrix Players' new album, the first question was: what do they have to do with Genesis, except that Amy Birks had met Tony Banks at the 2019 Prog Awards? *1 Well, one connection is through Steve's brother John Hackett, who contributes flute as a new band member. The other is Steve's guitar playing on Amy Birks' song I Wish. *2 Also, Amy Birks sings on the excellent latest Rocking Horse Music Club album Circus Of Wire Dolls. *3 Good move, you gentlemen from genesis-news.com, for the reviewer likes John Hackett's music, and Amy Birks's too. *4
Background:
Amy Birks formed the band in 2006 with Tom Manning and Helena Dove. This line-up changed in 2013, when Manning and Dove left and the Australian Jess Kennedy (piano, vocals) and the Spaniard Amanda Alvarez (cello) joined. In 2017, the trio released its debut album, Magnified. *5 The dark chamber music mixture of pop, prog, folk and classical music makes the album resemble the Unthanks, Kate Bush or Tori Amos; it received good reviews. *6
However, the band broke up soon after. Amy Birks released solo albums in 2020 and 2022 before the Beatrix Players reunited, now in their third incarnation with Manning, Dove, John Hackett and others. *7
The band's name is probably not derived from the Middle Latin Beatrix, the happy one, but borrows from viatrix, the feminine form of Late Latin viator, the traveller. *8
The band wants to take the listeners on a musical journey that leads deep into human emotions.
Cover design and concept:
The title of the album, Living & Alive, programmatically describes the concept of the album. It explores the courage to be alive, to take life in your hands and to find yourself. *9
The front cover is adorned with a strangely distorted photo against a dark background. It looks as if light is reflected colorfully in a drop of water, or a diamond, or as if one were looking through a microscope into the tiny world of single cell organisms. The press release sheds some light on this, too, explaining that it is, in fact, an image of an artistically processed scan of a six-week-old human embryo. It symbolizes the uniqueness of human life, the speed of its development and the wonder with which it sets out on its path.
The rear is adorned with a black-and-white photograph of the band, trimmed to nostalgia. The eight musicians are sitting around a table playing poker. Various characters of the players, such as the card shark, the lucky guy, the poker face, are portrayed by the musicians. This alludes once more to the theme of the album. The characters reflect the diversity of human life..
Band:
In addition to the three original members Amy Birks (vocals), Helena Dove (composition) and Tom Manning (guitar), John Hackett (flute), Oliver Doy (guitar), Andrew Booker (drums), Jane Fenton (cello), Matthew Lumb (piano) and Kyle Welch (bass) have now joined the band. Individual musicians from the large line-up have played on Amy's solo albums. This is an asset in the production of the album, since they know Amy Birk's conception of music.
Songs:
A note in advance: unfortunately, I do not have the song lyrics, so I had to rely on my ears, those of a non-native speaker. I hope that I have grasped the meanings.
Snowflakes (6:02)
The quiet and measured piece begins with a flute solo, which is eventually accompanied by guitar and cello. The prelude is reminiscent of a sudden snowfall that starts slowly: first a few flakes float in the air before it becomes denser and denser. Amy's vocals kick in and set the rhythm for the gentle drums: Slow-Fox. The first song already shows that John's flute has a central role in the round of instruments. During the last minute and a half the piece picks up some speed, associations with Jethro Tull resound, Amy's choral singing recalls Kate Bush's first two albums. The finale with a piano solo returns to the familiar Beatrix Players sound.
Somebody's Elses Eyes (5:22)
Quietly, very quietly, cello and acoustic guitar intonate a chamber-musical, a melancholic piece about the way of life. Should one live so that one appears to be good in the eyes of one's fellow men? Is this a positive summary of a life: I have always seemed good in the eyes of others, but I have never been myself? The answer is: No - the protagonist doesn't want that. Some 4 minutes in John plays a wonderful flute solo that would enrich any Steve Hackett album and introduces a happy, relaxed end to the track with piano and acoustic guitar.

This Is Your Life (5:09)
Hey, the track starts with the typical Kate Bush acapella vocals, layering many voices and repetitively reproducing the title of the song. Though the song starts with a laid-back folky feel with cello and bass standing out, it shifts to quiet jazz rock at about minute 3:00 with a solo on electric guitar, caressing percussion and flute. We are not with Brand X, but with the Beatrix Players, and so the piece sounds a bit restrained during the final twenty seconds.
Starts Again (4:57)
A loose, cheerful pop song, a mixture of folk, Fleetwood Mac with musical splashes of color from Yes (guitar) and Jethro Tull (flute) follows. Amy sings liltingly with an eerie expansiveness in her voice. She combines Christine McVie, Emmylou Harris, Tory Amos with Kate Bush and yet remains herself. The danceable number is fun!
A Beautiful Lie (3:51)
The short piano ballad captivates with Amy's enchanting vocals and a very nice duet of flute and cello. Actually a typical Beatrix Player song, but lighter, warmer. This impression is created by John's flute playing.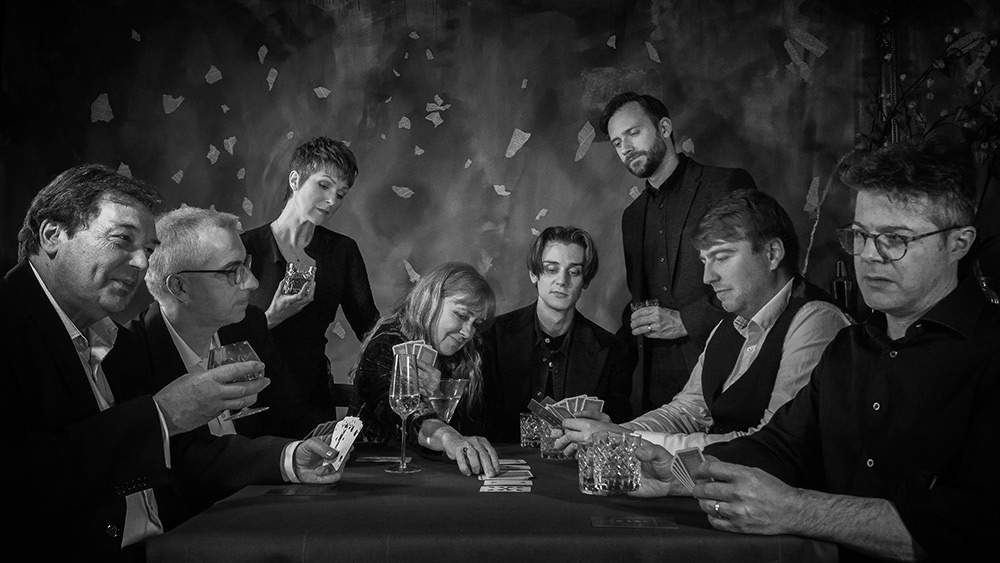 Overflow (4:11)
Piano, always piano, but how beautiful! A singing electric guitar, flute accents, drums drive the song forward. Amy sings touchingly about the attempt to break out of a life that runs in narrow, regular channels. From minute 3:00, all the instruments unite with Amy's vocals in an outburst of emotion.
Purgatory (3:38)
The purgatory through which the protagonist must pass in order to enter a new phase of life purified begins with restrained, quiet piano chords. Vocals and flute join in, until finally, after just under a minute, the band joins in and picks up the tempo. Sounds of a steel guitar can be heard, from minute 2:23 a solo on the electric guitar delights the listener. The song transitions into a nice, soft rocker with a West Coast feel. It moves away from the familiar Beatrix Players sound pattern.
You Can't Hit a Nail (5:27)
Like a ticking clock (passing of life time?) the piano intones a beautiful ballad with lightly driving drums and vocals. In the middle of the song, John shines with a stunning flute solo accompanied by a cello. Gorgeously melancholic, it switches to choral vocals. Amy sings heartbreakingly. The highlight of the album!
Free (4:04)
Vocals and acoustic guitar in a folky duet characterize the first minute. With the very beautiful chorus, the band starts and plays music reminiscent of American country rock with prog interludes free and airy. A great cello solo can be heard, the electric guitar does the honors. Yes, this is the flower power mood of the late sixties / early seventies, which goes well with the lyrics. It tells of freeing oneself from a relationship, of a period in life where one feels stuck, of constricting (political, too, perhaps?) circumstances.
Me I Am Me (5:30)
The last track of the album pleases the listener with a folky play of acoustic guitar and vocals. Amy proves her closeness to Kate Bush and sings about being oneself, finding oneself. After about two minutes it becomes more lively, an electric guitar solos, duels with flute playing, the cello sounds. Is that a bit of an ELO feeling? If you hoped for a bombastic, crashing finale you will be disappointed. The Beatrix Players remain true to themselves with rather sustained music.
All in all:
This album represents a further development in the band's sound. If Beatrix Players still amazed with their first album in 2017 that showed cleverly made rock/pop chamber music, they have now expand their spectrum by lengths by enlarging to an octet. They are now no longer reduced to vocals and piano, but also incorporate flute and guitar as lead instruments. This step is worthwhile, prevents a tiring effect of repetition and offers something for every music fan: the well-known chamber pop is expanded by jazz, prog, folk, country. A successful mixture of enchanting sounds. An album to listen to intensively, but also as background music while doing housework, etc. As before, Amy's voice, which does not "only" quote Kate Bush or Tori Amos, is in the foreground. Facets of a Loreena McKennitt, without their sweetness (the music is too exciting for that), or even a Christine McVie shine. Who would have thought that one is reminded here even of Fleetwood Mac, or also Jethro Tull. No, no, no plagiarism here! The Beatrix Players have created an independent, successful work. It is worth to lend it an ear and to dive into an enchanted garden of beautiful sounds, thoughtful lyrics and impressive vocals. At the end of the album you feel as one with the world. That's worth a lot, isn't it?

Author: Thomas Jesse
Living & Alive will be released on 22 September and is available on Bandcamp. It can also be purchased on vinyl and CD on their website here.

References:
1.
A nice photo
2. see
here
3. see
here
4. she had
gigs
with the John Hackett Band
5. listen
here
6. see
here
7.
All That I Am & All That I Was,
2020 /
In Our Souls
, 2022 Availabble via
Bandcamp
8. see
here
and
here
9. from the album press sheet.