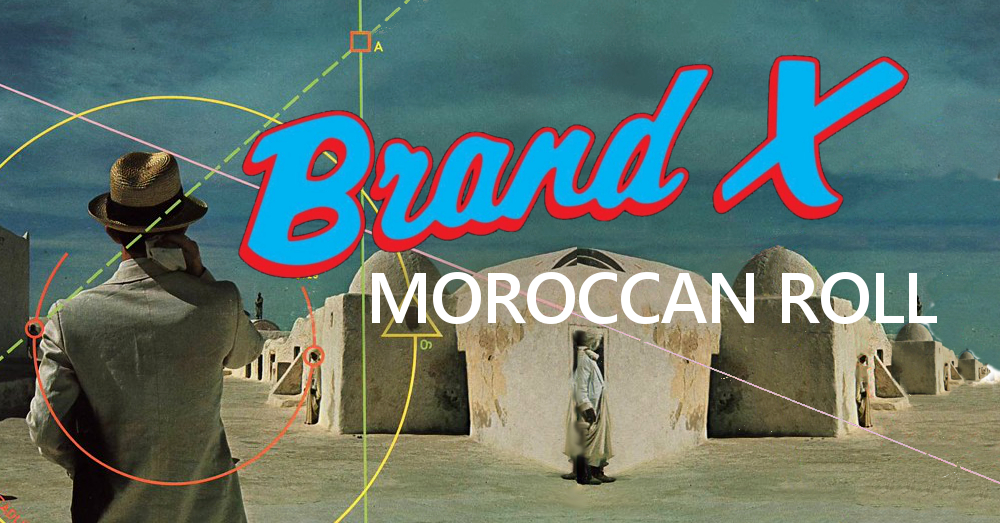 Brand X - Moroccan Roll (1977)
Brand X's second album came out in 1977. The title is, supposedly, a garbled version of "more rock 'n roll" and does not refer to anything from Morocco.

As on their debut album Unorthodox Behaviour we hear Goodsall on guitars and the sitar, Lumley on keyboards, Jones unmistakably on bass and Collins on the drums. Collins also sings on the first track. There is no saxophone on this album, but the musicians were supported by Morris Pert who added mainly percussion. According to the liner notes, amongst the other things he hit to create noises were the QE2, Idi Amin and undiscovered parts of Scotland.
The album has nine tracks with a total playtime of 49:30. It was released by the Genesis label Charisma.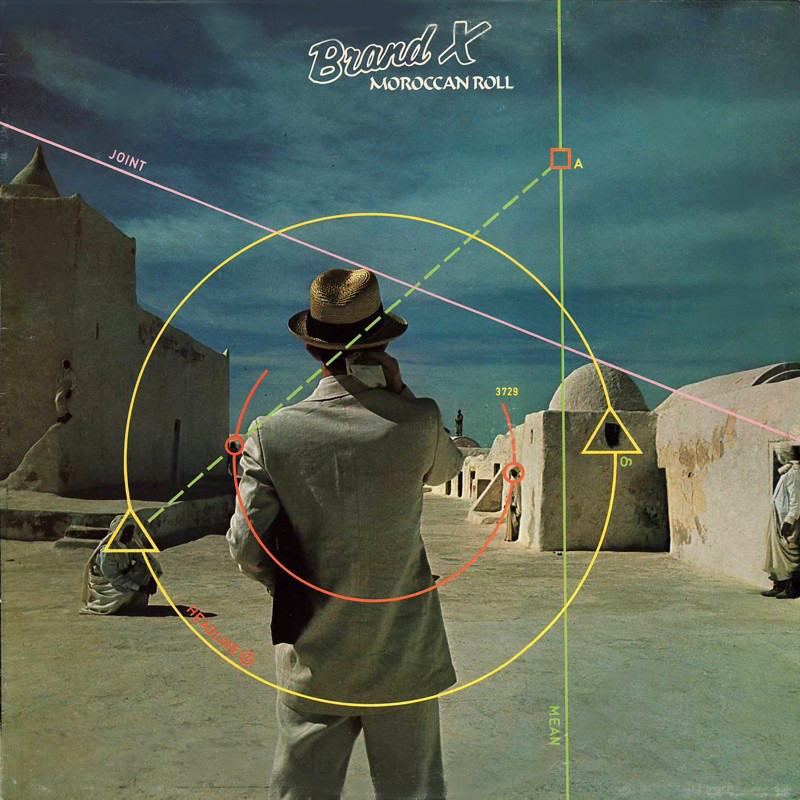 The opening song, Sun In The Night, was written by John Goodsall. It sounds neither like Morocco nor like more rock'n roll; you rather feel you are in an ashram in India with clouds of hashish wafting around. There is a sitar playing, and after the initial chords we hear Collins's familiar voice sing something Indian (in fact, Sanskrit) … The intensity grows with repetition when strong drums and supporting bass sounds come in. A peculiar yet fascinating piece of music.
The second piece moves in a completely different direction musically. Why Should I Lend You Mine (When You've Broken Yours Off Already)... is a Collins composition. A drum crescendo is contrasted with weird keyboards and small bits of guitar and bass sounds. Slowly the typical Collins drum sound emerges, and you recognize it mainly in the toms. This is another jazz fusion track, and it sounds like a jam. In the middle it suddenly turns slow and quiet: A few bass notes, some e-piano and guitar sounds that seem to come from far away – it sounds like easy listening music by the likes of James Last for a moment. The impression is brushed away by virtuoso bass and clean drumming. The track rises from the calm and breaks into a furioso finale before it turns to calm sounds from the Fender Rhodes. You get the strong impression that the musicians have inhaled too much dope from the first track as the tracks fades out very, very slowly ...
… and continues in the third track …Maybe I'll Lend You Mine After All, which is little more than a moody reprise of the previous track (also written by Collins). You can spot the first indications of how Phil would later go about arranging some of his songs, The Roof Is Leaking, for example.
Thundering drums throw the listener into the fourth track, Hate Zone. It is a very hard, grooving tracks that clearly moves towards jazz rock. This piece, like the first, was written by John Goodsall. The guitars are not as strong here, though, it sounds more like a jam session.
The fifth track is very short at 1:33 and full of various keyboard sounds. It was written by the keyboarder, Robin Lumley, which is perhaps an explanation. It seems to be a kind of filler to fill up the first half of the record.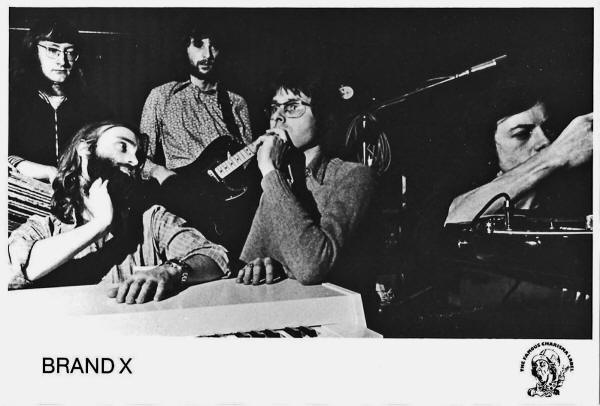 Disco Suicide (another Lumley track) is at 7:55 one of the longer tracks on the album. Lumley proves a good pianist who is well able to handle opulent piano melodies. The track is divided into faster and calmer parts that sound different every time they are repeated. It seems a bit like a musical short movie with different scenes. The finale is full of pomp and pathos and choir vocals.
Orbits is a filler by Percy Jones. It is 1:38 long. The only instrument on this track is the bass and various effects.
The jam session character of Malaga Virgen makes this track come closest to the material from Unorthodox Behaviour. According to the credits it was written by "bass man" Percy Jones, so it is not a jam. The bass guitar is the dominant instrument in this 8:28 long track, and Jones really gets to shine. The track also includes a long keyboard solo. As usual with Brand X, there is no clear structure and no sustained tempo. The track switches between fast and slow, loud and quiet parts. Just when you think the track was going to slowly drip away they all go berserk again and bring the track to a rather abrupt ending.
The album ends with Macrocosm, which was written by Goodsall again. There is a Far East flavor to this track (as to the opening track). Several layers of guitars indicate impressively that the guitarist wrote the track. Macrocosm and the whole album end in a cacophony of instruments, applause and a crashing airplane.
Tracklisting:
Sun in the Night

(Goodsall) (4:25)
Why Should I Lend You Mine (When You've Broken Yours Off Already)...

(Collins) (11:16)
...Maybe I'll Lend You Mine After All

(Collins) (2:10)
Hate Zone

(Goodsall) (4:41)
Collapsar

(Lumley) (1:33)
Disco Suicide

(Lumley) (7:55)
Orbits

(Jones) (1:38)
Malaga Virgen

(Jones) (8:28)
Macrocosm

(Goodsall) (7:24)
Recorded in December 1976 / January 1977 at Trident Studios, London
Produced by Dennis Mackay
Musicians: John Goodsall, Percy Jones, Robin Lumley, Phil Collins, Morris Pert
Release date: 22. April 1977 – Brand X Moroccan Roll (UK LP/Charisma CAS 1117)
Highest charts position in 1977: #37 in the UK album charts


This album, unlike its predecessor, credits the tracks to individual authors. It is not obviously not as jam session-based as the debut album. Far East sounds play a more important role, and sometimes it seems that the tracks were influenced by the use of certain herbs.
Though not as strong and consistent as the debut album, Moroccan Roll is good fun to listen to in one go. It contains some very interesting musical ideas, and, very slowly, vocals creep into the mainly instrumental music.

by Markus Scharpey, English by Martin Klinkhardt

Further reading: