Interview with Peter Nicholls (IQ)
Aschaffenburg, 10th February 2018
IQ, founded in 1981, is a British band that ranks among the top acts of neo-progressive rock. They have no direct links with Genesis or Genesis-related solo projects, unlike Nick D'Virgilio (Spock's Beard) or Ian Mosley (Marillion). This is why we would like to draw your attention to this band, all the more because their latest studio album, The Road Of Bones, has been very successful. We met IQ singer Peter Nicholls shortly before their concert in Aschaffenburg, Germany, on 10 February and asked him to answer some questions. Some of those have a bearing on Genesis.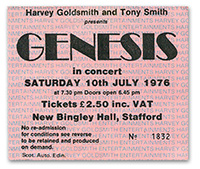 it: It's said that the story of IQ began at a Genesis concert. How did this happen?
PN: On the Trick Of The Tail tour in 1976 when I had gone to Bingley Hall in Stafford I met Mike [Holmes - IQ's guitarist] and Niall [Hayden - now IQ stage crew member]. I was living in the North of England, they were living in the South of England and we didn't known each other. We were just sitting outside the hall waiting for the doors to open. I don't even remember how we got talking. Do you remember? [to Niall who just walked along]
Niall: You saw that we had some album covers signed by members of the band.
PN: I saw your Lamb cover.
Niall: And Mike had a copy of I Know What I Like signed by Peter Gabriel and you spotted it.
PN: So, this all started by chance really. We got talking and swapped addresses and started writing to each other. In the process of one letter I said "I am a singer, let's form a band", which was completely impracticable because we lived about 300 miles apart. I wasn't a singer at all, but I just wanted to be because I had seen The Lamb Lies Down the previous year and that had blown my mind. I thought, that's what I wanted to do. And to this day The Lamb is still my favourite album of all time. We started communicating and then I would go down to Southampton to visit Mike and Niall. They had a band where Mike played guitar and Niall played drums. That devoloped into The Lens which was the precursor to IQ. So, I was a member of The Lens, which was an instrumental band ... you can see the problem. [laughs] And I had absolutely zero confidence in terms of singing. I would go to rehearsals and not sing a note because I was too scared and thought that these guys were really good. In the end the band started doing gigs instrumentally and I left. But I put a band together up in Manchester. We did one concert and Mike and Niall came to see me do this gig. Six months before this The Lens had folded and IQ had started and they had moved from Southampton to London. In those days if you wanted to be a successful band you had to be in London. The next day they asked me if I wanted to join IQ. And eight days later I did my first gig with IQ. [laughs] All happened very quickly and I have no memory now of rehearsing for that show. To be fair a lot of music by IQ didn't have a great deal of vocals anyhow, so, about three songs that I sang.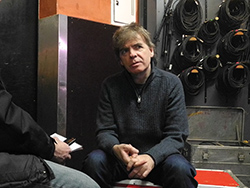 it: How much influence had the music of Genesis on IQ in those early days and how much does it still have now?
PN: Less now, but certainly in the early days. Everbody in the band had different musical tastes but the Genesis area was the place where we all met. When we started out in the early 80s there was a sort of progressive rock revival and every band seemed to be compared to certain bands. Some were compared to Genesis, some were compared to Yes and some were compared to ELP. When we started we got the Genesis comparisons all the time and I understood it because the Genesis influences were there and pretty clear. But I think very quickly we established our own sound. On our first album, Tales From The Lush Attic, there was an obvious similarity but by the time we did our second album, The Wake, we sounded like IQ.

it: You also played certain Genesis tracks live.
PN: Yeah, tongue-in-cheek we did Watcher Of The Skies, we did a bit of a medley, which was Cinema Show, Robbery, Assault And Battery and the end of The Musical Box. And we also did Lilywhite Lilith a couple of times ... very badly. [laughs] When we did the Genesis covers, it was only very occasional and it was always as a kind of joke thing because we were always getting those comparisons and so we thought "Well, right, let's do it." [laughs]
it: On the most recent IQ release, Tales From A Dark Christmas, the song Merry Christmas Everybody starts with a quotation of Apocalypse In 9/8.
PN: That's because the opening chords of Merry Chistmas are the same or similar to the chords in Apocalypse In 9/8. Again it was a little kind of in-joke.

it: Are there any connections or collaborations between band members of IQ and Genesis?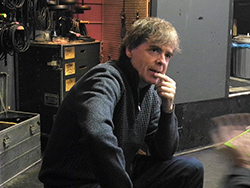 PN: In the late 80s, when I wasn't in the band, they did a tour with Mike & The Mechanics. But beyond this ... no, there's no connection with Genesis. Well, we've met them all. I used to hang around and get albums signed and all that stuff. At the Wind & Wuthering tour I stood around the stage door and got them sign all the albums. It's a big thrill to meet some of your heroes. They were all approachable and friendly. Peter Gabriel is kind of a big hero and he would sign anything you put in front of him. That was an important lesson for me to see how to be with people. People turn up now with piles of IQ stuff. They got everything and you sign all this. Of course it's not hard to be nice to somebody who thinks what you do is good. I am always very grateful that people support what we do and buy everything.
it: What is your opinion about the development of Genesis from the 1970s until now?
PN: I think it's a difficult one for them. Had they stayed the same they would have been criticised for not changing. And then when they did change they were criticised for changing. No band can stay the same. The audience changes, you're not the same person that you were 30 years ago and they aren't. The music developed the way they always did ... they were going to the rehearsal studio with nothing and would start writing and jamming and improvising and see what came out. And that means that what comes out is natural and organic. I think when Steve left that was sort of the last kind of magical time of Genesis. And I still think Duke was the last great tour. Phil's drumming was amazing at that time. He was a spectacular drummer, a very musical drummer. I still followed everything until the bitter end. I saw them at the last tour [Turn It On Again, 2007] and it felt a little perfunctory perhaps, but it was still Genesis. Unfortunatelly the key of a lot of the songs had been dropped. I understand why they did that, but it takes something away. And then I saw Phil last year at the Royal Albert Hall and obviously he didn't play the kit at all and Nick his son was playing and he was amazing. But Phil just sat down the whole time. Everybody dreams of a reunion and Phil says "I'll do it when I just can play the drums." Well, those days are gone now and it's a great shame. So, the Genesis story is finished I think. Steve still seems to be kind of the custodian of that early era. And also The Musical Box is doing their version of Genesis, so there's obviously a lot of interest in that early era of Genesis.
it: How do you see the development of IQ?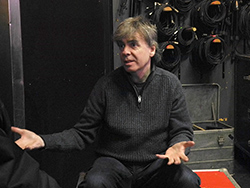 PN: In terms of the quality of what we do we're always trying to maintain an upward curve. And I think we have done that. Subterranea was a massive project for us and it did take us to a different place, it pushed us forward. And I think musically each album since then has kind of still climbed. The Road Of Bones was probably our best selling album. I think we're in a place now where people are kind of happy and grateful that we are still doing new stuff. We're not standing on stage just playing stuff from 30 years ago. To me that's the crucial point about the band now. We're still moving forward, we're writing new things, we're still pushing ourselves. It takes us a long time because we have high standards.

it: The Road Of Bones was indeed very successful. It had some very nice sound effects too. How will the next IQ studio album be like with regard to the music and instrumentation?
PN: There's a kind of traditional instrumentation in progressive music: mellotron, bass pedals and all that. We have a sound that we worked hard to establish and that's the IQ sound. We embraced that and we keep that. But we also do want to keep moving forward. Every time I hear an album by somebody that I really like I want to hear what's new. What's changed since the last album? Is this album a progression from the previous album? So, I'm always looking for that and with what we do as well. I want people to hear a new IQ album and be surprised by ... not disappointed that it's completely different. It shouldn't be completely different but it should be different enough and surprising enough and challenging enough to be worthwhile.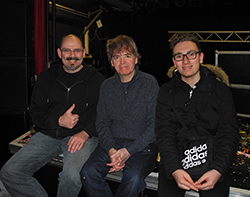 it: Did the personal changes have an influence on The Road Of Bones?
PN: Certainly. When you look at The Road Of Bones compared with the album before, with Frequency, there are three people on this album that were not on the previous. The two band members that carried over were Mike and myself. So, you got three new people there and that brings a new influence, a new vibe to the band. The band is only ever a summary of the people in the band, where they are at at that time. If we would record that album now, it would be different. And a new album will be different again. I think that's going to be a hard album to follow, but all the albums have been hard albums to follow. People said "How you gonna follow Subterranea?" ... well, we'll find a way. [laughs] What we do is not always to everybody's taste maybe. That's the nature of music. It's subjective and you like it or you don't like it.
it: What will the next album be like?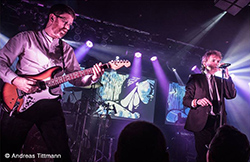 PN: I don't know. We are working on it at the moment. Mike has been very busy writing stuff and there's a lot of ideas. That's part of the joy for me. It's like I don't know what an album will be like. It's always a lot of work and it's always the most important thing for me, because when we don't do gigs anymore and the band has stopped, the albums will still remain. That's what we will be remembered by, so it's important that each album is the strongest that it can be.
it: When will this be out?
PN: I think we probably start recording maybe in the autumn, so early part of next year I would say. Don't quote me on that. [laughs] It's like Peter Gabriel saying that an album will be out by Christmas, but which Christmas? It's traditonally about five years between albums for us.

it: Thank you very much for the interview.
PN: You're welcome.
We hope this interview has kindled an interest in IQ in those who do not know them. More on IQ on their official Website or on Facebook.
Their album The Road Of Bones is available at amazon-uk, amazon-fr and iTunes.
The 25th anniversary edition of Ever is available on amazon-uk, amazon-de and iTunes

Interview: Helmut Janisch
Photos: Vincent Janisch
Live-photo: Andreas Tittmann
Transcript: Helmut Janisch / Martin Klinkhardt
---