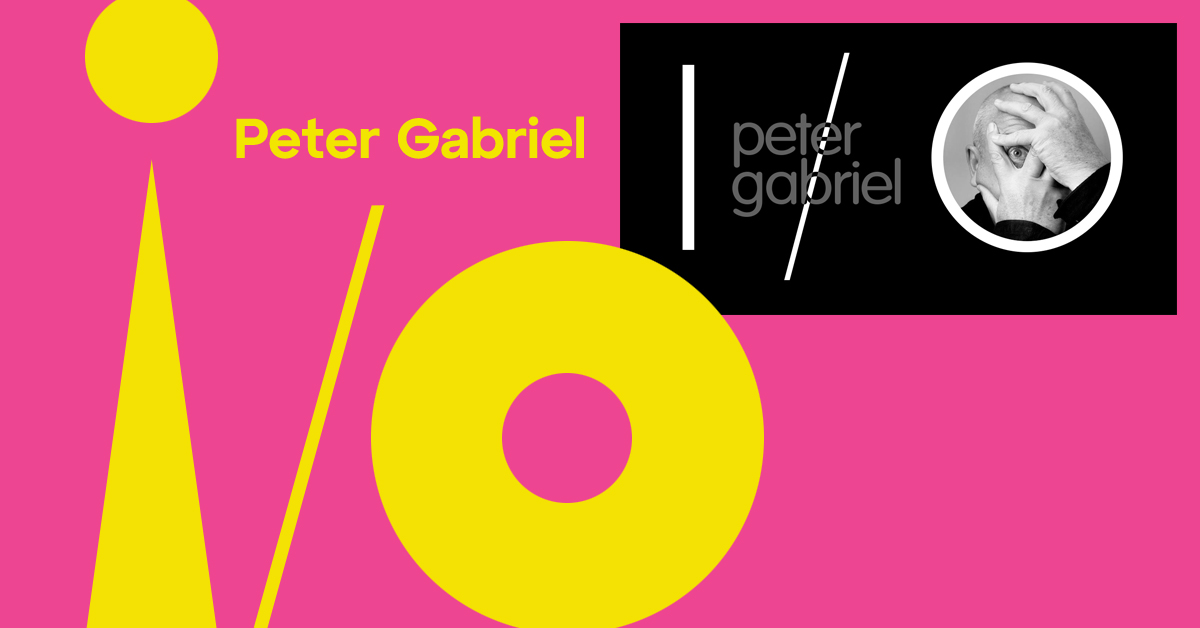 Peter Gabriel: The Making of "i/o"
... news and updates about a long new album process

In August 2002 Peter Gabriel announced that he would be releasing another new album soon after UP. He mentioned that this work could come out some 18 months after UP. What followed were a lenthy two-year Growing Up tour and a HIT album. At the end of 2005 there were even some hints at a possible Genesis reunion. And when Genesis toured without Gabriel in 2007, some expected a new Gabriel album soon. Gabriel himself went on tour as well and more or less toured every year until 2016 - without a new album. The story is neverending, but might be ending in 2023. We will keep adding the most recent news of the development of the album – however long that will take …
Additional information about Peter Gabriel's involvement in various songs can also be found in our Peter Gabriel Recording Compendium.
First, a little FAQ
1) Will there be a physical album?
Yes!
2) When will the complete album be released?
Peter has decided to release the track on each full moon in 2023, that makes 13 full moons. It's unlikely the album will be released before this cycle is completed. There is no info how many tracks the final album version will have, but Peter also mentioned there might be a full moon surplus and it's also possible he will continue to release tracks next year, after the final selection of tracks for the album has been decided.

3) What tracks will be on the album?
Tough to say. We have 13 full moons this year and Peter said he may continue next year as there is a surplus of tracks. 16-18 Tracks have been recorded. We can also expect that i/o will have something like 12 tracks. Those are the candidates for i/o:
Panopticom
The Court
Playing For Time
i/o
Four Kinds Of Horses
Road To Joy
So Much
And Still
Live And Let Live
This Is Home
Love Can Heal
Olive Tree
What Lies Ahead
Please note: The order of tracks after Four Kinds Of Horses is rather random. Although we think Road To Joy is next, we do not know the schedule.

Another new track could be Put The Bucket Down, which is listed in Copyright databases. There's no further info about this one at the moment.

There are two other tracks that are being discussed: Lost And Found and Path Of Fortune. The first one was mentioned by the interviewer in the Uncut special earlier this year (and was added o copyright databases a while ago) and Path Of Fortune was found on sheet music in one of the full moon videos.

And now, the most recent developments:

Another new song played (31 May 2023)
Peter has premiered another new track in Copenhagen yesterday. It's called So Much and is a song Peter has been talking about in interviews over the last few years. The artist who is responsible for the visuals for this track was in the audience yesterday. We can assume this track will be part of the full moon cycle.
Tour starts, lots of new songs revealed (20 May 2023)
Peter has started his tour in Krakow and played Verona today. The band has performed 12 (!) new songs, so we saw 7 tracks that have not been released yet: Olive Tree, This Is Home, Love Can Heal, Road To Joy, And Still, What Lies Ahead and Live And Let Live. Also, on one of Tony Levin's photo, we can see the track So Much as an option. Whether or not all tracks will be on the final album remains unclear.

Four Kinds Of Horses released and tour rehearsals (6 May 2023)
The latest track has been released and is called Four Kinds Of Horses. It was already mentioned in the Uncut feature a couple of weeks ago and once again it features Brian Eno. In the meantime Peter's accompanying video (Standard and deep dive) also give a little insight in the new stage show, as the band is now rehearsing with the full stage production.

Tracks for i/o - what we know right now (7 April 2023)
The new Full Moon video for i/o reveals another detai. Peter mentions that the same choir who sings on the track i/o will also appear on a track called Live And Let Live, which will be released later. There are more tracks we know about: Four Kinds Of Horses was mentioned in the Uncut interview, then Love Can Heal will also be on the album (the track was already played live during the Rock Paper Scissors Tour. Another track that is being rumored is Path of Furtune - a screenshot was curculating in social media from the Playing For Time Full Moon video showing the track title on a piece of sheet music. Besides that, we also know that Peter has rehearsed the tracks Rock Paper Scissors and Radio Eeveryone for his last tour with Sting. Whether or not those tracks are still on the 16-18 songs list for i/o is unknown.
A track called Lost And Found is also being listed as one of the potential tracks for i/o. This one was mentioned by the interviewer in the Uncut interview. Peter then replied and talked about Love Can Heal, so we assume the interviewer said that by mistake.

So, these are the tracks that are defiitely party of the i/o project (running order after i/o is aphabetical and has nothing to do with the release schedule):
Panopticom
The Court
Playing For Time
i/o
Four Kinds Of Horses
Live And Let Live
Love Can Heal
i/o (the track) released - confusion about album release date (6 April 2023)
The album's title track was released today (see our special page here). On Peter's bandcamp page, the release date for i/o is listed as 4 June 2023. This is NOT the album's release date. 4 June is one of the next full moons and we can assume that the track i/o was originally scheduled for June and then plans were changed. So, no news here.

i/o gets title track (4 April 2023)
This is a first! His new album will get a proper title track. i/o is the next track of his full moon release series and comes 6 April. See full press release here.

Band version of Playing For Time (29 March 2023)
Subscribers of his Full Moon Club on Bandcamp have found a nice band version of Playing For Time in their collection today. Previous extras included the full London 2013 show, a pre-band demo of The Court and a band tracking version of Panopticom. Also, the long lost soundtrack piece Undercurrents had been made available to Bandcamp subscribers. The tracks can be heard online, but can also be downloaded in high-res format.

Peter Gabriel talks about i/o in Uncut Feature (March 2023)
In the May issue of the British UNCUT magazine, Peter Gabriel gives some insights into his plans. Besides another track being mentioned (Four Kinds Of Horses) it's notable that Gabriel has more tracks for his full moon releases than will end up on the record. The process of full moon releases will last throughout the year. The conclusion is that the album won't be released before the tracks have been released via the full moon updates. Peter also indicates that he might continue in 2024 with additional tracks that won't be on i/o.
other than that - we learn the Love Can Heal, played live in 2016, will be on i/o, but Why Don't You Show Yourself (played live 2012-2014) won't. More details here.

Playing For Time is the third track from i/o! (6 March 2023)
The third track is something we are famliar with. Playing For Time is actually the finished version of O But / Daddy Long Legs, that Peter used to play as an opener during the Back To Front shows 2012-2014. More info here.

The art for i/o - special (February 2023)
For those of you interested in the art used for the individual tracks on i/o, we have compiled a new article as part of our i/o website special.

The Court is the second track from i/o! (4 February 2023)
This track was mentioned by Manu Katché in interview and it is the second track to be revealed from the i/o sessions / project. The Dark-Side Mix comes first. More info here.

In-Side ATMOS Mix (January 28, 2023)
A third mix of Panopticom was released on 28 January via Apple Music and Amazon Music only. The In-Side Mix is another addition. This is a "3D" Dolby Immersive version, which, however, can only be streamed on the internet via the "Atmos system" of Apple Music or Amazon Music. The "In-Side Mixes" are each made by the German Hans-Martin Buff.
Confusingly, the download options on Amazon also initially lead to you receiving the Dark-Side Mix...
Neverthelss this hints the possibility for a full surround version of the album.

Full Moon Club revival (January 21, 2023)
Peter has announced that the full moon club reappears on Bandcamp, with extra tracks for subscribers. Everybody who subscribes will receive some goodies automaticalls, then all Bright-Side and Dark-Side mixes as well es some extras like alternate versions or demos of the tracks. See Peter's Bandcamp site to learn more.

The cost of the subscription is that "for a cup of coffee": £3 per month.

Full Moon and New Moon release cycles (January 21, 2023)
It looks like the release plan for i/o is a bit more complicated than expected. Peter has announced a full moon release cycle with new tracks every full moon - and an alternate mix will appear a fortnight later at new moon. These mixes are called "Bright-Side Mix" and "Dark-Side Mix", for which two renowned sound engineers are responsible: Mark 'Spike' Stent for the bright and Tchad Blake for the dark versions. Which mix comes out at which phase of the moon is to be left open.
Today, Peter has released the Dark-Side Mix of Panopticom, see here for details.
Release comes track-by-track (6 January 2023)
To everyone's amazement, Gabriel does not announce a release date for the new album in January's Full Moon Update, but that from now on a track will be released as a download for every full moon. The album will be put together month by month "like a Lego construction set".
How long that will take, how many tracks i/o will have, whether there will also be a physical record - all that remains unanswered. Just like what actually motivated Gabriel to come up with the idea.
Of course, all kinds of speculations come up immediately - but the only really reliable information is the statement about the monthly release of individual tracks.
Even for us in the GNC editorial team are also dismissing all our previous plans to review the release of the album. But if it really remains the case that there will now be single tracks to review every month, we will also do that in updates.
Finally, it should be mentioned that the track releases for i/o will again be accompanied by a piece of art. As was the case with US (and similarly with Up), Peter and his team have brought together works by various artists that are related to the respective track.

First single tomorrow (January 5, 2023)
In New Zealand at noon it was already 6th January and the new single Panopticom was available. It is apparently a different mix than the album version. From midnight you can hear and download the song everywhere. See also our news article with full credits here.

First snippets of new material in new Full Moon video (8 December 2022)
Peter has published a new full moon video today. In this video, you can hear snippets from one of the new tracks:

i/o The Tour announced - album later (8 November 2022)

Peter Gabriel has announced a European tour for May and June. North American dates will follow in late summer and autumn. The image shows a sample of ticket designs in Germany and Switzerland.

The new album title has also been revealed and it's at least a little surprise it's still i/o. There is no release date yet, but it comes closer. It's likely that this article, which has been running and been updated for more than 20 years, will finally be concluded in the forseeable future.

New design fragments - Full Moon announcement? (7 November 2022)


First there were hints in his newsletter that an announcement would follow at the full moon - then there were first snippets of the possible album design (on his website and social media) later that evening, which indeed suggests that his new album really is called I/O.

Peter promotes his newsletter (2 November 2022)
Via his social media channels, Peter has promoted his newsletter - possibly for specials about his new album in the foreseeable future? A glimpse of a new design has also been revealed and that is ... quite special.

New album update (October 2022)
In the frame of the EYE-D book presentation in New York City, Peter Gabriel confirmed his new album is reaching completion and news should be coming soon. That looks like we will get something in November and the full album early next year (this is speculation!).
UPDATE: Here is an article about that.

Still no further album news (8th October 2022)
It has been quiet since July (despite several older articles being shared on social media over and over again). Peter said this summer that a final recording session was planned for September, so this should be done right now. A release date for the new studio album has not been confirmed yet, but it seems likely it will be out in early 2023.
King Crimson manager hints Levin's tour plans with Gabriel (July 2022)
On Facebook, King Crimson's Manager revealed that Tony Levin will be occupied with touring with Peter Gabriel for most of 2023 and 2024. A screenshot of his post can be found here.

Peter Gabriel: Silver Clef Awards interview (July 2022)
In a little interview in the frame of the Silver Clef Award show, Peter Gabriel said that final touches for the new album are afoot (September, apparently ...)
Manu Katche: Tour starts in Europe in May (June 2022)
In an interview with L'Illustré, Katché confirms that the Gabriel tour he mentioned back in March will start in Europe in May 2023 before heading to the US.
Manu Katche confirms tour plans, new album still 2022? (March 2022)
Peter Gabriel's drummer Manu Katché has confirmed in an interview that the album will still be released at the end of 2022. In addition, a world tour is planned for 2023. This complements the statements of Tony Levin a few weeks earlier, who spoke of intensive work on the new songs.
Peter Gabriel: new album is "closer than you think" (October 2021)

Peter has told Italian magazine SPECCHIO that a new album is closer than we think. Read the full details here.

Peter Gabriel reveals work on new track: So Much(March 2020)

Peter Gabriel has reacted to an article in The Times and has revealed he is currently working on a song about getting older, called So Much. Read the full story in our news item here.

BBC Radio 6 interview - 11th April 2019
To promote his new film song LP Rated PG (see here), Peter Gabriel was interviewed on BBC Radio 6, which was aired yesterday.
Peter said about taking a longer break in recent years: "...my wife was ill for a while, so I'd slowed down and being a carer a good while, but now I'm very happy to say she's doing very well, so I'm getting back into music making and really loving it."
About the kind of stuff he is currently working on: "...and there's is about 50 ideas I'm working on - working in my usual snails pace – but there will be something coming out soon and all this time I had been working on new stuff so there should be ... I mean there is stuff that comes through for films, like the Snowden song and then you have Down To Earth, and there was a film about religion etc."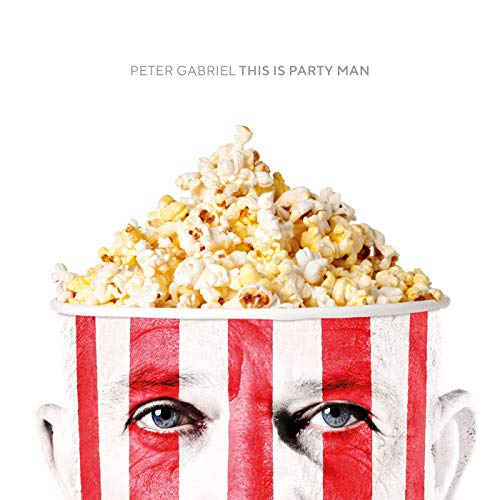 About a new record: "... I'm hoping to get the songs nailed by the end of this year and then open it up to the band and get a record out."
About the style and atmosphere of the new material: "Well I think that hose two songs, Show Yourself and the Snowden one, are slightly over direction but there's a wide bunch in there, so it depends on what makes the final cut. And I'm also trying to do some simple piano versions of things which I don't know being enough to make a whole record or not, but that's something I'm looking at."
In the meantime, This Is Party Man was released as a digital single, available on platforms such as iTunes or amazonUK.
Rated PG - film songs on one LP - February 2019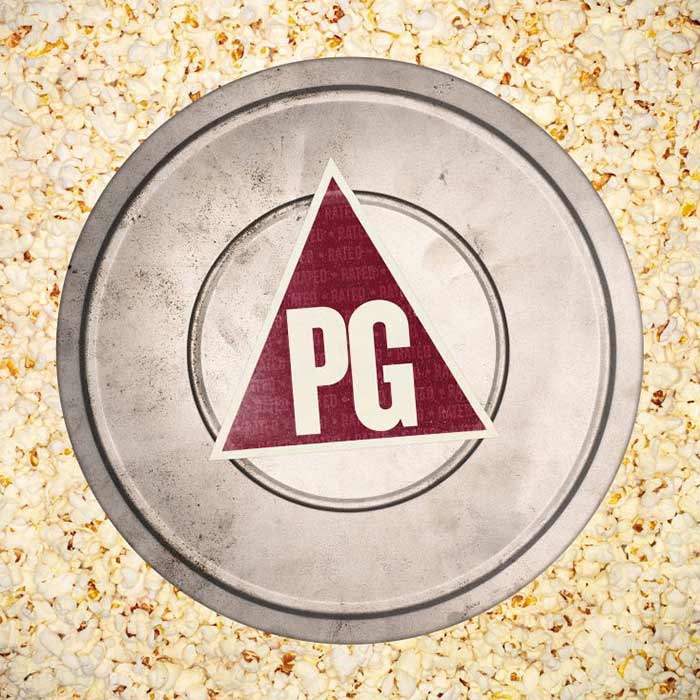 While we are still waiting for a new album to be announced, Peter has announced that he will be contributing a special release for the Record Store Day 2019 on 13th April. Rated PG is a collection of 10 film songs - some of them are unreleased, some will come in different versions and some of them have been available on soundtracks already. The LP will be a 12" Picture Disc, but obviously Peter will also offer a High Resolution Download. There are no plans for a CD release at this point. Check our Rated PG info page for more info.
Possible new album tracks - 25th June 2018

Ok, let's check what could be on the new album:
There are several tracks that were discussed in the past (see right collum), but most of them have most likely been taken off the list over time. Curtains was used for a video game, Courage was released as a digital single, so was I'm Amazing. Bol and Why Don't You Show Yourself were both used for films, but were not released on the soundtracks. These tracks may still be on the list (I Grieve was also on UP, despite its inclusion on the City Of Angels soundtrack years earlier), but we think it's not very realistic to expect them to be included on the new album. Same applies to The Veil and even Down To Earth.
So, what do we have? Peter performed Love Can Heal on the Rock Paper Scissors Tour, they also rehearsed the track Rock Paper Scissors and another one, Radio Everyone. All three will most likely be on the album. Another track, Here Comes Love, was revealed by the man himself a few years ago, but that could also be a working title, maybe for Love Can Heal? We don't know.
In 2014, Peter spoke about an organic dance record, which would make the inclusion of Love Can Heal less likely, as it is a ballad / slow track.
Then there are tracks like Baby Man, Daddy Long Legs and What Lies Ahead, performed live during previous tours. Another track, Birds, was rehearsed at least once during the 2014 tour. Then again, he recorded a version of John Lennon's Imagine which also hasn't been released yet. Thinking even further, he also got some OVO-tracks rerecorded as "real" Peter Gabriel tracks somewhere in his archives. And then there are Animal Nation (released on The Wild Thornberrys soundtrack in 2002) and Nocturnals (unreleased) from the UP sessions ...

Plenty of stuff to be discussed ...
Peter Gabriel hints finishing touches are being made for new album - 3rd March 2018

On his Facebook page, Peter Gabriel hints that his now album may finally be complete. "New album comping" it says ... "Comping" is usually a term for final mixing / editing stages. Let's hope there'll be something soon
Peter Gabriel releases new track The Veil - 8th September 2016

One of the tracks on the rehearsal list of the recent tour, The Veil, will be released digitally tomorrow. The track appears in the movie Snowden but is not part of the soundtrack.

Four new tracks rehearsed? - August 2016

It looks like Peter Gabriel has rehearsed four new tracks for the Rock Paper Scissors tour with Sting. The tour programme indicates that besides Love Can Heal, which was played every night, Peter also rehearsed the tracks The Veil, Radio Everywhere and Rock Paper Scissors. All tracks could be possible candidates for I/O - or whatever it will be called.

Peter Gabriel releases new song I'm Amazing - 17th June 2016

Peter Gabriel has caused quite an excitement when posting a short promo video without sound on 16th June 2016. Later that day, it became clear it is not the start of a campaign for his new album, but a release of a new song called I'm Amazing, which was inspired by the life and struggles of Muhammad Ali and Peter thought it was an appropriate time to release it, since the track was written and recorded years ago. Details can be found here. It's not very likely the track will appear on the new album - but who knows ...
A new track called Here Comes Love? - 28th October 2014
Today, Peter Gabriel has revealed a little detail on his Facebook page. The posting contains information about him being back in the studio, but more interestingly, a track name is revealed. Here Comes Love might be a song for the new album. At the same time, it indicates he was working on "version 18" of that song. So ...
Gabriel hints new album might not be called I/O - October 2014

In a recent interview with the american Rolling Stone magazine, Peter Gabriel revealed interesting stuff about his new album. It looks like he is working on "happy stuff" and recently he wrote songs that might end up on an "organic dance record". When asked if that was for I/O, he said he wasn't sure it will still be called I/O. On the other hand, since he just wrote new songs, that "go in the right direction", it looks like the whole I/O album is in question and he may be working on something else instead. But, in case of Peter, you never know until September ...
New interview about I/O- December 2013

Not only , but who cares? At the moment, there are 20 songs that Peter considers for I/O, he also wants to write further songs after christmas. Also, he'd like to rearrange some of the tracks already written. And when will I/O come out? ... this time it's March - no year has been mentioned. The source for this information is available in German here.

Rumours, rumours ... - September 2013

He's on tour and so more rumours appear. Further shows are planned for 2014 and some say there will also be a new rock album in 2014. An interesting detail: It looks like Peter is planning to release the So-outtake Courage as a single later this year. And he may have been working on that track as well.
Peter mentions I/O in Rolling Stone interview – September 2012

Shortly before they start rehearsing for the Back To Front tour 2012, Peter was interviewed by american Rolling Stone magazine. Peter mentiones I/O and confirmes that the title is still there and that it could be still called I/O. Nevertheless, a release has been put back at least until 2014, since Peter will take a year off in 2013. Read the full interview here.

Sagrada and Courage not on I/O - but on So25– August 2012

Among the possible tracks for the next studio album (maybe called) I/O, Sagrada and Courage have been mentioned and rumoured every now and then. Now we can be sure that they will not be on the album, since they are now part of the So25 Deluxe Boxset (find all information about So25 in our website special here). This also confirms that both tracks have been recorded during the So-sessions.
Peter works on new songs Songs / new songs live 2012? - May 2012

In recent interviews and his most recent Moonclub-Video, Peter confirms that he he is working on new songs (finally) and it looks like yet another creative frame and restrictions he has created. A photo was posted on Twitter from his studio and we can conclude that he is working on something rhythmical. Also, Peter says that he wants to play some new songs during his upcoming Back To Front tour!

US-Tour done - but further New Blood shows announced - June 2011

Despite recent announcements, Peter says that he will be doing more New Blood shows, South America seems pretty much planned, Australia might be on the bill as well. It doesn't look like he's really willing to work on a new album ...
New Blood era is nearing its end - chance for I/O? - spring 2011

Peter said after the filming was done for the 3D-Blu-ray in London that he will put the New Blood cycle to rest after the summer shows in North America. After that, Peter wants to concentrate on new songs for his next rock record. Really ?

New Blood tour or I/O? – Spring 2011

Initially planned as a one off, Peter continues to tour with the New Blood concept. Although he seems willing to work on new songs, he keeps himselft busy with touring.
Another Tongue / Scratch My Back out in 2009? – July 2009

Peter reports via moonclub video from the Air studios where they are putting the finishing touches to Scratch My Back. He insinuated that the album could be released in 2009. At his gig at Charlton Park on July 25 he played The Boy In The Bubble and The Book Of Love, two songs that are supposed to be on Scratch My Back. More information about Scratch My Back here.

Another Tongue / Scratch My Back – December 2008

Gabriel wants to push on his cover album project, which will, according to current information, consist of two albums. One album has other artists cover Gabriel's songs, while Gabriel covers their songs on the other album. Work on his new album I/O has therefore been put on hold again.

Tour in South America! – December 2008

Rumours that Peter Gabriel will play some shows in South America in 2009 have turned out to be true. There are also rumours that he may perform some new songs.

New song snippet in the Moon Club – February 03, 2007

Peter presents a new snippet of a song in the current Full Moon Club video (02/07). The soundbite sounds very alternative and ambitious, and by no means minimalistic or like a normal song as one could have surmised judging by previous statements about I/O. The fragment is a new development of the sound. Whether the song will be included in I/O is uncertain; it is unlikely that it will be on Big Blue Ball.

Big Blue Ball or I/O without a record contract? – January 23, 2007

According to a report in British magazine Uncut the new Gabriel album, Big Blue Ball or I/O, could be released in North America without the support of a major record company. It seems as if Gabriel wanted to release the album with Ingenious Media. These plans do not cover Europe as Gabriel still has a valid contract with EMI/Virgin there.

New album in 2007? – November 08, 2006

The Genesis press conference about the small reunion of all things brings the attention back to Peter's new album. When asked about Peter's involvement Mike Rutherford explained that Peter did not have the time because he would be releasing a new album in spring and might tour at the same time as Genesis. An album release in spring is to be doubted, though.

Big Blue Ball before I/O? – August/September 2006

The online version of the American Billboad magazine reports that EMI will release the 15-year-old project Big Blue Ball this year. In July Gabriel had introduced a song called Whole Thing/Whole World from the project in his Moon Club video. There were no plans for a tour, but Gabriel added that further projects of that style were possible depending on the success of Big Blue Ball. The upshot of this is that I/O is delayed and will be released late in 2007 at the earliest. Update: EMI has confirmed that Big Blue Ball will not be released in 2006.

I/O more minimalistic than Up? – November 2005

Peter Gabriel talks about I/O in Rolling Stone. It will be revolving around birth, death and the sex in between, so it is not too far away from Up. Gabriel reveals that he is recording the songs with a minimal crew that includes Richard Chapell and Ged Lynch, and also that he is producing the sessions himself. Peter thinks it possible that he presents the songs live before he finishes them in the studio. Such a putative tour would see him accompanied only by a bassist and a percussionist. Whatever influence that has on the release date of I/O…

P.O.V. DVD before I/O? – October 2005

The bonus material of the upcoming DVD Still Growing Up … Live And Unwrapped features No Self Control, filmed at the This Way Up tour. It is a teaser for the DVD version of P.O.V., a film that had been available only on video before. Since Peter once said he planned only one release per year this may have repercussions on the release of I/O.

Gabriel announces details about I/O songs – July 2005

UK magazine Mojo has an article about the current state of the album. Gabriel announces that a new version of Curtains will be recorded for I/O. Further songs include Wild (which is making the rounds as an instrumental), Amazing and Silver Screen. The album will come out "when it is finished, however long that is going to take", said Peter. He will spend the rest of the year working on I/O.

Gabriel to focus on I/O – May 2005

On a promotional appearance for the 46664 gig in Tromso Peter explained that he had not planned any further live performances this year, as he wants to focus on his new studio album I/O.

Fire in Real World Studios – April 2005

During the work on his new album a fire broke out in the RealWorld studios and interrupted the work process. Peter announced this in his current Full Moon Club video (available on Peter Gabriel's homepage).

New recording of Curtains on I/O? – November 01, 2004

Peter is honored with the Music Industry Trust Award. Guests at the ceremony included Tony Banks, Mike Rutherford and Richard Macphail. A promo double CD set was given out to the guests. One was a Gabriel CD and the other a Music Inspiration CD. The former includes a new recording of Curtains; it is rumoured that Gabriel has recorded a (this?) new version for I/O.

New song Baby Man introduced live – May 15, 2004

Peter premiered the new song Baby Man in Budapest. Baby Man is likely to be on I/O. After this, Baby Man was also played in Karlsruhe, Zurich, Brussels, Sheffield, Newcastle, Glasgow, London and Bregenz. Part of it can also be heard during the final credits of Anna Gabriel's DVD A Family Portrait.

Instrumental of a new song (Wild) on a promo CD – October 2003

A rare promo called HIT – The Instrumentals has come into circulation to promote the greatest hits compilation HIT. One piece on the promo is a new song called Wild that is apparently considered for I/O (with vocals). The promo itself was given out for the music to be used as background music in radio and TV programmes.

Burn You Up, Burn You Down not to be on I/O – September 2003

A new greatest hits compilation has been announced. The compilation called HIT will contain a new version of Burn You Up, Burn You Down; in the UK the song will also be released as a single. This more or less strikes Burn You Up Burn You Down off the list of songs for I/O.

Animal Nation released on movie soundtrack – November 2002

The Wild Thornberrys soundtrack has been released in North America. Besides a new version of Shaking The Tree there is also a completely new song on the CD. Animal Nation was a candidate for Up, it was played live on the Growing Up tours in North America 2002 and Europe 2003, and it is a hot candidate for I/O.

Peter Gabriel: I/O to be released 18 months after UP– August 31, 2002

Peter Gabriel has held a press conference at the Könixxtreffen in Munich, Germany, which was also about his upcoming album Up. Peter stated that he has enough material for two albums and that the successor, I/O, will come out 18 months after Up, depending on his tour plans. Burn You Up Burn You Down was withdrawn from Up in a last-minute decision. It is now considered a candidate for I/O.

Enough material for two albums - May 2000

Peter Gabriel mentions during a promotion date for OVO that there could be another studio album besides Up because he has enough material for two albums. A couple of weeks later he even mentions several albums that could be released soon after Up.