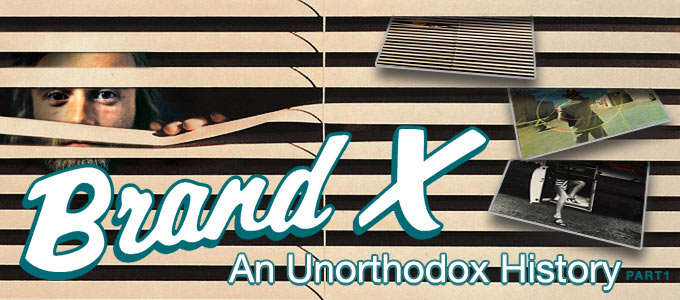 BRAND X: An Unorthodox History (Part 1)

Phil Collins's hobby band in the 70s. This is how many people would describe Brand X. On closer inspection, Brand X is more than just a band, it is a kind of collective with a network of musicians of its own. Some of its members keep popping up together in other artists' album credits, but who plays with whom is as unpredictable as the music that comes from their jam sessions. Steffen Gerlach brings some light in the mystery of the band's history with this website special. This is part 1.

1. The Beginnings...
The story of Brand X begins in Basing Street, Notting Hill, London some time in 1974. This is the home of Island Records and the label's own Island Studios (now known as Trevor Horn's SARM studios). Classics such as Led Zeppelin IV and Jethro Tull's Aqualung were recorded here. Genesis recorded Selling England By The Pound the year before and would mix The Lamb Lies Down On Broadway in September 1974. Jam sessions frequently take place in the studios in Basing Street.


One of the studio musicians is guitarist John Goodsall, who played the guitar on Atomic Rooster's last album Nice 'N Greasy under the nom de plume Johnny Mandala. Three other musicians have been encouraged by their roadie "Shed" to join the sessions. They have met in 1972 and played on many sessions: Bass played Percy Jones from Liverpool, keyboarder Robin Lumley and saxophone player Jack Lancaster. Lumley and Lancaster can be heard on Bob Sargeant's song First Starring Role (on the album of the same title), which was procuced by Dennis Mackay. They would regularly jam with ex-King Crimson keyboarder Keith Tippett and his singer and wife Julie at home in their kitchen. Drummer John Dillon, guitarist Pete Bonas and singer/percussionist Phil Spinelli also participate in the Island Studio sessions. They enjoy the opportunity to fool around with their music as much as the others. Since the musicians get paid for the jam sessions, the people at Island Studio try to steer the sessions towards material that can be used. The Goodsall/Jones/Lumley/Bonas/Spinelli/Dillon line-up seems to firm up; they have created several songs when drummer John Dillon leaves the collective in late 1974.
They offer the drum job to Bill Bruford. Bruford is re-orientating himself – the end of King Crimson has only been announced that September. He does not want to commit himself so quickly, and he has also agreed to stand in for Pierre Moerlen (who will play an important role 23 years later) as the live drummer in Gong.


Enter Island Records A&R man Danny Wilding. He suggests the drummer in Genesis, Phil Collins. Collins has drummed in Wilding's hobby jam band Zox & The Radar Boys the year before alongside Peter Banks, Ronnie Caryl and Mike Piggott, where he also played the flute. They agree. About Christmas 1974, when Genesis interrupt their North American tour for a seasonal break, Wilding invites Collins to come over for a session. Collins agrees, since he finds his drumming opportunities in Genesis restricted. Plus, he has always enjoyed playing with other musicians. They immediately hit it off with each other and match musically. In early 1975 the line-up Goodsall/Jones/Lumley/Bonas/Spinelli/Collins is pencilled in to record a first album for Island Records. Collins has to continue the Genesis tour on January 9 which will keep him busy until the end of May. They use a two-week tour break in February to record their first album in Island Studios, which is a funk/soul album a la Average White Band. Collins has to honour his commitments to Genesis, whose future is uncertain since Peter Gabriel announced that he would be leaving the band after the tour.
Lumley and Lancaster use the time to evolve their songwriting partnership. They work on a jazz adaptation of Prokofiev's Peter And The Wolf for a ballet film. When the funding falls through they decide to go through with their jazz-rock version of Peter And The Wolf – and invite a record number of guest musicians to interpret the various characters in the story. They involve the Brand X rhythm group of Goodsall/Jones/Collins, the Tippett couple, Bob Sargeant, and Bill Bruford as well as people they have not worked with before such as singer/guitarist Gary Moore. Before Peter And The Wolf takes proper shapes Lumley, Lancaster and Moore start a spin-off project called The Soul Searchers. They record two Lumley/Lancaster pieces called Scaramouche and Head Start for an EMI single release (produced by Dennis Mackay) in spring 1975. Goodsall plays second guitar, Jones the bass and Bill Bruford the drums.
When Phil Collins returns from the Genesis tour things become busy for the collective. Neither Island Records executives nor all of the band find the material that was recorded in February very convincing. It may be that Phil Spinelli's vocals are not "black enough" for "black" music. A rift becomes visible between the six members: Bonas and Spinelli want to focus on songs while the others are really into instrumental jam sessions with a lot of space for experiments. They break up, and the album they recorded is never published. Guitarist Pete Bonas and singer/percussionist Phil Spinelli leave the collective, join forces with drummer John Dillon and other musicians, form the band Locust and release an album of their own, Alpha Waves, in 1976. The remaining band members John Goodsall, Percy Jones, Robin Lumley and Phil Collins work with Jack Lancaster as the backing band in the sessions for a recording by singer/songwriter Eddie Howell in June and July. His album The Eddie Howell Gramophon Record (later re-released as The Man From Manhattan) is recorded at Trident Studios, London, and produced by Lumley and Mackay. Collins plays on his band mate's solo debut Voyage Of The Acolyte at the same time and sneaks in Percy Jones as the bass player on A Tower Struck Down. Jones and Collins also assist newly ex-Genesis singer Peter Gabriel in recording his song You Never Know for British comedian Charlie Drake. These sessions also involve John Goodsall and former King Crimson members Keith Tippett and Robert Fripp. Then the recordings start for Jack Lancaster and Robin Lumley's mammoth project of Peter And The Wolf, which has found the support of Chris Youle, head of RSO Records. Producers are Lancaster, Lumley and Dennis Mackay. Former Roxy Music man Brian Eno is part of the star-studded line-up. He borrows the rhythm group of Collins and Jones for recording sessions at Island Studios in July and August that result in three tracks on Eno's albums Another Green World (1975) and Music For Films (1978).
2. Things are getting serious ...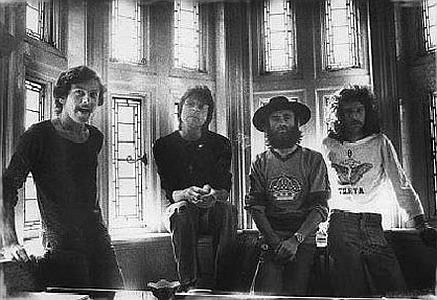 Brand X was the established name of the band. Danny Wilding would write the name into the room allocation plans at Island Studios to keep track of the collective's activities. When the deal with Island Records fell through Fuse Music Ltd. showed interest and they got a deal with financial advances. Percy Jones buys a Fender Precision Fretless bass that he would use to develop a style that was to become a Brand X trademark. Even though Phil Collins was busy recording the next Genesis album he still found time in late summer to prepare to studio recordings. They work on seven tracks that would be recorded in September and October 1975 at Trident Studios with producer Dennis Mackay – without an idea which label might release the album ...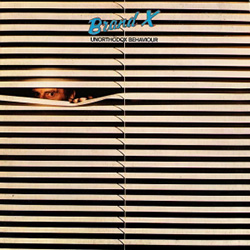 Nuclear Burn
(Collins, Goodsall, Jones, Lumley) (6:23)

Euthanasia Waltz
(Lumley, Collins, Goodsall, Jones) (5:42)

Born Ugly
(Jones, Collins, Goodsall, Lumley) (8:14)

Smacks Of Euphoric Hysteria
(Goodsall, Collins, Jones, Lumley) (4:30)

Unorthodox Behaviour
(Collins, Goodsall, Jones, Lumley) (8:29)

Running On Three
(Jones, Collins, Goodsall, Lumley) (4:38)

Touch Wood
(Collins, Goodsall, Jones, Lumley) (3:04)

Recording date: September/October 1975
Recording location: Trident Studios, London
Produced by: Brand X & Dennis Mackay
Performed by: John Goodsall, Percy Jones, Robin Lumley, Phil Collins feat. Jack Lancaster
First official release: 18th June 1976 – Brand X
Unorthodox Behaviour
(UK LP/Charisma CAS 1117)
Phil Collins goes into the studio with Genesis right after these sessions to record their first album without Peter Gabriel, A Trick Of The Tail. They cannot find a new singer, and so it happens that Collins sings on all songs. Brand X rehearse for live performances at the Dance Academy at Shepherds Bush. In December they play a handful of live gigs. They decide to have an additional percussionist on stage. The first one to take this position is Bill Bruford, who uses the opportunity to suggest to Phil that he might play drums with them on tour if Phil was also to sing the songs live.


Early 1976 sees Isotope tour drummer Jeff Seopardie on percussions as the successor to Bruford. There is already some new material: Tales Of Ancient Mysteries, Why Should I Lend You Mine?, Kugelblitz and another song with an unknown title. This line-up does not last long. After a one-off percussion performance by Camel drummer Andy Ward, Brand X recruit Preston Heyman for percussions. Collins knows Heyman since the 60s through their common friend Ronnie Caryl. He also supports him in 1974 during the recording sessions for Peter Banks' project Empire (the successor to Flash), where one John Giblin, who will play a relevant role later on, plays bass. With Heyman, they make the first recordings for the BBC. The John Peel Sessions take place on February 26, 1976, in Maida Vale 4. The band performs Born Ugly, which they have already recorded for the album, as well as the new pieces Kugelblitz and (Tales From) Ancient Mysteries. Genesis manager Tony Smith recognizes the growing hype around the instrumental quartet and get them a record deal with Charisma Records in Europe and Passport Records in America.
March, April and May see Collins as the singer with Genesis on their North American tour with their new live drummer Bill Bruford. Lancaster and Lumley use the time to work on their next project, Marscape. During the interval of one month Collins, Goodsall and other musicians from the Genesis camp join Peter Gabriel for his first solo studio recordings (which are never published). Brand X play more gigs in late May in order to promote the release of their album Unorthodox Behaviour (June 18). Collins is off again on the European Genesis tour with Bruford till mid-July.
Right after the end of the tour Brand X record another John Peel Session for the BBC at Maida Vale 4. They play a new track, Malaga Virgen, as well as Why Should I Lend You Mine, which has been tried and tested live. More gigs follow in July and August, and Tunisian Faces premieres at the Marquee Club in London, on July 30. During this same time the new Lancaster/Lumley concept album Marscape is recorded by producer Dennis Mackay at Trident Studios with Goodsall, Jones, Collins, and other guest musicians like Morris Pert on percussion, who Lumley knows from other productions. Robin Lumley also produced the album Vimana by Italo-British formation and Fuse Music mates Nova; Phil Collins and Percy Jones are onboard, too. Drummers Collins and Heyman also play on the debut album Horft Í Roðann by Empire's keyboarder Jakob Magnússon; John Giblin, who is soon to play a role in Brand X, plays bass on this album.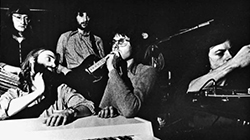 First, though, there is a change in line-up. Preston Heyman played percussion on Brand X's gig at the Reading Festival on August 29, but when Brand X start their fortnight of concerts at Ronnie Scott's Club in London percussion is played by prolific multi-instrumentalist Morris Pert, who also worked on Marscape.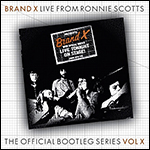 The shows are recorded and parts of them can be heard on the BBC programme Rock Around The World in December: Unorthodox Behaviour, Malaga Virgen and Tito's Leg. Two other jam-based pieces, Isis Mourning (parts 1 and 2) and –Ish, would later appear on Livestock. And twenty years later the John Peel Sessions would be released officially with a track from Ronnie Scott's on Missing Piece ...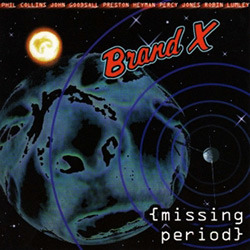 Born Ugly[Dead Pretty] [BBC 1976]*
(Jones, Collins, Goodsall, Lumley) (7:11)
Kugelblitz [BBC 1976]*
(Goodsall, Jones)? (11:03)
(Tales From) Ancient Mysteries [BBC 1976]*
(Goodsall, Jones)? (7:19)
Why Should I Lend You Mine? [Why Won't You Lend Me Yours?] [BBC 1976]**
(Collins) (8:46)
Malaga Virgen [Miserable Virgin] [BBC 1976]**
(Jones) (8:55)
Tito's Leg [live 1976]***
(Goodsall, Jones)? (7:23)
Recording date: *26th February 1976, **15th July, 1976, *** 30th August - 11th September 1976
Recording location: */**BBC Maida Vale 4, London, ***Ronnie Scott's, London
Produced by: *Tony Wilson, **John Walters, ***Brand X
Performed by: John Goodsall, Percy Jones, Robin Lumley, Phil Collins, */**Preston Heyman, ***Morris Pert
First official release: 17th November 1997 – Brand X
Missing Period
(CD/Outer Music PCCY-01141)

The band take a break until the end of October. Percy Jones is touring as a bass temp with Soft Machine, Phil Collins is recording Wind & Wuthering with Genesis. David Hentschel, the album's producer, nabs Phil Collins and his Brand X mates Percy Jones and Morris Pert to record his soundtrack for the film The Squeeze (out in spring 1977). Collins and Pert also make up the rhythm group on Just A Story From America by American singer/songwriter Elliott Murphy. A handful of gigs are played in November before the band goes into the studio again to record their second album. They do not record all the pieces that have been tried out live, and unlike the debut album, Moroccan Roll has only compositions by individual members of the band ...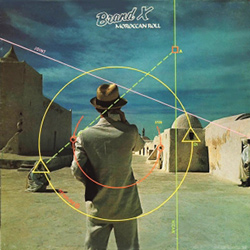 Sun in the Night
(Goodsall) (4:25)
Why Should I Lend You Mine (When You've Broken Yours Off Already)...
(Collins) (11:16)
...Maybe I'll Lend You Mine After All
(Collins) (2:10)
Hate Zone
(Goodsall) (4:41)
Collapsar
(Lumley) (1:33)
Disco Suicide
(Lumley) (7:55)
Orbits
(Jones) (1:38)
Malaga Virgen
(Jones) (8:28)
Macrocosm
(Goodsall) (7:24)
Genocide Of The Straights [John "No" Doe]*
(Collins, Goodsall, Jones, Lumley) (2:50)
Is There Anything About? [Moammar]**
(Collins, Goodsall, Jones) (7:53)
Recording date: December 1976/January 1977
Recording location: Trident Studios, London
Produced by: Dennis Mackay
Performed by: John Goodsall, Percy Jones, Robin Lumley, Phil Collins, Morris Pert
First official release: 22th April 1977 – Brand X
Moroccan Roll
(UK LP/Charisma CAS 1117)
*First official release: November 1977 – Brand X
X-Cerpts: 3 From Livestock + 1
(US promo 12"/Passport Records PBX01)
**First official release: September 1982 – Brand X

Is There Anything About?

(US LP/Passport Records PB 6016)
3. Necessary breaks, success and decisions ...
The Genesis Wind & Wuthering tour 1977 keeps drummer Phil Collins busy until early July. The others find it increasingly frustrating that they are so dependent on Collins' obligations in Genesis that they have to stall the hype themselves and are unable to focus on the band. John Goodsall befriends musicians from San Franciso band Automatic Man. He begins to work on a solo project called Vertical Invader with them and Bill Bruford. They only record a few demos, though. Robin Lumley meets ex-Isotope guitarist Gary Boyle, whose former band he produced in 1975, and becomes producer and keyboarder again on Boyle's solo debut The Dancer. Also in the band are Morris Pert on percussion and his former colleague Jeff Seopardie on drums. Pert can also be heard with Percy Jones on Peace And Quiet by the Big Jim Sullivan Band.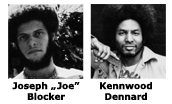 The troupe decides to look for someone to replace an overly busy Phil Collins in the upcoming live performances. First rehearsals take place with the American Joseph "Joe" Blocker of Latin fusion band Karma. Collins uses the four-week break from the Genesis tour in April for a Brand X release show to promote the Moroccan Roll album at the Marquee in London; Euthanasia Waltz will find a home on the live album Livestock. Joe Blocker is merely the second percussionist in this gig, and soon their ways part again. The band becomes better known and more successful, surprisingly mainly in North America where they are celebrated both as a band and as individual musicians though they have never played there. Brand X keep looking for a Collins replacement. Fellow bass player Alphonso Johnson recommends 21-year-old drummer and Berklee College Of Music graduate Kenwood Dennard to Jones. Dennard has already worked with legendary guitarist Pat Martino.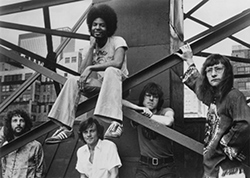 With this perfect match the band embark on their first North American tour from June to early July 1977. Both Nightmare Patrol and Deadly Nightshade have their live premiere on this tour. On August 5, Brand X play the Hammersmith Odeon with their new drummer – on home turf. The audience are amused by the fact that a caretaker appears to be sweeping the stage during the gig, until they realize that the caretaker is second percussionist Phil Collins. The versions of Malaga Virgen and Nightmare Patrol from that date are the latest recordings that are used for soon-to-be released Livestock ...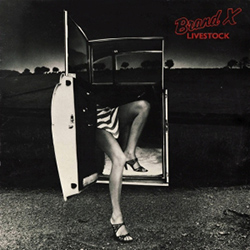 Nightmare Patrol [live 1977]***
(Goodsall, Dennard) (7:50)
-Ish [live 1976]*
(Collins, Goodsall, Jones, Lumley, Pert) (8:11)
Euthanasia Waltz [live 1977]**
(Lumley, Collins, Goodsall, Jones) (5:12)
Isis Mourning (Part 1 & 2) [live 1976]*
(Collins, Goodsall, Jones, Lumley, Pert) (9:58)
Malaga Virgen [live 1977]***
(Percy Jones) (9:00)
*Recording date: 30th August - 11th September 1976
*Recording location: Ronnie Scott's, London
**Recording date: 23rd April 1977
**Recording location: Marquee Club, London
***Recording date: 5th August 1977
***Recording location: Hammersmith Odeon, London
Produced by: Brand X
Performed by: John Goodsall, Percy Jones, Robin Lumley, Phil Collins, Morris Pert, **Joe Blocker, ***Kenwood Dennard
First official release: 18th November 1977 – Brand X
Livestock
(UK LP/Charisma CLASS 5)
Collins and Jones help out Brian Eno and play on two tracks of his Before And After Science albums. In August, Lumley producer Bruford's first album; Goodsall plays rhythm guitar on the title track Feels Good To Me. On September 10 he meets Collins again for two gigs in London and Paris; so Collins plays some new tracks for him. The autumn of 1977 focuses on live gigs. With Dennard on drums, they play concerts in England and North America, where they meet with much success and try out new compositions The Ghost Of Mayfield Lodge, Access to Data and Earth Dance.


In the meantime, the live compilation Livestock has been completed and released. Passport Records accompany the Brand X tour with a 12" promo called X-Cerpts that contains edited versions of Euthanasia Waltz, Malaga Virgen and Nightmare Patrol. The tracklist also contains Genocide Of The Straights (much later re-released as John "No" Doe), a jam studio outtake from the Moroccan Roll sessions that fades out where Why Should I Lend You Mine fades in on the album. The band is finally recognized as an entity of its own; they are also successful without the Collins celebrity bonus, and the band are euphoric about it. They make plans to record a first album without Phil Collins in early 1978.
read part 2 of the Brand X special here

Author: Steffen Gerlach
English by Martin Klinkhardt

Sessions with at least two members of Brand X up to and including 1977:

1973.02 - Suntreader –
Zin-Zin
(Pert/Robinson)
1973.09 – Suntreader -
Chromosphere
(Pert/Robinson)
1974.?? - Suntreader -
The Voyage
(Pert/Robinson)
1974.07 - Bob Sargeant –
First Starring Role
(Lumley/Lancaster – prod. Mackay)
1974.?? – Empire –
Mark I
(Collins/Heyman/Giblin)
1975.?? – The Soul Searchers –
Scaramouche/Head Stand
(Goodsall/Jones/Lumley/Lancaster/Bruford)
1975.06 – Eddie Howell –
The Eddie Howell Gramophone Record
(Goodsall/Jones/Lumley/Collins/Lancaster)
1975.06 – Steve Hackett –
Voyage Of The Acolyte
(Jones/Collins)
1975.?? – Charlie Drake –
You Never Know
(Goodsall/Jones/Collins)
1975.07 – Lancaster/Lumley –
Peter & The Wolf
(Goodsall/Jones/Lumley/Collins/Lancaster/Bruford)
1975.07 – Brian Eno –
Another Green World, Music For Films
(Jones/Collins)
1976.?? – Locust –
Alpha Waves
(Bonas/Spinelli/Dillon)
1976.03 – Genesis –
A Trick Of The Tail
Tour (Collins/Bruford)
1976.?? - Shawn Phillips -
Rumplestiltskin's Resolve
(Robinson/Miller/Clark)
1976.04 – Peter Gabriel – Unreleased Trident Demos (Goodsall/Collins)
1976.07 – Lancaster/Lumley -
Marscape
(Goodsall/Jones/Lumley/Collins/Pert/Lancaster)
1976.07 – Nova –
Vimana
(Jones/Collins – prod.Lumley)
1976.08 – Jakob Magnusson -
Horft Í Roðann
(Collins/Heyman/Giblin)
1976.?? - David Hentschel –
The Squeeze
Soundtrack (Jones/Collins/Pert)
1976.?? - Elliott Murphy –
Just Another Story From America
(Collins/Pert)
1977.?? - Vertical Invader – Demos (Goodsall/Bruford)
1977.?? - Gary Boyle –
The Dancer
(Seopardie/Pert – prod. Lumley)
1977.?? - Big Jim Sullivan Band –
Test Of Time: Peace And Quiet
(Jones/Pert)
1977.?? - Brian Eno –
Before And After Science
(Jones/Collins)
1977.08 – Bruford –
Feels Good To Me
(Goodsall/Bruford – prod.Lumley)