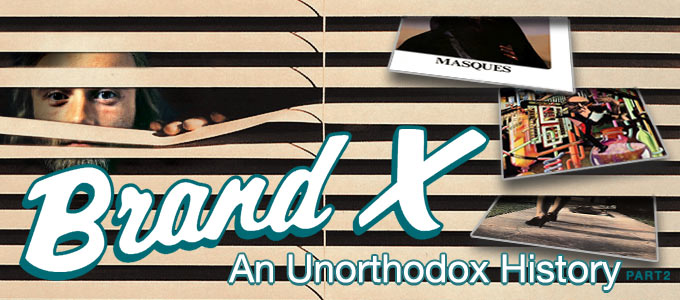 BRAND X - An Unorthodox History - Part 2: 1978 – 1982
In the first part of our special we took a closer look on the turbulent beggings of the band up until the Livestock-album. And turbulence is the right term to describe the time up until the early eighties, once again compiled by Steffen Gerlach.
4. Turbulence

Manager Tony Smith is pleased with the demand for Brand X – he has big plans for the band. But these plans mean trouble for Robin Lumley who is increasingly busy with the second career he is building as a producer. Lumley decides to take a break from Brand X even before they begin work on the new album. He is the second core member of the band to drop out for time constraints, though he stays on as the producer of the new album.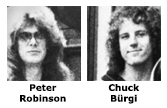 Morris Pert suggests Peter Robinson as the new keyboarder. Robinson has befriended the band, and in 1973 he was in the trio Suntreader with Pert. Another problem raises its head: the "mainstream" beckons, and the band decide to make their sound "straighter" – which seems impossible with a playful drummer like Kenwood Dennard.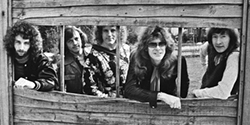 They chose the American Chuck Bürgi. He made a name for himself as drummer of Al Di Meolas first solo tour in support of Elegant Gypsy. The new line-up rehearses in April and proceeds to record their new album, Masques, with Robin Lumley as their producer at Trident Studios in May 1978...
The Poke
(Goodsall) (5:10)
Masques
(Jones, Robinson) (3:16)
Black Moon
(Pert) (4:48)
Deadly Nightshade
(Pert) (11:22)
Earth Dance
(Pert) (6:06)
Access To Data
(Goodsall) (8:00)
The Ghost Of Mayfield Lodge
(Jones) (10:17)
Recording date: May – June 1978
Recording location: Trident Studios, London
Produced by: Robin Lumley
Performed by: John Goodsall, Percy Jones, Morris Pert, Peter Robinson, Chuck Bürgi
First official release: 8th September 1978 – Brand X "Masques" (UK LP/Charisma CAS 1138)

The band has also scheduled a tour. They play Europe with a big line-up. On June 24, they play the Knebworth Festival headlined by Genesis. Phil Collins joins the band on percussion for a couple of numbers. It is probably during this period that Brand X members from the earliest days meet again for an almost nostalgic album session: Flautist Danny Wilding, who also invented the band name, and ex-Brand X guitarist Pete Bonus record an album called Pleasure Signals under the monicker Wilding/Bonus and invite any number of musician friends. These include John Goodsall (who brings a song of his own), Robin Lumley, Phil Collins, Preston Heyman and Morris Pert. And John Giblin, who also produced the album with Wilding, Bonus and Goodsall at Island Studios. Giblin will also join Collins at Pete Townshend's studio to record music by American composer Raphael Rudd that will be released more than 18 years later on The Awakening. Robin Lumley produces Moving Home for Rod Argent with guest musicians Jack Lancaster, Phil Collins and Morris Pert. Lancaster and Lumley new project Earth Sounds, for which they wanted to travel around the world to record nature sounds, seems to have been scrapped. Instead, Lumley produced a bit for Jack Lancaster's new band Aviator. Morris Pert has another musical encounter with former Brand X percussionist Jeff Seopardie who plays the drums on the album Pacific Eardrum by his band of the same name.
July sees the band on tour in North America. A major setback occurs at the end of July: Guitarist John Goodsall has a severe pain in the right arm. His tendonitis means that he cannot play for an indefinite time. The band play the rest of the American leg as a foursome without a guitarist. They have, however, scheduled dated in Europe later in August to promote the release of Masques in early September.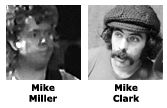 They have, however, scheduled dated in Europe later in August to promote the release of Masques in early September. Peter Robinson suggests replacing Goodsall with Mike Miller. He has met the American guitarist during the production of the album Rumplestiltskin's Resolve by folk-rock-musician Shawn Philips in Los Angeles in 1976. One Mike Clark plays the drums on that album, but he will become important later.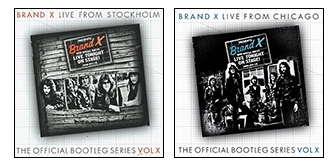 The band brings Mike Miller to Europe. The European leg of the tour closes with several dates in the UK in late September and early October, where they are supported by Peter Hammill. New dates have been booked for late October to late November for North America. Chuck Bürgi is not available in this time, so the band look for an able drummer. Peter Robinson and Mike Miller suggest Californian Mike Clark who used to be a member of Herbie Hancock's jazz-funk band Headhunters. After a stupendous third change in the line-up in one year they play the final shows in 1978, where reconvalescent John Goodsall joins them for a guest performance in Boston.

5. Commerce, reunion and fade-out…

After a turbulent year Brand X try and sort things out in 1979. John Goodsall is back, and Percy Jones, Peter Robinson and Mike Clark are ready for the next step. The management wants their music to become more commercial to keep up the success of the band. Bass player Percy Jones is less than excited about that.


Then they come up with an interesting experiment: They ask Robin Lumley and Phil Collins to come back so that they can cover more musical facets as a collective. Before the whole thing starts, the nearly complete gang performs at two gigs as a backing band for Rod Argent on 8th and 9th February: In London, Goodsall, Lumley, Pert and Robinson play together with bassist Alphonso Johnson and Genesis touring drummer Chester Thompson (who steps in for Phil Collins, who was announced for the line-up, but couldn't come). They also ask bass player John Giblin to join them so they can work on new material in two line-ups.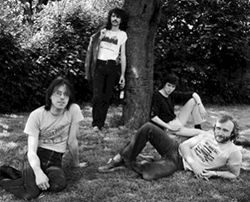 In April 1979, they hide out in Ringo Starr's Startling Studios in Ascot and begin to work in two shifts: During the day time Goodsall, Lumley, Collins and Giblin write and rehearse supported by a technician by the name of Colin Green who has worked with Lumley on several productions, while Goodsall, Jones, Robinson and Clark work with Neil Kernon of Startling Music in the evenings. Morris Pert sometimes joins the night shift, but he is so busy as a session musician that he cannot be a full member of Brand X anymore.

These sessions are the most productive in the history of the band. There would be enough material for at least one double album, but they decide to move in a different direction: First they release an album based mainly on material by the "day band" as their music seems more accessible and has songs sung by Phil Collins; then they tour with it. Half a year later they release an album with material from the "night band"; the second promo tour will see Mike Clark on drums.
DAY BAND (Goodsall/Lumley/Collins/Giblin)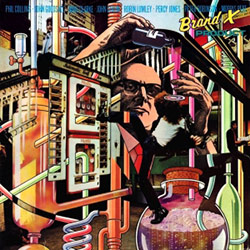 Don't Make Waves*
(Goodsall) (5:28)
Soho*
(Goodsall, Collins) (3:38)
...And So To F...* +
(Collins) (6:29)
Algon (Where An Ordinary Cup Of Drinking Chocolate Costs £8,000,000,000)* +
(Lumley) (6:10)
Rhesus Perplexus*
(Giblin) (3:59)
April*
(Giblin) (2:36)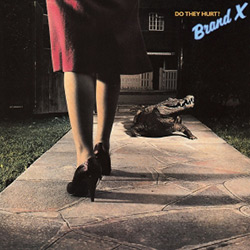 Voidarama**
(Goodsall) (4:21)
Triumphant Limp**
(Goodsall, Giblin, Lumley, Collins) (7:34)
Pool Room Blues°
(Collins, Giblin, Goodsall, Jones, Lumley, Robinson) (2:51)
Soho [alternate mix]°
(Goodsall, Collins) (3:38)
Ipanaemia***
(Goodsall) (4:30) (CD 4:13)
Swan Song***
(Collins, Giblin, Lumley, Short) (5:37)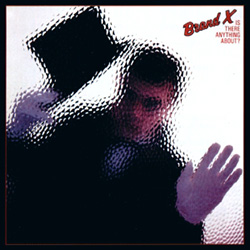 TMIU ATGA (They're Making It Up As They Go Along)***
(Giblin, Lumley) (5:37)
Modern, Noisy And Effective [Soho instrumental remix]*** ++
(Goodsall, Lumley, Short) (3:56)
A Longer April [April remix]*** +++
(Giblin) (7:00) (CD 7:23)

NIGHT BAND (Goodsall/Jones/Robinson/Clark)
Dance Of The Illegal Aliens* +
(Jones) (7:50)
Wal To Wal*
(Jones, Giblin)
Not Good Enough - See Me!*
(Jones, Robinson)
Noddy Goes To Sweden** +
(Jones) (4:30)
Act Of Will**
(Goodsall) (4:43)
Fragile** +
(Jones, Robinson) (5:26)
Cambodia**
(Goodsall) (4:31)
D.M.Z.**
(Jones) (8:39)
Recording date: April 1979
Recording location: Startling Studios, Ascot, ***1982 Overdubs: Trident Studios/London
Produced by: Brand X, *Colin Green, **Neil Kernon, ***Robin Lumley & Steven Short
Performed by: John Goodsall, Robin Lumley, Phil Collins, John Giblin, Percy Jones, Peter Robinson, Mike Clark, +Morris Pert, ++Steve Short (1982 Overdubs),+++Raf Ravenscroft (1982 Overdubs)
*First official release: 14th September 1979 – Brand X Product (UK LP/Charisma CAS 1147)
°First official release: 1979 – Brand X "Soho" (UK 12"/Charisma CB 340-12)
**First official release: 18th April 1980 – Brand X Do They Hurt? (UK LP/Charisma CAS 1151)
***First official release: September 1982 – Brand X Is There Anything About? (US LP/Passport Records PB 6016)
Until then the band members follow other interests. Robin Lumley produces and plays on Jack Lancaster's solo album Skinnigrove Bay. The album has a song called Deep Green (later re-titled The Whale's Song) with Phil Collins on vocals. Collins also records some drum tracks on Lumley's production of Dave Greenslade's The Pentateuch Of The Cosmogony and does some session work with John Giblin for John Martyn (Grace & Danger) and Stephen Bishop (Red Cab To Manhattan). Peter Robinson and Morris Pert play on the album Balla by an Italian singer called Umberto Balsamo.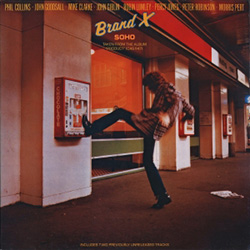 September sees the release of Product album Nr. 1, supported by the release of Soho as a single. The 12" version of this contains two session outtakes, Noddy Goes To Sweden ("night band" with Morris Pert) and Pool Room Blues ("day band" with Jones & Robinson).

Brand X embark on a one-month tour. For the first time they don't have a percussionist, but two keyboarders who can swap musical ideas.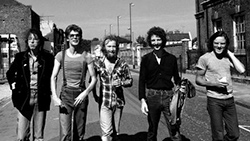 The tour dates in England and North America mark Phil Collins' farewell to Brand X – he is becoming ever more popular with Genesis and is considering a solo career. Still, he also drums on some Brand X tracks they recorded with other drummer, such as Dance Of The Illegal Aliens, Access To Data and The Ghost Of Mayfield Lodge. Years later two official releases called Live At The Roxy L.A. (1995) and Trilogy (2003) will try and replace the inofficial bootleg releases...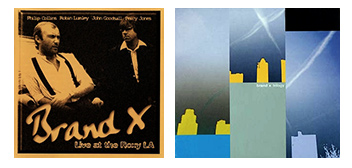 From October until spring 1980 the band take time to breathe. Morris Pert and John Giblin, who are about to have left Brand X, have played on Late Nights In Soho by ex-Zombies man Colin Bluntstone. Now they are busy alongside Phil Collins with the recordings for Peter Gabriel's third album. Pert/Giblin also appear in the sessions for Kate Bush's album Never For Ever; Preston Heyman drums for her. Pert and Giblin also work on Jon Anderson's Song Of Seven, Donovan's Neutronoca and Lucio Bittisti's Una Giornata Uggiosa; Giblin and Lumley can be heard on Exiled by Mitchell/Coe Mysteries, in the instrumental Inner Conflict. Lumley also produces the self-titled album by soft rock band Orleans; one of the tracks, Wind, has Phil Collins on backing vocals and Morris Pert on percussions. Percy Jones meets Kenwood Dennard again when they both record A Piece Of Odd for Michael Zentner's album Present Time.

Now it's time for part two of their plan: Brand X release Do They Hurt? in April 1980, which actually is album number two fro the '79 sessions, this time focussing on the putput of the night band of these sessions.
Brand X tour the UK with two keyboarders and Mike Clark on drums for a month from late April. The support act is their old buddy Bill Bruford. With Noddy Goes To Sweden a live document from that tour was released on The X Files only many years later! Though the band do not realize it at the time (Goodsall mentioned a new track called Systematic Harassment in an interview), the end of the tour is also the end of the band – crucial things have changed. Bass player Percy Jones decided in 1979 to leave London and move to New York City with his American wife. John Goodsall also moves to the U.S., though he goes to Los Angeles to work as a session musician. The band also realize that their European label Charisma have lost interest in working with them.
Phil Collins is in solo mode recording his solo debut Face Value. He enlists John Giblin and Peter Robinson for the recordings that take place in the latter half of 1980. Collins and Giblin as a rhythm group also play sessions for Ralph McTell's Water Of Dreams and Marti Webb's I'm Not That Kind Of Girl. Robinson plays keyboards on Frida's album Something's Going On; Phil Collins is the producer and drummer on that album. Robinson and Collins appear in the Swedish TV programme Måndagsbörsen (on March 29, while they are in Stockholm) and play the Brand X track Dance Of The Illegal Aliens with the house band. Giblin and Robinson later record for Phil Collins's second solo album Hello, I Must Be Going! Robinson also joins Collins on his first solo tour, where …And So To F… is a staple in the setlist.
Robin Lumley is busy assembling a final Brand X album that the band owes their American label Passport Records. The band does not really exist anymore, nor do they meet to record, but Lumley uses leftovers from the "day band" sessions from 1979 to glue together something presentable. With some help from Steve Short, who has been a fixture at Trident Studios for years, and saxophone player Raf Ravenscroft, they develop Is There Anything About? It is a short album of outtakes and remixes, and none of the Brand X guys are really happy with it.
At that time Percy Jones is forming a trio called Stone Tiger with Brand X drummer Mike Clark and guitarist Bill Frisell. John Goodsall works with his former colleague from Atomic Rooster, drummer Ric Parnell, bass player Doug Lunn and keyboarder Paul Delph in a band called Zoo Drive. They record their own material and do session work. When they record Alexis Korner's album Juvenile Delinquent in the fall of 1983, Morris Pert works once more with Rubin Lumley who plays synthesizer on the album.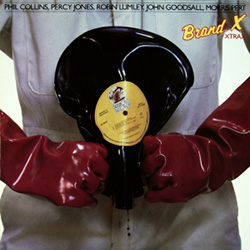 In 1984, Percy Jones records an album with, amongst others, Mike Clark, that is not released until 1990 on Jones's Propeller Music album. Peter Robinson and Phil Collins work on Eric Clapton's Behind The Sun that fall, and the latter also joins Collins on his No Ticket Required tour in 1985. In 1986, when Brand X has already been history for quite a while, Passport Records release Xtrax, a first compilation of material from all Brand X albums in the U.S.. Countless other compilations were to follow in the subsequent years...

... to be continued!
Author: Steffen Gerlach
English by Martin Klinkhardt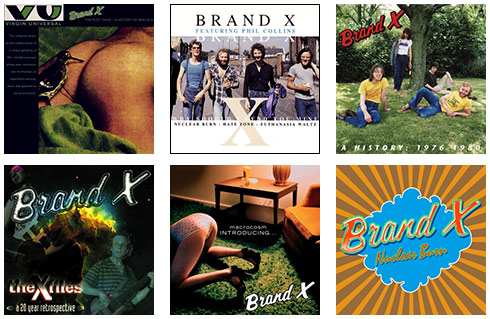 Sessions von 1978 bis 1985 mit mindestes zwei Brand X-Mitgliedern:
1978.05 – BRAND X – Masques (Goodsall/Jones/Pert/Robinson/Bürgi – prod.Lumley)
1978.06 – Widling/Bonus – Pleasure Signals (Goodsall/Lumley/Bonas/Collins/Heyman/Pert/Giblin)
1978.07 – Rod Argent – Moving Home (Collins/Pert/Lancaster – prod.Lumley)
1978.09 – Raphael Rudd – The Awakening (Collins/Giblin)
1978.?? - Pacific Eardrum – Pacific Eardrum (Seopardie/Pert)
1978.08 – BRAND X – Live From Stockholm – The Official Bootleg Series (Jones/Pert/Robinson/Bürgi/Miller)
1978.11 – BRAND X – Live From Chicago – The Official Bootleg Series (Jones/Pert/Robinson/Miller/Clark)
1979.04 – BRAND X – Product/Do They Hurt?/Is There Anything About? (Goodsall/Jones/Pert/Robinson/Clark + Goodsall/Lumley/Collins/Giblin)
1979.?? - Jack Lancaster – Skinningrove Bay (Lumley/Collins/Lancaster)
1979.?? - Dave Greenslade - The Pentateuch Of The Cosmogony (Collins – prod.Lumley)
1979.?? - John Martyn – Grace & Danger (Collins/Giblin)
1979.?? - Stephen Bishop – Red Cab To Manhattan (Collins/Giblin)
1979.?? - Umberto Balsamo – Balla (Pert/Robinson)
1979.09 – BRAND X – Live At The Roxy L.A. (Goodsall/Jones/Lumley/Collins/Robinson)
1979.09 – BRAND X – Trilogy (Goodsall/Jones/Lumley/Collins/Robinson)
1979.?? - Michael Zentner – Present Time: A Piece Of Odd (Jones/Dennard)
1979.?? - Colin Bluntstone – Late Nights in Soho (Pert/Giblin)
1979.11 – Peter Gabriel – III (Collins/Pert/Giblin)
1980.01 – Kate Bush – Never For Ever (Heyman/Pert/Giblin)
1980.?? - Jon Anderson – Song Of Seven (Pert/Giblin)
1980.?? - Donovan – Neutronoca (Pert/Giblin)
1980.?? - Lucio Bittisti - Una Giornata Uggiosa (Pert/Giblin)
1980.?? - Mitchell/Coe Mysteries – Inner Conflict (Lumley/Giblin)
1980.?? - Orleans – Wind (Collins/Pert – prod.Lumley)
1980.04 – BRAND X – X-Files: Noddy Goes To Sweden (Live) (Goodsall/Jones/Lumley/Robinson/Clark)
1980.07 – Phil Collins – Face Value (Collins/Robinson/Giblin)
1981.?? - Ralph McTell – Water Of Dreams (Collins/Giblin)
1982.?? - Marti Webb – I'm Not That Kind Of Girl (Collins/Giblin)
1982.03 – Frida – Something's Going On (Collins/Robinson)
1982.05 – Phil Collins – Hello, I Must Be Going! (Collins/Robinson/Giblin)
1982.?? - Phil Collins – Live From Perkins Palace (Collins/Robinson)
1983.10 – Alexis Korner – Juvenile Delinquent (Lumley/Pert)
1984.?? - Percy Jones Ensemble – Propeller Music (Jones/Clark)
1984.?? - Eric Clapton – Behind The Sun (Collins/Robinson)
1985.?? - Phil Collins – No Ticket Required Tour (Collins/Robinson)