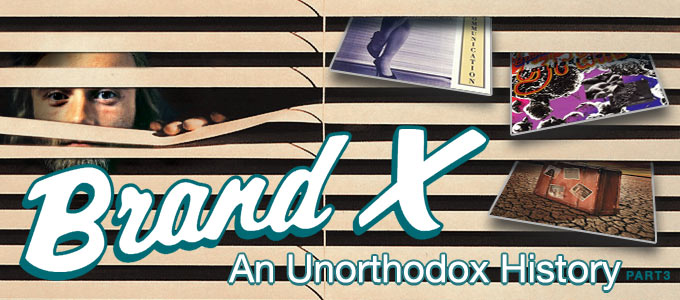 BRAND X - An Unorthodox History - Part 3

1992 – 1998, 2016 - ?
After their turbulent beginnings in the 70ies (see part 1) and a complicated phase in the beginning of the 80ies (see part 2), Brand X called it a day. But the band's history wasn't over yet. Read in this last part of our website special why the band is still around.
6. Accidental revival and battle of the labels...
Percy Jones records his solo album Cape Catastrophe alone; it comes out in 1990. After a number of "one man shows" with playback he wants to have a band again for live gigs. He meets drummer Frank Katz through Mike Clark and jams with him in a "drummer's collective". He also asks Marc Wagnon, who he knows likes his solo material. Wagnon plays MIDI vibes, which makes him very flexible. They call themselves Hex (after a song from the solo album) and play gigs as a trio. Mark Wagnon introduces a guitarist to the line-up, and the foursome change their band name to Tunnels, after another song from the album.

An acquaintance of Percy Jones's, Gilad Amarillio, is setting up a small label called Ozone Records with a colleague. They ask Jones to publish a solo album on their label. Jones is happy to do so, though the deal is that he has to record with a drummer and a guitarist. Drummer Frank Katz is available, but the Tunnels guitarist has moved again. After several "no"s from various candidates Jones asks his old mate John Goodsall, who still lives in Los Angeles.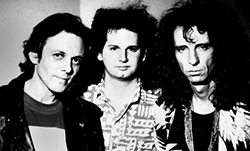 Goodsall agrees and they meet in New York to work on new material as a trio. Goodsall brings some song ideas of his own, and the rehearsals bring forth new tracks very quickly. Amarillio feels that the album they record at New York's Grampa Studios is no solo album, but a collaboration that would merit being released as a Brand X album. Jones disagrees, because the sound is unlike that of the 70s constellation, but Goodsall does not mind. Xcommunication is the first Brand X album in ten years – and it has, surprisingly, also their old friend Danny Wilding on flute on one track.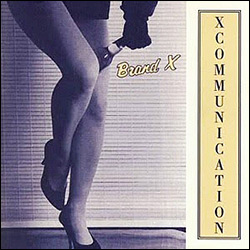 Xanax Taxi
(Goodsall) (5:57)
Liquid Time
(Goodsall) (4:39)
Kluzinski Period
(Jones) (7:00)
Healing Dream
(Goodsall) (3:51)
Mental Floss
(Goodsall) (3:17)
Strangeness
(Jones) (3:23)
A Duck Exploding
(Goodsall, Jones) (6:47)
Message To You
(Goodsall) (0:25)
Church Of Hype
(Jones) (5:54)
Kluzinski Reprise
(Goodsall, Jones) (4:25)
Recording date: 1992
Recording location: Granpa Studios, New York
Produced by: Brand X
Performed by: John Goodsall, Percy Jones, Frank Katz feat. Danny Wilding
First official release: 1992 – Brand X
Xcommunication
(US CD/Ozone Records OZ-001)

Late December 1992 witnesses some reunion gigs of the two with drummer Frank Katz. Setlists contain new solo spots as well as the unreleased band tracks The X-Files Theme, Thalidomide Squid and City Of Beggars. The Plot Thins appears on Brand X's former label Virgin (who swallowed Charisma); it is the first European "best of" compilation of Brand X, and it has a rarity in the unreleased 1979 live performance of Algon.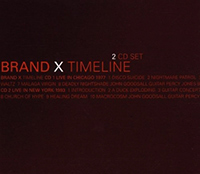 While Goodsall returns to Los Angeles, Jones, Katz and Wagnon are happy to finally record the Tunnels' self-titled debut album in Grampa Studios in February 1993 for Ozone Records. A few performances by a revived Brand X trio take place at the end of March and end of June 1993. Ozone Records also brings out first CD versions of albums that are relevant for Brand X: Lancaster/Lumley's Marscape, Wilding/Bonus' Pleasure Signals, Michael Zentner's Present Time and Test Of Time by the Big Jim Sullivan Band. The label folds in 1994.
Another micro label appears on the scene in 1995, Zok Records. Robin Lumley writes liner notes for their release Live At The Roxy L.A., a sort of official bootleg with a soundboard recording of the 1979 Brand X gig. Manager Shawn Ahearn, who knows John Goodsall from L.A., suggests recording a new Brand X album for Lipstick Records, a label that focuses on jazz rock.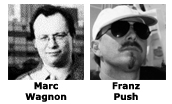 Jones suggests that they use Frank Katz as the drummer as well as Tunnels member Marc Wagnon for more musical flexibility. Goodsall agrees and brings sound tinkerer and keyboarder Franz Pusch into the project; they know each other from Fire Merchants. Ahearn in turn suggests an old friend of the London scene who has worked (like Goodsall) on the all-star Genesis tribute album Supper's Ready as a producer – David Hentschel. In February 1996 they come together at Total Access Studio in Redondo Beach, California, to record a new Brand X album ...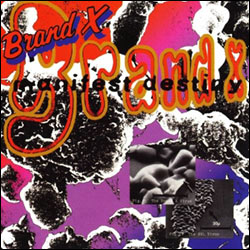 True To The Clik
(Goodsall, Pusch) (5:31)
Stellerator
(Jones) (6:17)
Virus
(Goodsall, Pusch) (7:56)
XXL
(Goodsall) (5:51)
The Worst Man
(Jones) (4:33)
Manifest Destiny
(Goodsall, Jones, Katz, Wagnon) (4:11)
Five Drops
(Wagnon) (3:52)
Drum Ddu
(Jones) (5:50)
Operation Hearts And Minds
(Goodsall) (4:39)
Mr. Bubble Goes To Hollywood
(Jones, Katz) (2:56)

Recording date: February 1996
Recording location: Total Access Studio, Redondo Beach
Produced by: David Hentschel & Brand X

Performed by: John Goodsall, Percy Jones, Frank Katz, Marc Wagnon, Franz Pusch feat. Danny Wilding, Ronnie Ciago
First official release: 9h February 1997 – Brand X
Manifest Destiny
(US CD/Purple Pyramid CLP 9940-2)

Apparently, though, the executives of Lipstick Records have not checked out the current musical direction of the band. They are not happy with the results. The album is shelved for the time being. This does not stop the band from playing three gigs in the Goodsall/Jones/Katz/Wagnon line-up in late May. Shawn Ahearn saves the messy situation by buying the album off the Germans and finding a label willing to publish the album: Purple Pyramid have re-released albums of 70's band Gong. Manifest Destiny is released almost a year after the recordings in the U.S. on February 5, 1997. The band want to use the impetus of the album release for a tour outside America. Dates are booked for the end of March when a problem rears its head: The passport of drummer Frank Katz has apparently expired so that he cannot travel abroad.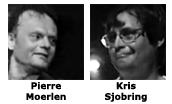 Manager Shawn Ahearn saves the day by suggesting Pierre Moerlen, former drummer with Gong, for whom Bill Bruford stepped in in 1974; Moerlen and Purple Pyramid Records are in contact because of various re-releases. Ahearn's suggestion is accepted and Moerlen flies to L.A. on short notice so that they all can rehearse with their keyboarder Kris Sjobring, who also plays in Trancendental Medication with Goodsall.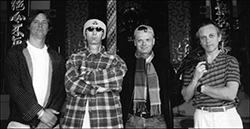 Brand X (with the line-up of Goodsall, Jones, Moerlen, Sjobring play Japan for the first time in late May. Manifest Destiny also appears in Europe on Outer Music in April. The same line-up play the old continent for the first time in 17 years. A fortnight of gigs begins in the UK in mid-May before they travel on to Italy, Germany and Switzerland for two more weeks. It is the first time they also play pieces by others: They cover Lila's Dance and Birds Of Fire by the Mahavishnu Orchestra, and at the final show of the tour at the Sinkkasten in Frankfurt, Germany, they also perform Pierre Moerlen's Gong track Time Is The Key.
After the tour things become a bit confused. Outer Music use the hype to publish Brand X's hitherto unreleased BBC recordings form 1976 as Missing Period. Goodsall and Jones have to split up again because they live too far apart. Percy Jones records with Frank Katz. Finger Power was originally slated for a "drum 'n bass" compilation, Sky Saw for a Brian Eno tribute album and Neil And Jack And Me for a King Crimson tribute album – all organized and released by Purple Pyramid. Sky Saw is released under the band name Brand X, while the King Crimson number gives the band name as Brand X (East) because John Goodsall also has a track, called Red, on the same compilation. He uses the band name Brand X (West). When Goodsall, bass played Doug Lunn and drummer/singer Nick D'Virgilio (who, incidentally, replaced Phil Collins on drums for several songs on the Genesis album Calling All Stations) record Can-Utility And The Coastliners for a Genesis tribute album they use the band name Brand X II.
In 1998, Goodsall and Jones release the Brand X double CD The X-Files on Outer Music. It has several (mainly new) band rarities and also offers a glimpse at Goodsall's and Jones's solo and side projects. John Goodsall tries to keep Brand X alive with a band of his own. Marc Wagnon has founded his own label, Buckyball Records. He releases not only his own albums in 1999 but also re-releases the first Tunnels album and a Brand X double live album called Timelines that contains the 1977 Chicago and the 1993 New York concerts. Now that they are independent from other labels, Percy Jones, Frank Katz and Marc Wagnon focus on Tunnels again and record a new album, Painted Rock. Wagnon has worked with his wife, the soprano Sarah Pillow. She records her album Nuovo Musiche at Buckyball studio in May and June 2000. It is a collection of newly interpreted songs from the early 17th century, and Goodsall, Jones, Katz and Wagnon make up the backing band. They also play live. In 2001 former Brand X drummer Mike Clark collaborates with Marc Wagnon and Paul Jackson on bass to create Conjunction. Jones, Katz, and Wagnon record another Tunnels album, Progressivity, with Goodsall as guest musician, and all four of them return to the studio in 2003 to record for Sarah Pillow's Remixes project. Buckyballs releases another Brand X offering: Trilogy contains the albums Xcommunication, Manifest Destiny as well as a 1979 New York concert. EMI releases Macrocosm – Introducing Brand X as a "best of" the Charisma years. 2004 sees the release of the first Tunnels live album Live – The Art Of Living Dangerously. A final studio album Natural Selection follows in 2006 with a new drummer and once more with John Goodsall as guest musician. After several years of joint activities their paths split up again ...
7. Announcements, Cancellations, Anniversary Reunions

A number of years would pass before Goodsall and Percy Jones would work with each other again. A tour with former Yes keyboarder Patrick Moraz, who worked with John Goodsall in the early 80s and Bill Bruford in the 80s, and drummer Ronnie Ciago, who played some percussion on Brand X's Manifest Destiny, is announced for May 2012 in December 2011 – and cancelled because Moraz had other obligations. In January 2012 we hear that a Brand X reunion tour is planned for North America with renowned keyboarder David Sancious. Plans have to be postponed in April because David Sancious is going to tour with Peter Gabriel to celebrate the anniversary of his big success So. Still, Sancious, Goodsall and Jones work on the album of a joint friend: American drummer and songwriter Mark Murdock met Phil Collins through a roadie on the US tour and the rest of Brand X in London at the beginnings of the band. In 2012 he starts a solo project called Cymbalic Encounters and asks Brand X members to join him. Goodsall, Jones, Lumley and Clark are interested, though the latter two have other obligations. Goodsall and Jones join him and help him with the songwriting. Murdock also uses an old drum track of Kenwood Dennard's which was left over from a gig with him. Thus it becomes a virtual reunion of three members of Brand X. The self-titled album appears in 2013 on Gonzo Multimedia Label, who specialize in re-releases. The label takes over Brand X and start a series of re-releases: Live At The Roxy L.A., Is There Anything About? (both in 2013), The X-Files and Missing Period (both in 2014). EMI releases all albums up until 1980 in a 4 CD box set called Nuclear Burn that includes some of the BBC tracks as bonus material. Mark Murdock has embarked on a second Cymbalic Encounters with Goodsall and Jones. Exploration Of The Southern Constellation comes out in 2015. Gonzo Multimedia kick off The Official Bootleg Series in summer 2015: Live From San Francisco 1977, Live From Ronnie Scotts 1976, Live From Chicago 1978 (all 2015), Live From Stockholm 1977 and Live From Rochester/New York 1977 (both 2016). Xcommunication is re-released in summer 2016.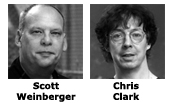 A reunion tour is announced for the 40th anniversary of Unorthodox Behaviour in fall 2016, triggered by an initiative of Scott Weinberger (The Security Project). The line-up consists of John Goodsall and Percy Jones, former drummer Kenwood Dennard and Scott Weinberger on percussions, while keyboards are played by Chris Clark. The ten-day US-tour in October focuses on material from Unorthodox Behaviour, Moroccan Roll andLivestock. The band also perform a cover of a Beatles song that also appeared on Phil Collins's debut album, Tomorrow Never Knows.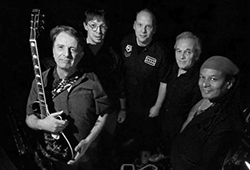 Their successful comeback prompts the band to tack on a couple of concerts in early January 2017. The final show of the tour at the Sellersville Theatre, Pennsylvania, is recorded for a live album But Wait … There's More! Live 2017, produced by Scott Weinberger. It comes out in summer 2017 and was mixed by Stephen W. Tayler who accompanied the band as a technician during their Moroccan Roll period.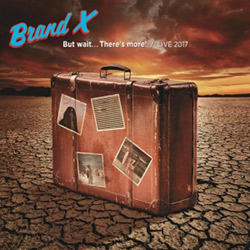 Intro [live 2017]
(Jones) (1:42)
Nightmare Patrol [live 2017]
(Goodsall, Dennard) (8:28)
Euthanasia Waltz [live 2017]
(Lumley, Collins, Goodsall, Jones) (4:42)
Born Ugly [live 2017]
(Jones, Collins, Goodsall, Lumley) (9:58)
Isis Mourning (Part 1 & 2) [live 2017]
(Goodsall, Jones, Lumley, Pert, Collins) (6:29)
Nuclear Burn [live 2017]
(Collins, Goodsall, Jones, Lumley) (9:20)
Magic Mist [live 2017]
(Jones) (2:32)
Why Should I Lend You Mine (When You've Broken Yours Off Already)... [live 2017]
(Collins) (9:10)
...Maybe I'll Lend You Mine After All [live 2017]
(Collins) (3:37)
Hate Zone [live 2017]
(Goodsall) (6:03)
...And So To F... [live 2017]
(Collins) (8:32)
Malaga Virgen [live 2017]
(Jones) (10:00)
Recording date: 6th January 2017
Recording location: Sellersville Theater 1894, Pennsylvania
Produced by: Brand X & Stephen W. Tayer
Performed by: John Goodsall, Percy Jones, Kenwood Dennard, Scott Weinberger, Chris Clark
First official release: 14th July 2017 – Brand X:
But Wait...There's More! Live 2017
(US CD/Brand X Live LLC BXCD0157)

The band decide to promote the live album (which is available in direct selling) with a short U.S. tour in June 2017. Since their drummer Kenwood Dennard is busy teaching at university, the band ask Kenny Grohowski, a very talented young drummer, to join them. They also dig up some old classics for the setlist. The band tour again in the U.S. from September to November 2017. There are plans for more shows in 2018, and a new studio album is also in the making (this time produced by Scott Weinberger and Norman Bedford. Even the chances for European fans to see the band again are not so bad these days. The story of Brand X is certainly not over.

Author: Steffen Gerlach
English by Martin Klinkhardt
Sessions between 1992 and 2017 with at least two Brand X-members:
1992.?? - BRAND X –
Xcommunication
(Goodsall/Jones/Katz)
1993.02 – Tunnels –
Tunnels
(Jones/Katz/Wagnon)
1993.06 – BRAND X –
Timeline
(Goodsall/Jones/Katz)
1996.02 – BRAND X –
Manifest Destiny
(Goodsall/Jones/Katz/Wagnon/Pusch + Ciago)
1996.05 – BRAND X -
???
(Goodsall/Jones/Katz/Wagnon)
1997.04 – BRAND X –
The X-Files: Live in Tokyo
(Goodsall/Jones/Moerlen/Sjobring)
1997.?? - Brand X (East) –
Finger Power, Sky Saw, Neil And Jack And Me
(Jones/Katz)
1997.?? - Brand X (West)/Brand X II –
Red, Can-Utility & The Coastliners
(Goodsall)
1999.?? - Tunnels –
Painted Rock
(Jones/Katz/Wagnon)
2000.05 – Sarah Pillow –
Nuovo Musiche
(Goodsall/Jones/Katz/Wagnon)
2001.?? - Clark/Jackson/Wagnon –
Conjunction
(Clark/Wagnon)
2002.?? - Tunnels –
Progressivity
(Jones/Katz/Wagnon + Goodsall)
2003.?? - Sarah Pillow –
Remixes
(Goodsall/Jones/Katz/Wagnon)
2004.?? - Tunnels- Live –
The Art Of Living Dangerously
(Jones/Katz/Wagnon + Goodsall)
2006.?? - Tunnels –
Natural Selection
(Jones/Wagnon + Goodsall)
2010.?? - Leon Alvarado –
Strange Places
(Goodsall/Bruford)
2013.?? - Mark Murdock –
Cymbalic Encounters
(Goodsall/Jones + Dennard)
2015.?? - Cymbalic Encounters –
Exploration Of The Southern Constellation
(Goodsall/Jones)
2017.01 – BRAND X -
But Wait...There's More! Live 2017
(Goodsall/Jones/Dennard/Weinberger/C.Clark)