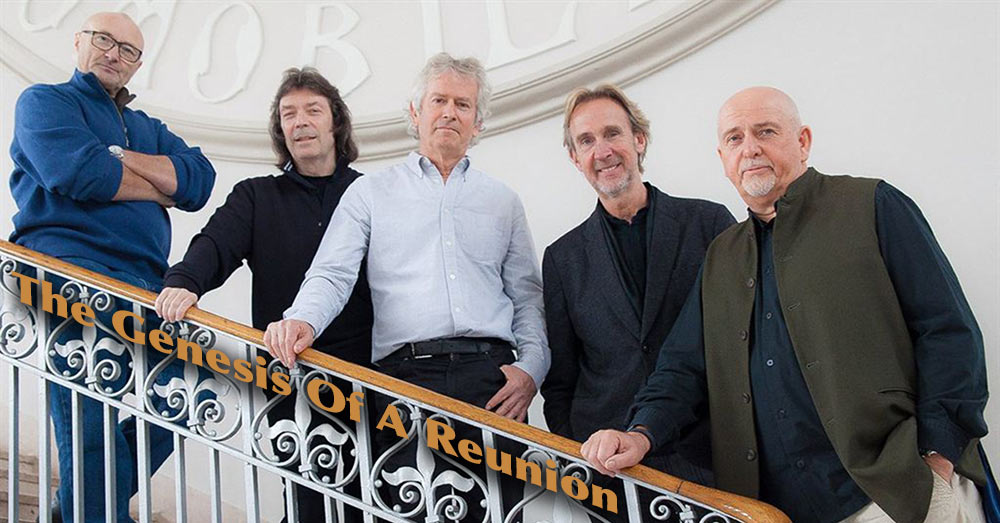 The Genesis Of A Reunion
Public pressure, the success of The Musical Box and the imminent flood of releases from their common back catalogue have forced the former members of the classic Genesis line-up, Tony Banks, Phil Collins, Peter Gabriel, Steve Hackett and Mike Rutherford to spend some serious thoughts about a reunion several years ago. Gabriel, Hackett, Banks, Rutherford and Collins had a meeting in late 2005 in which a reunion was discussed [the meeting took place on November 20, 2005]. A "small" reunion eventually happened in 2007. Time went by and the issue continued to pop up more or less frequently, especially after Phil Collins decided to go on tour again. We have put together all the relevant facts and rumours in the history of the "Genesis Reunion Myth". Check out this page for updates of the latest developments …
This site is a collection of statements, interviews, rumours and everything related to the subject. We do not claim to have listed everything here. And please don't hold your breath. This site has existed for a very long time already. In the end the trio-lineup is back on stage, hopefully in September 2021.


last update: December 2021

Links related to the topic:

| Like our
Facebook-Page
| Follow us
on twitter
Current and previous news / Statements by those involved
December 2021: It's the same on every Genesis tour: There are rumours that Peter Gabriel may appear on stage in London in March (2022). At this point there is absolutely no proof this could be true!

September 2021: Genesis finally returned on stage in Birmingham.

4th March 2020: Genesis announce The Last Domino? Tour: Several shows in the UK in November and December.

2nd March 2020: While a list of tourdates is siubject for discussions in social media groups, BBC2 announces a big reveal for wednesday:
1st March 2020: It looks like the number of the planned shows is not that clear. Latest discussions say it's 18 shows. An official announcement may happen on 4th March.

25th February 2020: More rumours. Some statements in forums and social media claim that Genesis (Tony, Mike and Phil plus Daryl and Nic) plan a couple of shows towards the end of this year. According to the same 'source', it's going to be a 16 date UK only tour ('multiple UK arenas').
Please note: This s a rumour. No official statement has been made by any of the potentially involved members or the management!

January 2020: There are rumours that Tony, Mike and Phil are currently in New York City (along with Nic Collins) to test the waters for possible future (band) activities. Yesterday, the three of them were spotted on the big screen at Madison Square Garden during a sports game. You can see Tony and Mike on the image.

October 2019: Phil has completed his Still Not Dead Yet tour after two and a half years and 97 shows. There are no plans for another leg of this tour, which also leads to the question: Is a Genesis tour 2020 possible? Although the band members wouldn't day more than "never say never", it doesn't seem that unrealistic now. In fact, it's more realistic than three years ago. No official statement about possible plans has been made so far.

7th June 2019: Mike Rutherford joined Phil Collins on stage during his show in Berlin (see show report here and news item with videos here) and performed Follow You Follow Me with him. He also did that during the shows in Arhus and Bergen. Despite the discussion whether or not Phil would be able to perform a Genesis show, chances that something might be afoot sooms more realstic than before. At least during the last five years.

March 2019: Mike Rutherford gave an interview in a morning show in UK television which immediately raised interest in media to discuss the possibility of a Genesis reunion again. He said nothing new, apart from a comment on Phil's intensive touring. In any case it was a big subject on various news sites for a couple of days, such as this one.



"What starts as communication between young guys in their early twenties ends up becoming phase cancellation later on; Mexican standoffs and all of that" - Steve Hackett
August 2018: Phil was interviewed by American Rolling Stone and that once more caused big headlines in the press. He brought in the idea of his son Nic playing drums for Genesis, since he (Phil) can't do it anymore. You can find this interview here. The idea is, nevertheless, not that new and was first discussed in the frame of the Royal Albert Hall shows 2017.

Steve Hackett has a completely different perspective. He compares the situation within the band with "Mexican Standoff". Read more about this here.

January 2018: Several interviews with Tony Banks for his new album Five also brought up the reunion question again. Interestingly: he refers to Phil's live comback and states that he's in a good shape, reagrding his singing. Tony is also impressed by Phil's son Nic on drums. In a nutshell: No reason to get nerveous. A reunion has not become more realistic - but also not less realistic. What is pretty obvious: If it hapened one day, against all odds, it will be VERY different from 2007.

January 2016: For whatever reason, Phil hints in many interviews a reunion with Peter is still not out of the question. Nevertheless, it appears that his words are more triggered by interviewers and his mood than serious plans or thoughts. There are no new facts. We have also published a news in Ocotber last year, which was based on official statements by the management. (click here).
Early October 2014: Sum of The Parts / Together And Apart was shown in London and broadcasted by the BBC. While Tony, Phil and Mike are giving interviews and keep "not excluding" a reunion possibility, Steve Hackett expressed his disappointment about the documentary on his Facebook-site. One has to wonder how things went with the documentary after all. No-one seems to be very pleased with the result and fans are complaining about an unequal share, Steve being sidelined and Calling All Stations being ignored completely. The band does not appear as The Sum Of Their parts these days, it feels more like falling apart / being more apart than ever. On the positive side, R-Kive enters the British charts at #10.

28th September 2014: The setlist of the final run through of the Phil Collins rehersals in Miami has appeared on the internet (see here). In the meantime Phil Collins explained in many interviews that a tour is not imminent since he does not feel fit to perform.

23rd September 2014: In the light of recent rumours, Phil Collins issued a statement saying that he will not perform an entire set during his Little Dreams Foundation show. Also, he does not feel conformtable to play full concerts. Phil recently rehearsed with a band (his old band, only Chester being replaced by Jason Bonham) to test his stage fitness. Click here to see the news item.

September 2014: In case you were wondering: The band does not plan anything related to the 40th anniversary of The Lamb Lies Down On Broadway (which will happen this November). Meanwhile, the screening of their new documentary Sum Of The Parts will take place in London on 2nd October, while the broadcast on BBC will happen on 4th October.

August 2014: Genesis announce "exciting news" and the fans hold their breath. Apparently it was only another band compilation that was announced, called R-Kive. Fans start to wonder how exciting it may get in the future and there's also a comment about this on our website (here).

30th July 2014: Phil Collins will return to stage with an appearance at his Little Dreams Foundation this December. there is no information as to how long his set might be and what he will be playing.

05th July 2014: Recent interviews in Germany indicate that Mike + The Mechanics may tour North America in 2015.
28th June 2014: Recent developments indicate the five are concentrating on solo stuff for the foreseeable future. While Peter Gabriel and Steve Hackett will be touring at the end of this year, Phil Collins is putting together a live band for some "test" rehearsals this summer. Accordning to Leland Sklar, proper tour rehearsals would not start before early 2015 and only in case the band rehearsals convince Phil he would be able to perform live shows (see our news items here and here). At the same time, Mike Rutherford revealed that new songs for Mike + The Mechanics are currently being written (see our news item here).

June 2014: More rumours: Phil Collins seems to plan rehearsals for this summer to test the option for a possible solo-tour in 2015. According to the most recent information we have, Simon Collins has mentioned during the Cruise To The Edge Event (a full review will follow shortly) that Phil is putting together a band again. More interestingly, it seems that not CHester, but Jason Bonham will be the drummer. Again, we have to make clear that this has not been confirmed yet.
16th June 2014: A BBC production called Together And Apart is officially announced and reflects the band's entire career - with full cooperation by all members (Anthony Phillips and Ray Wilson are not mentioned, though). There is no information yet when the documentary will be aired. Based on the information we have right now, the documentary will also be released on DVD and Blu-ray.
Despite this, there are still rumours that the band has more plans, yet it's still unclear what that might be.
11th June 2014: There is obviously something afoot. There will be a new band documentary out on DVD and Blu-ray later this year, produced by the BBC and spanning the whole history of the band. Also, the big five (Tony Banks, Phil Collins, Peter Gabriel, Steve Hackett and Mike Rutherford) met last spring and they also recorded new interview sequences for this documentary, apparently even being in one room together. Meanwhile, there are still rumours something might happen to coincide with the 40th Lamb anniversary, due this November. No details are available about that yet, but it looks like monday will be the day to get more news about that ...
see also our news item about that here.

March 2014: During a promotional interview for his Genesis Extended Tour 2014, Steve Hackett reveals that the big 5 are about to meet this month to talk (see this link). No information is provided what the meeting is actually about, but it can be assumed that it has something to do with the 40th anniversary of The Lamb Lies Down On Broadway, which is due later this year. A few weeks ago, Peter Gabriel has also said in interviews recently that something might happen with that anniversary. Nevertheless, live shows seem to be likely or unlikely as ever before.

December 2013: This time it's Peter Gabriel - seriously - who raises hope. In an interview with the American Rolling Stone, he talks about a possible fourth leg of the Back To Front Tour, also a new album and about Phil and Steve. Peter says he doesn't rule the option of a reunion out, but it's still not on top of his priority list. He admits that they should do it before they are too old, but when and if ... "I don't know". Read the full interview here.

November 2013: Phil Collins reveals his plans to do new stufff and play live again during the premier of the Tarzan musical in Stuttgart, Germany. Phil also says that shows with Genesis are possible, for example in Australia and South America, "where we haven't been yet".

May 2013: During his highly successful Genesis Revisited tour, the reunion question came up again. Hackett patiently replied on various occasions that he would still do it, but the does not wait for it any longer.

July 2012: Tim Howar speaks to GNC about his time with the Mechanics and says it could be over any time, for example when Genesis decide to go on tour again.

March 2010: Peter Gabriel says "no": Due to tour rehearsals, Peter will not be available for the Hall of Fame induction. Peter explains that the performance of one or two songs would mean a lot of time for rehearsals. Meanwhile, Banks, Collins, Rutherford and Steve Hackett attendes the induction but did not perform. American band Phish payed tribute and performed Watcher Of The Skies (youtube) and No Reply At All (youtube).
December 2009: Rumours were spread by Banks and Rutherford that a mini-reunion is possible - in connection with the induction into the Hall of Fame. The problem: Gabriel will be in the middle of tour rehearsals when the ceremony will take place. Read the RollingStone.com interview here.

December 2009: "Never say never" - a glimpse of hope, expressed by Tony Banks in an interview related to the fact that Phil's condition has improved. Meanwhile, Phil did his first live performance since his injury.
September 2009: British MIRROR reports that Phil Collins will never be able to play drums again - Phil himself says: "after 50 years of playing, I have to stop (...) but don't worry, I can still sing"
The chances for the "big reunion" are now lower than ever ....
At the end of the month Tony Banks is interviews by genesis-news.com and confirms that there are no plans at the moment and he does not see anything happen in the forseeable future. Click here to read the full interview.

March 2009: During his Latin-American Tour, Gabriel states in an Interview, that he would not take part in a Genesis tour, mainly due to his family situation. Nevertheless, he can still imagine to collaborate with his former bandmates for a soundtrack or Lamb-film project ...
January 2009: Peter tell British music magazine MOJO he could imagine touring again with his old mates from Genesis. He did not go into any more detail, though...

December 2008: Peter Gabriel is going to tour in South America in spring 2009. He categorically ruled out any further tours in 2009. A Genesis reunion that includes Peter Gabriel will therefore take place in 2010 at the earliest.


October 2008: Phil Collins affirms that he would participate in a Lamb project. Waiting for Peter continues.

August 2008: Rumours from the Gabriel camp: Peter spreads information that he wants to tour in 2009 - Still Warming Up in South America. A Genesis tour with Peter has become less likely in 2009.

May 2008: Manager Tony Smith admits in an online chat that the release of the third boxset was intentionally delayed to keep a "big reunion" an option. This, however, will not happen in 2008.

Dec 05, 2006: A multi-page report and interview about Peter Gabriel appears in the January 2007 edition of Q magazine. It confirms that Peter would be available for a reunion "not before 2008".


Nov 08, 2006: At yesterday's press conference Genesis announced an open air tour through Europe, on which they will be playing 20 dates, as well as the release of the SACDS. They also explained that the big reunion is not off at all but could not be achieved at that date. In the meantime Steve Hackett has issued a statement on his homepage wishing his former band mates all the luck and success with the tour. Go here to read the transcript of the press conference.

Nov 03, 2006: The Genesis press conference will be broadcast live on the official Genesis homepage at noon London time. Details about the webcast will be posted on the official homepage a couple of minutes before the press conference begins.

Nov 02, 2006: Tickets for the German concerts will go on sale on Nov 10, 2006 at 9am Berlin time, according to Genesis' German promoter Peter Rieger. No information about the cities and venues has become available yet.

Nov 01, 2006: Nick Davis reports that the 5.1 mixed of the Genesis back catalogue will be released in three instalments complete with bonus material. He would not say anything else though, and referred everyone to Nov 07 [the press conference]. It is therefore very likely that the reunion tour is (also) used to promote the 5.1 releases.

Oct 25, 2006: Word has reached us that, apparently, no fanclub ticket presales are planned for the upcoming Genesis tour. Such a presale had taken place on Collins' last tour. This puts a damper on the hope that things will be a bit more fan-friendly this time.

Oct 22, 2006: More news and more rumours. The official Genesis website announces that no further information will be released until November 07. Reports by the BBC that the band had long-term plans involving new material are therefore unsubstantiated speculation.

Oct 19, 2006: It has not been announced officially, but it still seems solid: Several online magazines and website (e.g. Classic Rock) report that Genesis will give a press conference on November 11, 2006. They will be releasing more information about the reunion and the upcoming Turn It On Again - The Tour. As was to be expected, Peter Gabriel and Steve Hackett are not involved. It is absolutely unclear whether there will be a new album. More information as we get it.

Oct 16, 2006, updated Oct 17: Two news items about the reunion. A Belgian website speculates about a Genesis show at the Parc des Princes in Paris on June 30, 2007. This date has not been confirmed yet. In the forum at the official web site one could read that Tony, Phil and Mike seem to be rehearsing at the Spin Recording studios in Astoria, Queens County (NY, USA). The source for this is a post by the guitarist of Trans-Siberian Orchestra (TSO) on their web site.

Oct 07, 2006: Peter Gabriel of all people has now confirmed the ominous jam session Tony Banks, Phil Collins and Mike Rutherford had in October. In his most recent Moon Club video he explained that the three were rehearsing but that he was not involved at this time. He did not rule out later involvement. Phil Collins had mentioned the October jam session in an interview a couple of months before. It has since become the topic of many debates.

Oct 04, 2006: The rumour mill is working overtime these days. In the last few days a couple of companies have been offering tickets for possible Genesis shows. Tony Smith, Genesis' manager, appeals the fans: "We have heard that, due to the unconfirmed report in the Sunday Mirror, a couple of companies advertise Genesis tickets. DO NOT buy any tickets from these companies, since no shows have been booked and these advertisements are attempted frauds."

Oct 02, 2006: Several newspapers and news websites report that Genesis will have another go at it in 2007, adding that Tony Banks, Mike Rutherford and Phil Collins will tour as a trio. They mentions the band's spokesmen and friends of Phil Collins as sources. Phil has said that the three of them will do a jam session this month. There is no official announcement.

Sep 11, 2006: The Dutch concert ticket site Topevent-Tickets has announced a Genesis tour with Phil Collins in 2007. Reservations and pre-orders are possible on their site. Tony, Mike and Phil plan to get together for a jam session, though it is not yet clear whether it will take place. The Dutch ticket offer is therefore as reliable as the RockTours ads that filled German music magazines for months.

May 22, 2006: Phil's tour of Tarzan interviews produces ever new scenarios. He has told the Chicago Broadway World that a reunion of the classic lineup was desirable but hard to achieve. He did not rule out that he might do something with Tony Banks and Mike Rutherford in case it does not work out with Peter. Interestingly he added that the three of them have booked a studio for jam sessions in October 2006. He stressed that there were no further plans.

May 13, 2006: Phil Collins states in an interview for 6Music in New York City (USA) that a reunion was still possible. He said that since Peter Gabriel had other obligations until late 2007 a reunion project was realistic only in 2008. Collins told the Toronto Star that the five Genesis veterans were "working toward that possibility".

April 20, 2006: Alan Hewitt of the UK fanclub The Waiting Room Fanclub recently interviewed Steve. When asked about the SACDs and a possible reunion, Steve replied: Unfortunately I am not in the position, umh... well, I comment on these things. I think that a marvellous job has been done with most of the things, and there are only a few things that are still uncertain, but I have absolutely no idea when all this is to be published. The best moment would be, of course, if there was a band reunion. The band does not know any more than the fans. We all have given our input and most of us hope that it will happen sometime. I would love to say "Okay, I will be there on Thursday", the question is on everybody's mind, mine too. If it does not happen, I am not to blame for it.

April 18, 2006: After the damper there is (perhaps) a big bang: Phil Collins has said in the KGO News Talk (6am programme) that when the five of them met in November they talked about a re-staging of The Lamb Lies Down On Broadway, about doing a limited number of shows and recording and filming them. According to Collins the band are enthusiastic about the idea and trying to find time for it.

March 29, 2006: Peter Gabriel puts a damper on all hopes for a reunion. He was awarded the Innovation Prize in Aachen (Aix-la-Chapelle). In an open discussion he was also asked about a possible reunion. He replied that there was nothing to that rumour, but he conceded that they had talked about it. Gabriel explained that he wanted to try out new things rather than revive the past.

March 13, 2006: Reunion rumours are fed again by a news item on musicnews.virgin.net. According to it there will be a press conference on Tuesday on which Phil Collins and Peter Gabriel will announce their comeback with an album and a tour. Virgin (now part of EMI) is Genesis' record company. The announcement is met the same night by an announcement by Annie Callingham (Genesis management) in the official forum to the effect that rumours about a press conference are not true.



"There are no decisions by Genesis to perform anywhere whatsoever at this time. This situation will not alter in the next twelve months." (Genesis Management 01/12/05)

Phil Collins: "I am ready" [2005]

Peter Gabriel: "I wouldn't put money on it...yet" [2005]

Steve Hackett: "There's something afoot" [2005]

March 11, 2006: The newspaper Daily Star reports that Genesis are going to record a new album and tour with Collins and Gabriel. All this is supposed to be announced on a press conference on March 15. The situation became more confused by another report that this reunion was not about Genesis but about the band The Cars. Since this rumour was not taken up by reputable newspapers it is most likely a canard.

Feb 19, 2006: Recent rumours have it that Peter Gabriel and Phil Collins met in Switzerland. They are also supposed to have been in touch with light and stage technicians to prepare a possible tour. These rumours have not been confirmed from anywhere.

Dec 01, 2005: Both the managements of Genesis and of Steve Hackett have told the Italian fanclub DUSK that there will be no reunion "in the next twelve months" and that there are no plans for Genesis to appear. This seems to indicate that the members of Genesis may discuss the possibility of a reunion in twelve months and that their various obligations make a reunion in 2006 impossible. The reunion talk has supposedly taken place on November 19, not Nov 20.

Nov 19, 2005: One day before the potential reunion talk, Peter Gabriel's homepage attempts to calm and lower expectations. However, nothing is ruled out. Official statements after the talk may turn out to be most interesting.

Nov 10, 2005: Peter Gabriel repeatedly confirms that talks about a possible reunion will take place soon. He also stressed that such a project would take up a lot of time. Chances for a reunion are apparently better than ever before. On October 22, 2005, Peter had only confirmed the meeting in the t.v. show Extra.

Sep 30, 2005: "Something's up", Steve Hackett says. For the first time a former member of Genesis announces that something in the way of a reunion may be approaching. He explained that the management had invited them all for a meeting to consider a reunion. His statements, given alongside his current acoustic tour raises hopes that Genesis may show some life again.

Feb 24, 2005: Phil Collins performs with the Canadian cover band The Musical Box in Geneva. He plays the drums for the encore song, The Musical Box. Later he explains that he used to be quite a different musician back then, but that he still enjoyed it. All in all, his guest performance not only raised hopes but also chances for a reunion.

Oct 2004: Tony Banks, Phil Collins and Mike Rutherford meet in Cologne, Germany, to promote the European release of the Platinum Collection. Rumour has it that a tour and even an album were discussed. Phil later confirms that they had talked about a reunion, but decided not to go for it.

put together by Christian Gerhardts
translated by Martin Klinkhardt